These chicken bacon Alfredo stuffed shells are perfect for Sunday supper! Use store bought Alfredo sauce or homemade for an extra special touch.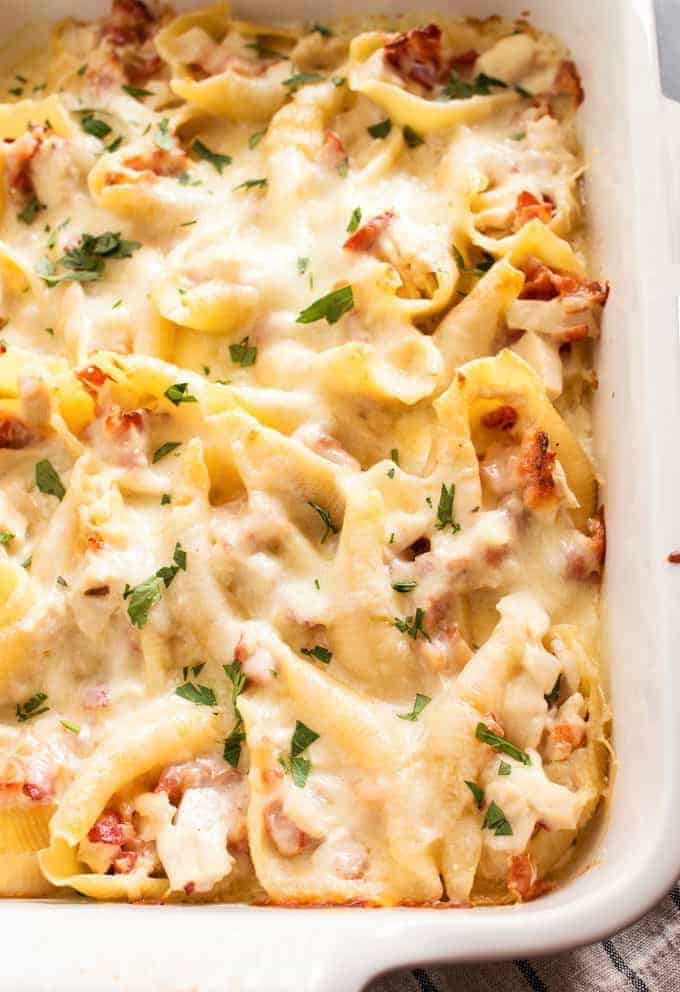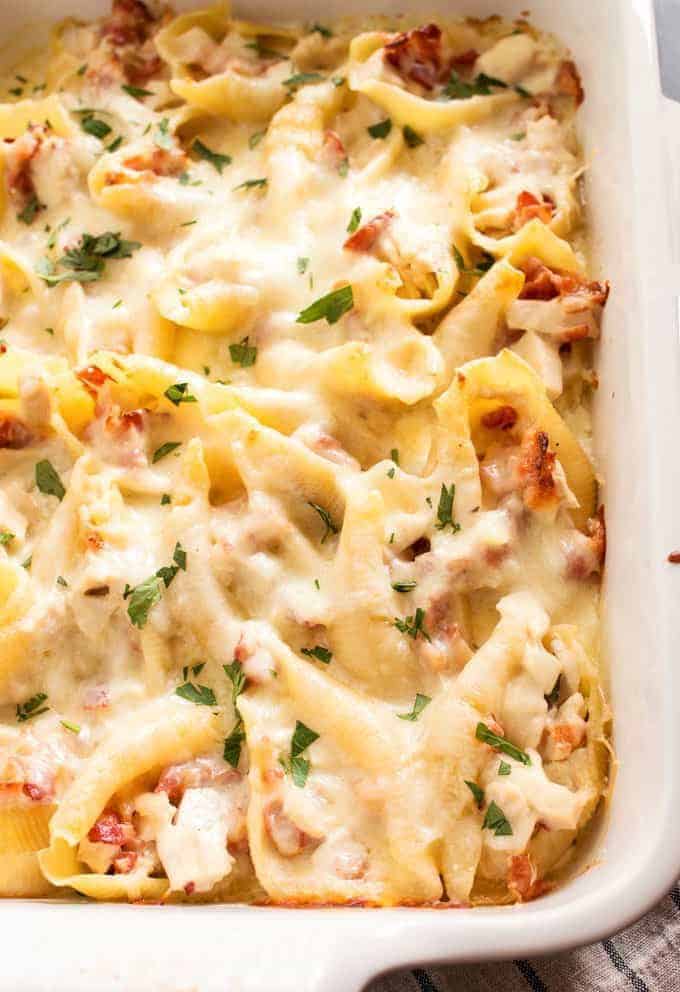 This post is in collaboration with Peapod and FromthePod.com. All thoughts and opinions are my own. Thank you for supporting our sponsors!
Sunday is meant for big dinners and delicious food. I don't care if its breakfast, lunch or dinner – I want to eat on Sunday. Especially in the winter – this is why I have winter pants and summer pants, not just because of the weather!
I love recipes like this one for chicken bacon Alfredo stuffed shells for a Sunday supper. So many of the components can be made ahead of time. You can cook the chicken and bacon Saturday afternoon and then chop it all up. You can even make the sauce from scratch (or use a jar of Alfredo like I did here.)
Heck, you could probably even stuff all of the shells and put the whole casserole dish in the fridge until you're ready to starting baking. How's that for saving some time?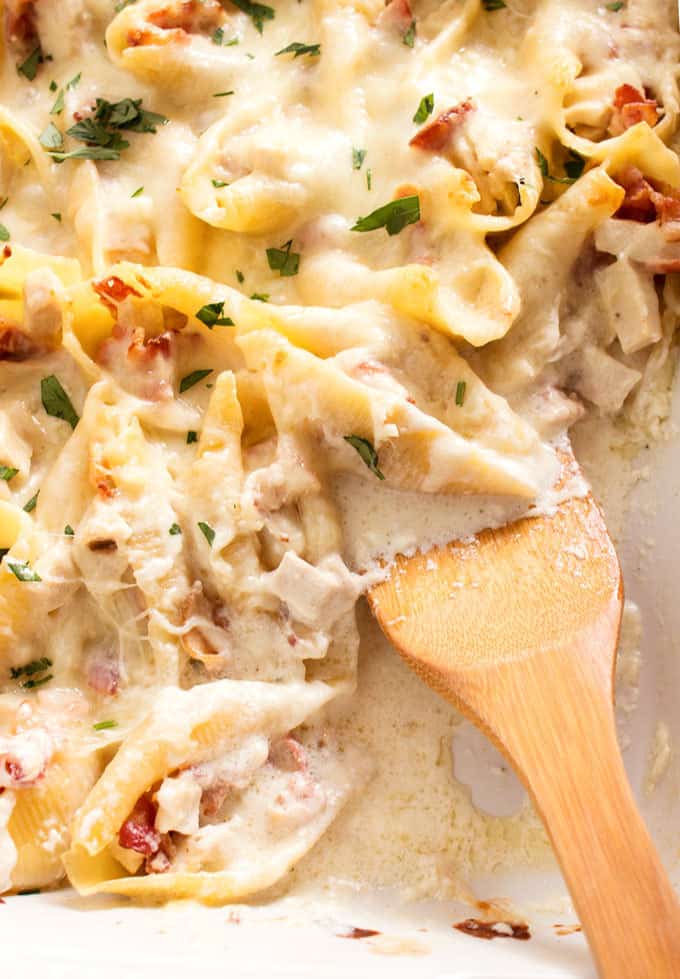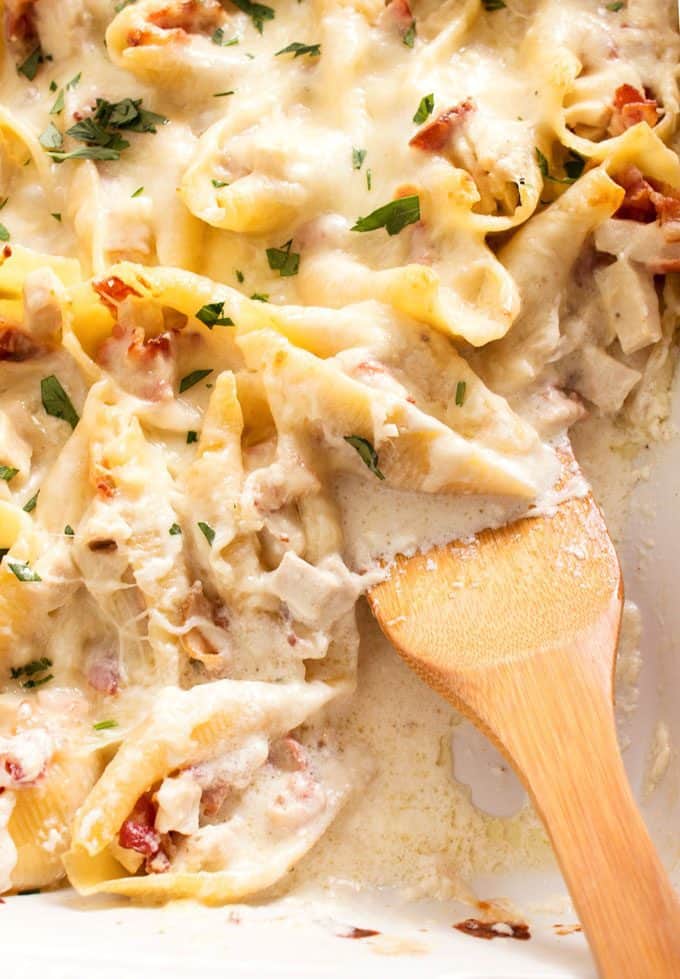 Prepping ahead of time is one of the ways I find time to get out and enjoy myself. The key is a sharp knife and a plan. I haven't been honing my knife skills for years for nothing.
I always figure out what needs to be cut or prepped and have it ready to go. I will do all of my recipe prepping before I start cooking, even if I'm just making some of the components for my next recipe.
Speaking of plans, this recipe is part of my Peapod Easy Weekly Meal Plan. It has breakfast, lunch and dinner ideas for 7 days and these chicken bacon Alfredo stuffed shells are the Sunday night special.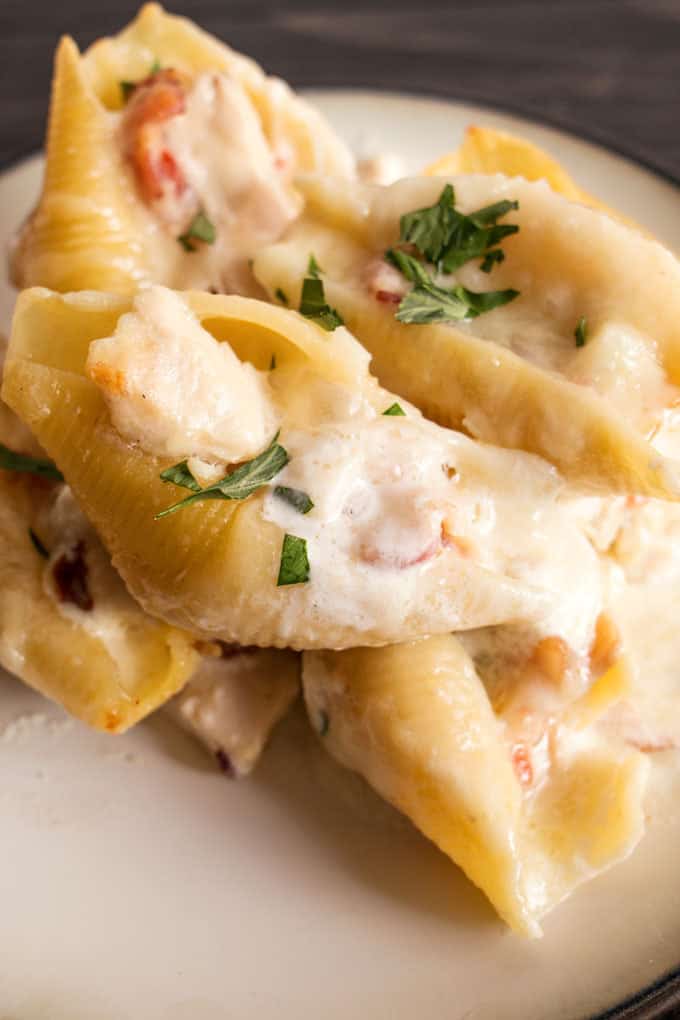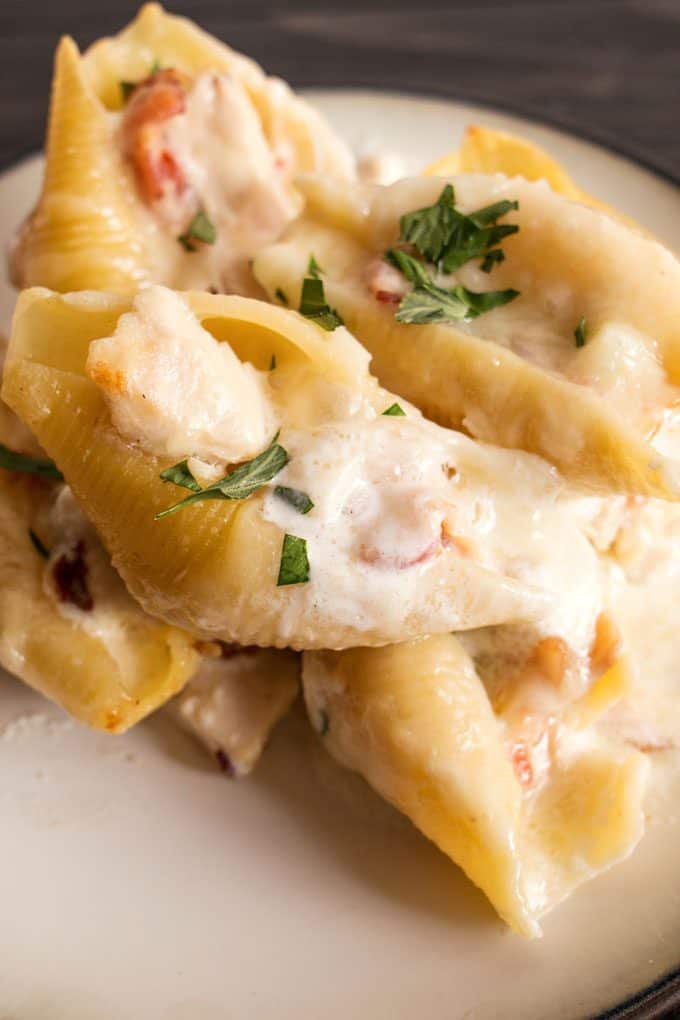 I created this recipe as part of my partnership with Peapod and the recipe website FromthePod.com. I'm part of a group of great food bloggers creating awesome recipes and meal plans with Peapod in mind.
This recipe for chicken bacon Alfredo stuffed shells is part of a weekly meal plan I created. Go to FromthePod.com now for the entire meal plan.
I love that you can go to any of the recipes on their website and have that recipe's ingredients put right in your shopping cart. Then all you have to do is unselect the items you already have in your kitchen.
For this recipe, head over to FromthePod.com.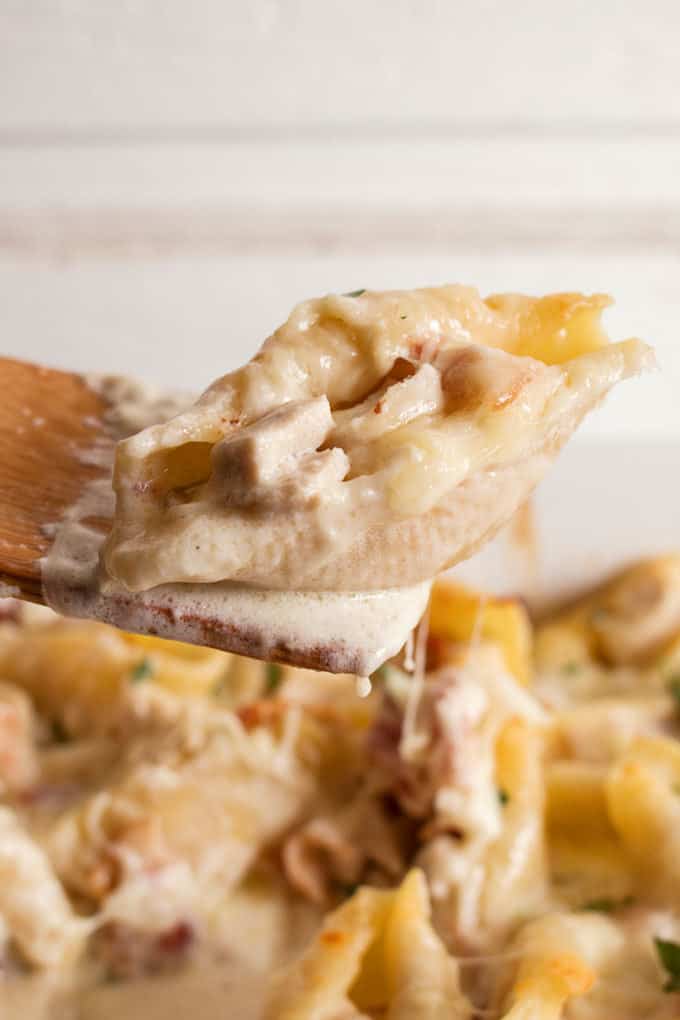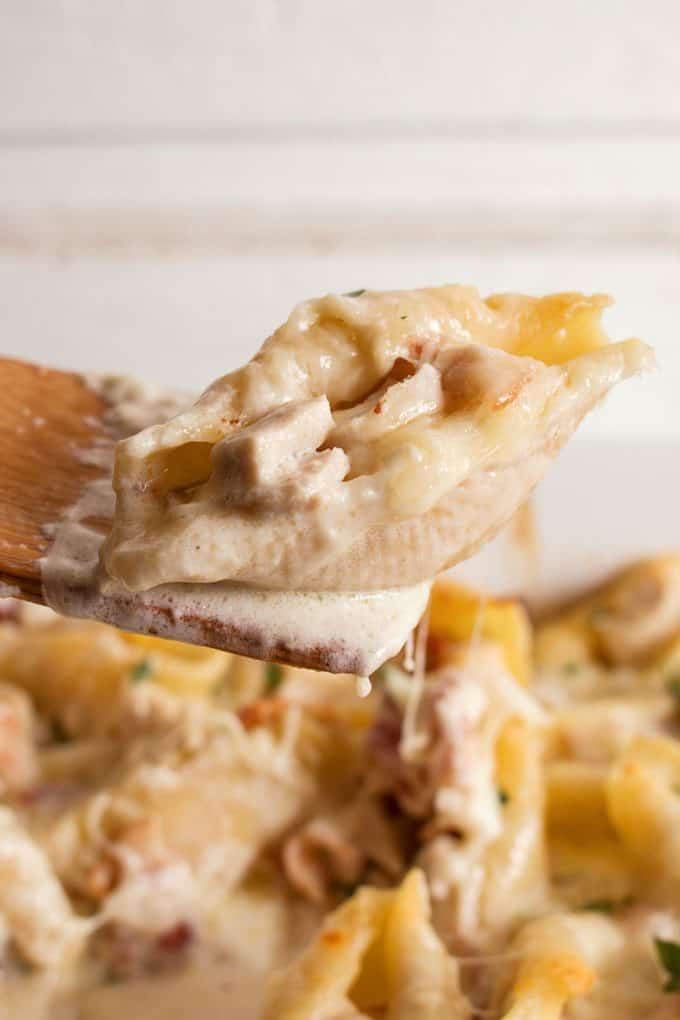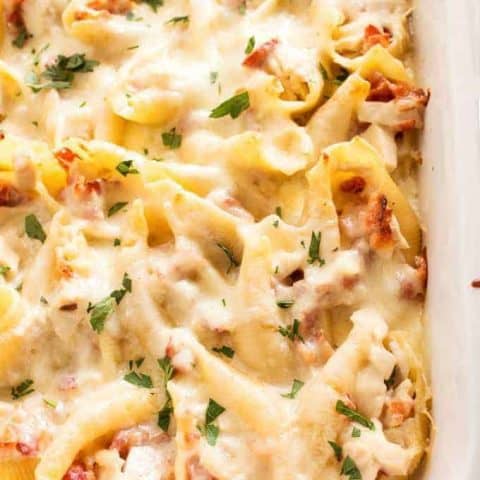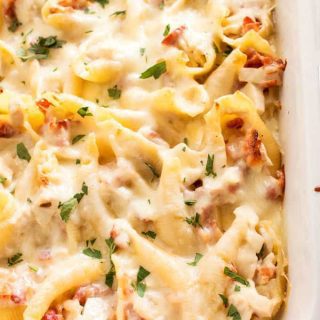 Chicken Bacon Alfredo Stuffed Shells
These chicken bacon Alfredo stuffed shells are perfect for Sunday supper! Use store bought Alfredo sauce or homemade for an extra special touch.
Ingredients
12 ounce box Jumbo Shells
2 cups cooked, diced chicken
12 ounce package bacon, cooked and diced
2 cloves garlic, minced
16 ounce jar Alfredo Sauce
2 cups shredded mozzarella
1/2 cup shredded Parmesan cheese
Instructions
Cook jumbo shells according to package directions. Drain and lay out on parchment paper to dry.
Preheat oven to 350 degrees F.
In a medium bowl, combine chicken, bacon, garlic and 1 cup of Alfredo sauce.
In the bottom of a 9x12 baking dish, spoon 2 tablespoons of Alfredo sauce.
Fill the shells with the chicken and bacon mixture and place in the baking dish on top of the Alfredo sauce.
Pour the remaining Alfredo sauce over the stuffed shells. Top with the mozzarella and parmesan cheeses. Place baking pan uncovered in the oven and bake for 25 minutes. Remove from oven and serve hot.
Nutrition Information:
Amount Per Serving:
Calories:

517
Total Fat:

41g
Saturated Fat:

16g
Cholesterol:

97mg
Sodium:

1313mg
Fiber:

1g
Sugar:

2g
Protein:

25g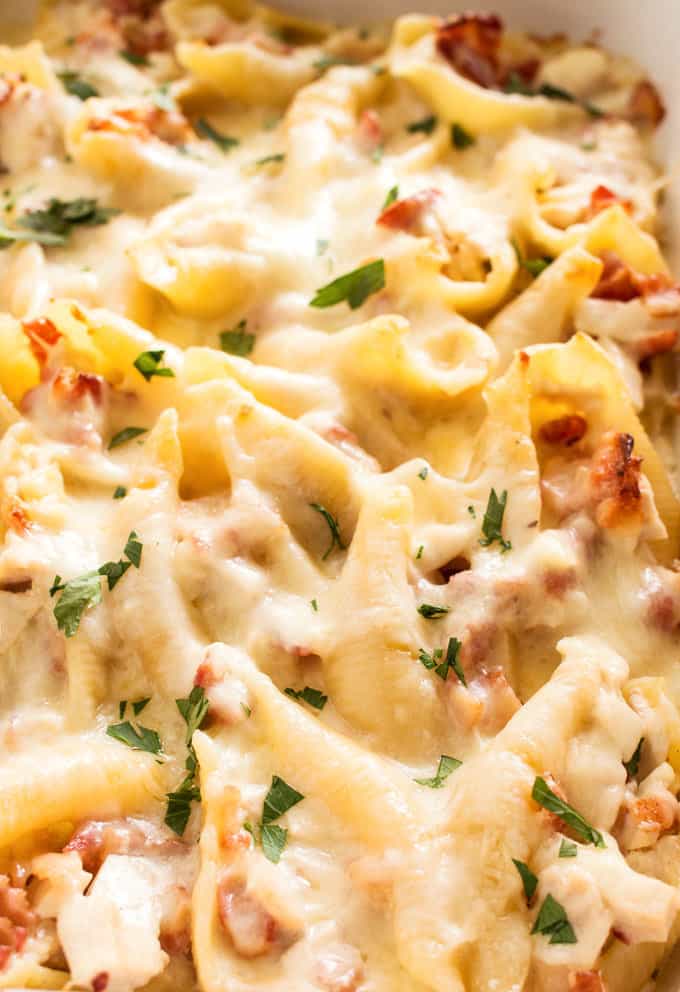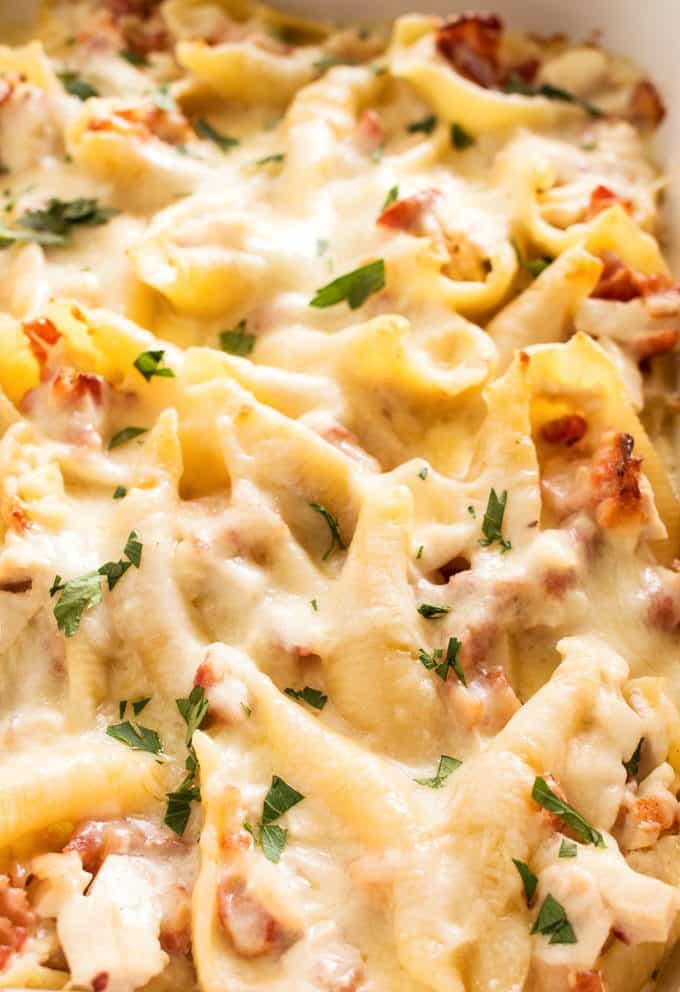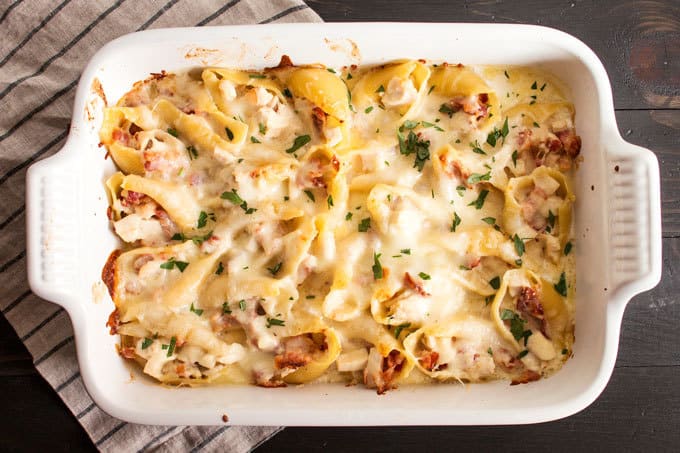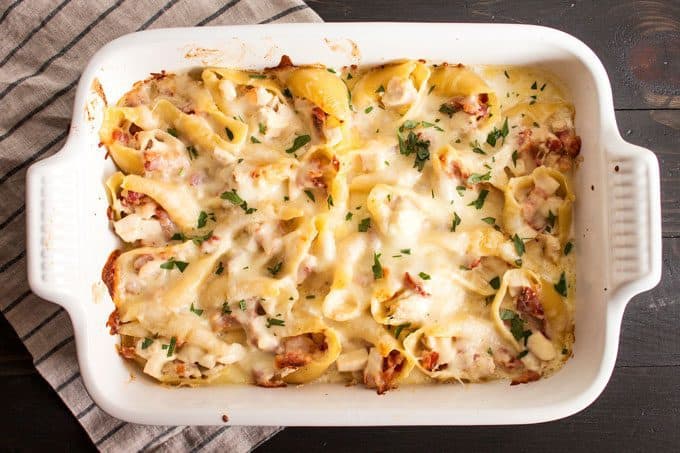 SaveSave