This cinnamon french toast is a great addition to your next brunch with simple ingredients. Top with fresh blueberries, pecans and maple syrup.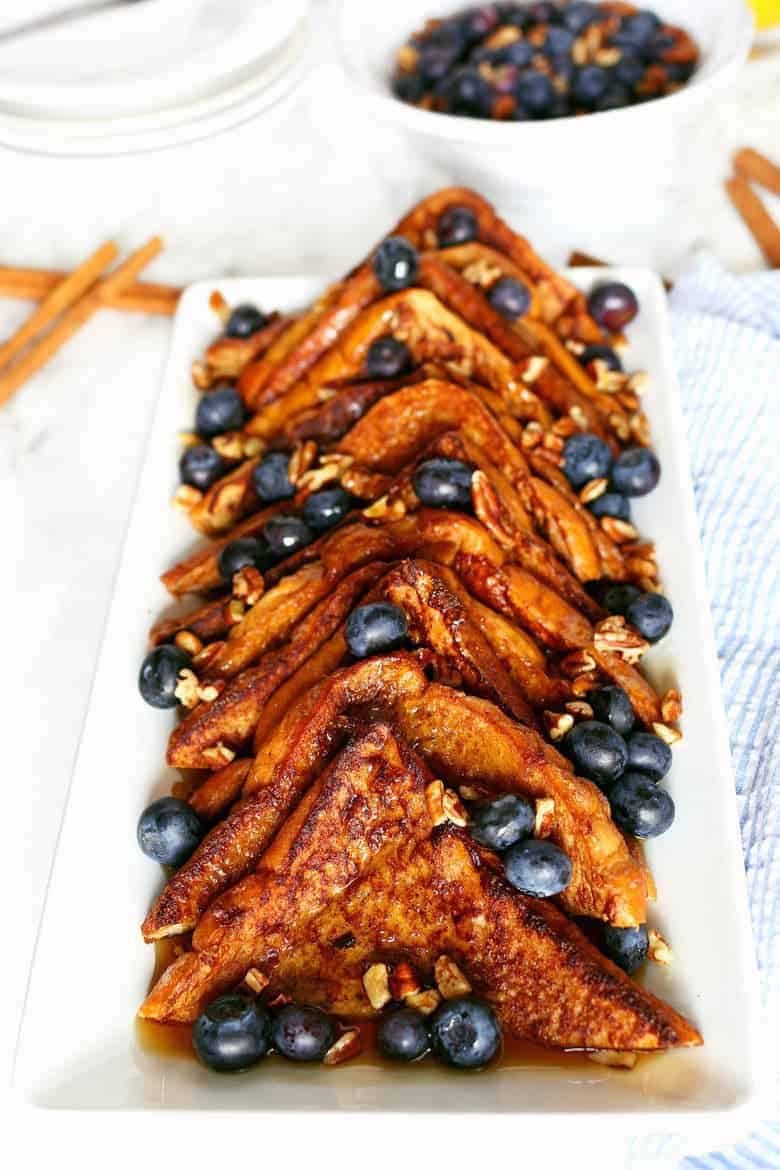 Thank you to Phil's Fresh Eggs for sponsoring today's conversation. My love of their cage-free eggs and all opinions are my own.
I realized that I only eat french toast when I go out for breakfast or brunch. Which doesn't make sense at all because it is so easy to make and I really like it.
The only sensible thing to do here is, of course, share a french toast recipe!
The first thing you need to make french toast is thick bread. I usually use a brioche loaf but any sturdy, thick cut bread will do. Beware the thin bread. When I use thinly sliced bread, the french toast is a little flimsy and does not hold toppings well.
Then you need to dip and soak the bread slices in the cinnamon, egg and milk mixture.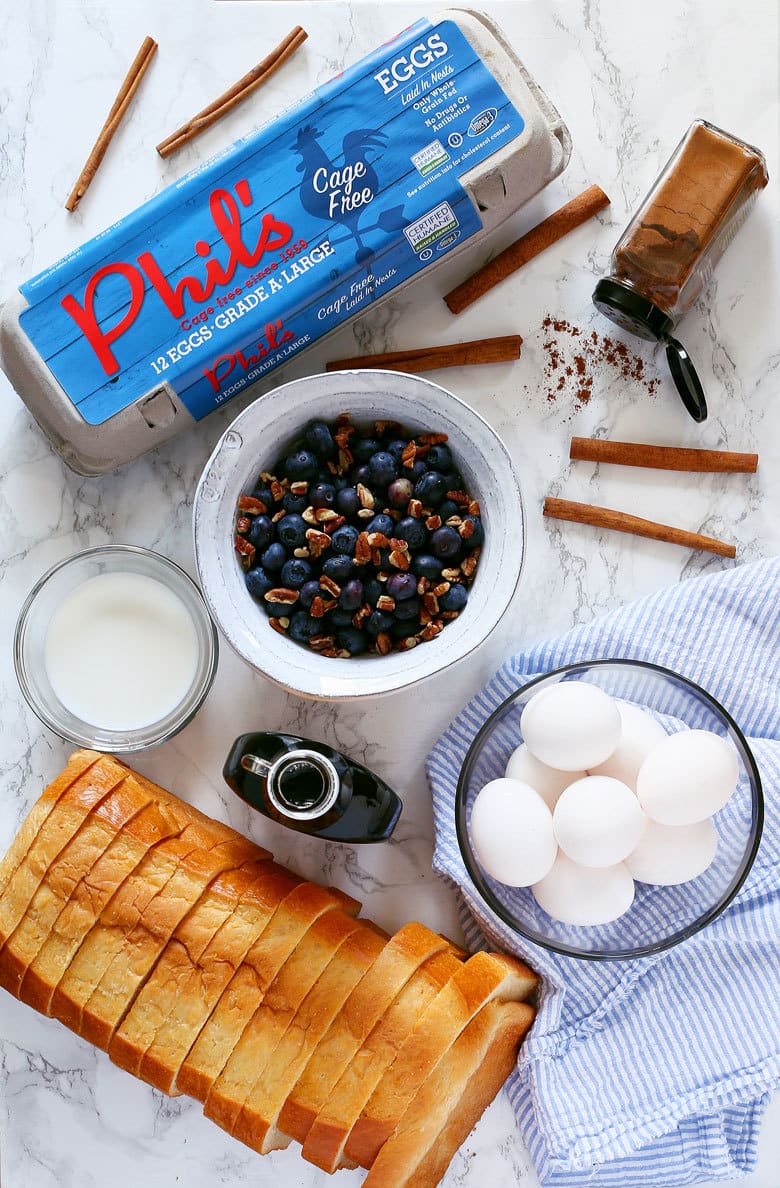 Choosing the eggs I would use was an easy choice; Phil's Fresh Eggs are my go-to eggs every day. Phil's has offered cage-free eggs since 1959 – they were one of the first pioneers in providing cage-free eggs.
Phil's eggs are known for their deep yellowy orange yolks, which is a result of the chicken's diet of corn, soybeans and omega-3 rich ingredients (all sourced from Midwestern farms, I might add!)
Once you have whisked up your eggs, cinnamon and milk add butter to a hot skillet. One by one, soak the bread slices in the egg mixture and place them on the skillet.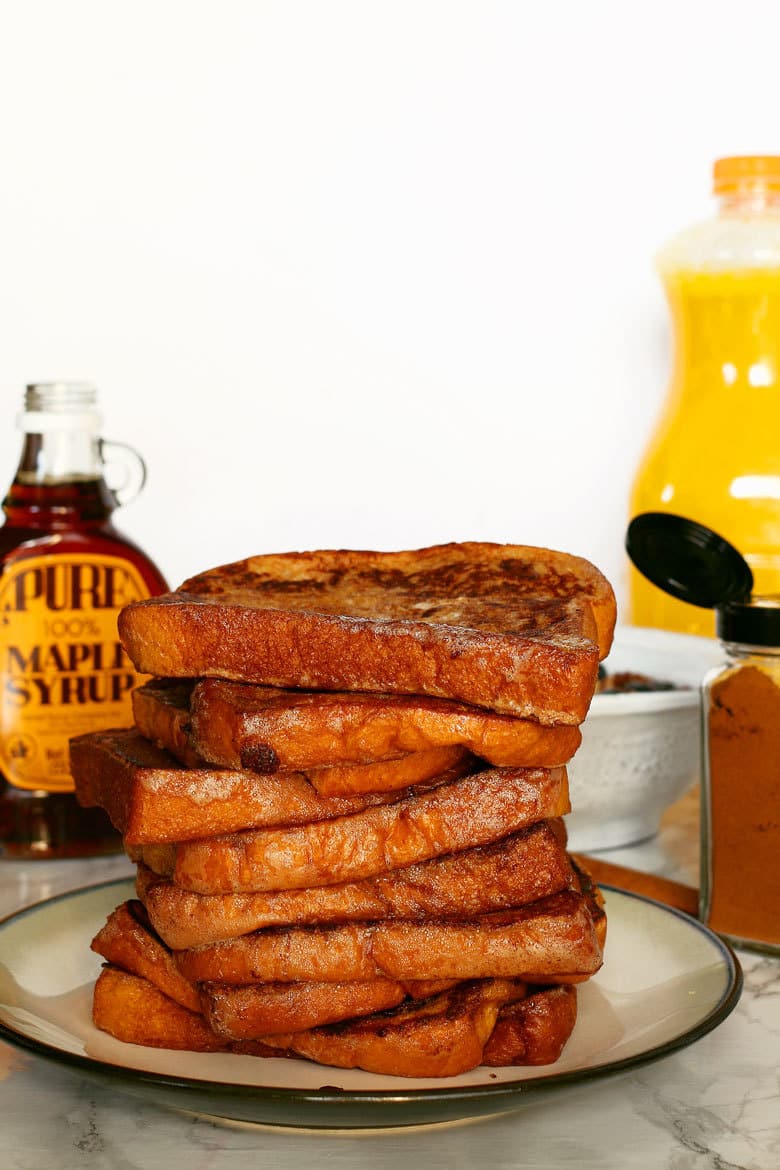 Cook each bread side for 1-2 minutes until it's brown and toasty and then remove it from the skillet. Repeat until all the cinnamon french toast is cooked. If you are like me… you will eat a slice hot off of the skillet. It smells so good!
To serve it, I like to cut each slice into triangles and place them on a long dish. Then I top it with fresh blueberries and pecan pieces before I drizzle a liberal amount of maple syrup on top.
You won't be able to resist making this for breakfast, at least once a month.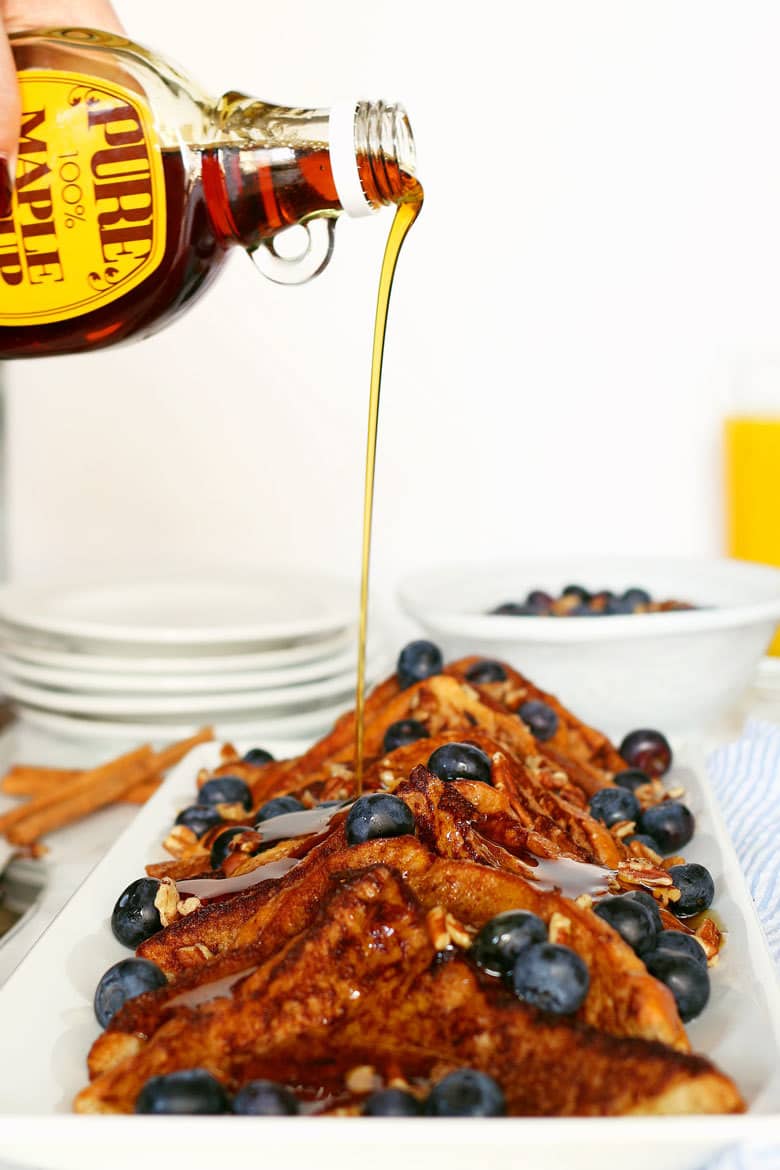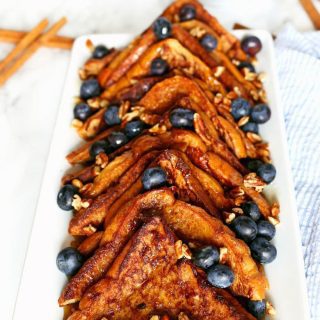 Cinnamon French Toast
Prep Time: 5 minutes

Cook Time: 10 minutes

This cinnamon french toast is a great addition to your next brunch with simple ingredients. Top with fresh blueberries, pecans and maple syrup.
Ingredients
8 slices bread, cut thick (brioche is my favorite)
4 large eggs
2/3 cup whole milk
1 tablespoon ground cinnamon
1 teaspoon vanilla extract
butter
Instructions
Pre-heat a medium skillet or griddle over medium-low heat. Whisk together eggs, milk, cinnamon, and vanilla in a shallow bowl.

Add butter to the skillet or griddle and allow to melt, being careful that it doesn't burn.

Dip a slice of bread in the egg mixture, covering both sides. Place soaked bread onto skillet and fry on each side until golden and cooked through, about 1-2 minutes on each side.

Repeat with each bread slice.

Serve hot and garnish with fresh blueberries, pecan pieces and maple syrup as desired.
Nutrition Information:

Amount Per Serving: Calories: 1036 Total Fat: 32g Saturated Fat: 11g Cholesterol: 760mg Sodium: 1534mg Fiber: 13g Sugar: 23g Protein: 55g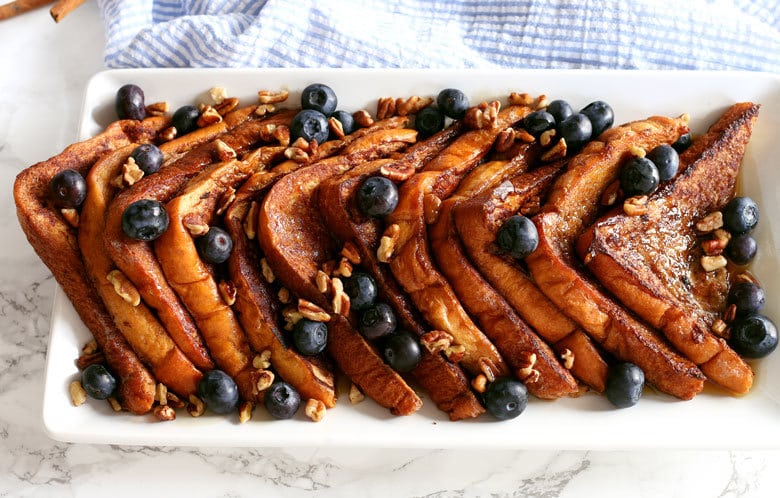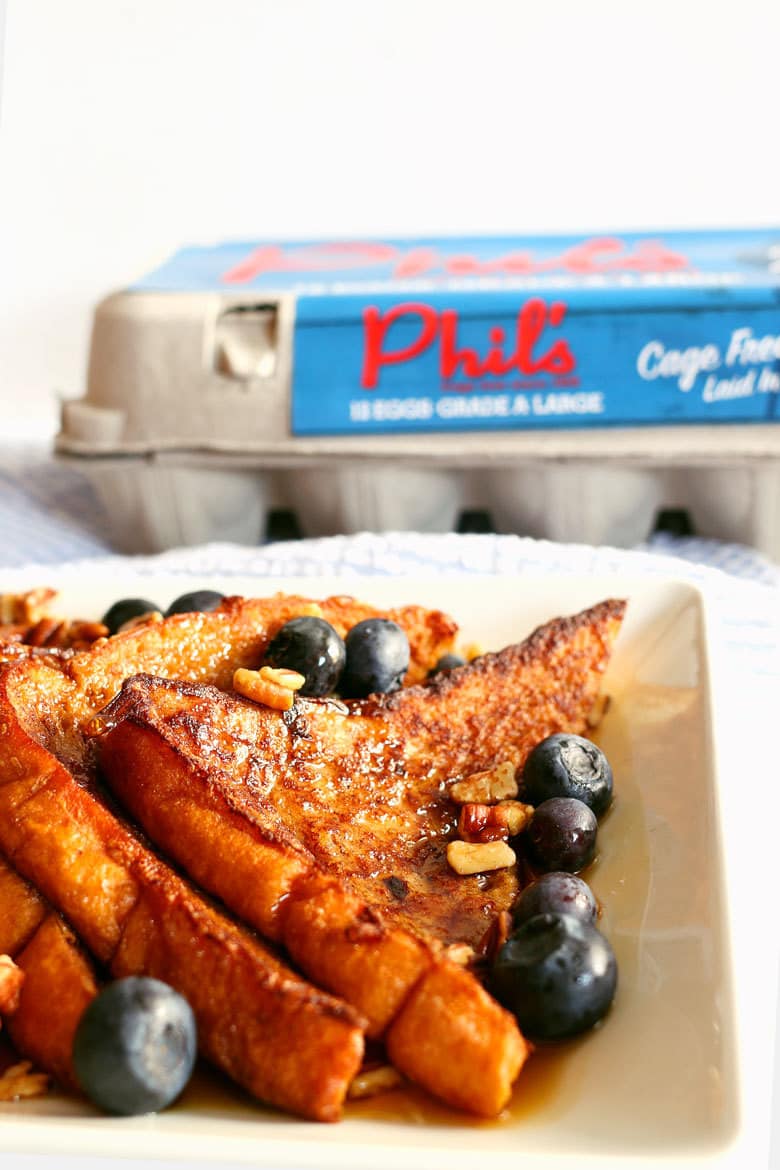 Disclaimer: This post was sponsored by Phil's Fresh Eggs.
---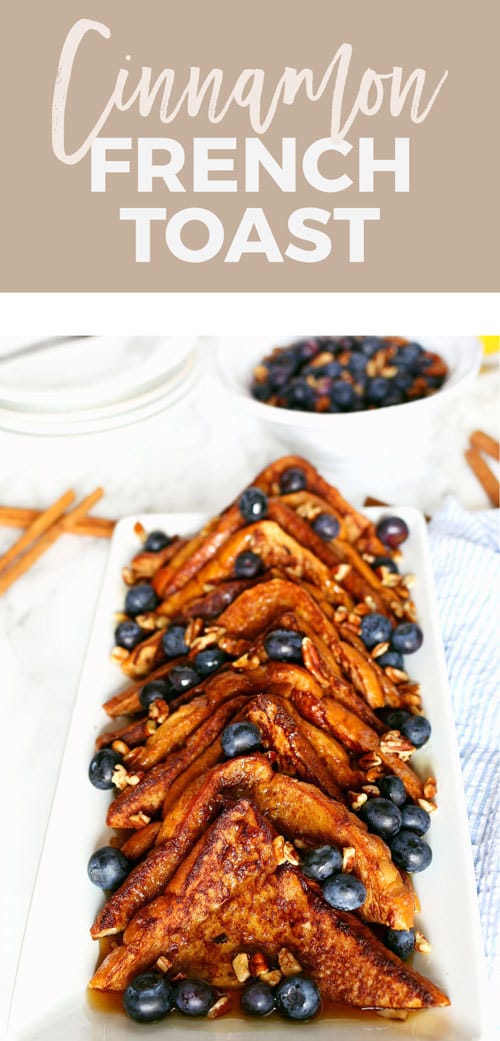 Join the newsletter!
Subscribe to get our latest content by email.