Delicious carrot cake cupcakes, filled and topped with sweet bourbon cream cheese frosting! Made with a sample of Rodelle vanilla extract and a huge dose of love.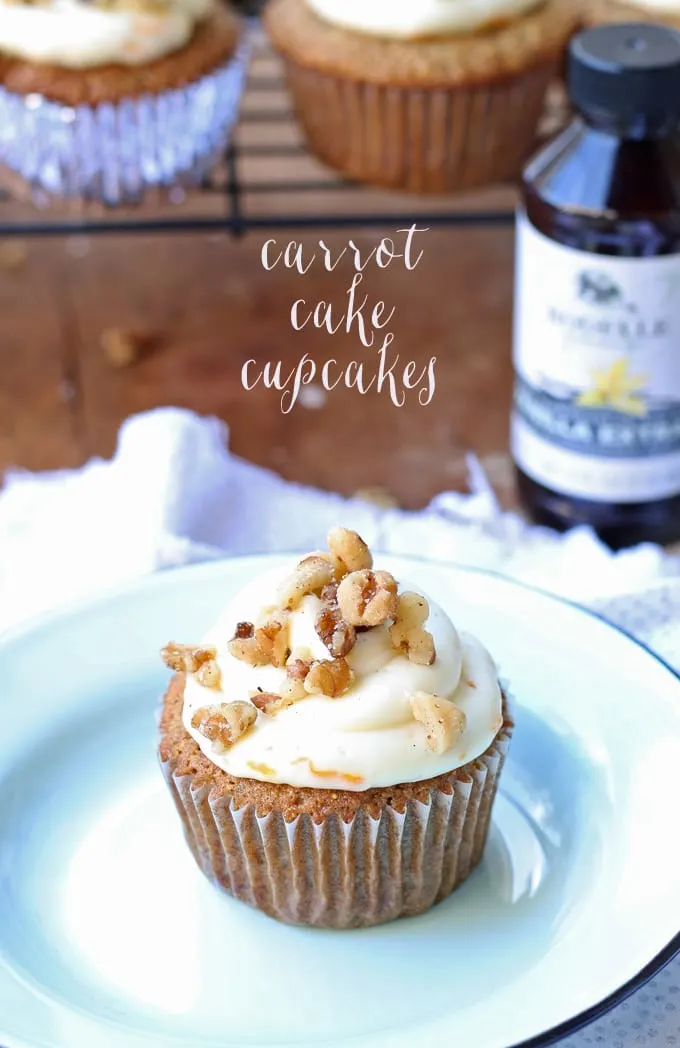 I have been on a baking kick lately, if you haven't noticed. Between mini banana bread loaves and quite a few cupcakes (here and here), my oven has been on non-stop. And I'm not stopping just yet!
Today I have another baked good to share with you – carrot cake cupcakes!
Today's recipe is special because I'm trying to win a year's supply of baking supplies from Rodelle and this post is my "entry." I was sent a bottle of Rodelle vanilla extract and tasked to make one of the recipes off of their website.
Whoever gets the most engagement will win and who wouldn't want to win baking supplies?
I did some searching and found a recipe for layered carrot cake that made me excited, happy and hungry. That is quite the food feeling trifecta.
Of course, I had to change it up because that's just the way that I work. I thought about making it as a cake but couldn't resist the opportunity to mix it up. This is the Rodelle Recipe Remix, after all.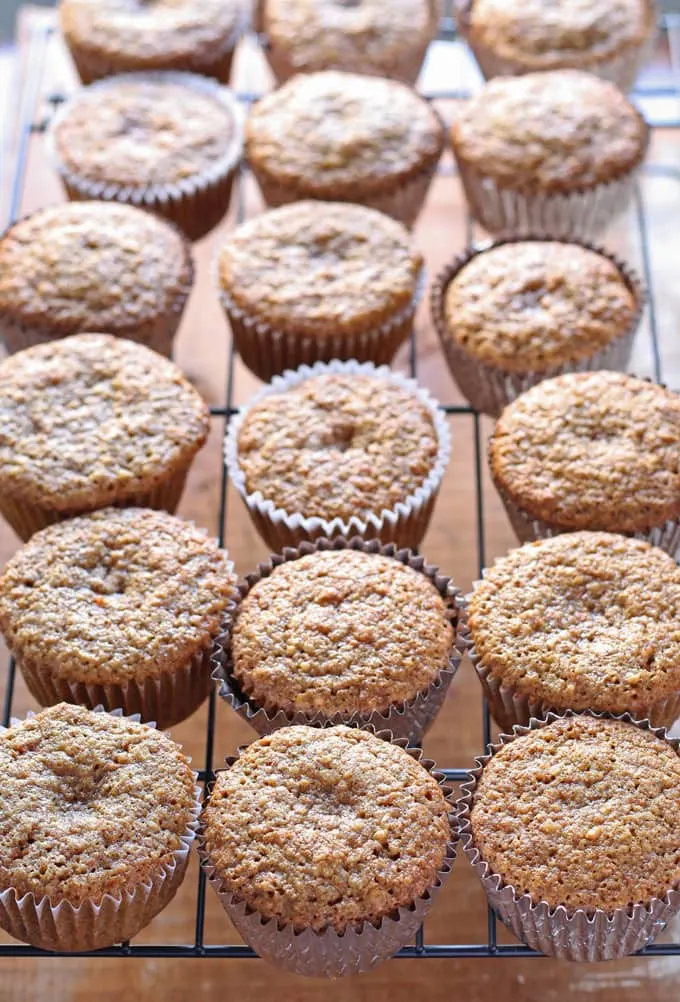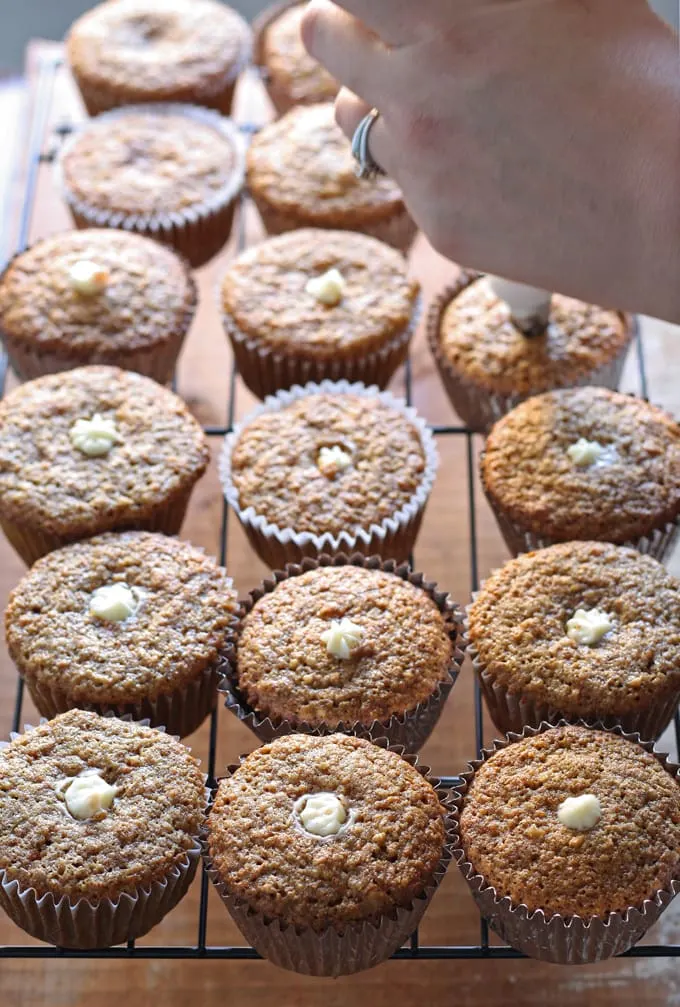 Carrot Cake Cupcakes
If you have never made carrot cake before, then I am going to be the one who warns you – it is not easy. If anyone has ever made you carrot cake, run out and give them a hug because I spent about 3 hours making these cupcakes.
I was a little frustrated at the end and then I ate one…. heaven. Seriously, heaven in a cupcake wrapper.
The centers sunk a little bit but its okay because I filled the centers of each with cream cheese frosting. To do this, I pushed a filled piping bag into the center and squeezed frosting in.
We even tried an experiment – some of the last batch were a little small and I used frosting to plump them up a little. I love a filled cupcake.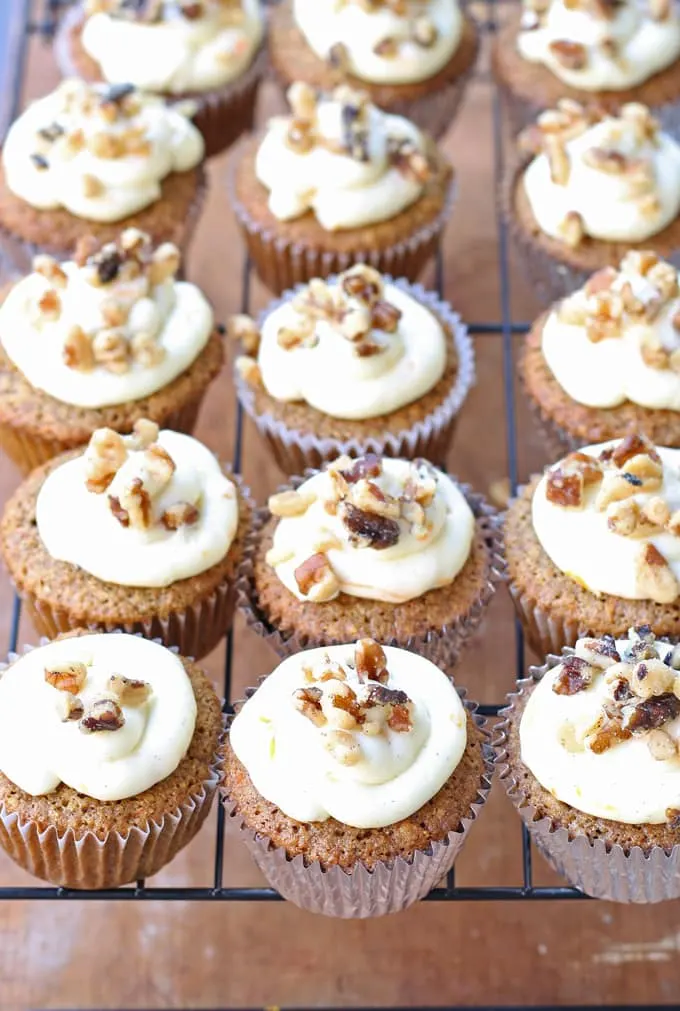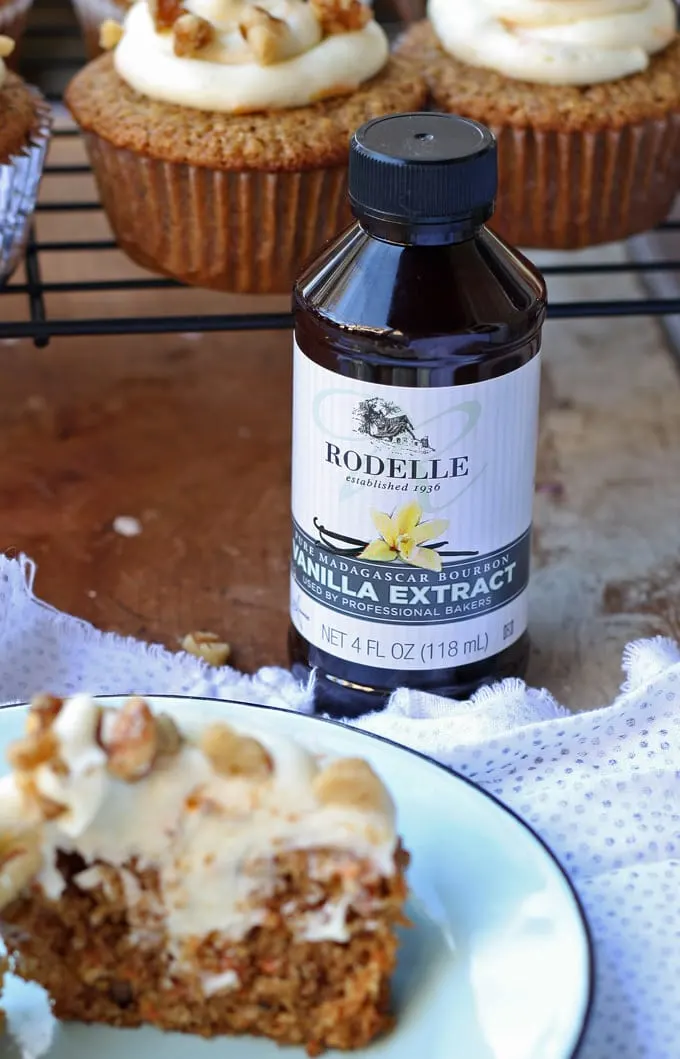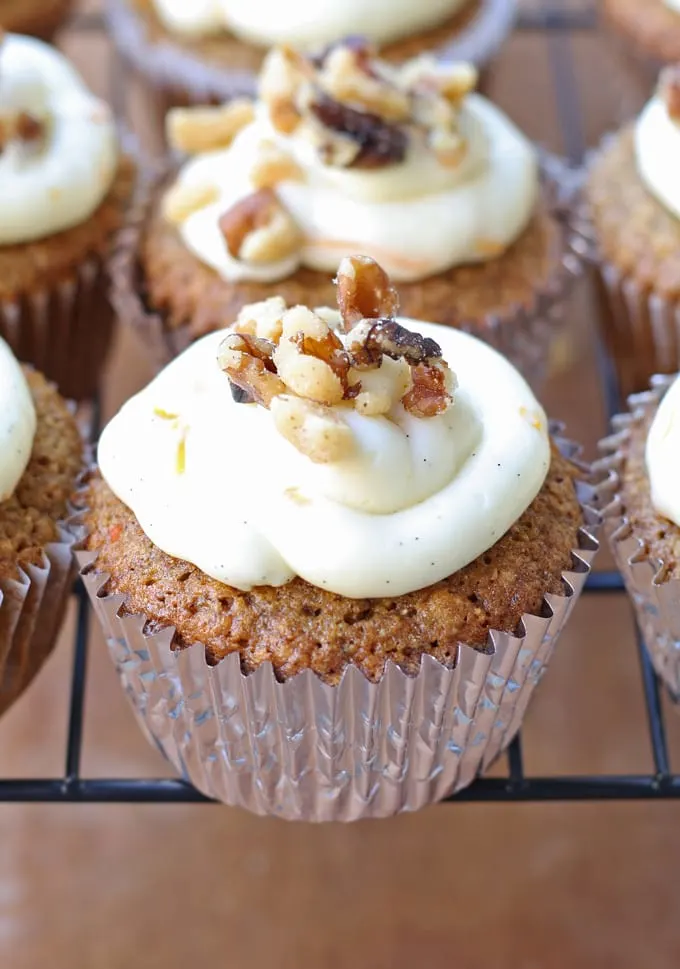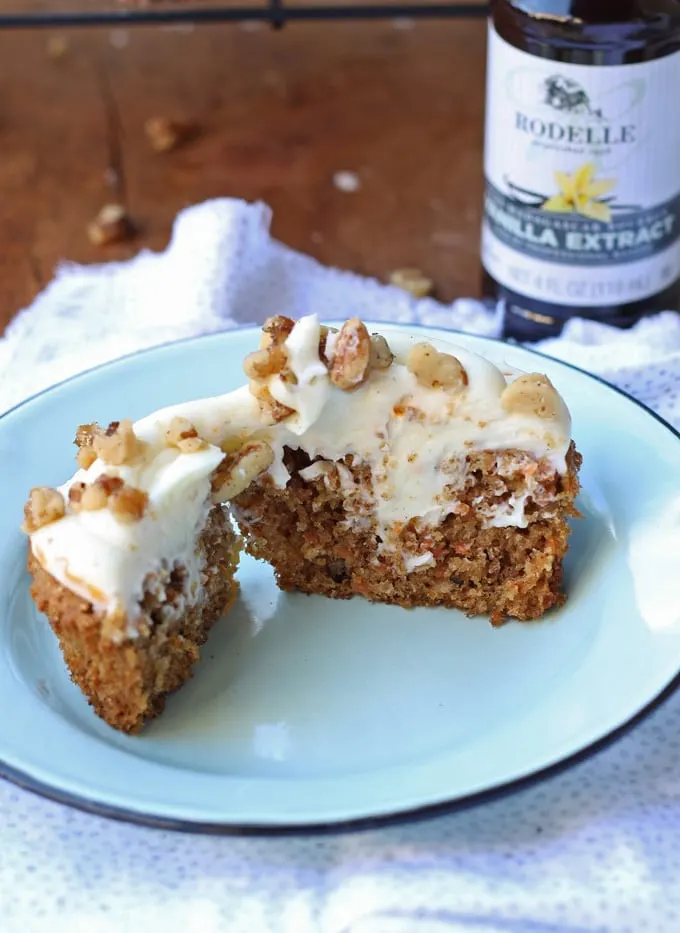 Disclaimer: I was provided with a free sample of Rodelle vanilla to facilitate my contest entry.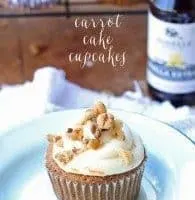 Carrot Cake Cupcakes
Delicious carrot cake cupcakes, filled and topped with sweet cream cheese frosting! Perfect for Easter and spring parties!
Ingredients
Carrot Cake Cupcakes
1 cup unsalted butter
11/4 cups all-purpose flour
11/4 cups whole wheat flour
1 tablespoon baking powder
1 tablespoon baking soda
1 tablespoon ground cinnamon
2 teaspoons ground ginger
1 teaspoon kosher salt
1/2 teaspoon ground allspice
1 cup sweetened flaked coconut
1/2 cup finely chopped walnuts
3 cups finely grated carrots
1 1/2 cups packed brown sugar
3 large eggs, separated
1/2 cup plain Greek yogurt
1/4 cup orange juice
1 tbsp orange zest
2 tablespoons vanilla extract
Cream Cheese Frosting
4 tablespoons unsalted butter, softened
1 vanilla bean; split, seeds removed
1 tsp vanilla extract
1/2 cup mascarpone cheese
12 ounces cream cheese, softened
1 tablespoon bourbon
1/2 tablespoon orange zest
1/2 pound confectioner's sugar
Instructions
Carrot Cake Cupcakes
Heat butter in a saucepan over medium-high heat until it browns. Remove from heat, cool and then chill until solid.
Pre-heat oven to 350° F. Prepare cupcake pans by filling with cupcake liners.
In a large bowl, whisk together both flours, baking powder and soda, cinnamon, ginger, salt, and allspice. In a food processor, finely grind coconut and walnuts. Add the nut mixture and carrots to the flour mixture and mix until well combined.
In the bowl of a stand mixer, beat together the browned butter and brown sugar until fluffy, about 1-2 minutes. Add the egg yolks one at a time. Then beat in the yogurt, orange juice, orange zest, and vanilla extract. Add half of the flour mixture, beating on medium-low until combined, then repeat with the remaining flour mixture.
Whisk the egg whites until stiff peaks form, then fold into the cupcake batter.
Divide batter into the cupcake liners. Bake for 12-14 minutes. Test the centers by poking a toothpick into the cupcake - if it comes out clean the cupcake is done. Let cool slightly, then remove from cupcake pans and complete cooling on a wire rack.
Cream Cheese Frosting
In the bowl of a stand mixer, beat the butter, mascarpone, vanilla seeds, and cream cheese until smooth. Add the vanilla extract, bourbon, and orange zest. Then add the confectioner's sugar in small amounts until the frosting is smooth. Chill slightly before frosting.
Pipe frosting into the centers of the cooled cupcakes, then frost the tops. Sprinkle walnuts on the frosting and chill.
Notes
Recipe adapted from Rodelle.
Recommended Products
As an Amazon Associate and member of other affiliate programs, I earn from qualifying purchases.
Nutrition Information:
Yield:

30
Serving Size:

1
Amount Per Serving:
Calories:

330
Total Fat:

18g
Saturated Fat:

10g
Trans Fat:

0g
Unsaturated Fat:

6g
Cholesterol:

61mg
Sodium:

342mg
Carbohydrates:

38g
Fiber:

2g
Sugar:

19g
Protein:

5g