When life gives you a boatload of bananas, you make mini banana bread loaves! This recipe only takes 30 minutes to bake and leaves delicious and moist mini quick-bread.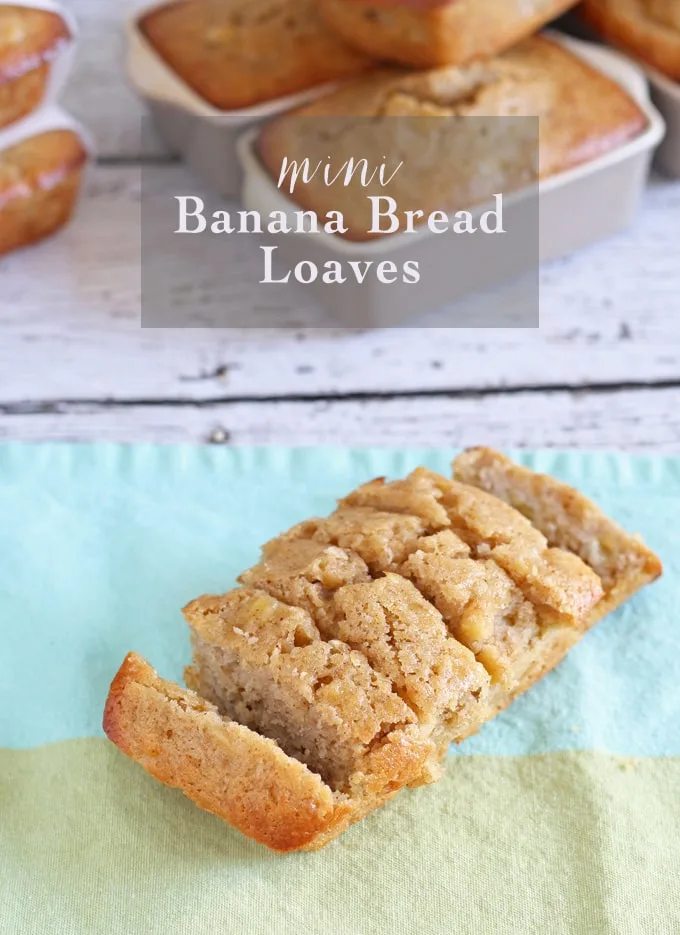 I don't know how much you cook or bake, but you can guess how much I do by the sheer number of posts that I put up each week. All of this cooking and baking leads to lots of trips to the grocery store.
Lots and lots of trips, especially since most recipes I post here are made at least twice before I share them. Gotta make sure those babies work, ya know?
I originally intended to re-photograph this blueberry banana bread recipe this week. It is one of my very first recipes and while totally and amazingly delicious… the pictures do not do it justice.
I got a cold post airplane/Vegas casino and have been battling it all week so a photo redo seemed perfect. Also, Mr. B was feeling extra helpful and went off to the store for me in search of blueberries. That man! So great!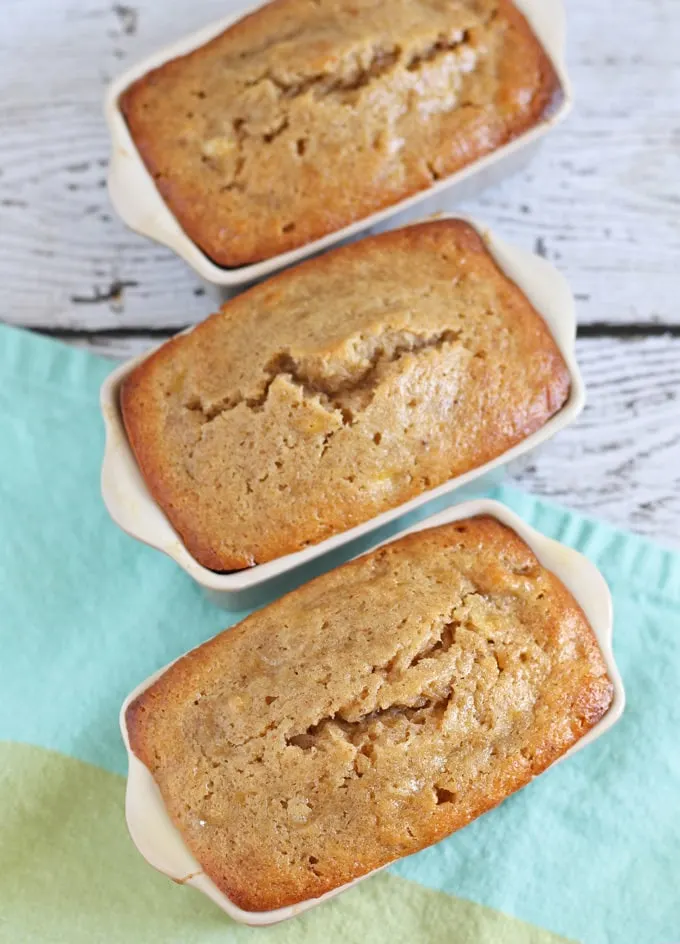 My bananas were perfectly old and brown and Mr. B brought me a pint or two of blueberries and I went to start baking… only to find that my blueberries had gone all nasty in the center.
Almost as though someone at the store had put all of the gross ones in the middle and covered them up with beautiful ones. We are only as beautiful as we are beautiful on the inside (or something like that) so the blueberries had to be trashed.
I was left with a lot of mashed up bananas so I took this as a sign… banana bread mini loaves to the rescue! Because when life gives you a boat load of bananas, the only thing to do is bake banana bread.
Mini Banana Bread Loaves Recipe
I happened to have 4 mini ceramic dishes lying around that were the perfect size for mini loaves. I think they were a little big and that you can probably separate the batter into 8 loaves. The dishes I had made 7 perfect loaves.
You can also make this bread into one big loaf – bake for 50 minutes instead, checking with a toothpick to make sure it is done!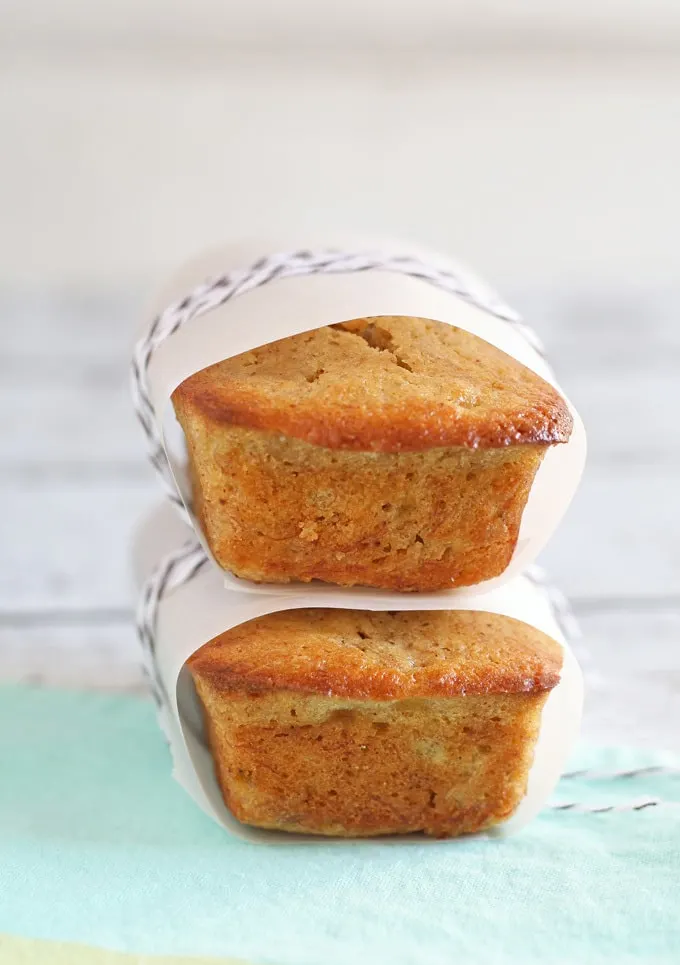 SaveSave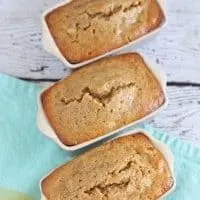 Mini Banana Bread Loaves
When life gives you a boatload of bananas, you make mini banana bread loaves! This recipe only takes 30 minutes to bake and leaves delicious and moist mini quick-bread.
Ingredients
1 3/4 cup all purpose flour
1 teaspoon baking powder
1/8 teaspoon baking soda
1/4 teaspoon salt
1/2 cup unsalted butter, softened
1/2 cup white sugar
1/2 cup brown sugar
2 large eggs
1/2 cup milk
1 teaspoon vanilla extract
1/2 teaspoon ground cinnamon
1/2 teaspoon pumpkin pie spice
2 cups mashed, over-ripe bananas (6 small bananas)
Instructions
Preheat oven to 350 degrees F. Grease your bread pans with butter or non-stick spray.
In a medium bowl, combine the flour, baking powder, baking soda and salt with a whisk and set aside.
In the bowl of a stand mixer, mix the butter, white sugar and brown sugar on medium until light and fluffy, about 2 minutes. Add the eggs, milk, vanilla extract, cinnamon and pumpkin pie spice to the butter/sugar mixture. Mix on medium speed until well combined.
Beat in the mashed bananas until evenly mixed in.
With your mixer at low speed, gradually add in the set-aside flour mixture, until just combined.
Pour batter into your loaf pans. Evenly distribute the batter between your pans, filling each pan a quarter inch from the top. Bake for approximately 30 minutes, then check with a toothpick poked in the center to see if it comes out clean. If not cooked all of the way through, cook for another 5 minutes and check again. When completely cooked, remove from oven. Allow to cool for 10 minutes before removing from pan. Allow to cool completely on a rack.
Nutrition Information:
Yield:

8
Serving Size:

1
Amount Per Serving:
Calories:

363
Total Fat:

13g
Saturated Fat:

8g
Trans Fat:

0g
Unsaturated Fat:

5g
Cholesterol:

78mg
Sodium:

178mg
Carbohydrates:

57g
Fiber:

2g
Sugar:

29g
Protein:

6g