Chocolate caramel chip marshmallow cupcakes is quite a mouthful but every bit of that goodness is packed into these delicious cupcakes. Many thanks to Nestle Toll House for sponsoring today's story and encouraging me to use new DelightFulls Filled Baking Morsels in my recipes!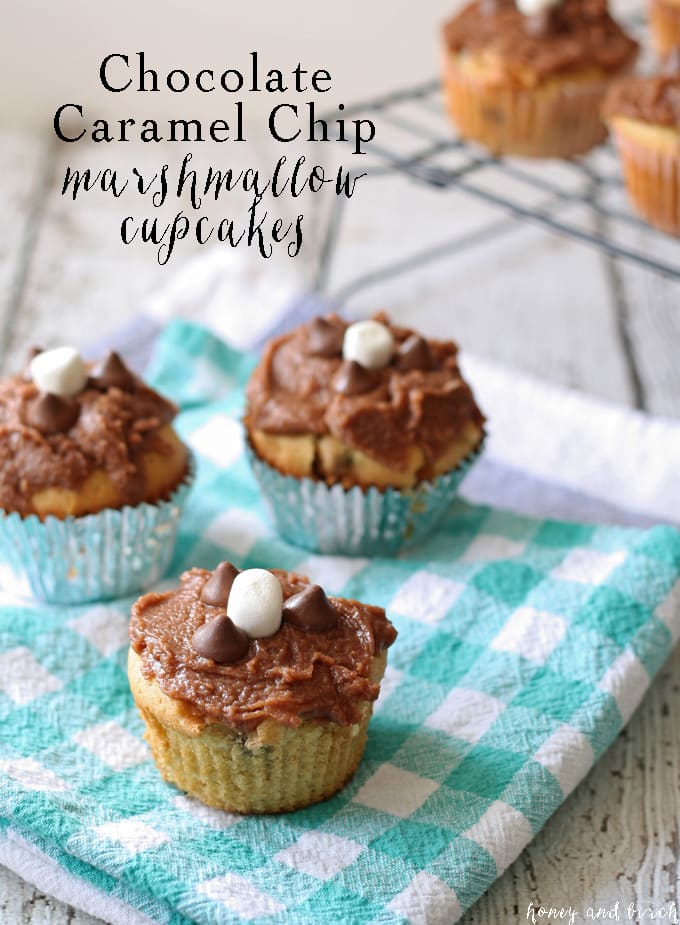 I am a huge fan of chocolate chip cookies. If you are a beginner baker, they are a great starting point because they are pretty easy to make. If you over mix them, you are still going to get a delicious cookie. In fact, I think they are one of the first things that I ever tried to make when I was a kid. I'm sure my mom enlisted my help when it was time to hand stir the chocolate chips into the dough. I'm also positive that I was given an opportunity to help "clean" the bowl while the cookies were baking.
Traditional chocolate chip cookies, however, can sometimes be a little boring. Especially when there are so many other desserts out there. Sure, they are delicious but it's so easy to take them up a notch that its a shame not to.
I woke up the other day and had a craving for a cupcake AND a chocolate chip cookie so I took this as a sign. Time to get my chocolate chip cookie creativity going. Nestle Toll House Delighfulls were definitley the answer.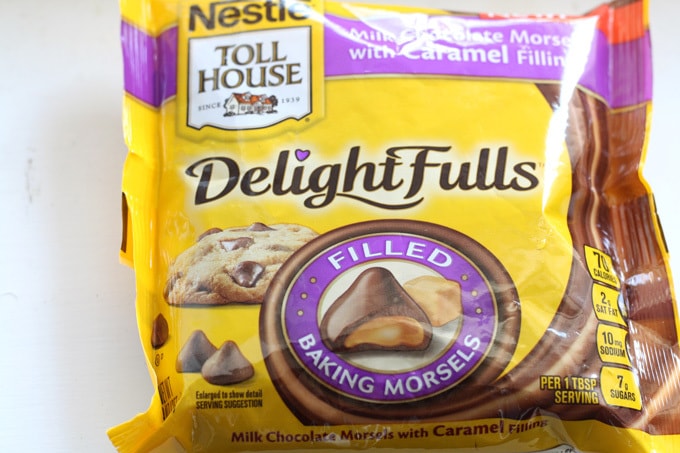 Chocolate Caramel Chip Marshmallow Cupcakes
I started off with a chocolate chip cookie recipe that I posted last year as my base – if you are looking to make a chocolate chip cookie and a cupcake I figured that was the smart place to start. If you have made a chocolate chip cookie, you can make these cupcakes. I have taken care of the modifications for you – all you have to do is add marshmallows. Why not, right? Chocolate, caramel and marshmallows sounds like heaven to me.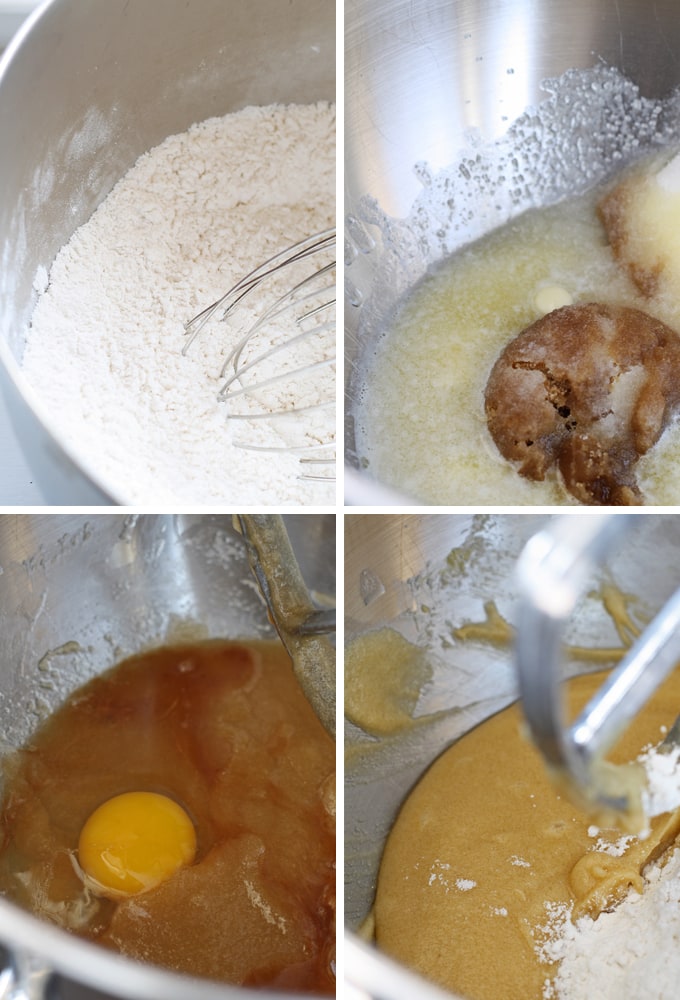 Mix up the batter and pour into your prepared cupcake pans. The first batch I made I used an ice cream scooper and put a full scoop into each liner. This equaled 14 large cupcakes. If you want smaller cupcakes, fill the liners about 2/3 of the way full and bake for 1-2 minutes less. I did one batch with smaller proportions and they turned out okay – still delicious! Anyway, I digress…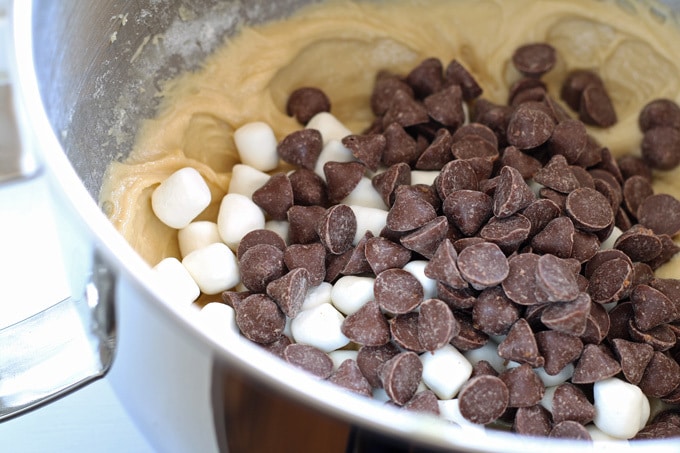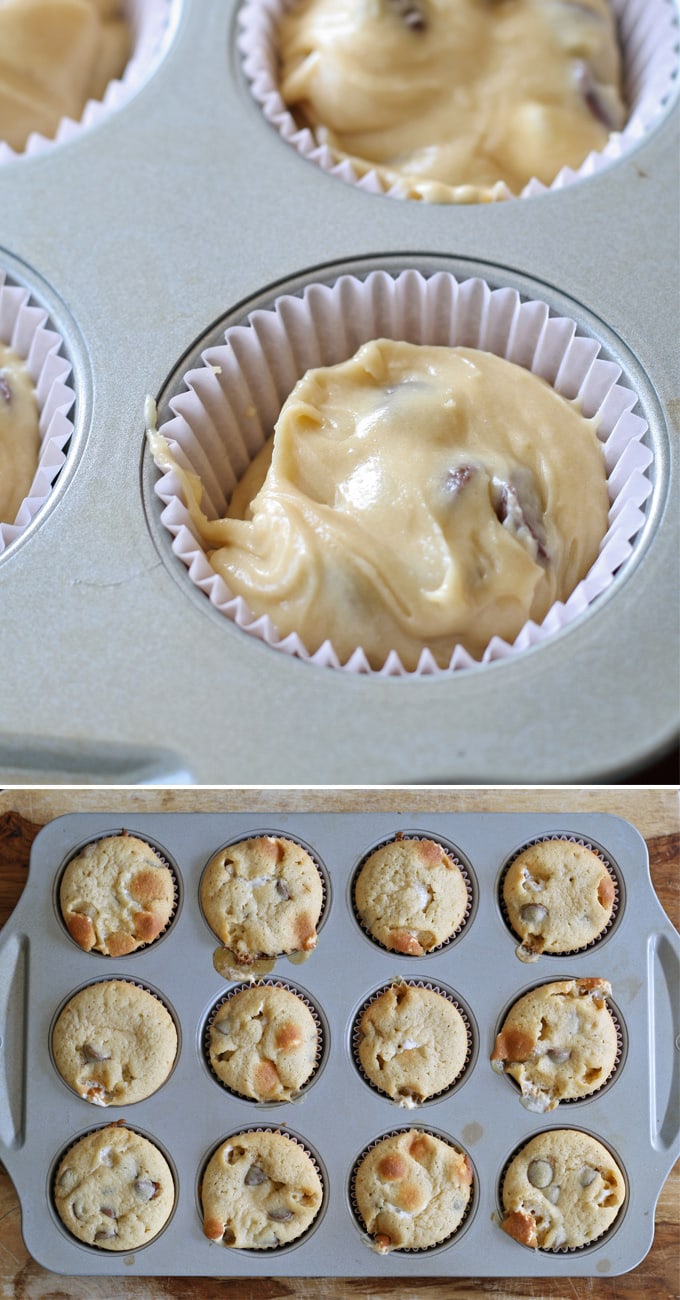 Then you bake them for a short time and while they are baking, you make the chocolate caramel frosting. Nestle Toll House Delightfulls in chocolate and caramel were the perfect answer for this frosting because I didn't want to have to take the time to make caramel from scratch.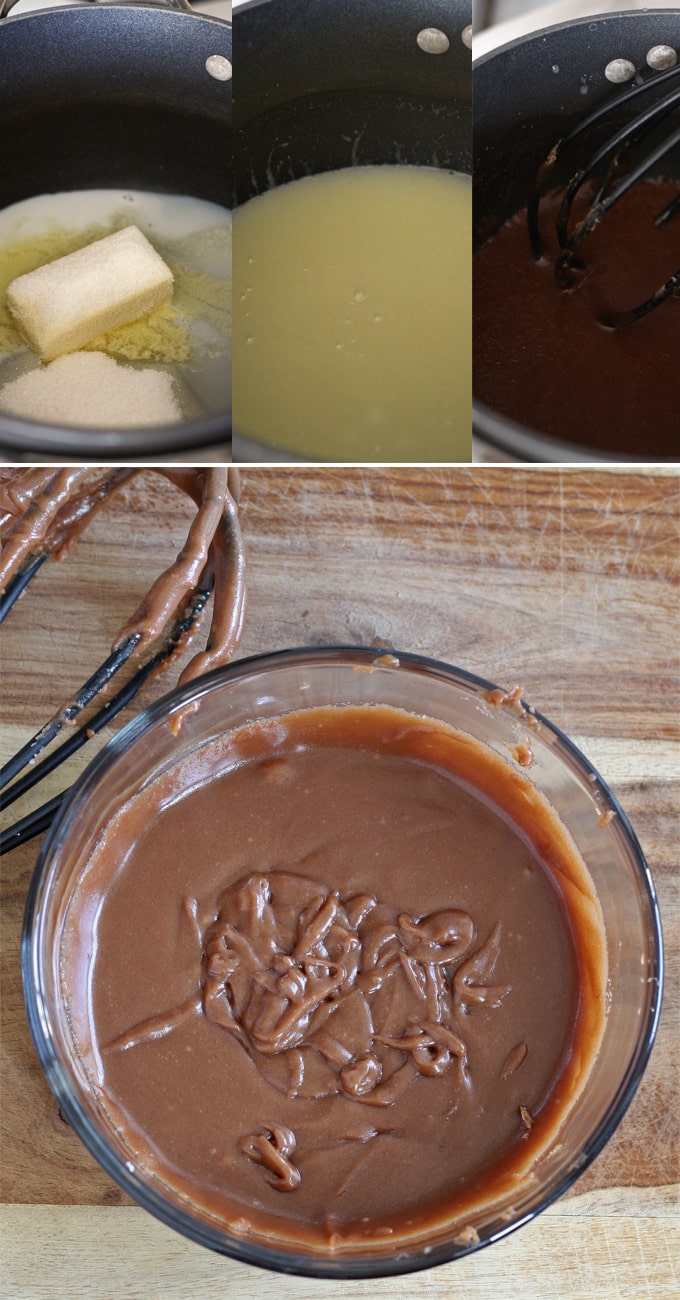 Start making the frosting while the cupcakes are cooling so that by the time it is done you can frost the cupcakes. It's going to be like fudge and harden when it is completely cooled. Also, if you want to, garnish with Nestle Toll House Delightfulls and maybe a spare marshmallow or two.
Nestle Toll House Delightfulls
Nestle Toll House Delightfulls come in a couple different flavors – I bought the caramel, mint and peanut butter versions and had a hard time resisting eating them all. If you are interested in other recipes from Nestle in all the varieties available, I encourage you to check out their website. Here is a sample of some the yummy recipes you will find there: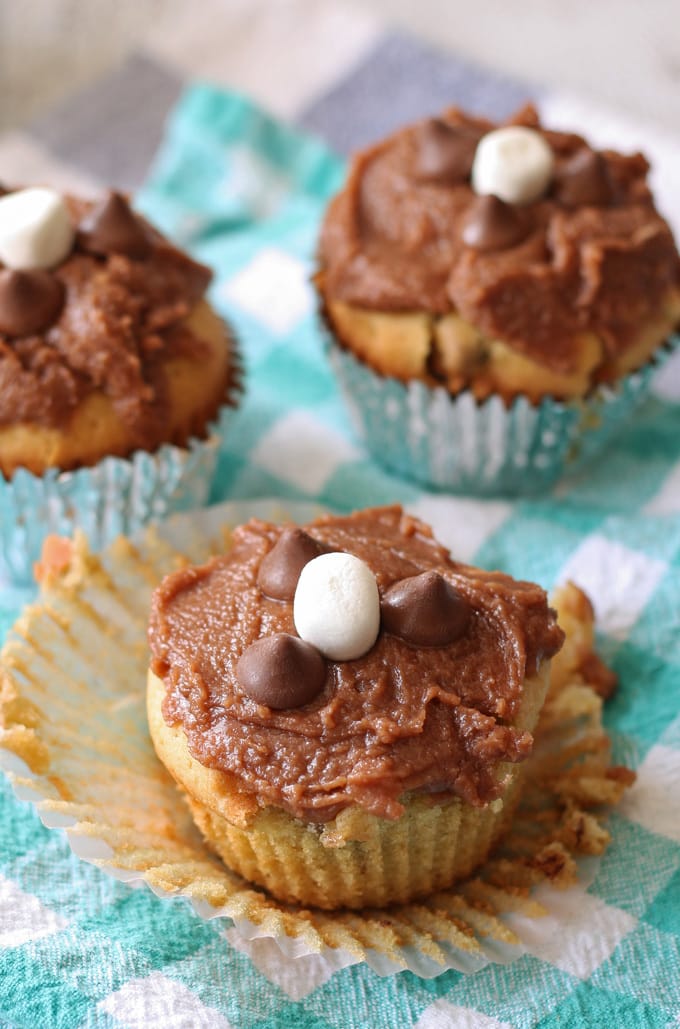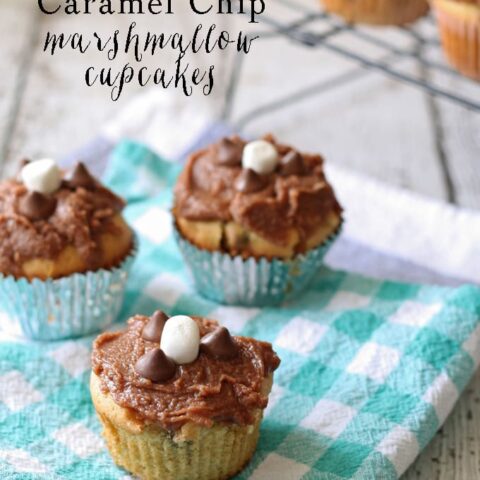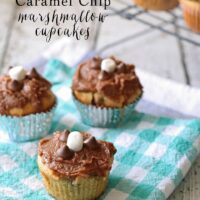 Chocolate Caramel Chip Marshmallow Cookie Cupcakes
Chocolate caramel chip marshmallow cupcakes is quite a mouthful but every bit of that goodness is packed into these delicious cupcakes.
Ingredients
cupcakes
2 cups all purpose flour
1/2 teaspoon baking soda
1/2 teaspoon salt
10 tablespoons unsalted butter, melted
3/4 cup packed brown sugar
1/2 cup white sugar
1 teaspoon vanilla extract
2 eggs
1/2 cup milk
1/2 cup mini marshmallows
frosting
1/4 cup unsalted butter
1 cup sugar
1/4 cup milk
1 teaspoon vanilla extract
Instructions
Cupcakes
Preheat oven to 350 degrees. Line a cupcake pan with cupcake liners. In a small bowl, whisk together the flour, baking soda and salt and set aside.

In the bowl of a stand mixer, cream together the butter, brown sugar and white sugar on medium. When it is well blended, beat in the vanilla extract. Then add the eggs, one at a time until combined. Add half of the flour mixture. When that is mixed in, set the mixer to low and add the milk. When that is mixed in, return the mixer to medium and add the rest of the flour mixture until just combined.

Using a spatula, stir the DelightFulls chips and marshmallows into the batter until spread out. Place the batter into the prepared pan and put in the oven for 15-17 minutes. Remove from oven and let cool on a wire rack before frosting.
Frosting
In a medium saucepan, combine the butter, milk and sugar. Bring to a boil. Then remove from heat and add the DelightFulls chips and vanilla extract. Beat until cool and frost immediately.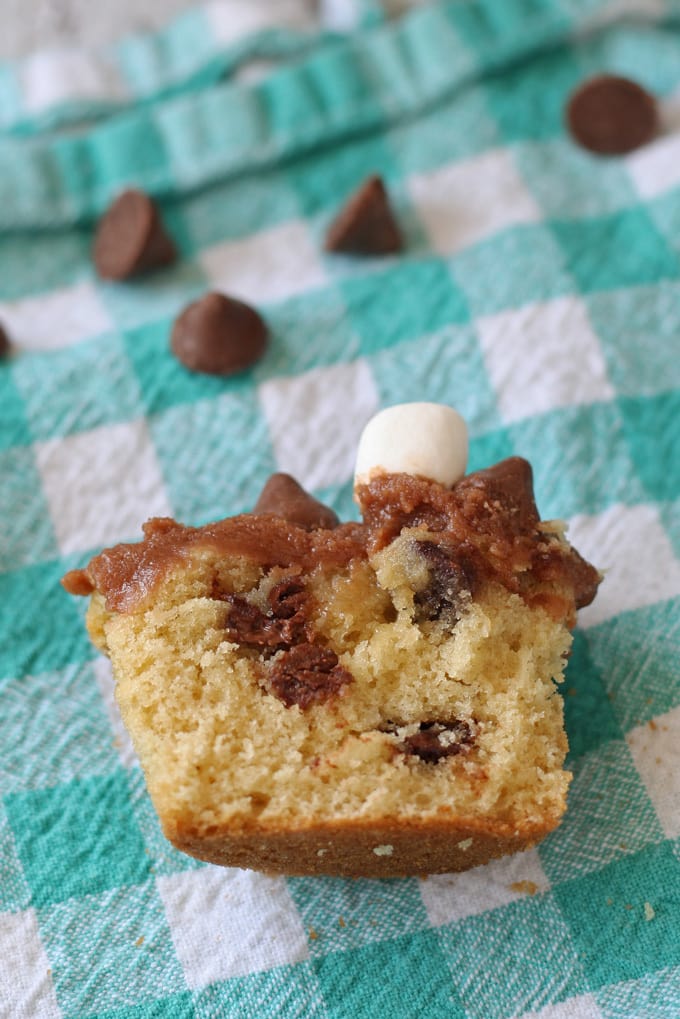 Disclosure: Thanks again to Nestle Toll House for sponsoring today's post!
SaveSave