This coffee tequila cream cocktail includes coffee flavored tequila, Irish cream and homemade cinnamon whipped cream!
I have been looking at a bottle of Patron XO Cafe the past few months. In case you are wondering, Patron XO Cafe is coffee flavored tequila.
My bottle has been sitting on my home bar, looking all seductive. So I've been watching it and trying to come up with a cocktail idea. I have to get rid of it, because it's dangerous.
It's the only non-bourbon/scotch/whiskey alcohol that I can drink in a glass on its own. Over ice, or chilled, its one of the most delicious drinks and I don't know how I have resisted this long.
Try it, I'm sure you will like it too. The ex-bartender in me would maybe give you a little sample so you'd buy a full drink.
If you come to my house, I will gladly give you a drink "on the house." Either way, you will want to run out and buy a bottle of your own.
Which is perfect – that means you can make this cocktail any time you want!

Coffee Tequila Cream Cocktail
I don't know for sure, but I bet that by now there are a few different brands of tequila that are offering a coffee-flavored version. The only one I have tried is the Patron brand, so obviously it (Patron XO Cafe) is my favorite.
There are also several brands of Irish cream, but the only one I've ever bought is Bailey's. Buy what you know, I guess.
How to Make Cinnamon Whipped Cream
The piece de resistance of this yummy cocktail is the cinnamon whipped cream.
Making homemade whipped cream is super easy. If you have a stand mixer, throw the ingredients in the mixer bowl with the whisk attachment and get mixing.
If you don't, you can use a hand mixer or a whisk – if you use a whisk, just whisk hard. What did we do before electricity, right?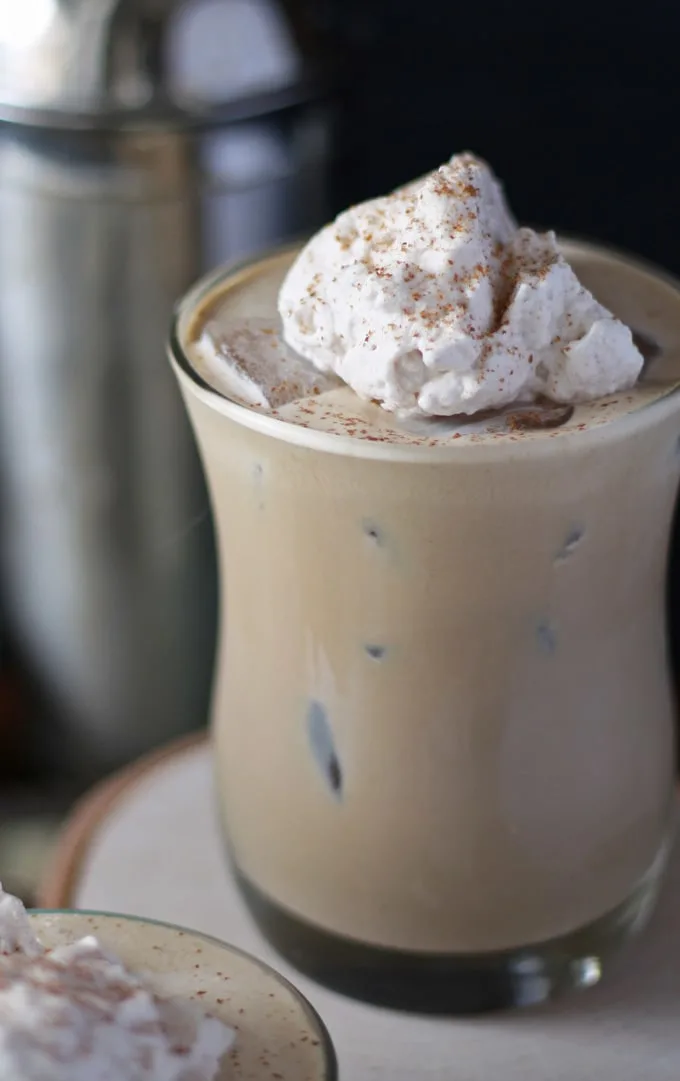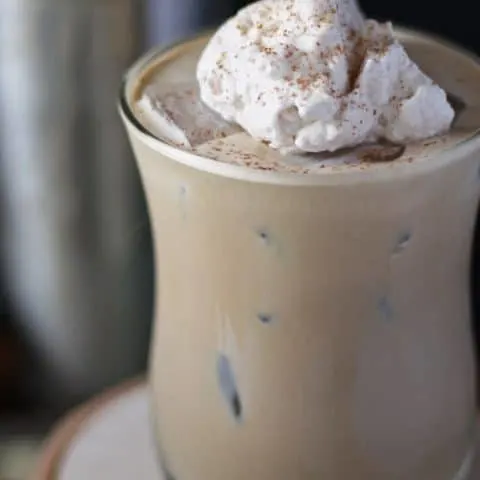 Coffee Tequila Cream Cocktail with Cinnamon Whipped Cream
Additional Time:
10 minutes
This coffee tequila cream cocktail includes coffee flavored tequila, Irish cream and homemade cinnamon whipped cream!
Ingredients
2 ounces of Patron XO Cafe (or other coffee flavored tequila)
3 ounces of Bailey's Irish Cream
3 tablespoons cinnamon whipped cream
ice
Cinnamon Whipped Cream
1 cup heavy cream
1 teaspoon vanilla extract
2 tablespoons confectioners sugar
1/2 tablespoon ground cinnamon
Instructions
In a cocktail shaker, combine the Cafe Patron, Bailey's and cinnamon whipped cream with several ice cubes. Shake well. Fill 2 cocktail glasses with ice, then pour the chilled mixture over the ice. Top with more cinnamon whipped cream before serving.
To Make the Cinnamon Whipped Cream
In the bowl of stand mixer, whip the heavy cream until peaks form. Add the vanilla extract, confectioners sugar and cinnamon and beat until the peaks return.
Nutrition Information:
Yield:

2
Serving Size:

1
Amount Per Serving:
Calories:

410
Total Fat:

44g
Saturated Fat:

28g
Trans Fat:

1g
Unsaturated Fat:

13g
Cholesterol:

137mg
Sodium:

43mg
Carbohydrates:

39g
Fiber:

7g
Sugar:

28g
Protein:

4g