This sweet endive salad is perfect for the end of fall. It's full of fall apples and winter pomegranate!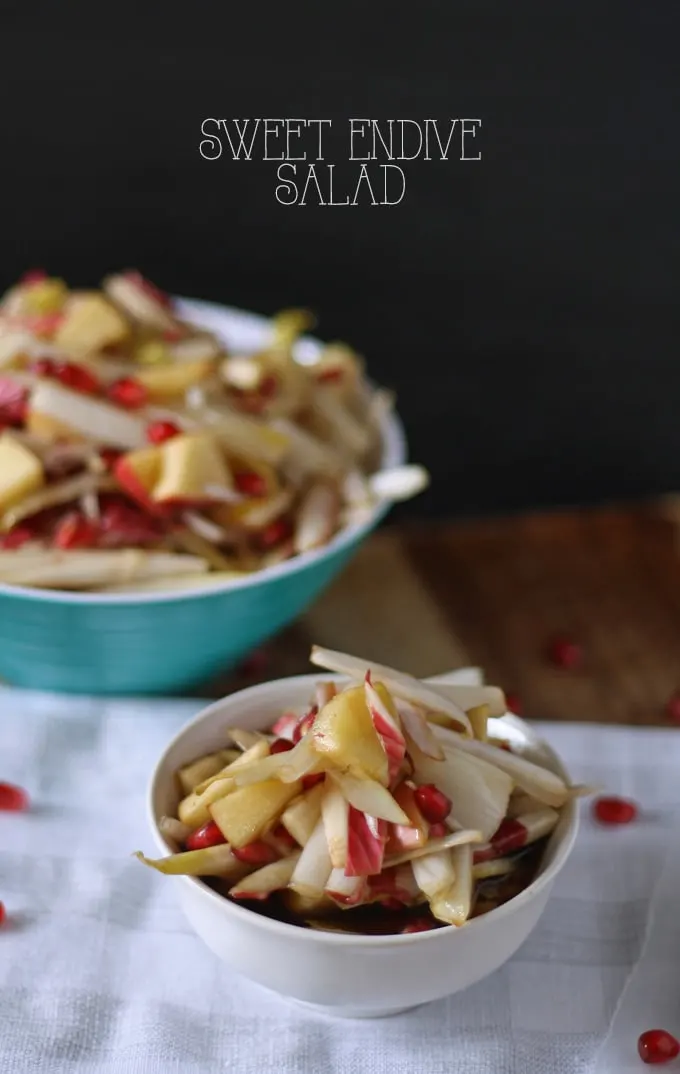 One of my favorite blogger perks are free products. Sometimes its kitchen appliances to review, sometimes kitchen tools. Other times, its food or wine. Those boxes are usually my favorite.
Last month, I was sent a big box of endive from California Endive for a post on entertaining for the holidays. It was the largest box of endive I could ever have hoped to receive. After creating two endive recipes for the previously mentioned post, I still had a lot of endive leftover.
This blogger problem was, of course, not a problem at all. It just meant more delicious fodder for my recipe creating.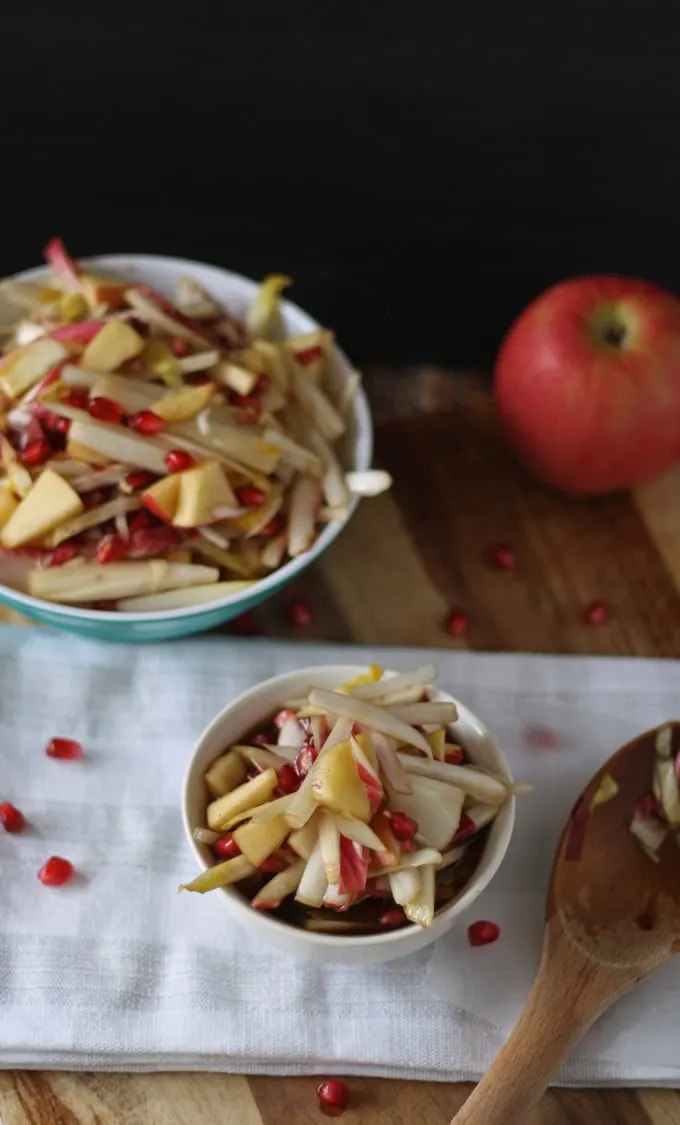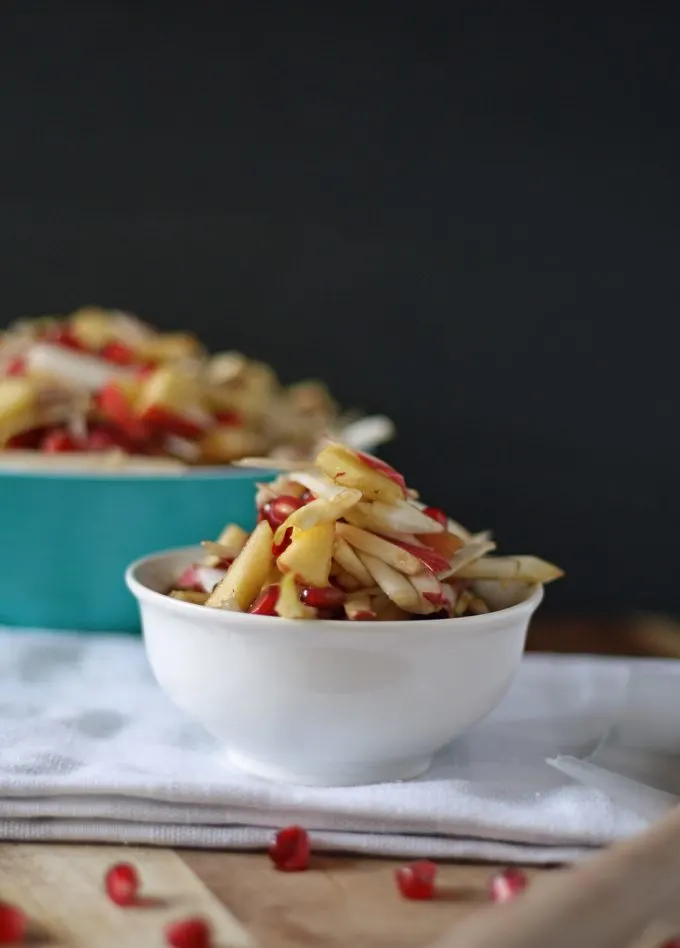 Sweet Endive Salad
I decided endive was similar enough in texture to cabbage that it would be a great substitute in coleslaw. I tried that out and it was delicious – if you are not sure what to do with endive, that is a very safe option. But we're not doing safe this season at Honey and Birch.
Had to change it to sweet and oh boy, what a happy change. Mr. B is love with this sweet endive salad recipe. I'm feeling a little jealous, to tell the truth. 🙂
And it is perfect for that weird time of year between fall and winter. Is it cold? Is it warm? Who knows what the days will bring.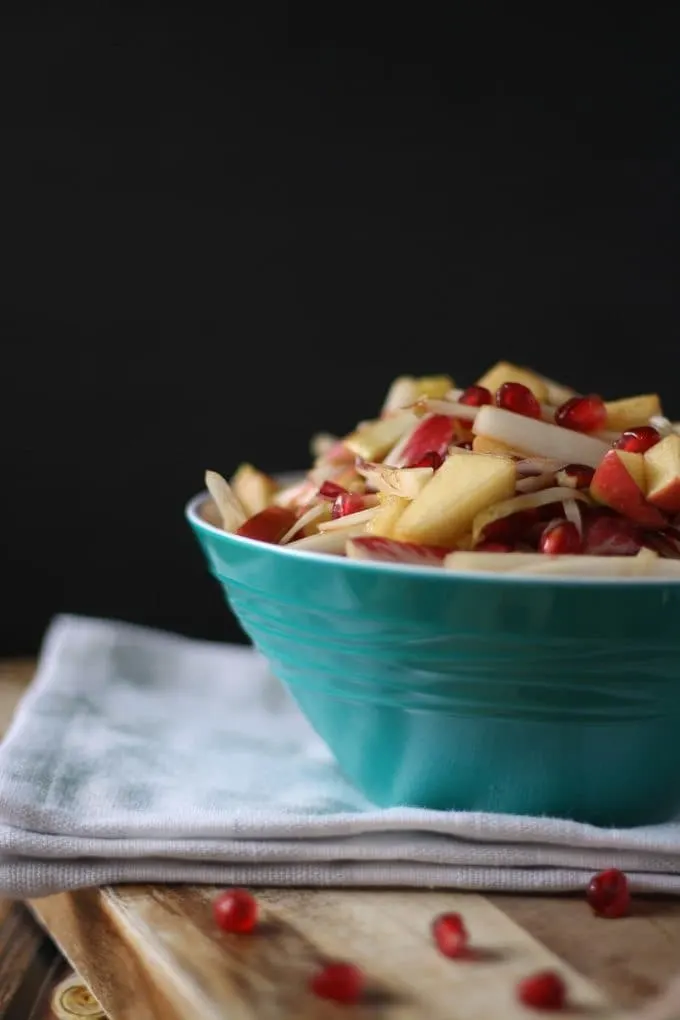 Combine both seasons with this recipe – apples to bring back memories of the dog days of summer and pomegranates – one of winter's more amazing bounties.
It is so easy to prepare that it would be perfect as a last minute addition to your holiday table or a great dish to bring along to a potluck.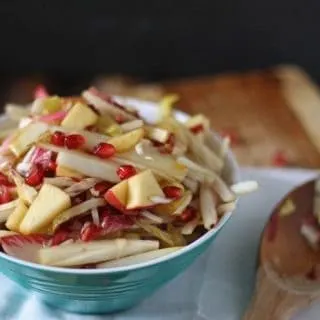 Sweet Endive Salad
Ingredients
4 cups chopped endive
1 cup diced apples
½ cup pomegranate seeds
¼ cup honey
⅛ cup balsamic vinegar
pinch of kosher salt
Instructions
In a medium bowl, combine the endive, apples and pomegranate seeds. In a small bowl, whisk together the honey, balsamic vinegar and salt. Pour it over the endive salad and mix well.