Looking for a holiday cake? Try this vanilla bean bundt cake with a sweet pomegranate glaze!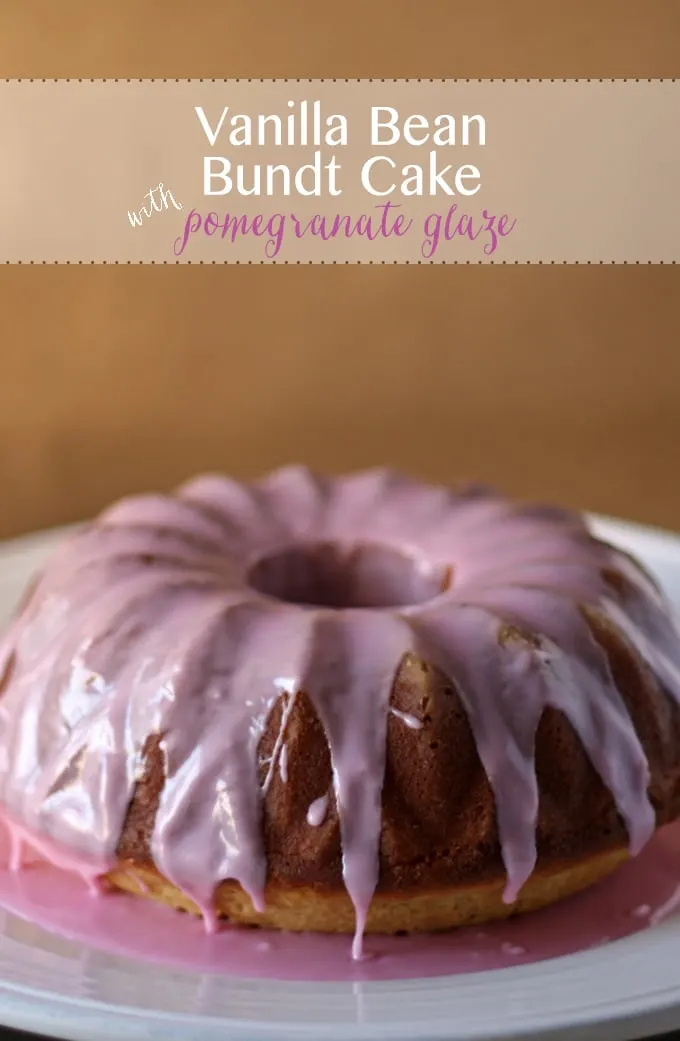 I am participating in the Food Blogger Cookie Swap again and sent out my cookies last week. The big recipe reveal is coming up on the 15th so keep an eye out – I can't wait to share with everyone the recipe for the cookies I sent out!
While you wait in anticipation for the big reveal, I can still tell you a little bit about how I got to the cookie recipe.
I spent days in the kitchen perfecting my cookie recipe. Literally – I wish I was exaggerating. I finally came up with a good recipe after two tries and gave some cookies to a few people to taste test – I think if you are sending out cookies to fellow food bloggers, its a good idea.
Anyway, I had some friends help me out and after I got the thumbs up, I went back to the kitchen the next day to bake my 3 dozen to send and 2 dozen to photograph.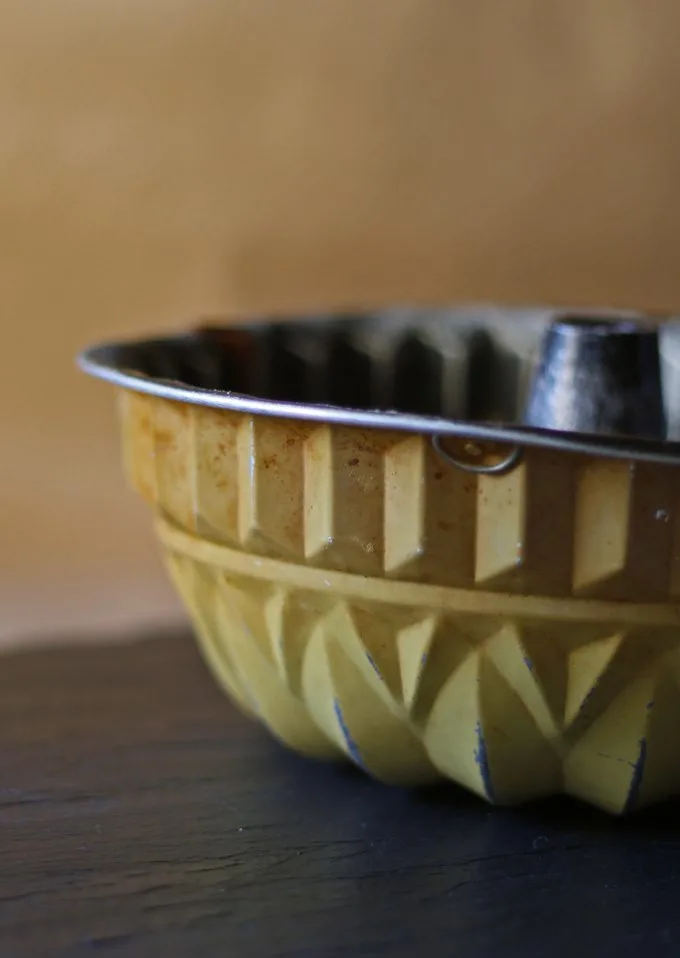 And I couldn't find the recipe anywhere.
I wish I was kidding – I looked everywhere. Sometimes when I'm cooking or baking, I scratch out my recipe on whatever scraps of paper are around at the time. That's kind of what happened to with that cookie recipe. Sometimes these scraps are small and get lost. Rarely lost, but it's not the first time.
Needless to say, this was a disaster. I remembered the ingredients but not the amounts. I consider baking more like a science – if you add 1 tsp too much/too little it can really change the recipe.
I went BACK to the kitchen to start over. This time, it actually took me more attempts to get a decent recipe and it was close but not quite the same as the original recipe I thought of.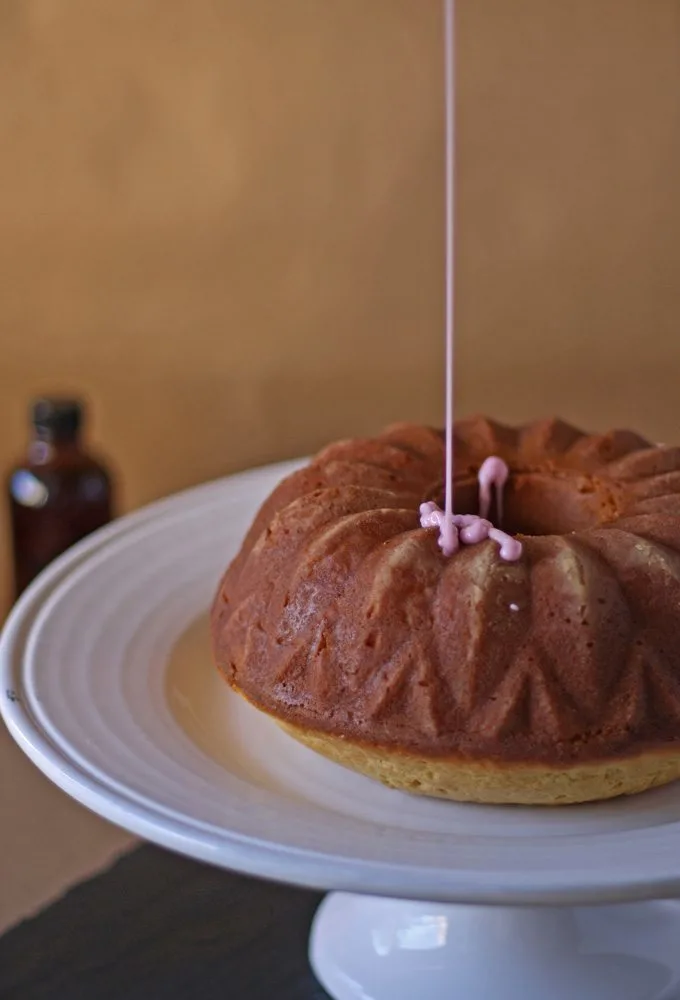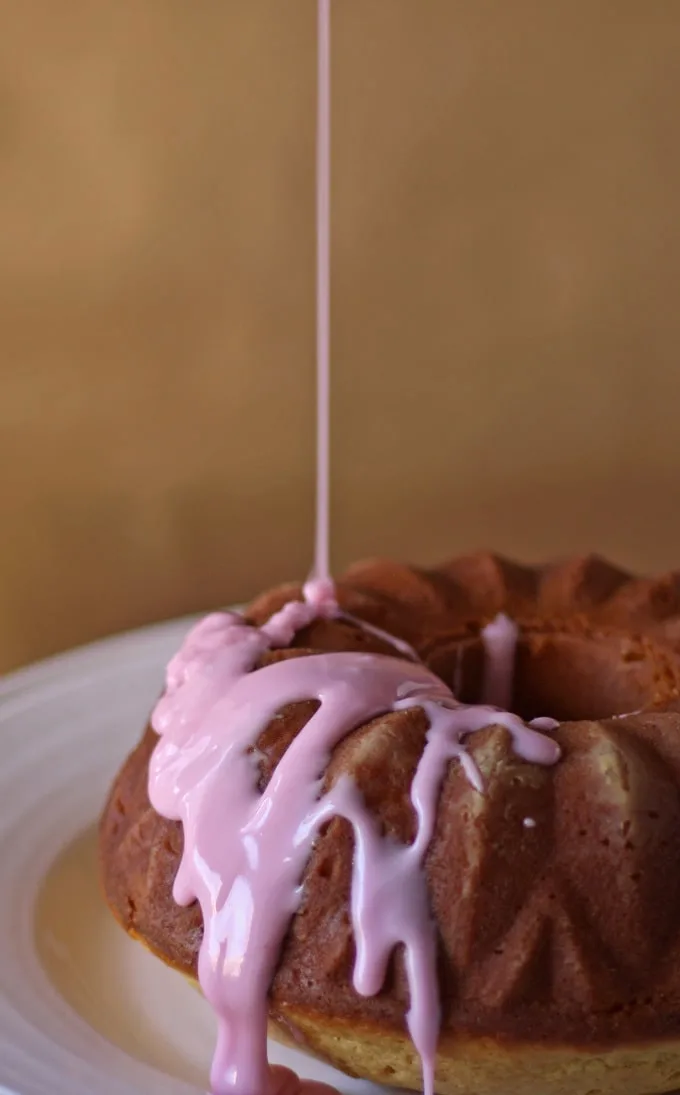 What the heck Jen! I said that quite a few times over the two days I was re-creating a cookie recipe. And then when I finally found one, I had to go back and bake the 5 dozen for the cookie swap. What a mess. In total, I threw out 3 batches of cookies/cookie dough! I tried to save them but two batches came out more like rocks than cookies, and one batch looked good but tasted like dirt.
Baking is harder than it looks sometimes.
But don't let this story discourage you – it can be so much fun too! After all those dozen cookies, I went back to the kitchen, but this time to bake a cake.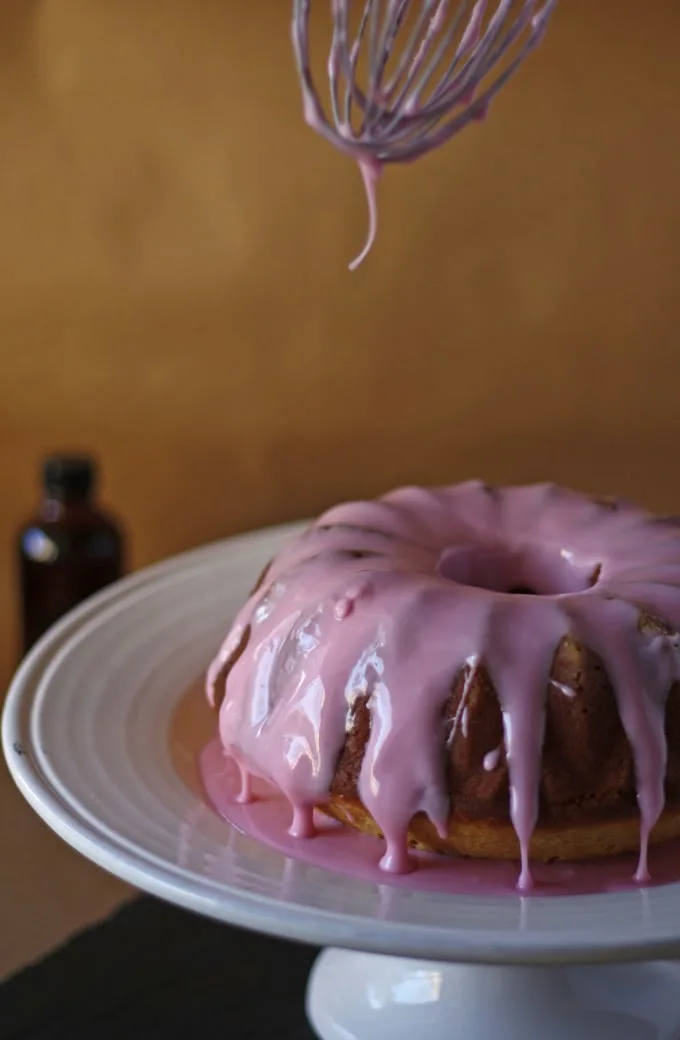 Vanilla Bean Bundt Cake with Pomegranate Glaze
I have a lot of random baking supplies, mainly from my grandma, when she passed away. For some reason, I inherited most of her baking/cooking supplies – at the time, I wasn't cooking so it was kind of weird. But it's led to some amazing baking experiments. One of the items that was passed along to me was my grandma's bundt cake pan.
I took it out recently and had it sitting on the counter one day when my mom came over. It was funny – she took a look at it and said "I didn't realize you've made so many bundt cakes!" The pan is scratched and looks well worn, but loved.
It hadn't been used in many years thanks to it sitting in a box for the last few years, but after making this recipe, I know it is just as good as a brand new bundt pan. Maybe even better.
This bundt cake is another recipe that got scratched out onto scrap papers. It is a recipe from somewhere, modified, but I can't remember where. I will update this as soon as I remember, or find the paper I scratched the source down on.
The pomegranate juice can be bought at the store, or you can make your own really easily. Just put some pomegranate seeds in a blender or food processor. Processor until as the seeds and juice are separated – then pour all the blended pomegranates through a fine mesh seive, saving the juice. Do this if you can't find 100 percent fruit juice and you'll be set to make the glaze.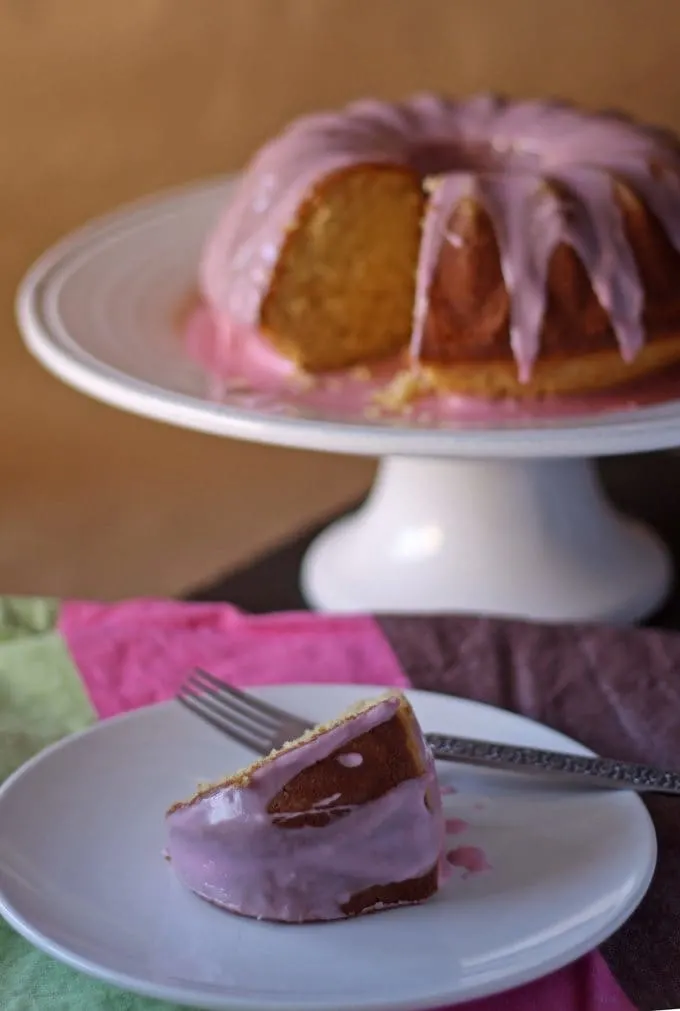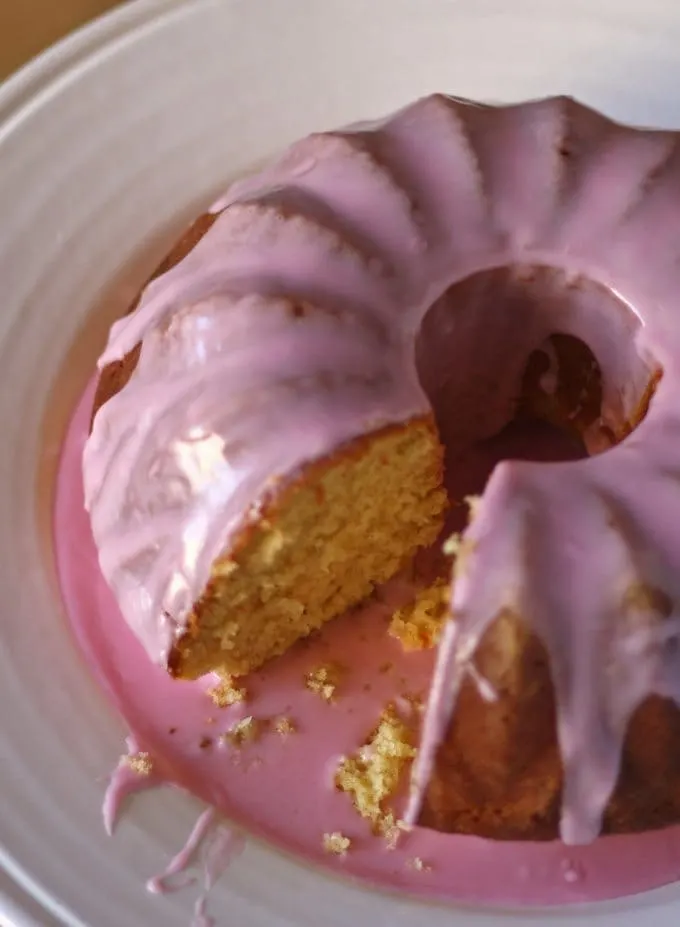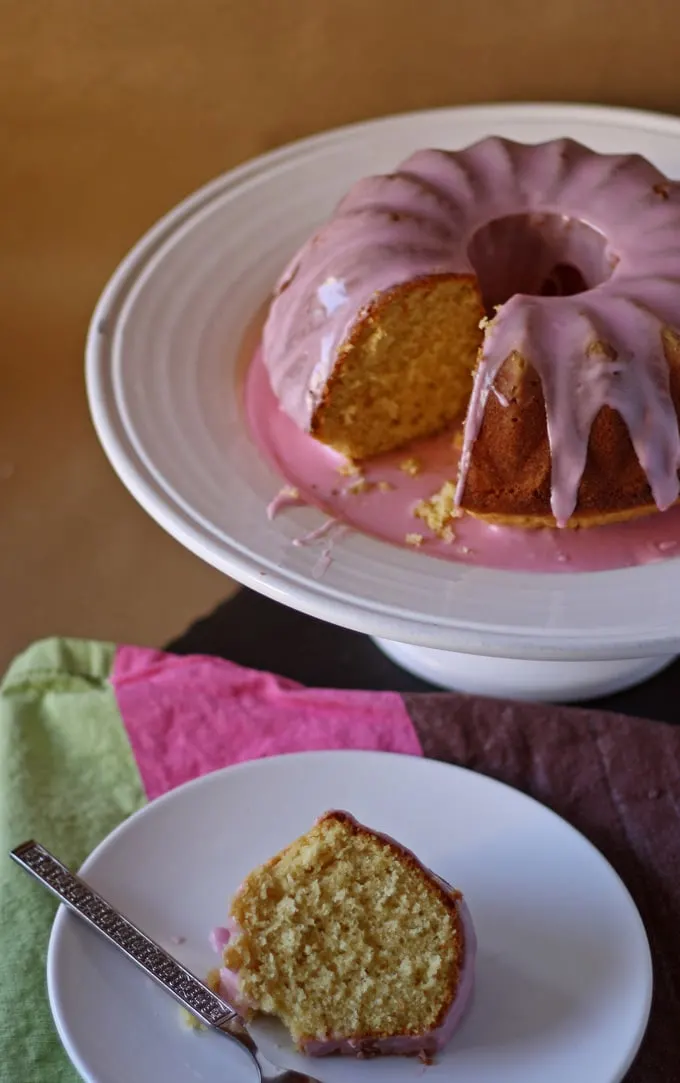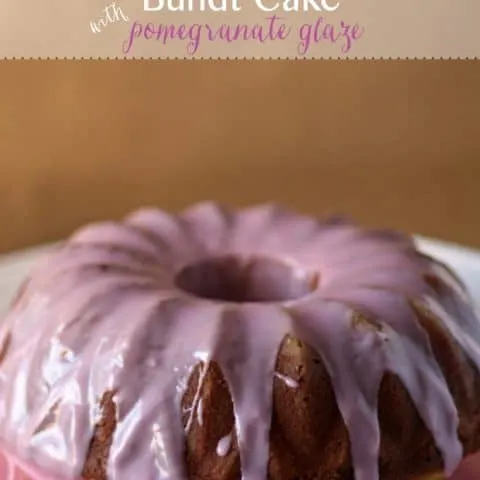 Vanilla Bean Bundt Cake with Pomegranate Glaze
Looking for a holiday cake? Try this vanilla bean bundt cake with a sweet pomegranate glaze!
Ingredients
Vanilla Bean Bundt Cake
2 cups all purpose flour
2 teaspoon baking powder
¼ teaspoon salt
1 cup white sugar
½ cup butter, softened
2 large eggs, room temperature
⅔ cup milk
2 teaspoon vanilla extract
scraped contents of two large vanilla beans
Pomegranate Glaze
2 cups confectioners sugar
5 tablespoons pomegranate juice
½ teaspoon vanilla extract
Instructions
Vanilla Bean Bundt Cake
Preheat oven to 350 degrees. Grease and flour a bundt cake pan
In a medium bowl, combine the flour, baking powder and salt with a whisk. Set aside.
In the bowl of a stand mixer, cream together the sugar, butter and eggs on medium speed. When well combined, reduce speed to low and add the milk, vanilla extract and scraped contents of vanilla beans. Discard the vanilla bean pods.
When the milk and vanilla are blended with the sugar mixture, slowly add the flour mixture. Mix until smooth.
Pour cake mixture into the prepared pan and bake in the oven for 35-40 minutes, or until a toothpick put into the cake comes out clean. Remove from the oven and let cool. Turn out on to a cooling rack.
Pomegranate Glaze
While cake is cooling, combine confectioners sugar, pomegranate juice and vanilla extract in a small bowl. Whisk or mix together until well combined. Drizzle glaze evenly over cooled cake.
Nutrition Information:
Yield:

12
Serving Size:

1
Amount Per Serving:
Calories:

305
Total Fat:

9g
Saturated Fat:

5g
Trans Fat:

0g
Unsaturated Fat:

3g
Cholesterol:

52mg
Sodium:

206mg
Carbohydrates:

53g
Fiber:

1g
Sugar:

36g
Protein:

4g
Nutrition information is automatically calculated and may not be correct.