I was provided with a sample of Four Roses Single Barrel Bourbon to create this Bourbon Honey cocktail. It's bright red color makes it perfect for Valentine's Day!
I don't usually name the cocktails I share on here. I don't like naming them, really, but today's bourbon honey cocktail needs to be called something. I've decided on "She Sees Red" and it is the perfect drink for Valentine's Day. With that being sad, I'm going to tell a little story about my days in the service industry.
The restaurant/bar I worked at had an extensive martini list. They ranged from the classic and popular to a few unique martinis that we created in-house. No matter which was picked, they were very strong. They are a martini – that means there is a large amount of alcohol.
I cannot tell you how many times people would turn them back to the bar because they were too strong. It's a martini! It doesn't have a colorful umbrella for a reason, folks.
My first few months bartending, I thought it would make sense to replace the drink with a new variety – perhaps something fruity instead of a classic gin martini – but in the end, it's still a lot of alcohol. And I soon learned to suggest other cocktails with more mixer than booze. It was my job to present a drink that made my customer happy, after all.
With all that being said, it's time to come back to "She Sees Red."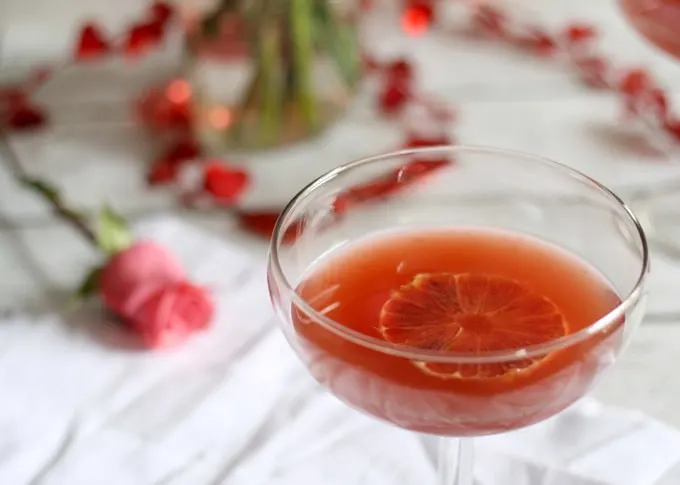 Bourbon Honey Cocktail
This bourbon honey cocktail is more like a martini or a manhattan. "She Sees Red" is a little feisty and is ready for Valentine's Day. I made it with Four Roses Single Barrel Bourbon, honey liquor and fresh squeezed blood orange juice and should be sipped. I hand squeezed the juice myself because I was feeling a little feisty too.
I really like Four Roses Bourbon, and the Single Barrel has a very smooth finish. I like it enough to make a stronger cocktail with it. Since it is meant to be served on the rocks or straight up, I didn't want to mask the flavors with a lot of mixers.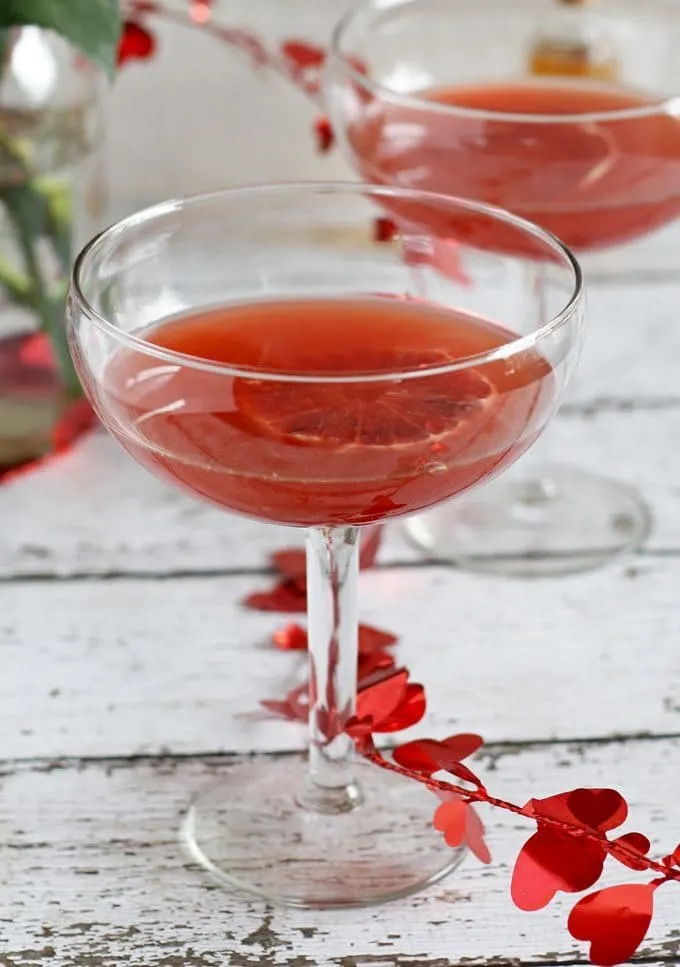 If you aren't able to find blood oranges or don't want to squeeze your own juice, regular orange juice is a great substitute.
I was provided with a sample of Four Roses Single Barrel Bourbon. Opinions and recipe are my own.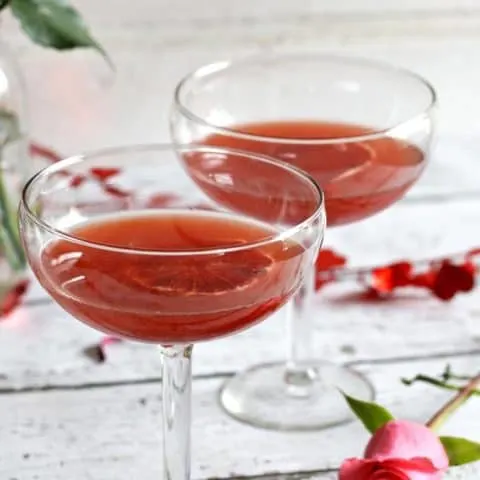 Bourbon Honey Cocktail
Ingredients
1 1/2 ounces bourbon
1 ounce honey liqueur
1/4 cup blood orange juice
Instructions
Combine all ingredients in a glass with ice. Stir until chilled and strain into a glass. Garnish with a slice of blood orange, rind removed.