S'mores chocolate covered strawberries are the perfect dessert for Valentine's Day or treat for any day. Easy to make your own at home!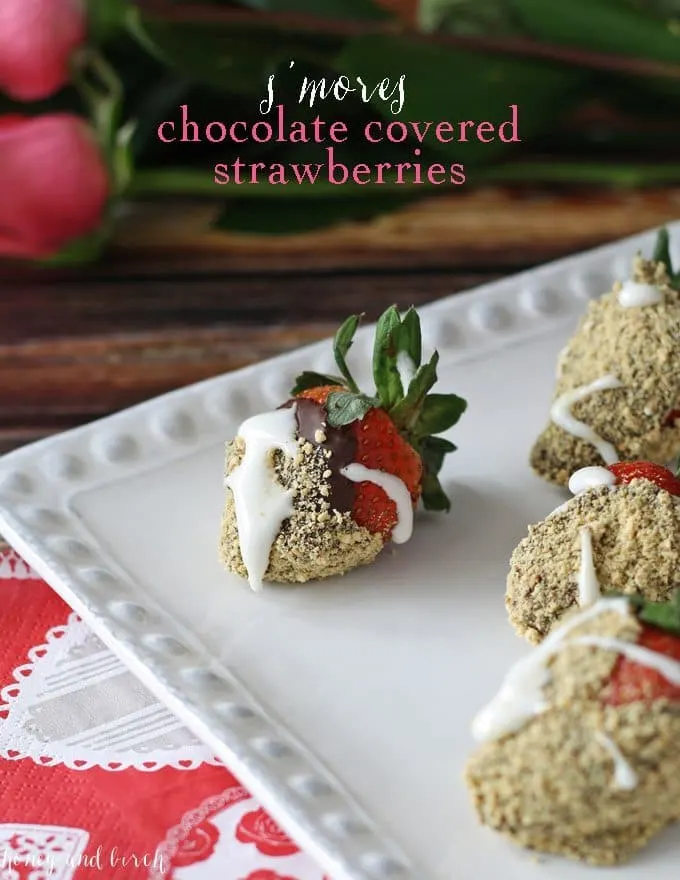 Valentine's Day is right around the corner!
Mr. B and I don't really celebrate the holiday, but we do celebrate dessert often. And these s'mores chocolate covered strawberries are so easy to make that there's no reason not to make them any day of the week.
I've been trying to figure out why we don't do V-Day but there really isn't a reason. I remember one Valentine's Day when I was in college pretty well. A friend professed his love to me by giving me a dozen roses.
They were dead because they didn't fit into the dorm fridges very well, and there were actually only 11 of them. I imagine he might have given the missing rose to another girl, since he was also a different friend's boyfriend.
Needless to say, he is NOT Mr. B. I think back on that day and I get a good chuckle out of it. When it happened I laughed a little, before I had to make a very uncomfortable phone call to my friend. Too bad no one texted back then because that would have been so much easier.
I imagine that my silly Valentine's Day story is one story out of a million stories out there of Valentine's Days that maybe didn't go as planned. I hope everyone can laugh about theirs like I laugh about mine.
Whether you're celebrating Valentine's Day, reminiscing about Valentine's Days past, or relishing in the fact that it is just a day and you are here, do something special for yourself. Make a batch of these s'mores chocolate covered strawberries.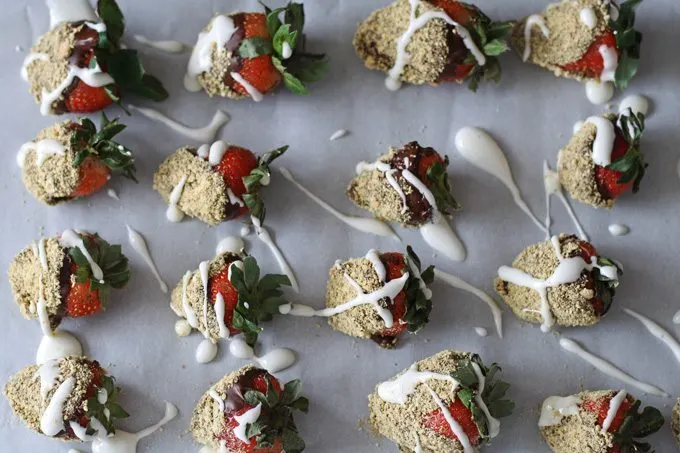 S'mores Chocolate Covered Strawberries
I love Driscoll's and every time they challenge me to create a recipe, I jump at it. This time around, I was given some product coupons and tasked to make a chocolate covered strawberry for Valentine's Day. So I did!
To make these chocolate covered strawberries, you will need a double boiler, parchment paper and a cookie sheet. I also like to wear gloves when I dip the strawberries – melted chocolate is hot and messy.
Wash your strawberries and set them aside to dry completely – don't start anything else until they are completely dry. Then put together a "dipping station" next to your stove – double boiler to melt the chocolate, a small bowl for the graham cracker crumbs and a parchment lined cookie sheet. And start dipping.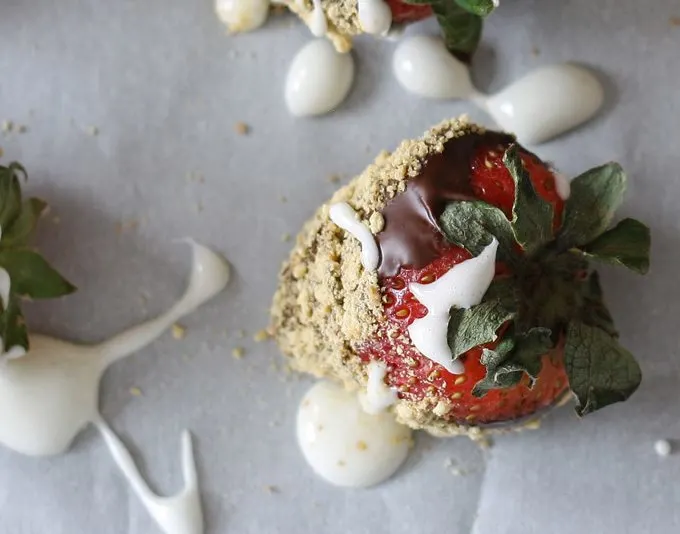 First, set up your double boiler and melt your chocolate. Keep stirring while the chocolate softens and turn off the heat when it is completely melted. Dip the strawberries by holding them near the green part and roll in the chocolate. Immediately roll the strawberries and chocolate in the graham cracker crumbs and put on the parchment paper to set.
When the strawberries are all dipped, clean your double boiler and set it up again to melt the marshmallows. This will go relatively quickly and the melted marshmallow will set just as fast. As soon as it is viscous, take a spoon a drizzle the melty marshmallowy goodness on top of the strawberries. Wait 30 minutes are so to eat and keep them in the refrigerator until ready to eat, or box up as a gift.
Disclosure: I was provided with product from Driscoll's. Recipe and opinions are my own.
S'mores Chocolate Covered Strawberries
Additional Time:
30 minutes
S'mores chocolate covered strawberries are the perfect dessert for Valentine's Day or treat for any day. Easy to make your own at home!
Ingredients
16 medium/large strawberries
4 ounces semi sweet chocolate
½ cup crushed graham cracker crumbs
1 cup of mini marshmallows
1 teaspoon water
Instructions
Set up a double boiler over medium heat. Melt the chocolate, stirring with a spoon until smooth. Roll the strawberries in the chocolate until covered. Then roll them again in the graham cracker crumbs.
Put on a parchment lined cookie sheet. Repeat until all of the strawberries are covered in chocolate and graham cracker crumbs.
Wash the double boiler (or set up a second one) and put the marshmallows and the water in the top. Melt the marshmallows, stirring until smooth. As soon as the marshmallows are in liquid form, drizzle them over the strawberries.
Let set for 30 minutes before serving. Store in the refrigerator.
Nutrition Information:
Yield:

16
Serving Size:

1
Amount Per Serving:
Calories:

61
Total Fat:

2g
Saturated Fat:

1g
Trans Fat:

0g
Unsaturated Fat:

1g
Cholesterol:

0mg
Sodium:

16mg
Carbohydrates:

10g
Fiber:

1g
Sugar:

7g
Protein:

1g