Mango pulled pork sandwiches – the best sandwich for any party! This sweet take on pulled pork is easy to make in your slow cooker.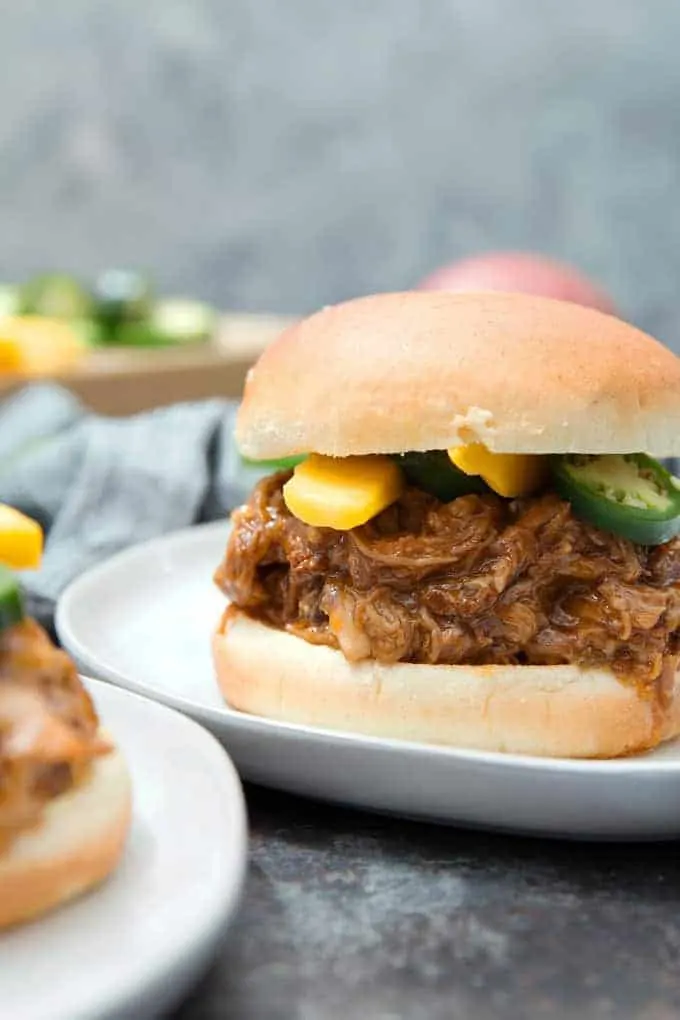 This post is in collaboration with Peapod and FromthePod.com. All thoughts and opinions are my own. Thank you for supporting our sponsors!
I see pulled pork sandwiches at many parties. They are easy to make and with a slow cooker, can be a set it and forget it type of meal.
They are also great for weeknight meals. Set on low, you can start cooking the pork roast before work and come home to a delicious and ready to eat meal.
But you know all of that. It's the appeal of a slow cooker after all.
I wanted to put a twist on the traditional sandwich by making these mango pulled pork sandwiches. BBQ sauce and mango chunks are a great way to add sweetness to this tasty sandwich.
A few jalapeno slices added to your sandwich add a little spice. Sweet and spicy. Mmm, my favorite combination.
This post contains some affiliate links for your convenience. Click here to read my full disclosure policy.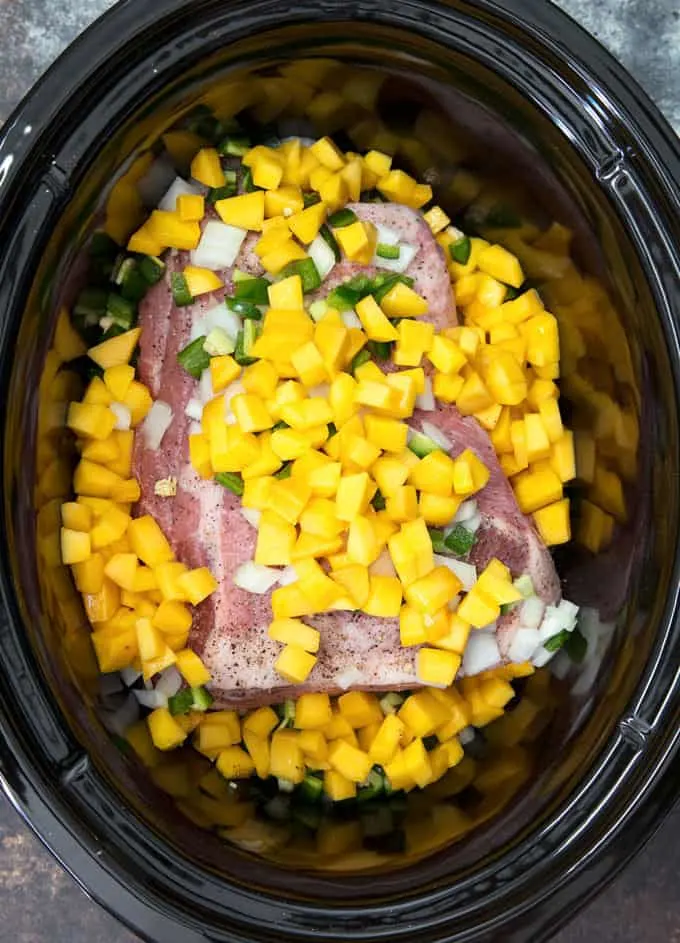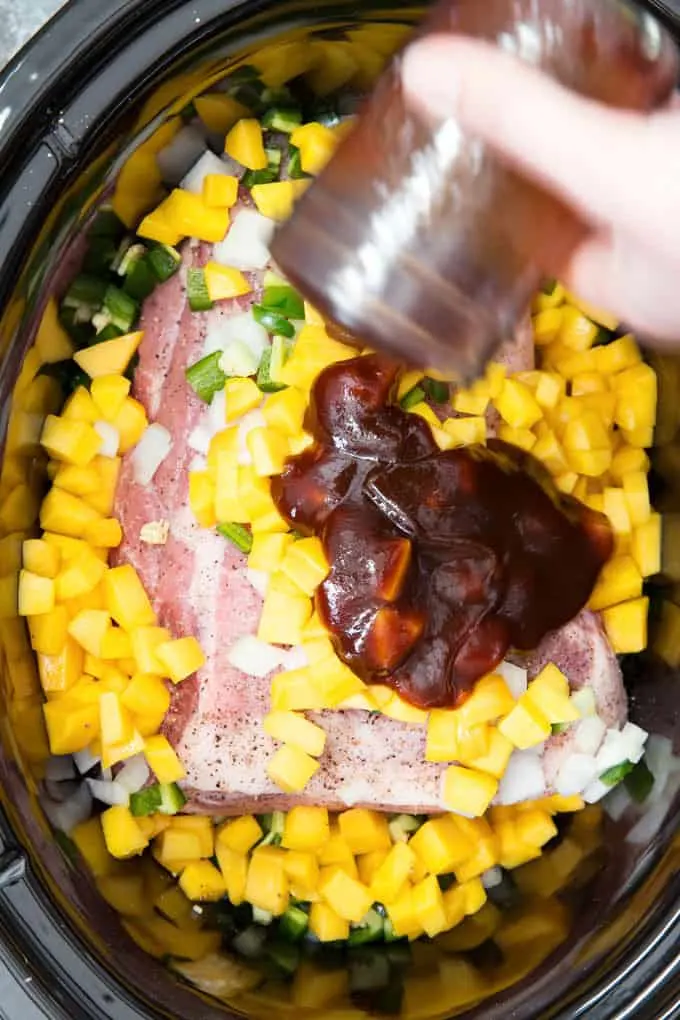 What kind of meat do you use for pulled pork?
Because we are cooking low and slow, you can use a tougher cut of meat for pulled pork sandwiches.
I like to use a boneless pork shoulder roast. Since we are using the slow cooker, you most likely do not want to get a whole shoulder because it won't fit.
Not even the biggest slow cooker is going to fit a 16 pound piece of meat.
Pork butt is another great meat cut for pulled pork. In a pinch you can use pork tenderloin, but I do not recommend it.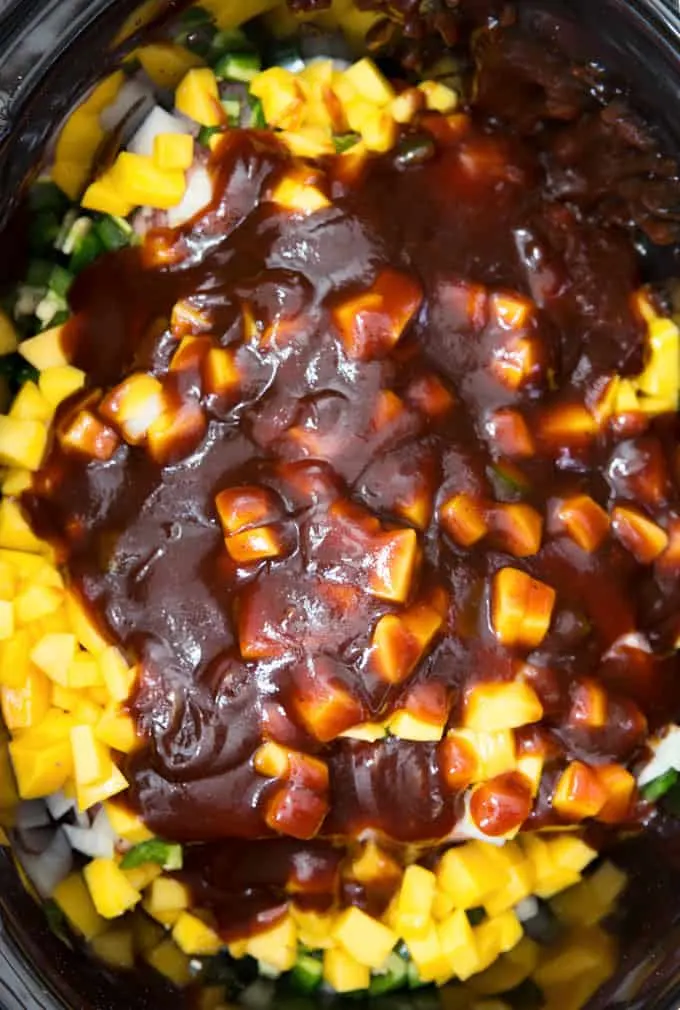 What bbq sauce should I use for slow cooker mango pulled pork sandwiches?
As you will see in the recipe below, I use a honey bbq sauce for this recipe. I really like how the flavors of honey, pork, and mango come together in a slow cooker.
The first time I made this, I used Sweet Baby Ray's honey bbq sauce because I had an extra bottle in my pantry.
The second time, I used a specialty bbq sauce that was slightly smaller than 18 ounces. Both times, the pulled pork cooked perfectly.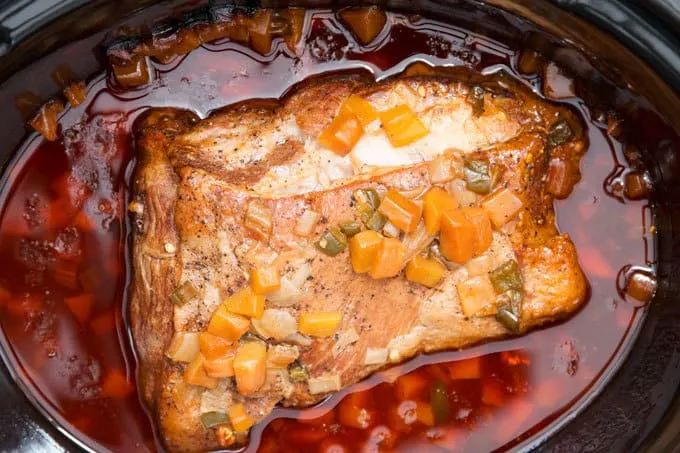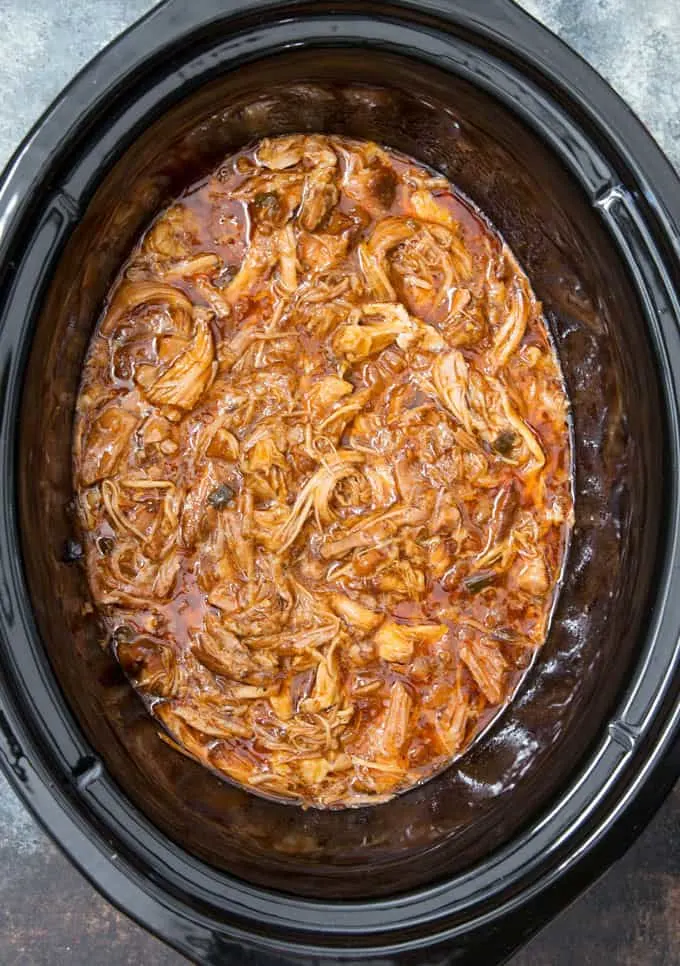 How long should the pork shoulder cook in a slow cooker?
The best pulled pork is tender and pulls apart easily. For this reason, I like to cook pork roasts low and slow.
If you have the time, put your slow cooker on the low setting and cook for 8 hours.
If short on time, put your slow cooker on the high setting and cook for 4 hours.
When in doubt, use a thermometer to check the meat temperature. Pork should cook to about 190 degrees F when being used for pulled pork sandwiches.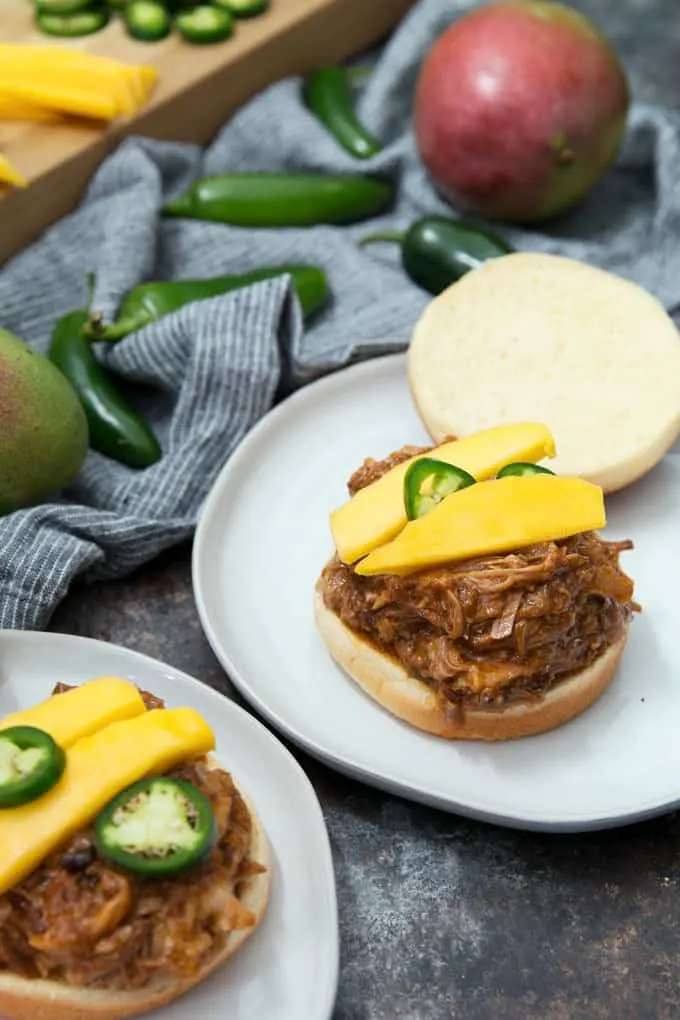 How do you pull pork?
For this recipe, I remove the cooked pork shoulder and place it in a dish with raised sides. You could use a plate, but then you run the risk of losing some of juice.
Let the meat cool to the point that you can handle it. Then take two forks (or your fingers) and shred the meat.
If there are any large chunks of fat that haven't cooked down, I suggest removing them.
When you have shredded all of the meat, return it to the slow cooker and stir it into the juice.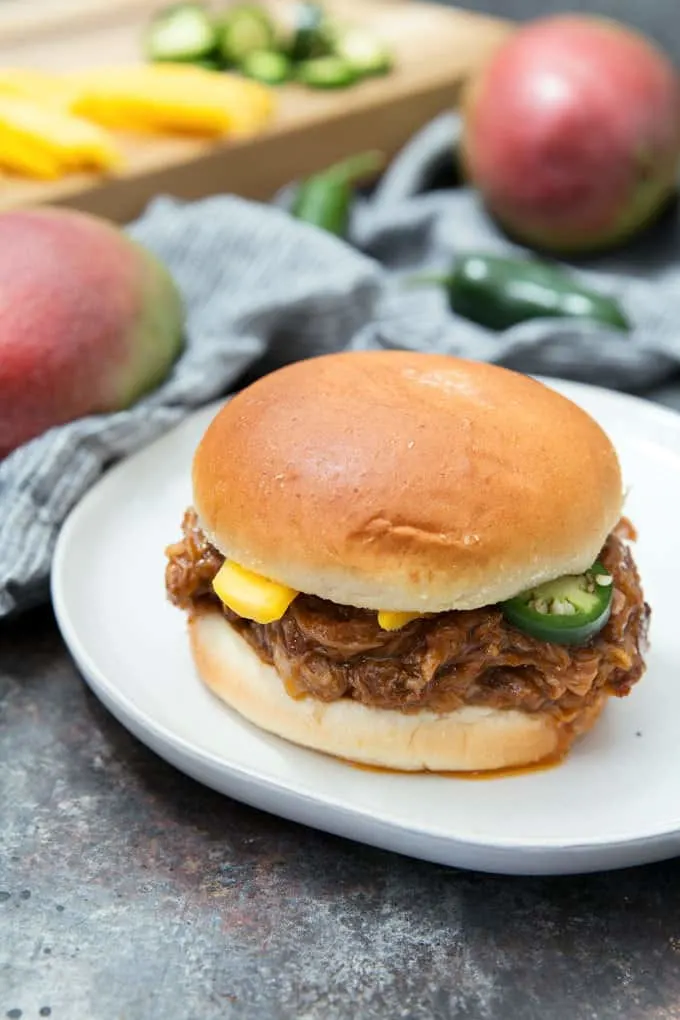 What is the best roll or bun for pulled pork sandwiches?
Traditionally, most pulled pork sandwiches are served on hamburger buns. I have had several on brioche buns and kaiser rolls and they were delicious.
And, in a pinch, I've eaten a full pork sandwiches on regular ole' white bread. Delicious with any bread.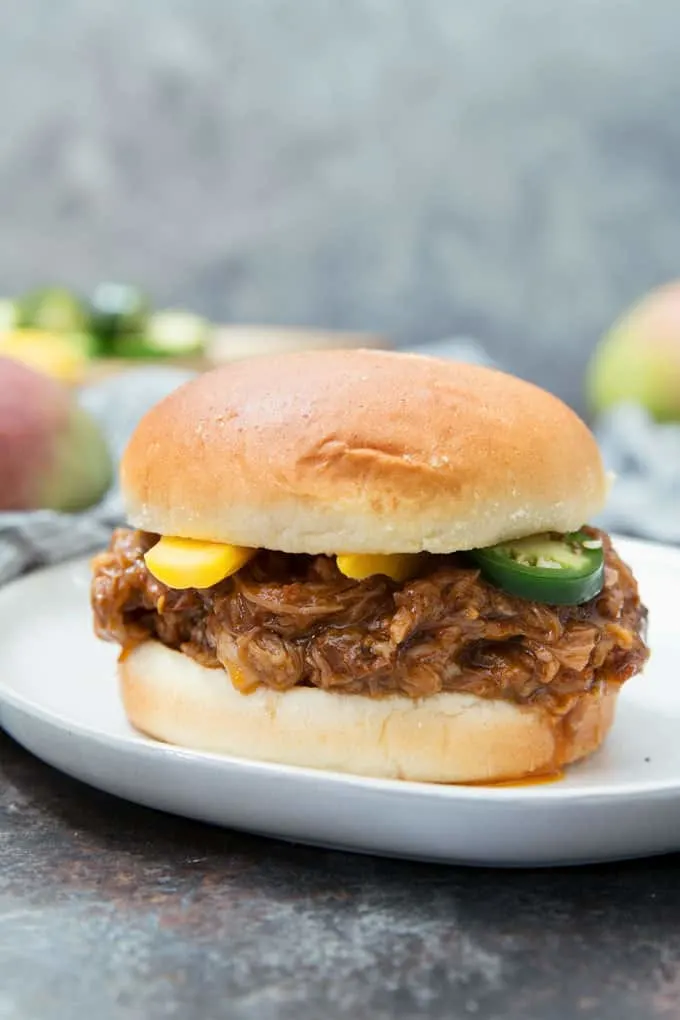 What sides should I serve with pulled pork?
Oh the choice of sides! It's almost as hard as deciding on what's for dinner.
For pulled pork I recommend the following:
slaw (coleslaw, carrot and apple slaw, etc)
potato salad – not a heavy mayonnaise based salad.
cornbread
corn on cob
Looking for more slow cooker recipes? Try these: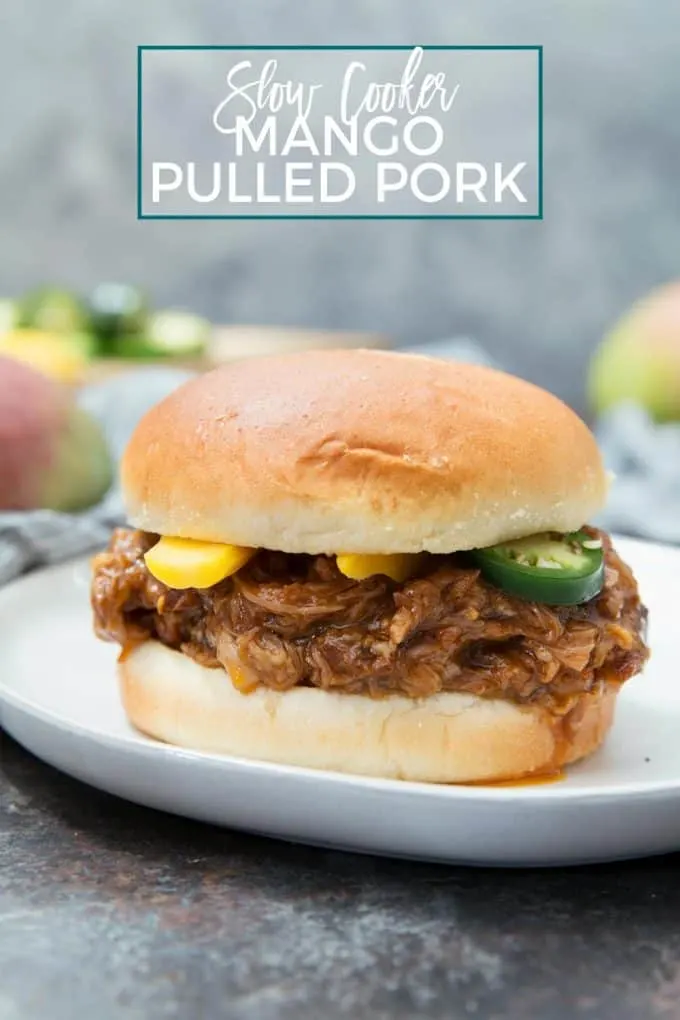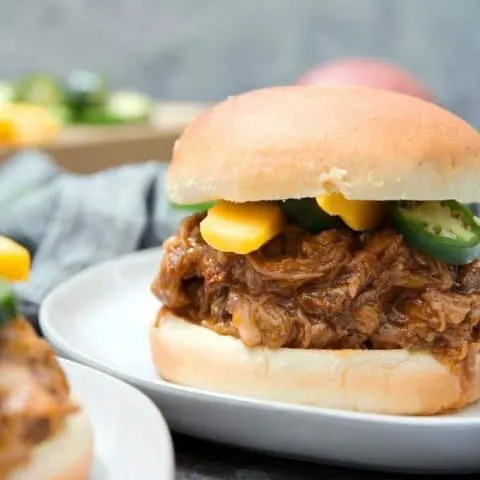 Slow Cooker Mango Pulled Pork Sandwiches
Total Time:
4 hours
10 minutes
Mango pulled pork sandwiches - the best sandwich for any party! This sweet take on pulled pork is easy to make in your slow cooker.
Ingredients
3 pound boneless pork shoulder roast
1 mango, diced into small pieces
2 jalapeños, diced
1/2 cup diced onion
18 ounces honey BBQ sauce
Salt and pepper
Buns
Instructions
Prep your pork roast by sprinkling salt and pepper on all sides. Place the roast into the bottom of a large slow cooker (6 quart).
Top the roast with the mango, jalapeño, and onion. Pour the honey BBQ sauce on top and place the lid on the slow cooker.
Cook on high for 4 hours or on low for 8 hours. Test the roast with a thermometer after cooking to make sure the roast has reached 165 degrees F.
Use two forks to the pull the pork apart and mix the pork with the sauce.
Notes
Serve on buns. Garnish with mango slices or jalapeños if desired.
Recommended Products
As an Amazon Associate and member of other affiliate programs, I earn from qualifying purchases.
Nutrition Information:
Yield:

10
Amount Per Serving:
Calories:

450