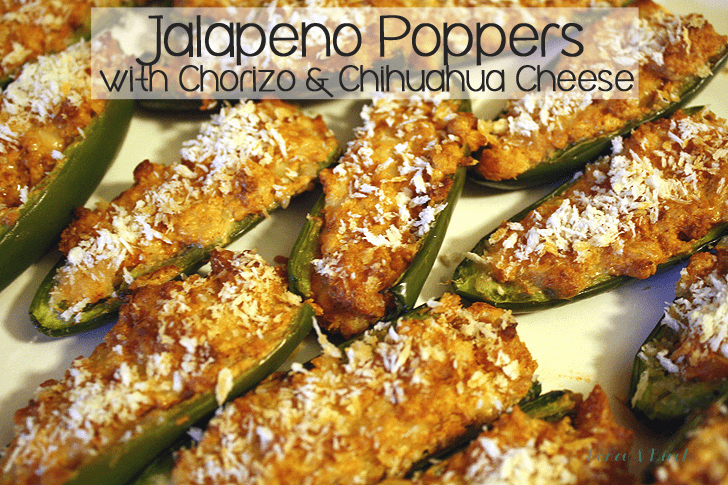 It's Black Friday! If you're done shopping (in stores or online), you may have built up a little bit of an appetite.  You can either eat some Thanksgiving leftovers or you can try something a little different today.  I'm sure you gorged on enough turkey yesterday for one lifetime.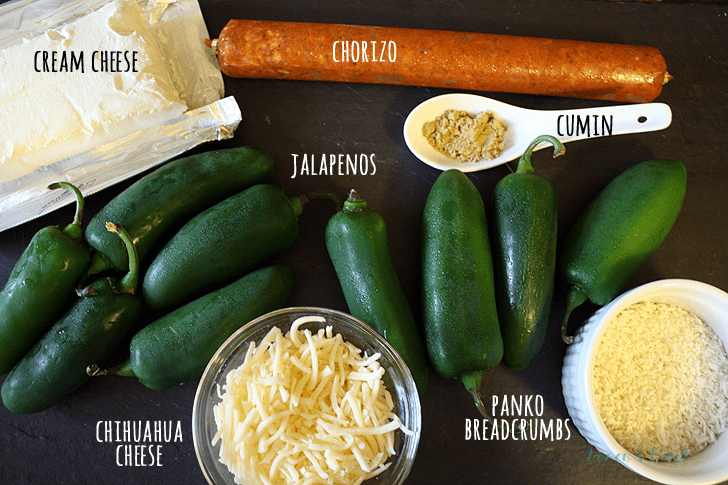 If I'm right, then I have the recipe for you. *sing that out loud because I just did* I originally ate a version of this at a friend's bar and the addition of chorizo to theirs really called to me.  I then set out to create my own similar version.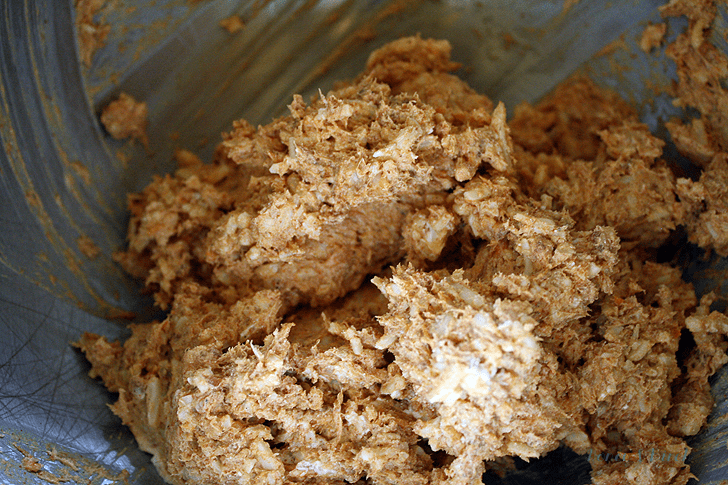 Chorizo Jalapeño Poppers
Creating easy appetizer recipes has always been my goal and these chorizo jalapeño peppers fit the bill.
And I have to admit something… I ate 5 jalapenos in one sitting because of this recipe.  I made it twice in one week.  I gorged each time.  Its delicious.  As I'm typing this, I have heartburn from eating too many of these babies.  And I would do it again (and probably will).
Because they're baked and not fried, its slightly healthier than a traditional popper.  The chorizo and chihuahua cheese hurt you a little if you're counting calories but since I'm not (and I'm really only worried about deep fried food) they work for me.
What makes these jalapeño poppers so great?
These jalapeño poppers are baked and not fried. They have a little crunch too!
Chihuahua cheese balances out the spiciness of the jalapeños and the chorizo adds umami. You get a little bit of everything with this recipe.
Bite-sized appetizers are perfect for parties!
These puppies would be a perfect appetizer for some slow cooked enchilada soup, or before a football game chili.  Or anything casual really.  And if you want to make less, just halve the recipe (or double if you want to make more).
Tips, Tricks and Variations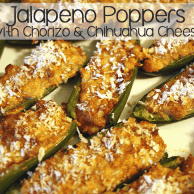 Chorizo Jalapeno Poppers
My chorizo jalapeño poppers are baked, not fried, and a delicious appetizer!
Ingredients
20 jalapenos, sliced in half lengthwise, seeds removed
8 oz package of cream cheese, softened
1 chorizo stick
1 cup chihuahua cheese
1/2 tablespoon cumin
panko bread crumbs
Instructions
Pre-heat oven to 400 degrees. Line two cookie sheets with foil.
In a stand mixer, combine the cream cheese, chorizo, chihuahua cheese, and cumin until well combined.
Using a spoon, fill the jalapeno halves with the cream cheese mixture and place on the foil. Evenly space the poppers over the two cookie sheets.
Sprinkle the top of each filled jalapeno with panko bread crumbs.
Place the cookie sheets in the oven for 16-20 minutes – the cheese should be melty, the panko crispy and the jalapenos soft. Wait 10 minutes before serving.
Nutrition Information:
Amount Per Serving:
Calories:

82
Total Fat:

7g
Saturated Fat:

4g
Cholesterol:

22mg
Sodium:

120mg
Fiber:

0g
Sugar:

1g
Protein:

3g
Join the newsletter!
Subscribe to get our latest content by email.