This Honey Nut Cheerios cereal milkshake recipe tastes just like a bowl of cereal and milk! It'll take you right back to your childhood.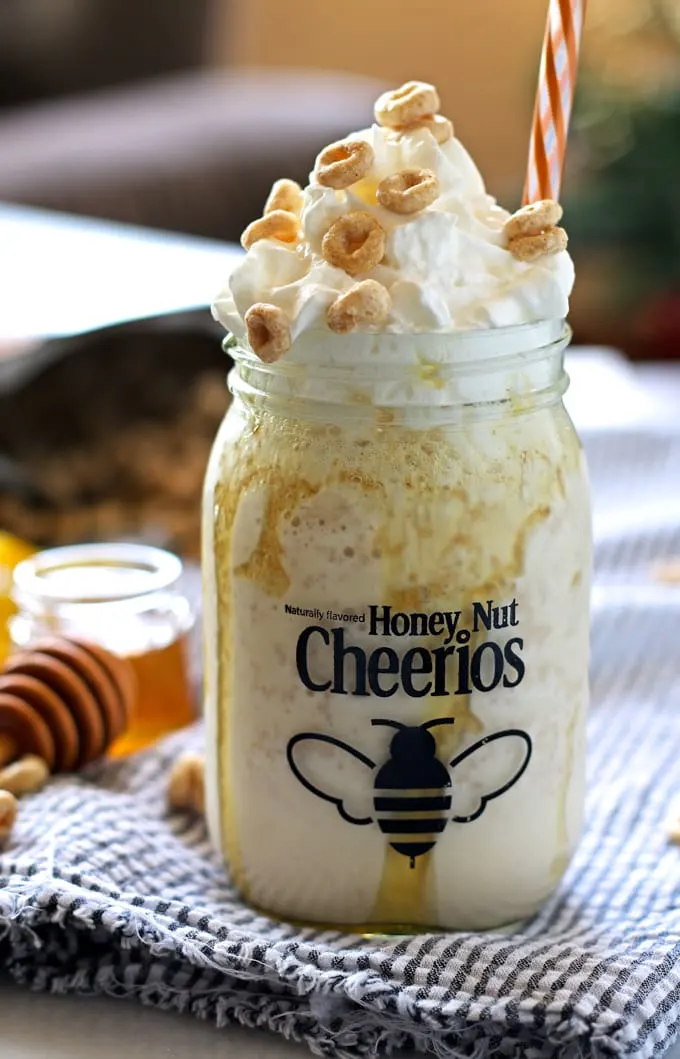 A few years ago, I traveled to Orlando to witness a live honey event with Cheerios. The team at Cheerios unveiled a one-of-a-kind living Honey Nut Cheerios billboard – it was a three-story free-standing structure that was home to more than 100,000 honeybees. The actual honey from the working hives was used to spell out "Made with Real Honey". It was awesome.
Not only did I get to speak to the beekeeper in-depth, but I also got to be a part of the live taping of the live honey display. And so did anyone in the area that wanted to witness and be apart of it. One of the incredibly cute bees took a moment to check me out, to see if I was holding on to the honey.
Sorry, cutie patootie, all of your honey is in the display.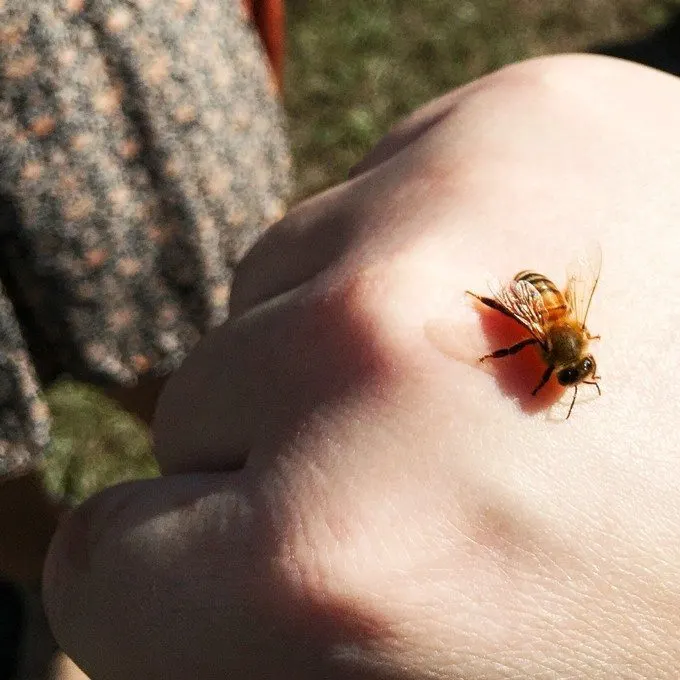 A few honey facts for you:
Bees have to visit 2.6 million flowers to make a pound of honey.
A beehive can produce up to 200 pounds of honey per year.
A honeybee could fly around the world on just two tablespoons of honey.
Honey Nut Cheerios Cereal Milkshake
I set out to create a milkshake that tastes like a bowl of Honey Nut Cheerios with milk and I think I got it. I really don't know where I get these ideas but I'm glad when I do! As with all of my milkshake ideas, this Honey Nut Cheerios milkshake is also very easy to make.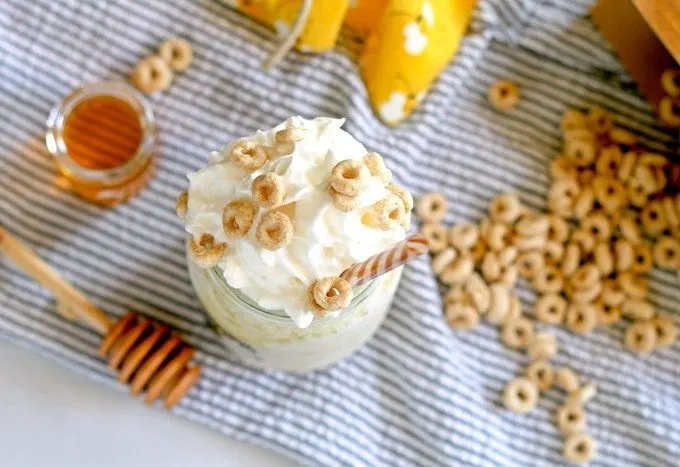 Before I started mixing everything up in my blender, I took a little bit of the honey from the Florida hives and spooned it on to the rim of my glass. While I was blending my milkshake, it dribbled down the glass just in time for me to be finished.
I poured my milkshake, topped it with some whipped cream and more cereal and then drizzled some more honey on top. It brought me right back to being at the Florida honey farm.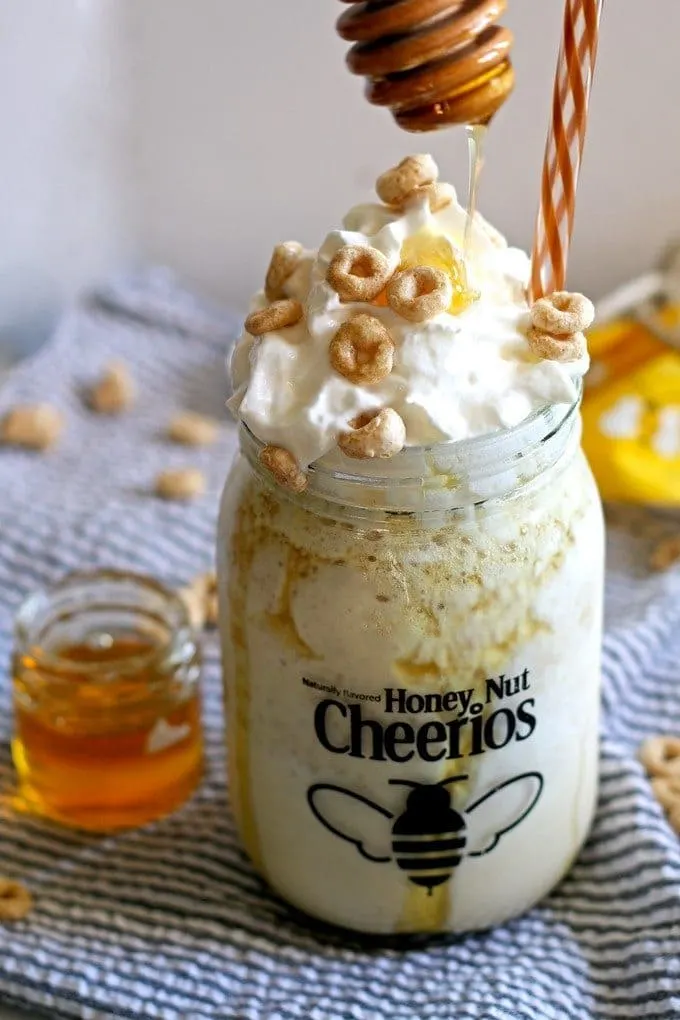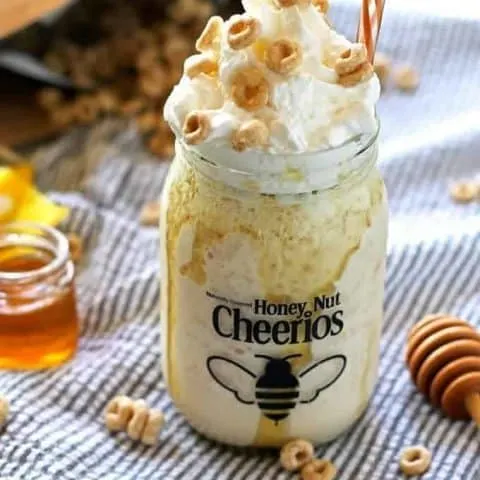 Honey Nut Cheerios Milkshake Recipe
This Honey Nut Cheerios milkshake tastes just like a bowl of cereal and milk!
Ingredients
1 cup milk
2 cups vanilla ice cream
1 cup Honey Nut Cheerios
1 tablespoon honey
Optional
whipped cream
extra honey
extra Honey Nut Cheerios
Instructions
Combine the milk and vanilla ice cream in a blender. Blend for 10-15 seconds or until smooth. Add the Honey Nut Cheerios and honey and blend until combined. Pour into two glasses.
If desired, top each milkshake with whipped cream,honey and extra Honey Nut Cheerios.
Nutrition Information:
Yield:

2
Serving Size:

1
Amount Per Serving:
Calories:

548
Total Fat:

19g
Saturated Fat:

11g
Trans Fat:

0g
Unsaturated Fat:

6g
Cholesterol:

70mg
Sodium:

382mg
Carbohydrates:

85g
Fiber:

4g
Sugar:

58g
Protein:

12g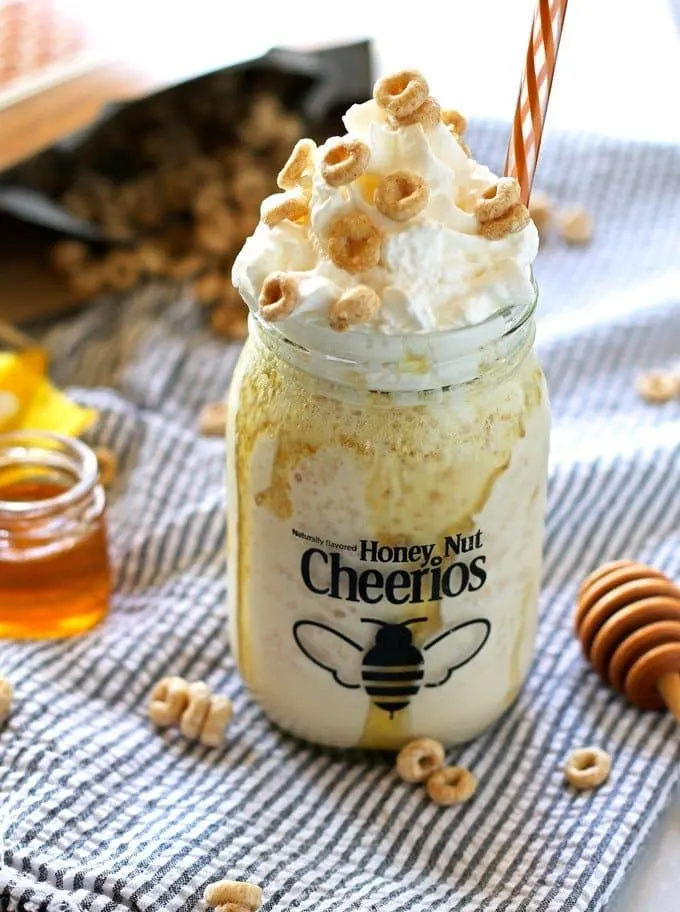 ---
Looking for more milkshake recipes? Try my java lava crumbler or my toasted marshmallow peanut butter milkshake!