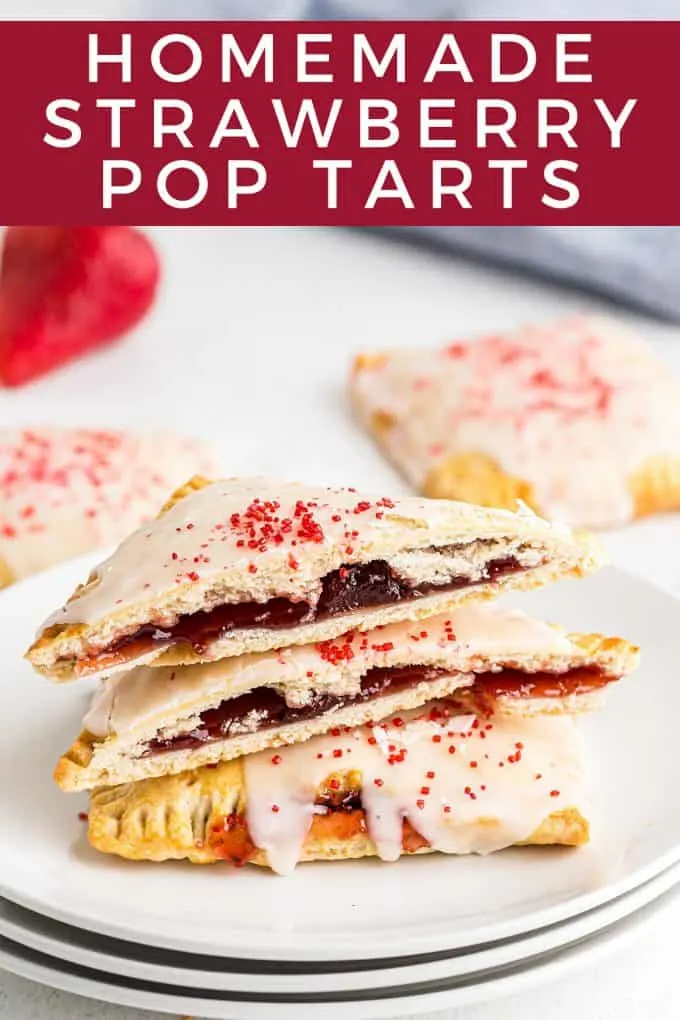 Strawberry pop-tarts are a breakfast classic that is loved by both kids and adults! I loved the boxed pop-tarts growing up and now I can make them at home. These homemade strawberry pop-tarts use common ingredients, can be frozen and will bring back all your favorite childhood memories at the breakfast table.
I remember eating pop-tarts all the time when I was younger. I didn't just eat them as a breakfast meal, they were also an after school snack and even a late night treat. There was no wrong time to eat a pop-tart.
Fast forward to my adult years and I rarely buy the boxed version anymore. Instead, I have spent some time in my kitchen perfecting a homemade version! Watch out old school pop-tarts – homemade strawberry pop-tarts are here to stay!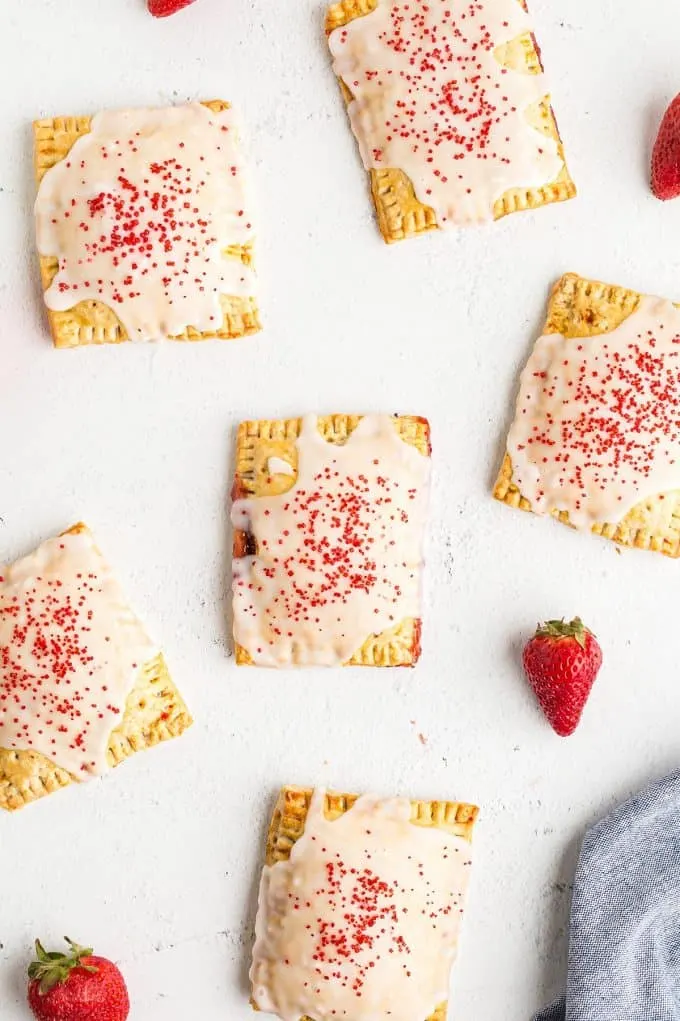 What is a pop-tart?
Pop-tarts are handheld pastries that are filled with fruit or other sweet fillings, such as cinnamon brown sugar. The pastry is stuffed with a filling, sealed, baked and then topped with a glaze. You can use homemade dough or save time by using store-bought pie crust.
This post contains some affiliate links for your convenience. Click here to read my full disclosure policy.
Strawberry pop-tart ingredients
There are two options when making these homemade pop-tarts – you can make your own pastry dough or you can use pie crusts to hold the strawberry filling. I am going to show you how to make them completely from scratch, but remember that you can also save time and energy with a pre-made crust.
To make from scratch you will need:
flour
salt
sugar
unsalted butter
shortening
cold water
strawberry preserves
cornstarch
water
egg
milk
confectioners sugar
heavy whipping cream
vanilla extract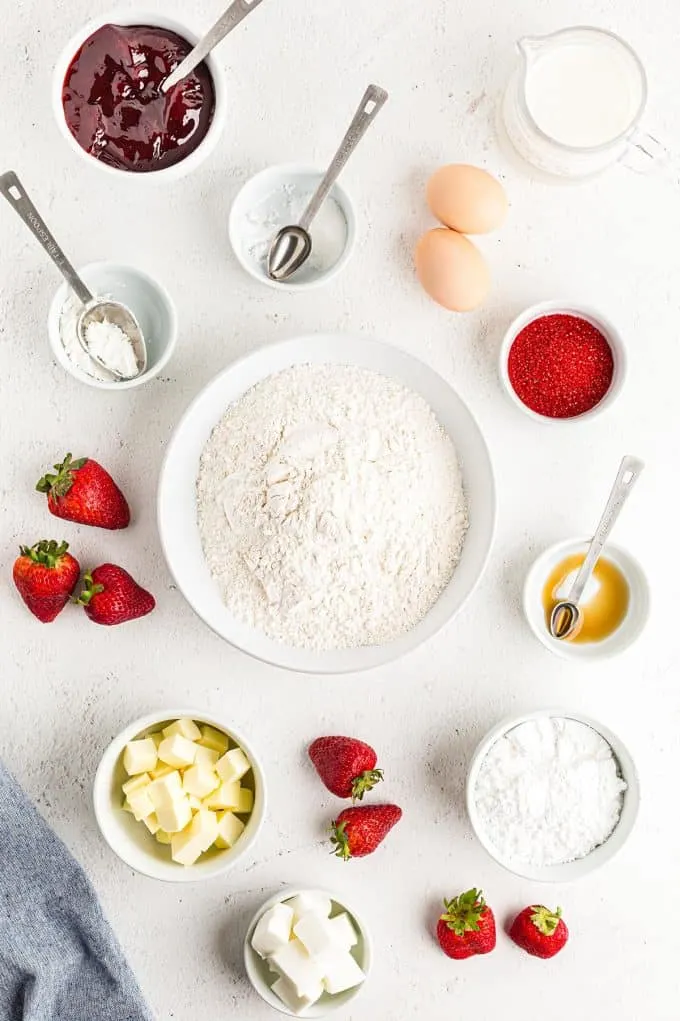 Flour – All-purpose flour works great in this recipe. It gives the pastry a flaky texture that is perfect for homemade pop-tarts!
Sugar – You can use your favorite white sugar in this recipe.
Butter – You want unsalted butter for the pastry dough. If you only have salted, omit the salt from the dough.
Shortening – The combination of butter and shortening produce the best dough, in my opinion! Feel free to use all butter or all shortening, if you'd like.
Preserves – You need strawberry preserves or jam for these pop-tarts. The preserves are used to create the filling so pick your favorite one.
Cornstarch – This can be found in the baking aisle of most grocery stores. Cornstarch is used to thicken the preserves used in the filling.
Milk – Use your favorite milk in this recipe. You can also use non-dairy milk such as almond or coconut milk.
Confectioners sugar – Or powdered sugar. This makes up the glaze that goes on top of the pop-tarts.
Vanilla extract – You can use store-bought extract or you can make your own homemade vanilla extract. It's great for baking and it also makes a great gift!
Do I have to use strawberry preserves?
No, you don't have to use strawberry filling for these pop-tarts. You can pick your favorite flavor jam or preserves in place of the classic strawberry. Blueberry, apricot or even grape preserves would make great pop-tarts!
Can I use store-bought dough?
You absolutely can! I suggest using pre-made pie crust that you can find in the refrigerator section of the grocery store. You can follow the directions below starting with cutting out the dough.
Scroll down for a printable recipe!
How to make homemade strawberry pop-tarts
After you have gathered all your ingredients, you will also need to grab:
Step 1 Make the dough
In your food processor, add the flour, salt and sugar. Pulse a few times to combine. Add the cold butter and the shortening to the processor. Pulse until the mixture becomes crumbly. Slowly pour in the cold water while pulsing to create the dough.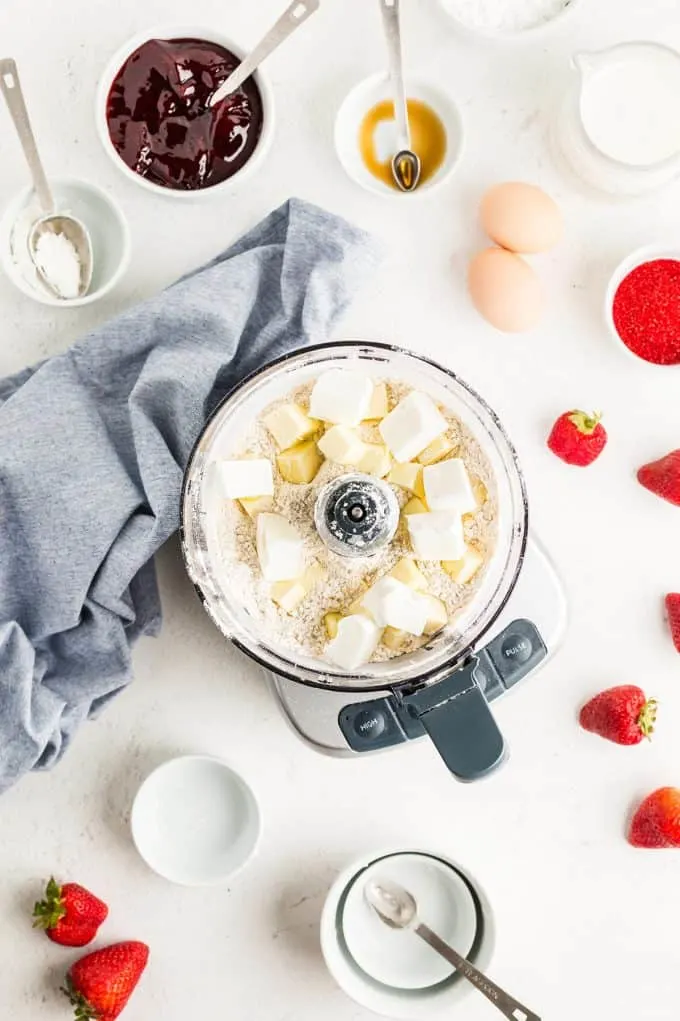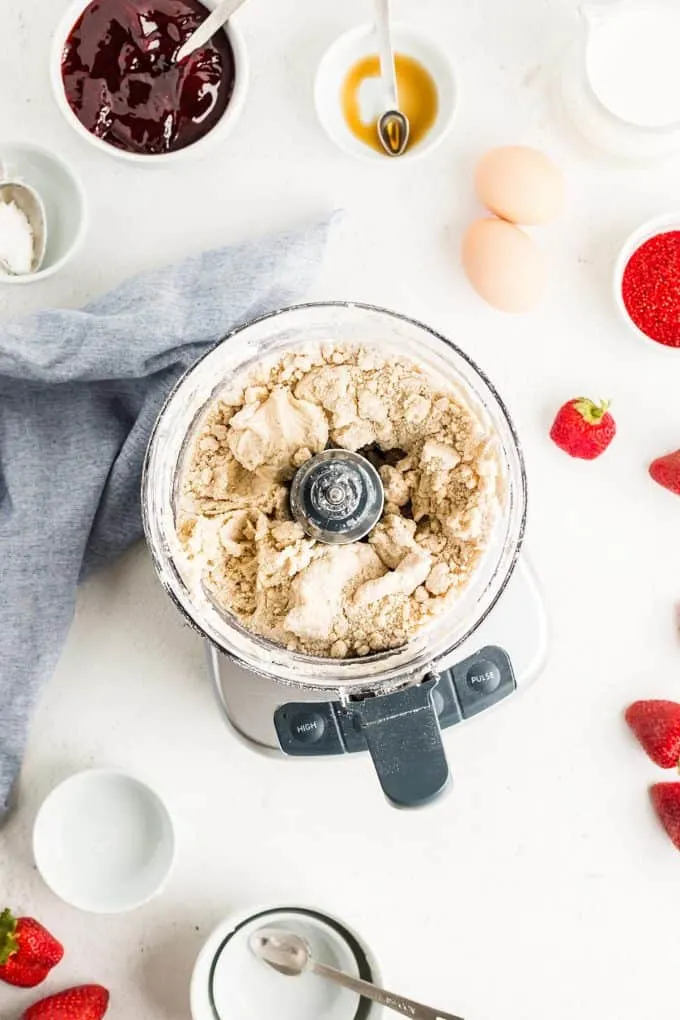 Step 2 Refrigerate the dough
Pour the dough out of the food processor and divide into two equal portions. Form into disks, cover with plastic wrap and place in the fridge for at least 30 minutes.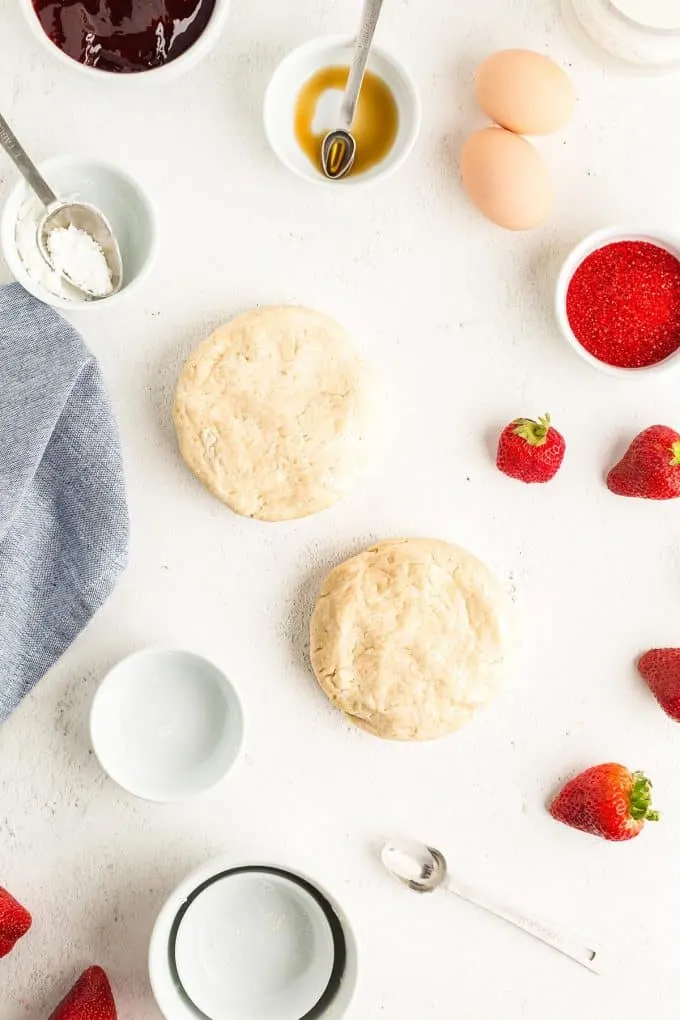 Step 3 Prepare the filling
While the dough is chilling in the refrigerator, start the filling. Mix together water and cornstarch in your saucepan. Add in the strawberry preserves and bring to a boil. Reduce the heat and allow the strawberry mixture to simmer for a few minutes until thickened.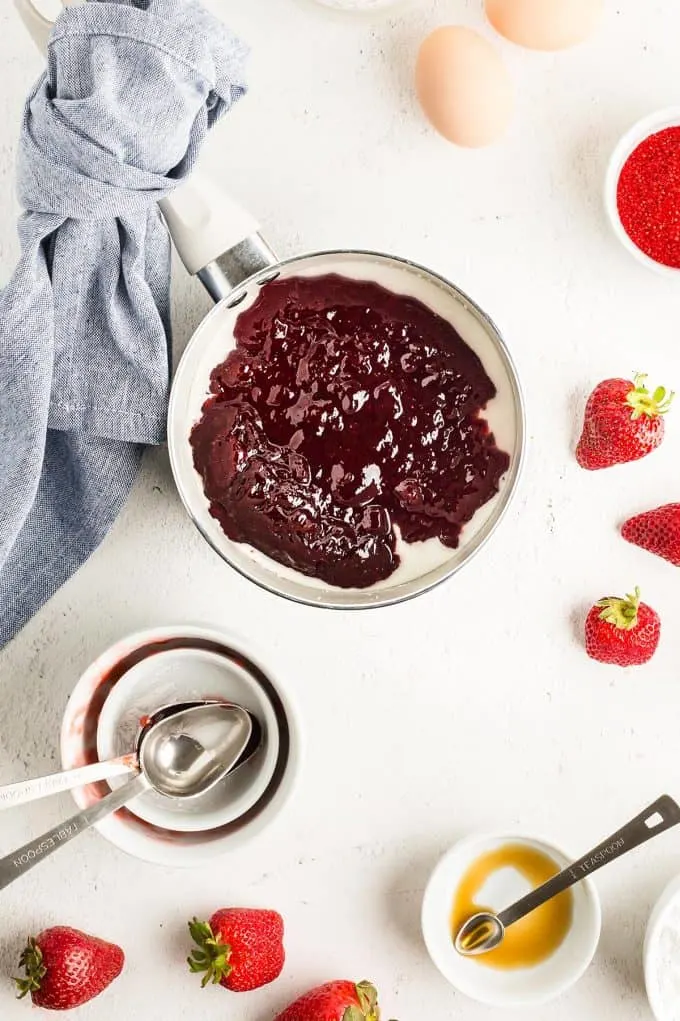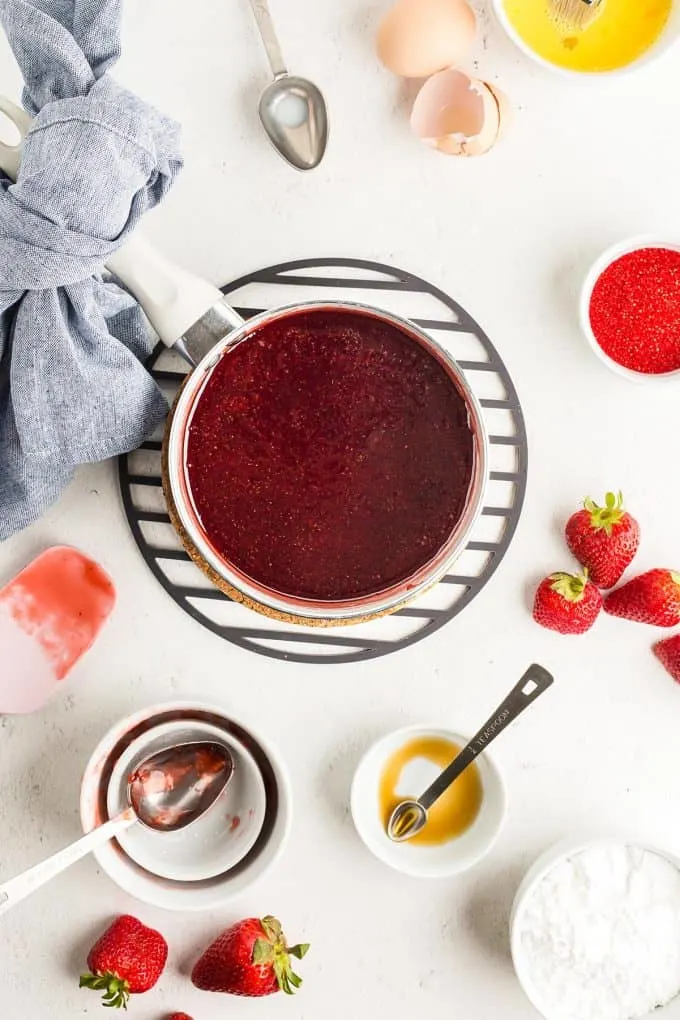 Step 4 Form the pop-tarts
Remove the dough from the fridge and place it on a floured surface. Using a rolling pin, roll the dough out to ⅛ inch thick. Cut the dough into 16 rectangles using your pizza cutter. Place half of the rectangles on parchment paper, evenly spaced out.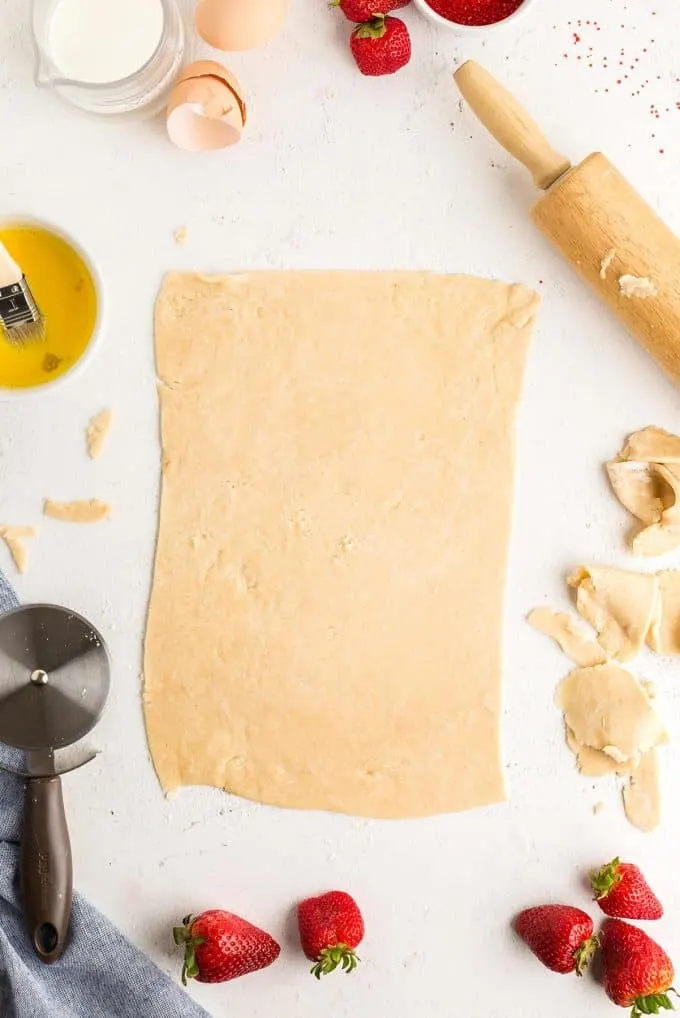 Step 5 Fill the pop-tarts
Spoon about 2 tablespoons of filling onto each rectangle. Brush the edges with egg wash. (To make egg wash simply whisk an egg and add a bit of water to thin it out.)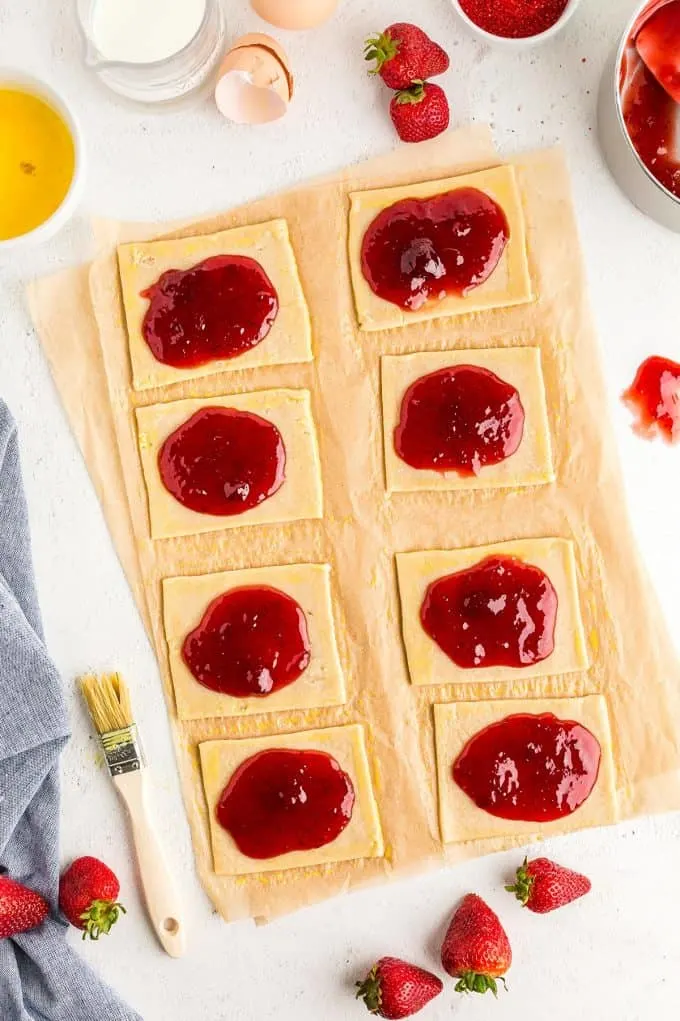 Step 6 Seal the pop-tart
Take an empty pastry dough rectangle and place it on top of one that has filling, making sure to line up the edges. Use your fingers to press down and seal the edges. Prick the top of each pop-tart with a toothpick or fork to vent. You can also use the tines of your fork to create the wave pattern along the edges of the pop-tart.
Tip – Make sure to completely seal your pop-tart edges or filling will leak out.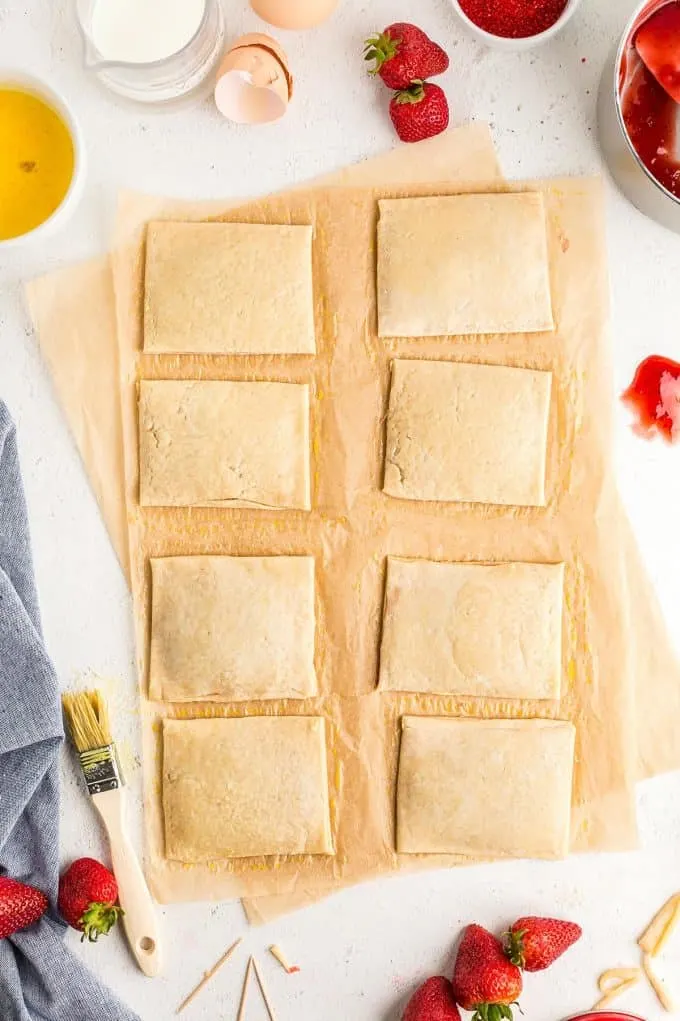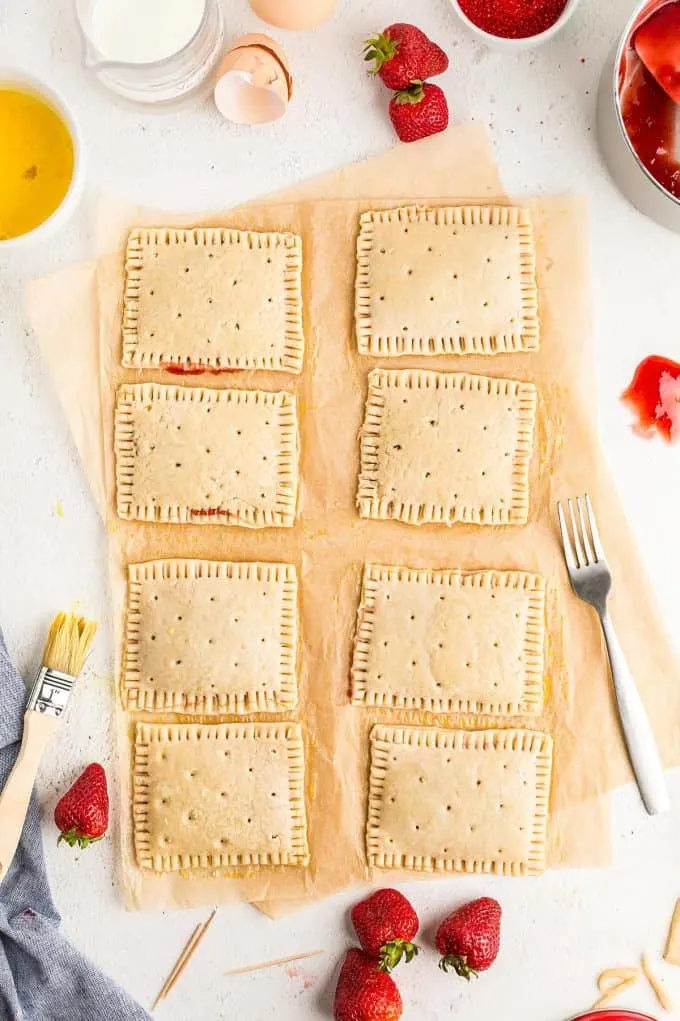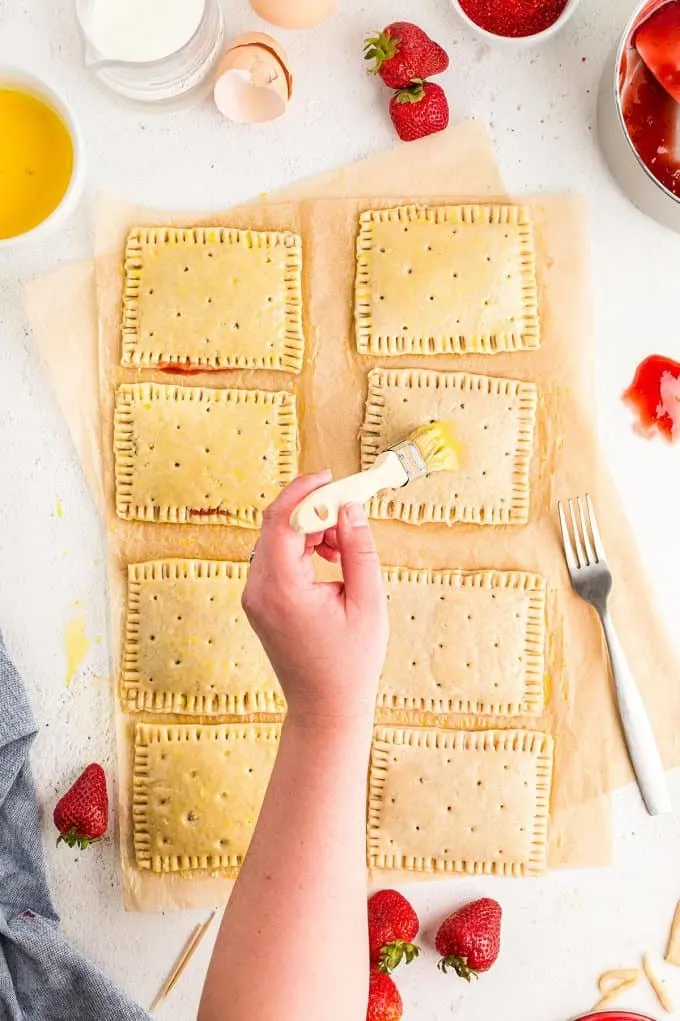 Step 7 Chill the pop-tarts
Place the parchment paper with the pop-tarts onto a baking sheet. Put the baking sheet in the freezer for at least 1 hour. Close to the end of the hour, preheat the oven to 375 degrees.
Step 8 Bake
Place the frozen cookie sheet directly from the freezer into the heated oven. Bake for 15 minutes, rotate the cookie sheet and bake for another 15 minutes for a total of 30 minutes. Remove and allow to cool.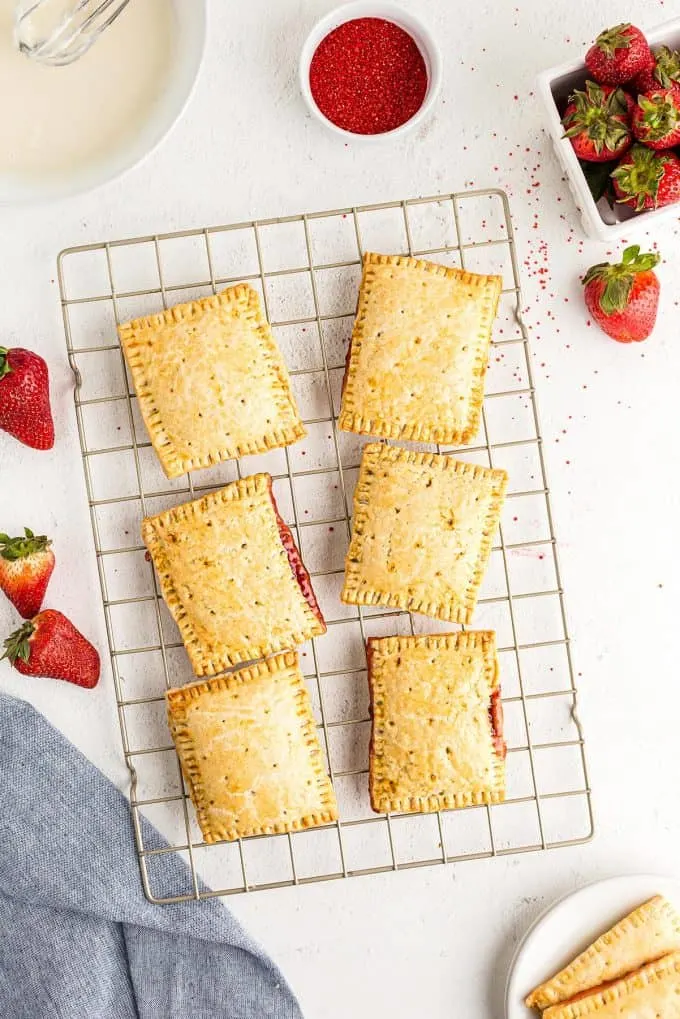 Step 9 Make the frosting
While the pop-tarts are baking, prepare the frosting that will go on top. Whisk together the powdered sugar, heavy cream and vanilla extract until smooth.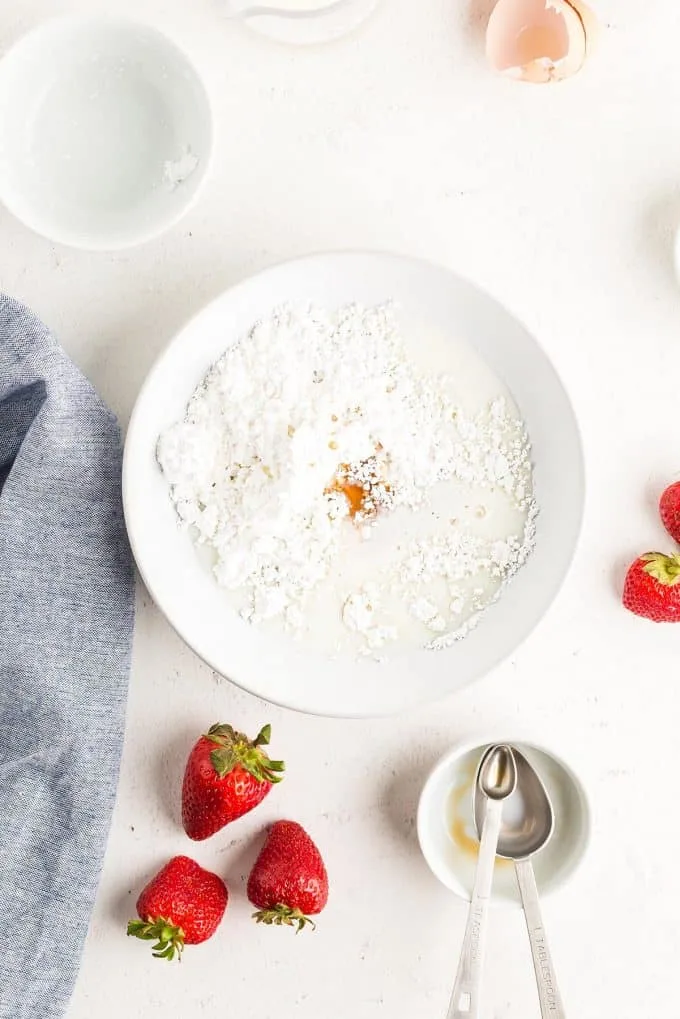 Step 10 Frost the pop-tarts
When the pop-tarts have cooled, spoon on a dab of frosting, making sure to cover as much of the top as you can.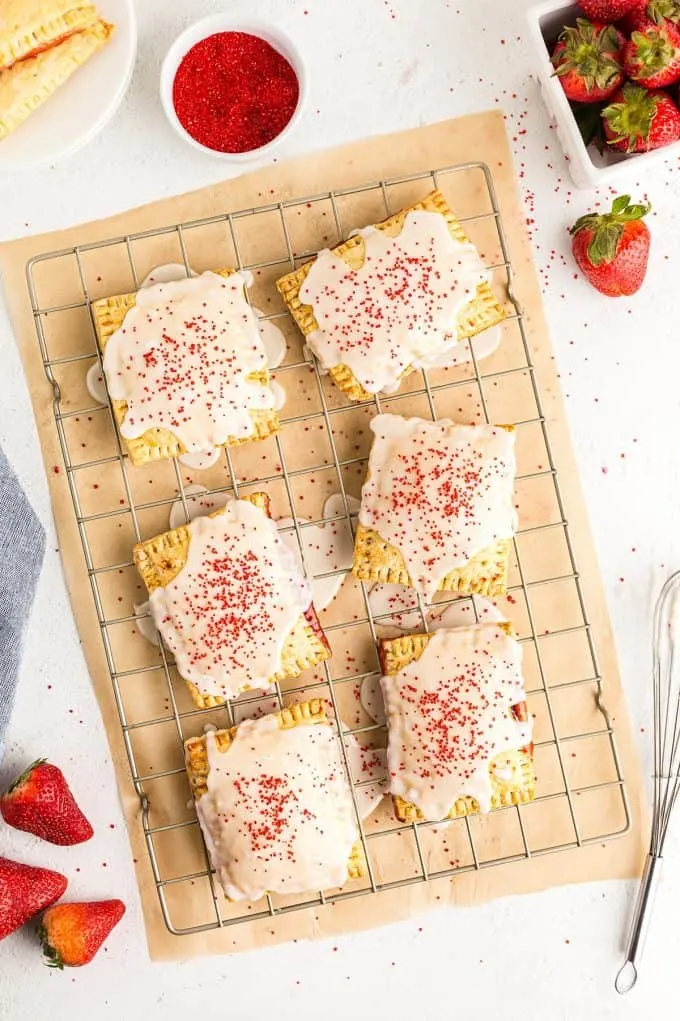 How to store homemade pop-tarts
Store any leftover pop-tarts in a Ziplock bag or a plastic container with a lid. They should be fresh for up to a week, if stored properly.
How to freeze homemade pop-tarts
Want to freeze these pop-tarts for later? Frozen prepared pastries can be stored pre-baked in an airtight container for up to two weeks in the freezer. To re-heat, follow directions for baking as outlined above.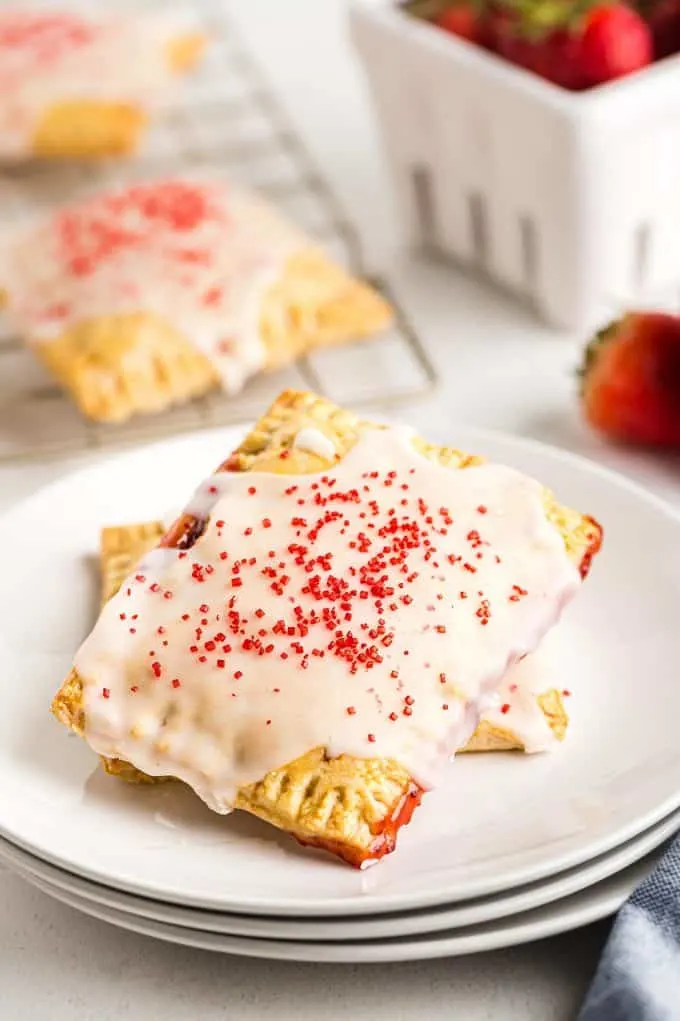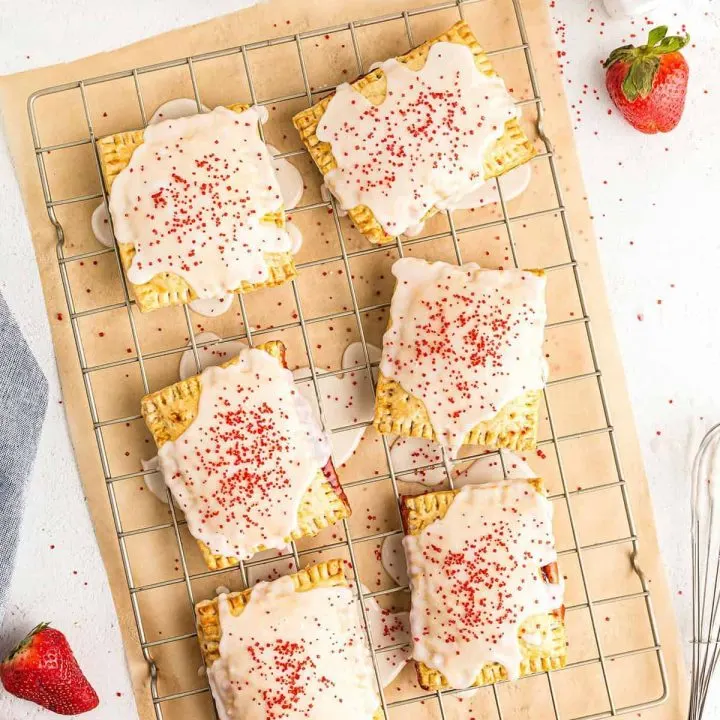 Homemade Strawberry Pop Tarts
These homemade strawberry pop-tarts use common ingredients, can be frozen and will bring back all your favorite childhood memories at the breakfast table.
Ingredients
Pastry Dough
2.5 Cups all-purpose flour
½ teaspoon salt
1 teaspoon sugar
8 tablespoons unsalted butter (1 stick), cold
6 tablespoons shortening, cold
8 tablespoons cold water
Filling
1 cup Strawberry preserves
1 tablespoon cornstarch
1 tablespoon water
Egg Wash
1 large egg
2 tablespoon milk
Icing
1 cup Confectioners sugar
2 tablespoons heavy whipping cream, maybe more
¼ teaspoon vanilla extract
Optional
Instructions
In the bowl of a food processor, pulse together flour, salt and sugar. Add butter and shorting then pulse just a few times until butter and shortening are crumbly. Add cold water and pulse until a dough forms.
Divide dough into two equal parts, form into disks about the size of your hand. Cover with plastic wrap and place in fridge for 30 minutes.
While the dough is chilling, prepare filling by mixing together water and cornstarch in a small sauce pan. Stir in preserves then heat on medium until boiling. Reduce heat and simmer for 5 minutes until the filling has thickened.
Bring dough disks out of fridge, using a rolling pin roll out dough into 2 roughly 10x12 inch rectangle about ⅛ inch thick. Use a pizza cutter to trim the edges to make a clean rectangle. Then cut 16 equal sized rectangles. Place ½ of rectangles evenly spaced on a sheet of parchment paper the size of your baking sheet.
Spoon 2 tablespoons filling into the middle of each pastry rectangle. Brush edges with egg wash.
Cover the prepared rectangles with the other half of the prepared pastry rectangles, making sure to line up the edges. Finger press around the edges to seal. Prick the top of each pop-tart with a toothpick to vent. Press the tines of a fork around each edge to completely seal.
Carefully transfer parchment paper to your baking sheet. Place baking sheet in freezer for one hour.
Preheat oven to 375F
Place Frozen baking sheet in preheated oven. Bake for 15 minutes, then rotate sheet in oven for even browning. Bake for a total of 30 minutes.
Cool slightly before transferring to a cooling rack
Completely cool before adding frosting and sprinkles.

Notes
Get creative with filling! Blueberry pop tarts and brown sugar pop tarts are favorites round here!

You could skip the homemade pastry and go for the store-bought pie crusts if you are short on time.

Store in an airtight container for up to week, but they will never last that long!

Frozen prepared pastries can be stored pre-baked fin an airtight container for up to two weeks in freezer.

Make sure to thoroughly seal edges or the filling will leak out.
Nutrition Information:
Yield:

8
Serving Size:

1
Amount Per Serving:
Calories:

527
Total Fat:

24g
Saturated Fat:

12g
Trans Fat:

0g
Unsaturated Fat:

10g
Cholesterol:

64mg
Sodium:

160mg
Carbohydrates:

73g
Fiber:

2g
Sugar:

34g
Protein:

5g
Nutrition information is automatically calculated and may not be correct.