If you have a ton of leftover ham after Christmas or Easter dinner (or any dinner for that matter!), make this ham and white bean soup!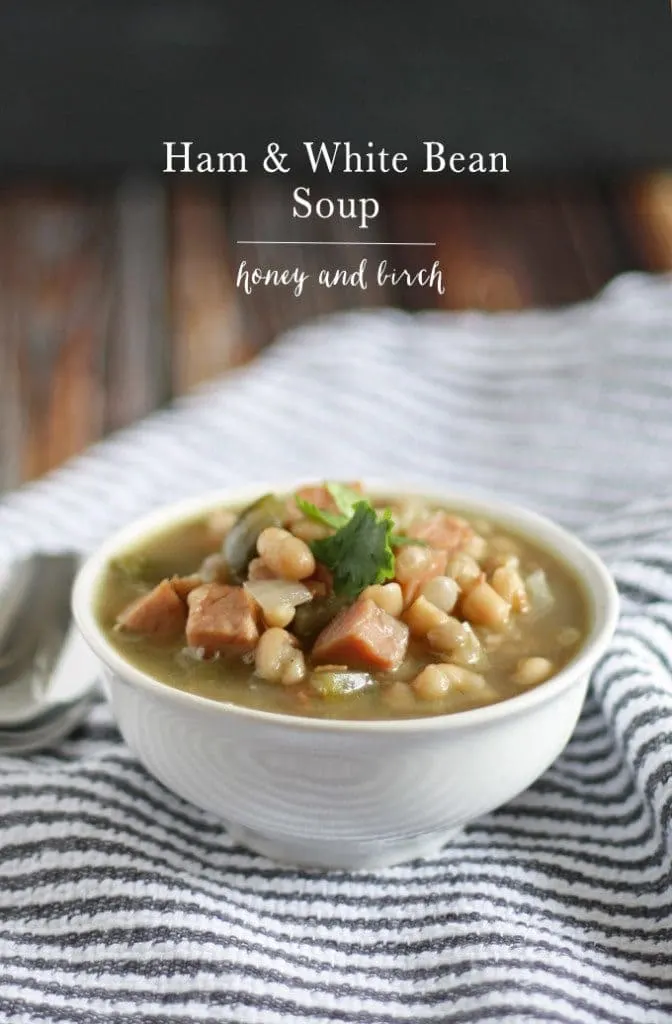 Sunday I shared a delicious quesadilla recipe, filled with leftover ham chunks, jalapeno and green onions! Head over there if you want to see a picture of the ham that inspired that recipe. Today, we are going a different route and turning that leftover ham into a yummy soup.
Making soup is one of the easiest methods to use up leftovers in general. A little broth, a vegetable or two and some meat and spices and you have a complete recipe. You can make it as simple or as exotic as you want – its up to you!
That's probably why I'm a huge fan of soup, especially when its made out of leftovers. It's really hard to mess it up and was one of the first areas I felt comfortable creating recipes.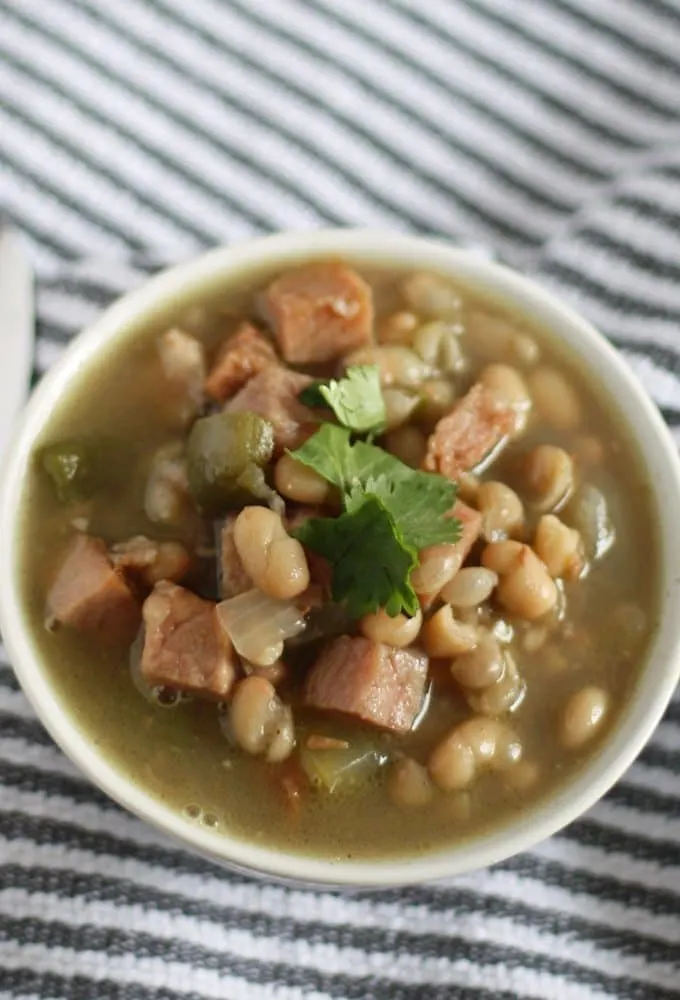 Ham and White Bean Soup
The flavorings of this soup are similar to Cuban-style ham and bean soups – in fact, I wouldn't be surprised if somewhere out there these flavors are already mixed up together, simmering in some soup pot right now.
What makes my soup different is the mashed up beans to thicken it. Instead of using cornstarch or flour, you just need a fork and a few extra beans so you can mash them up and add them to the soup.
Feel free to garnish with some cheese if you want – maybe queso fresco or shredded mozarella? Or go the same route as me and top with some fresh cilantro leaves!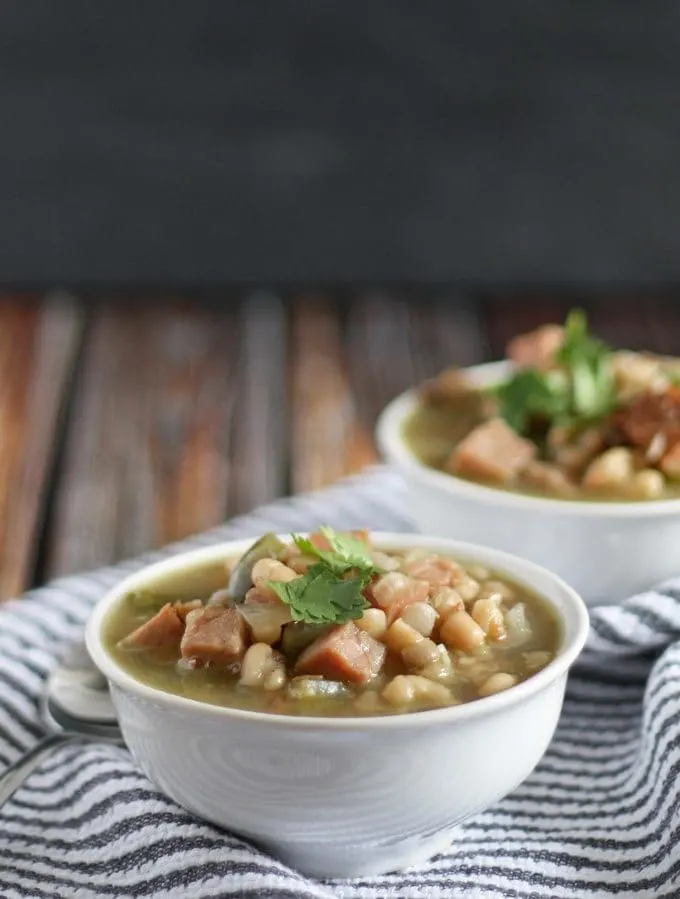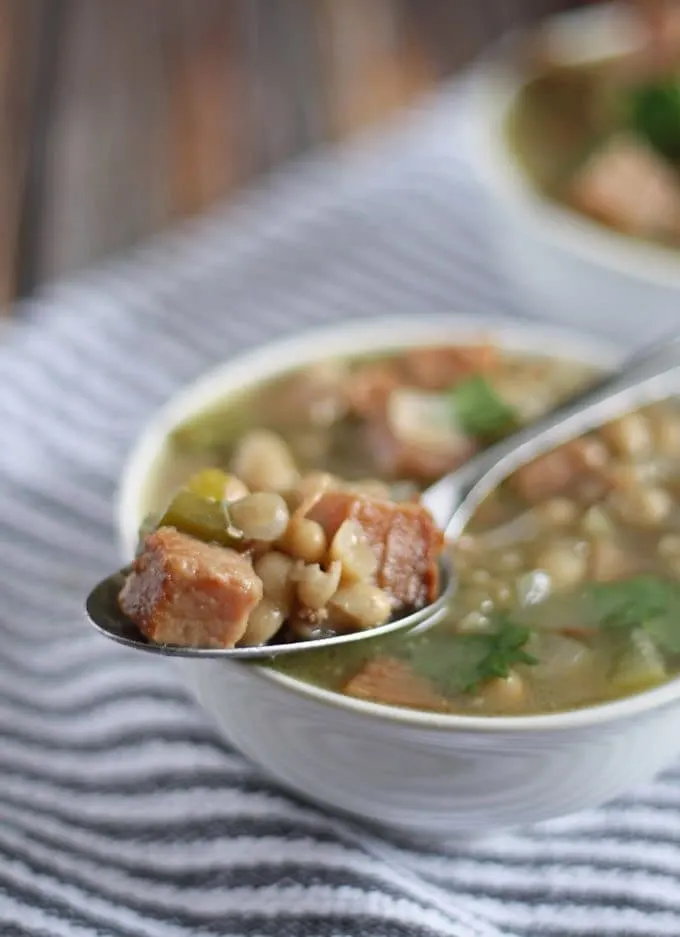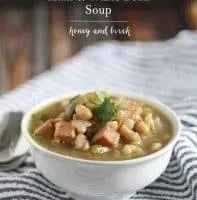 Ham and White Bean Soup
Ingredients
1/4 cup extra virgin olive oil
3 cups diced cooked ham
1 cup diced white onion
1 cup diced celery
1 cup diced green pepper
4 cloves garlic, minced
4 cups chicken or vegetable broth
2 teaspoon cumin
1/2 tablespoon adobo seasoning
1 teaspoon oregano
1 teaspoon black pepper
2 15 ounce cans small white beans, rinsed and drained (set 1 cup white beans aside)
Instructions
Heat the olive oil in a large pot over medium heat. Add the ham, onion, celery, green pepper and garlic. Increase heat to medium-high, stirring frequently and saute until onions are translucent.
Add the chicken broth, cumin, adobo seasoning, oregano and black pepper. Stir and bring to a boil. Then reduce heat to medium low.
Using a fork, mash the set aside cup of beans. Then add all of the beans (mashed and not mashed) to the pot. Simmer for 30 minutes. Serve hot.