Fans of buffalo wings will love this dinner recipe! Buffalo sauce meatloaf, stuffed with blue cheese and glazed with buffalo sauce.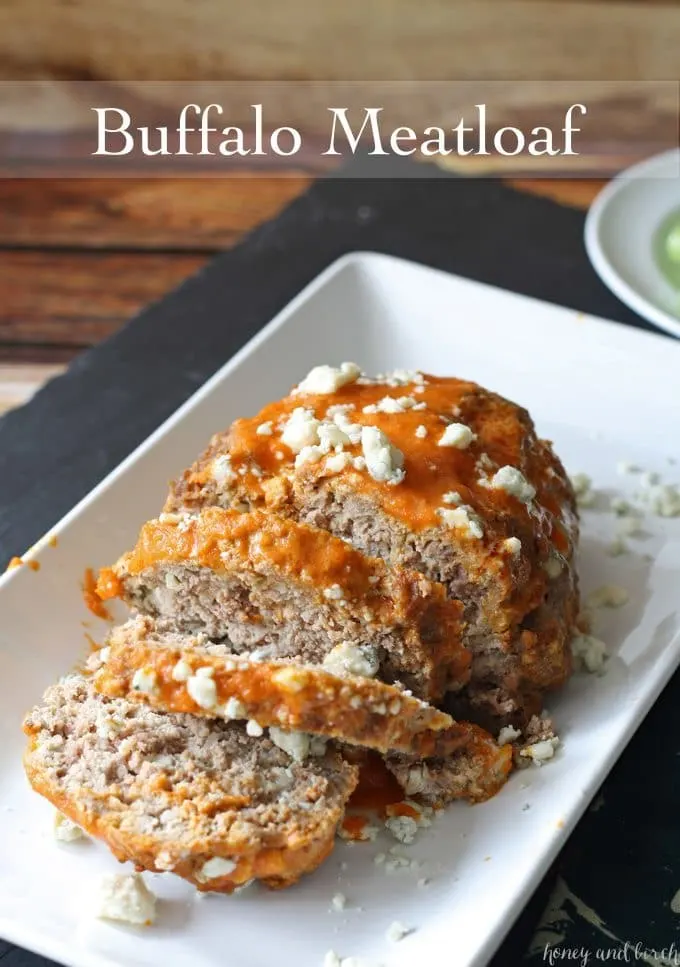 I was taking a peak through my recipe index and realized that most of my dinner recipes are made in a slow cooker. I own a couple of the 6 quart ones (like this one – affiliate link.) And I like to cook a lot of things at one time – the slow cooker is my friend.
I like it so much that I often forget about the oven. Even in the winter, when it could help warm up my home. It's Chicago, it is cold – I'll do anything to get warm.
I digress. So, I was going through my recipe index, thinking about dinner and the oven and it came to me. Make a meatloaf. And thanks to my homemade buffalo sauce recipe, make a buffalo meatloaf recipe.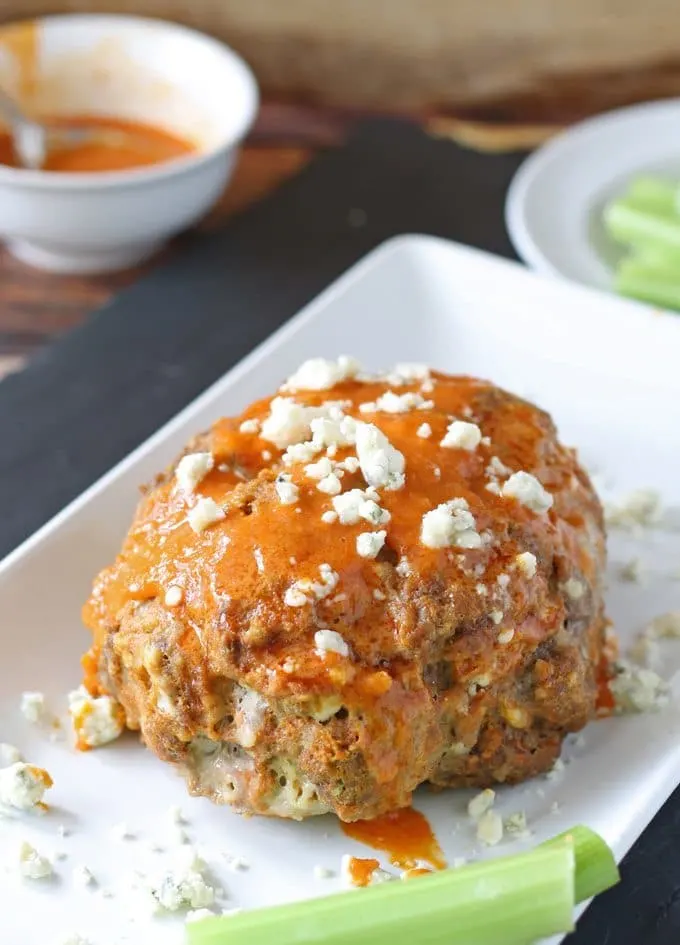 Buffalo Meatloaf Recipe
Don't be confused, this meatloaf contains a lot of meat, but none of it is buffalo meat. I'm sure you figured it out from the pictures, but when I told my mom I was making it, she wanted to know where I found buffalo meat at the store.
Instead, I used a combination of beef, turkey and pork and my favorite cheese of all, blue. And a lot of it. The buffalo name comes from a healthy dose of buffalo sauce, slathered across the top. Sooo good. If you like buffalo sauce as much as me, you can always use more – don't be stingy with it.
When cooking, I highly recommend using a thermometer to check the temperature instead of using the time I gave. Every oven is different, as I'm sure you know if you have ever been frustrated with a recipe that took longer or less time to cook than was written.
Chances are, it was your oven cooking differently from the recipe writer's.
Wow, lots of digression today…. anyway, I cooked this using a baking sheet lined with foil and a quick (very quick) mist of cooking spray. You could also use a baking dish.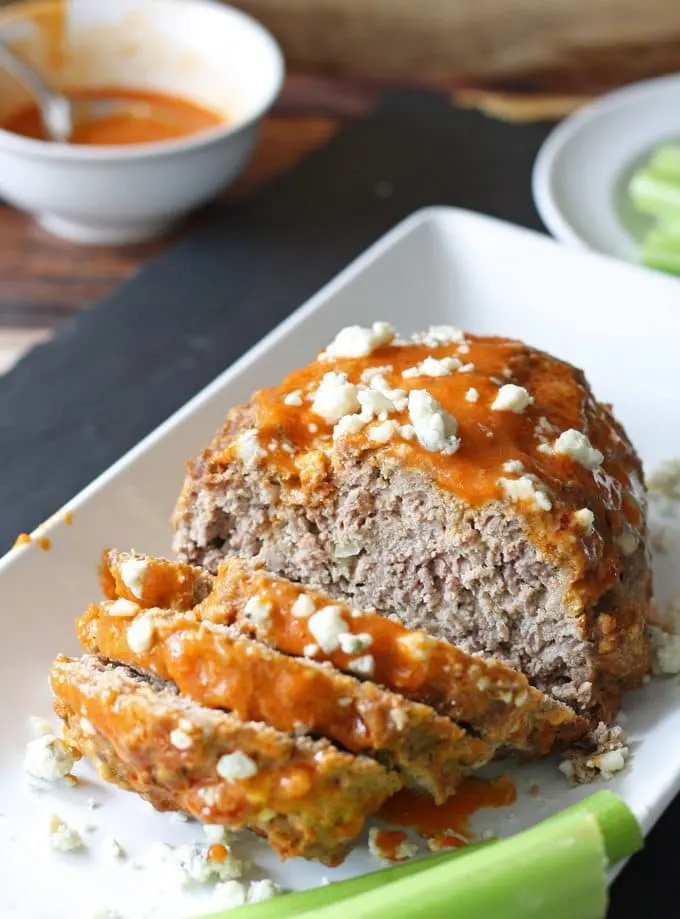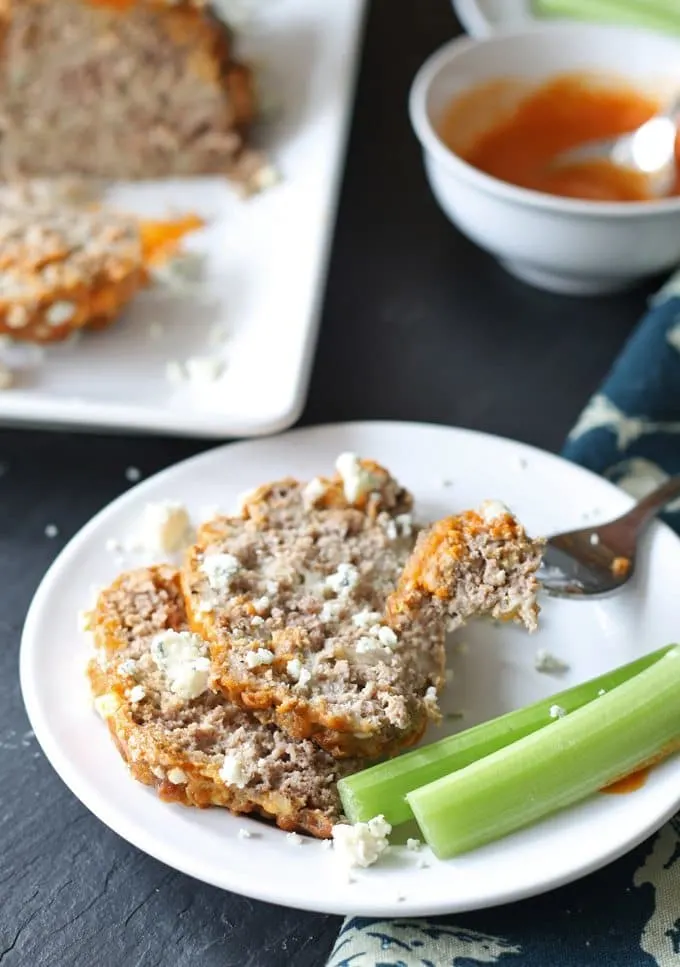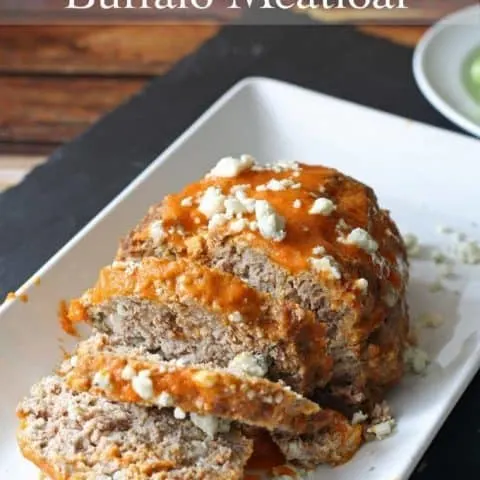 Buffalo Meatloaf Recipe
Fans of buffalo wings will love this dinner recipe! Buffalo meatloaf, stuffed with blue cheese and glazed with buffalo sauce.
Ingredients
1 pound ground turkey
1 pound ground sirloin
1/2 pound ground pork
1/4 cup finely diced white onion
4 ounces crumbled blue cheese
2 eggs, beaten
1 teaspoon minced garlic
1/4 cup panko breadcrumbs
1/4 teaspoon pepper
For garnishing and serving
Instructions
Preheat oven to 350 degrees. In a large bowl, combine the turkey, sirloin, pork, onion, blue cheese crumbles, eggs, garlic, breadcrumbs and pepper. I recommend using your hands to ensure that it is well combined.
Separate the meat into two equal sections and form them into loaf shapes. Place them on a baking sheet or dish evenly apart. Bake uncovered for 1 hour, or until the internal temperature of the loaves reaches 165 degrees. When you remove the loaves from the oven, brush the buffalo sauce on top of the cooked loaves, 1/4 cup per loaf.
When serving, sprinkle buffalo sauce and blue cheese over meatloaf pieces.
Nutrition Information:
Yield:

8
Serving Size:

1
Amount Per Serving:
Calories:

460
Total Fat:

29g
Saturated Fat:

11g
Trans Fat:

0g
Unsaturated Fat:

15g
Cholesterol:

197mg
Sodium:

756mg
Carbohydrates:

4g
Fiber:

0g
Sugar:

1g
Protein:

44g
This data was provided and calculated by Nutritionix on 1/19/2019