If you're craving dessert but don't want leftovers, try this recipe for berry compote for two. It's perfect over ice cream and pie!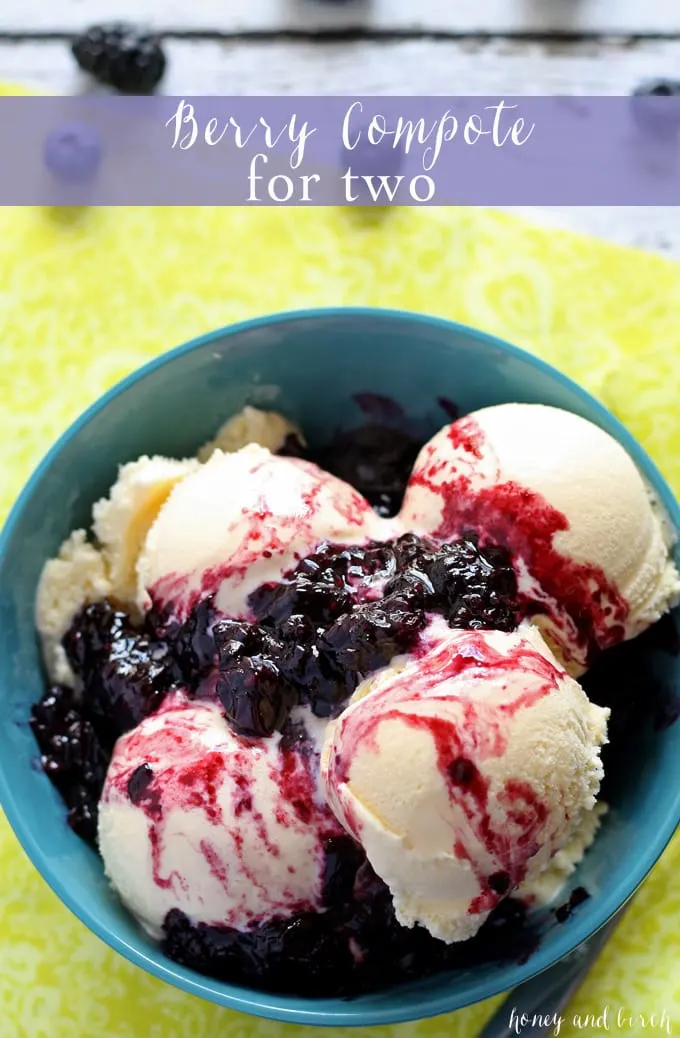 Mr. B and I like dessert. As you can imagine with the amount of baking I do, there is often a surplus of sweet goodies in our vicinity. I sometimes get on a baking kick and then we are swimming in cookies, or cupcakes. Or both.
Then, to counteract all of the sugar, I send us to a dessert desert for a little bit. Our doctors thank us but we get sad and quickly miss sweets. I am pretty sure that is actually some kind of sugar withdrawal.
Instead of caving in and make a dozen cookies, I have started making "dessert for two." It's hard being a two human, one canine household – I imagine if we had kids that they and their friends (and friends' parents) would help eat some of the sweets. Instead, we beg neighbors to take them off of our hands. Mr. B will occasionally bring them to work and I'll cart some with me to client appointments but some inevitably gets thrown out. It's so sad.
My solution to this occasionally making smaller batches of things that we love. Like berry compote to top ice cream!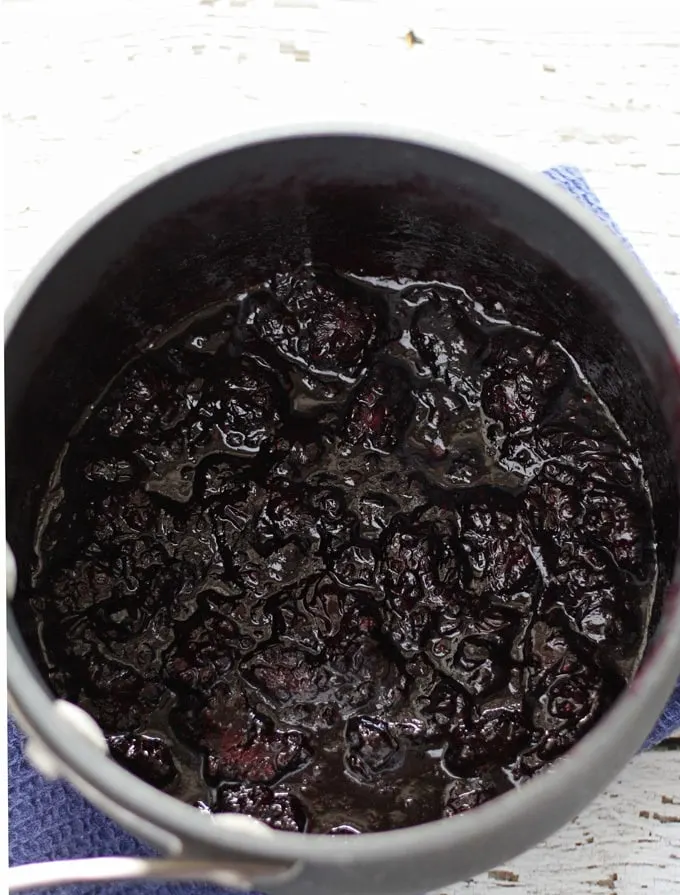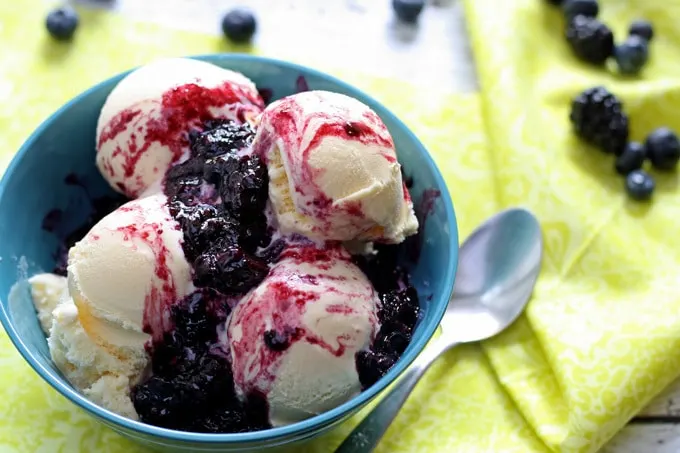 Berry Compote for Two
This ice cream topper is very easy to make. So easy, you will want to keep berries in your fridge every day in case a sudden craving arrises.
We happened to have blueberries and blackberries laying around but you could also substitute raspberries or strawberries that have been diced up. Everything gets put into a pot and brought to a boil. Then you let it simmer until its thick and the berries are macerated. At this point, you will want to eat it very badly, because the smells emanating from the pot will cause your sugar cravings to kick in.
When this happens, you can usually find me frantically putting scoops of ice cream into a bowl and grabbing us 2 spoons. I ladle the berry compote over the ice cream and we dig in right away. It is the perfect amount of compote for two people! (scroll all the way to the bottom if you want to see us digging in… we really do move that fast too.)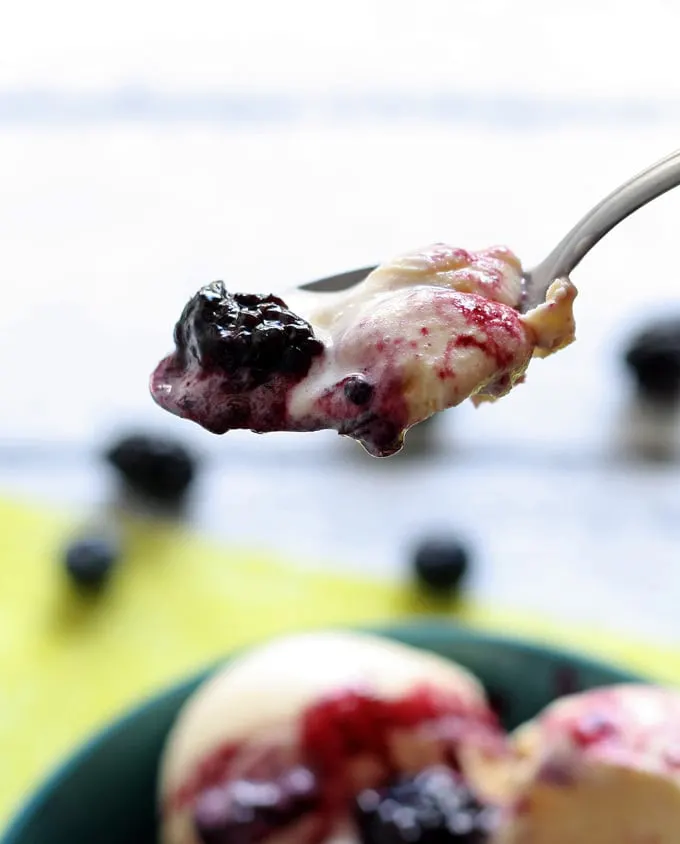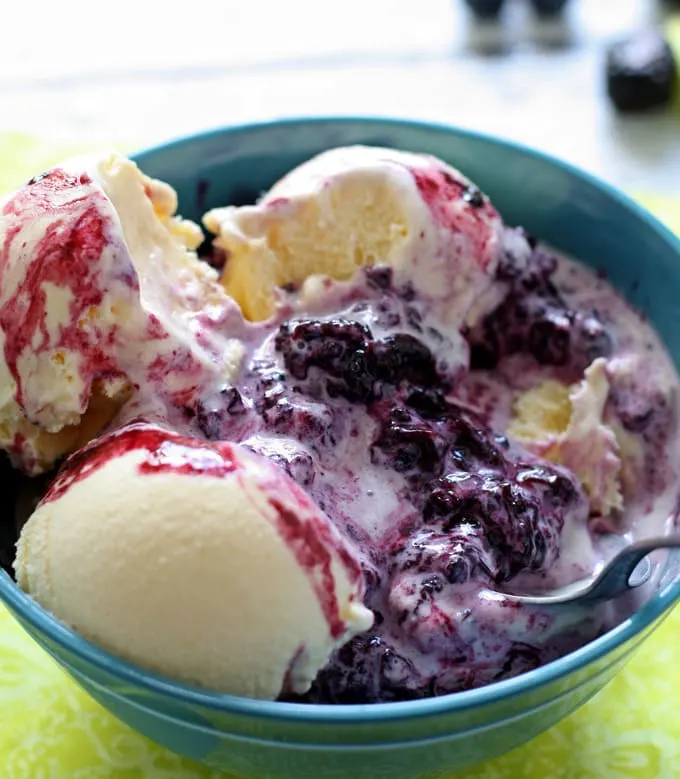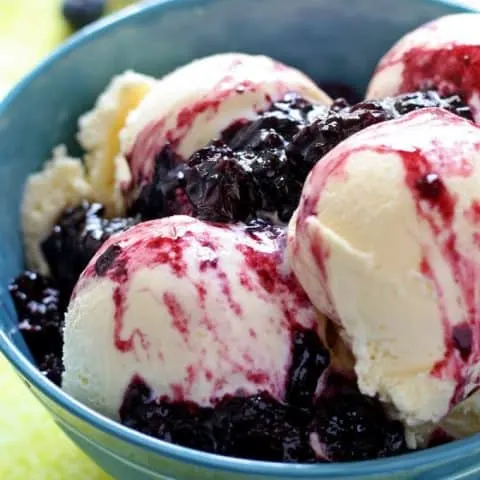 Berry Compote for Two
If you're craving dessert but don't want leftovers, try this recipe for berry compote for two. It's perfect over ice cream and pie!
Ingredients
½ cup blueberries
½ cup blackaberries
½ cup orange juice
⅛ cup white sugar
⅛ teaspoon ground ginger
⅛ teaspoon ground cinnamon
dash of salt
Instructions
Combine all ingredients in a small saucepan and stir to combine. Bring to a boil over medium high heat. Reduce heat to medium and simmer for 10 minutes, or until the liquid has reduced by 75 percent and the berries are in a thick sauce. Stir frequently. Serve hot.
Nutrition Information:
Yield:

2
Serving Size:

1
Amount Per Serving:
Calories:

96
Total Fat:

0g
Saturated Fat:

0g
Trans Fat:

0g
Unsaturated Fat:

0g
Cholesterol:

0mg
Sodium:

79mg
Carbohydrates:

24g
Fiber:

1g
Sugar:

21g
Protein:

1g
Nutrition information is automatically calculated and may not be correct.