This berry barbecue sauce recipe can be made with raspberries or blueberries. Dip chicken into it for a fruity addition to dinner!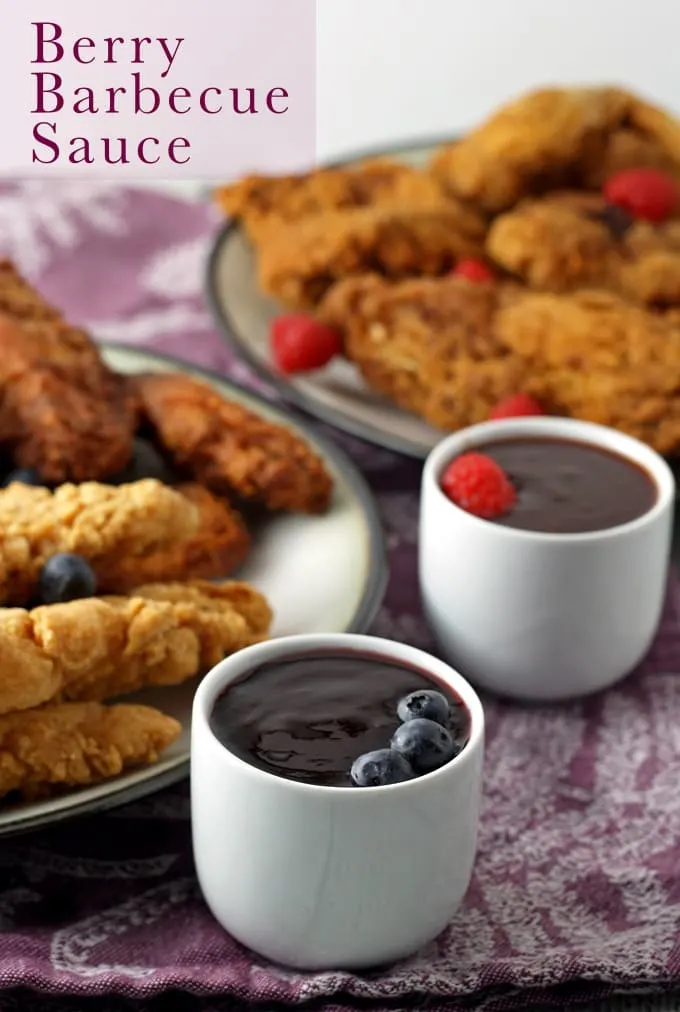 Can you believe this weekend is the Fourth of July? This year seems to be going by so fast – the fastest yet! Just the other day I was shoveling snow (it seems) and now July is here!
Mr. B works a lot of holidays – it used to really bum me out but I'm used to it now. I've actually found a way to make an event out of it. Each holiday that he works, I make sure he has a ton of food to take to work. Not only does it make his heart happy that I'm feeding him on the holiday, it also cheers his coworkers up a little bit. No one wants to work on the Fourth of July but if you have a hot plate of food in front of you, it doesn't seem so bad.
This year, I'm picking up fried chicken from Walmart and making big batches of my berry barbecue sauce for dipping. The deli at Walmart has several options to purchase fresh, fried chicken. At the counter, you can purchase single pieces of chicken, buckets of chicken, all the way up to bulk purchases of 50-100 pieces! You can also pick up 8pc grab-n-go containers if you're in a hurry.
I will probably go a little overboard when I grab the chicken for Mr. B to take to work – why not get as much as I can carry, right? Hehe, when I bought the chicken pictured above I said, "I'll take it all" and take it all I did!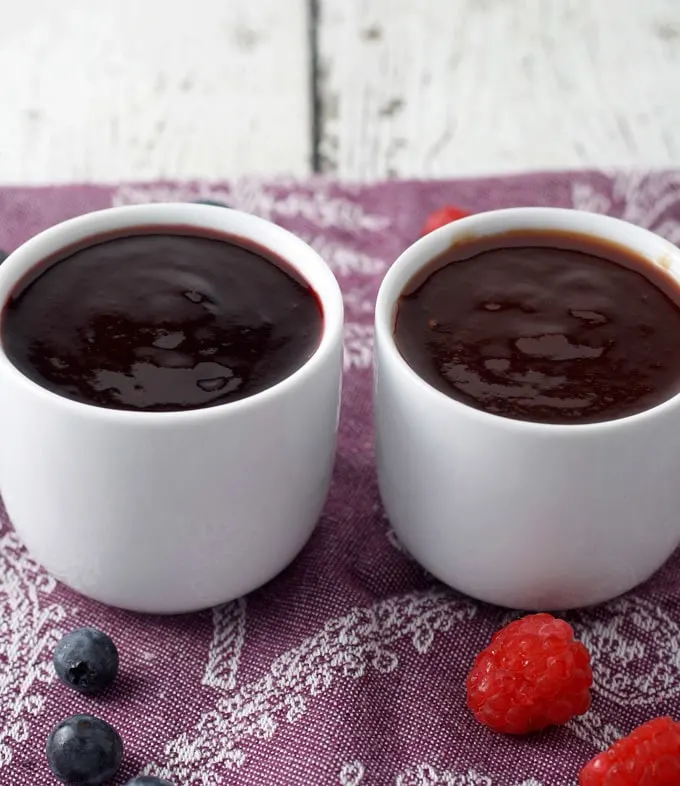 Berry Barbecue Sauce
Homemade barbecue sauce is way easier to make than you think. Or at least, easier than I thought. I found that putting everything in to a pot and letting it simmer gave it the thickness that I wanted.
This berry barbecue sauce is my new favorite condiment. I made a lot of batches of "dud sauce" before I finalized this recipe, which works for both raspberris and blueberries. All that testing put a lot of love into this sauce and I'm very proud of the final product.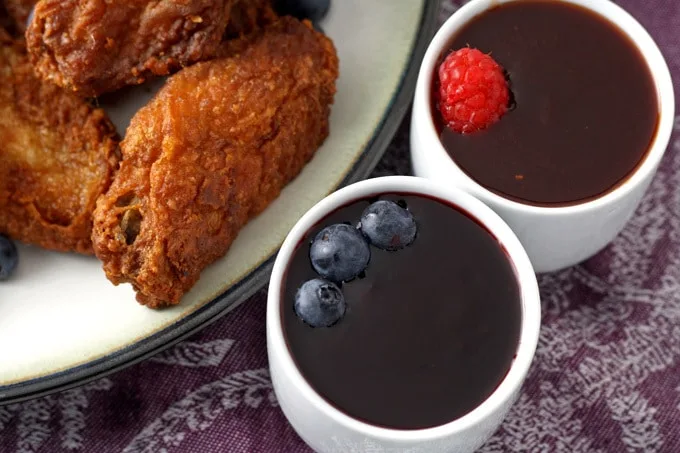 Depending on which berry you choose, you will end up with different quantities of sauce. My guess is that 1 cup of raspberries is not equivalent to 1 cup of blueberries.
Either way, you will get about 1 cup of raspberry barbecue sauce and 1 ½ cups of blueberry barbecue sauce.
When straining your sauce, don't forget to smash the berries to get all of the sauce in the bowl. Also, remember to check the bottom of the sieve and use a spoon to scrape off any sauce that is hanging on for dear life. It's delicious and should be eaten – get it in that bowl to cool!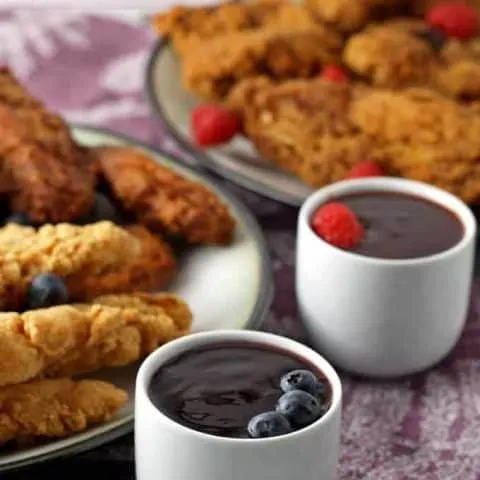 Berry Barbecue Sauce
Cook Time:
1 hour
30 minutes
Total Time:
1 hour
35 minutes
This berry barbecue sauce recipe can be made with raspberries or blueberries. Dip chicken into it for a fruity addition to dinner!
Ingredients
1 cup berries (raspberries or blueberries
½ cup ketchup
½ cup brown sugar
2 cloves garlic, minced
2 tablespoons Worcestershire sauce
½ cup red wine vinegar
½ teaspoon kosher salt
¼ teaspoon hot sauce
2 dashes liquid smoke
2 pinches pepper
Instructions
Combine all ingredients in a medium saucepan. Stir and cook on medium low for 1 ½ hours, stirring frequently.
Place a sieve over a bowl and pour the sauce through the sieve. Use the back of the spoon to smash the berries and push the sauce through. Let cool before using.
Nutrition Information:
Yield:

10
Serving Size:

1
Amount Per Serving:
Calories:

59
Total Fat:

0g
Saturated Fat:

0g
Trans Fat:

0g
Unsaturated Fat:

0g
Cholesterol:

0mg
Sodium:

209mg
Carbohydrates:

15g
Fiber:

1g
Sugar:

13g
Protein:

0g
Nutrition information is automatically calculated and may not be correct.