This recipe for baked graham cracker chicken tenders is perfect for a kids' dinner or an adult snack! Easy and delicious!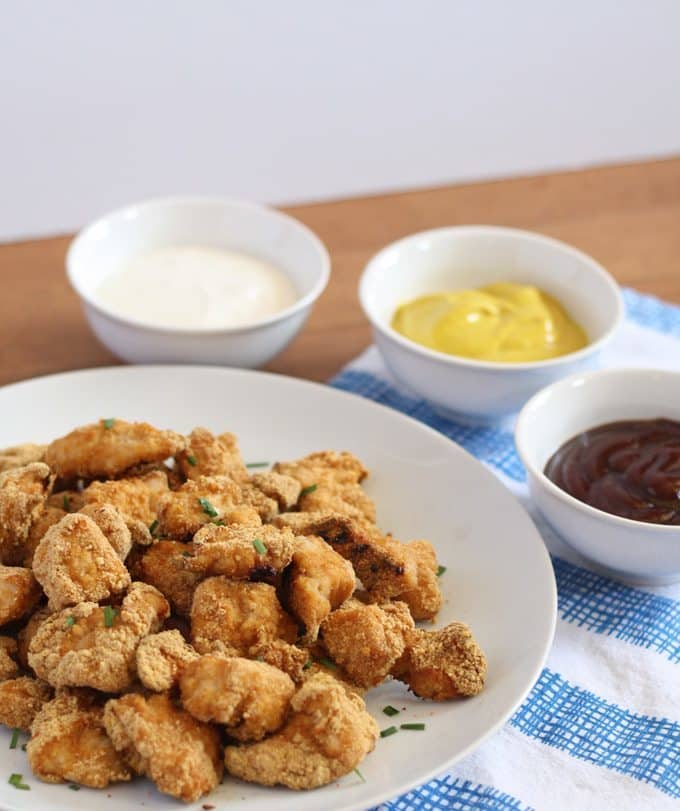 The first time I had a chicken tender was probably at a fast-food restaurant with golden arches (you know which one I'm talking about.) I probably loved it too. That was a very long time ago.
And a lot has changed since then. The restaurant I mentioned above recently began a campaign talking about where their food comes from and how its made.
All it did for me was make me want to keep cooking at home. Don't get me wrong, I love going out to eat. And not just fancy restaurants – I'm a big fan of the local diners too. But its going to take some kind of crazy for me to get those chicken tenders, even after watching all of their videos. (Though I may grab a cheeseburger now and again…)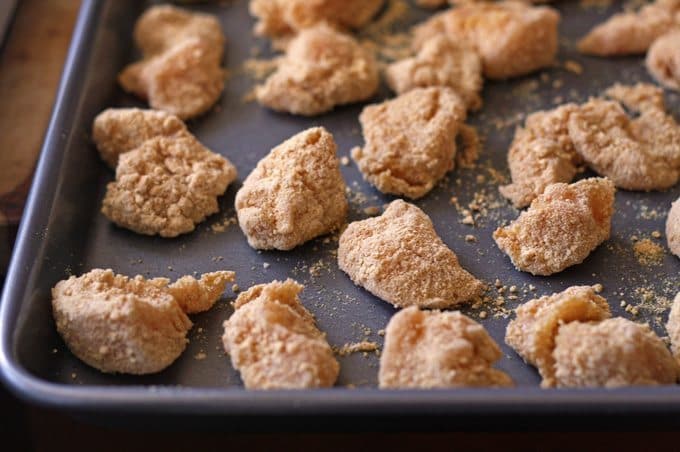 Baked Graham Cracker Chicken Tenders
After making my s'mores brownies, I still had a bunch of leftover graham cracker crumbs. I also had some chicken. Baked graham cracker chicken tenders happened, and they were delicious.
They were also pretty easy to make. I combined all of the dry ingredients in a plastic bag, sealed it and then shook it (like a polaroid picture.) After dredging the chicken pieces in egg I threw them in the bag, tossed again and voila!
Once out of the oven, you need to let them cool off a little bit but then you can get to dipping. I usually go with a trio of bbq sauce, blue cheese dressing, and mustard. But you don't have to stop there – take out the ranch, mustard and honey too!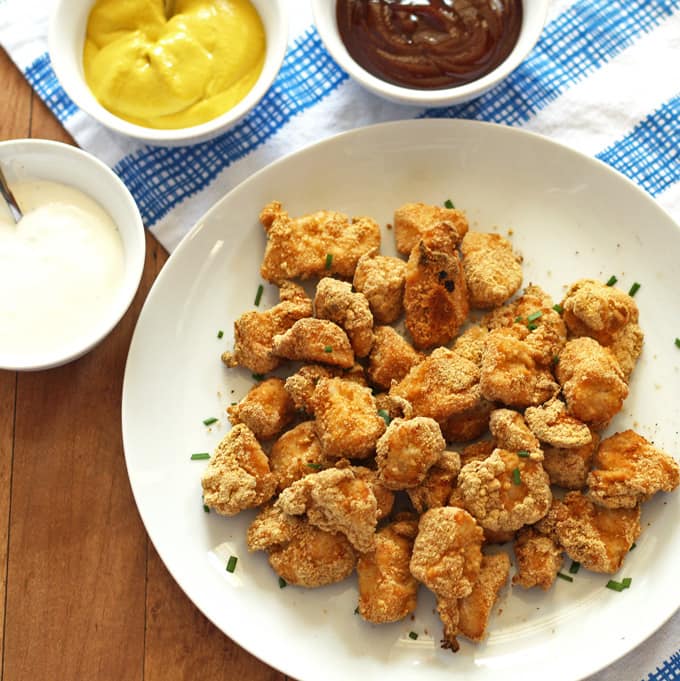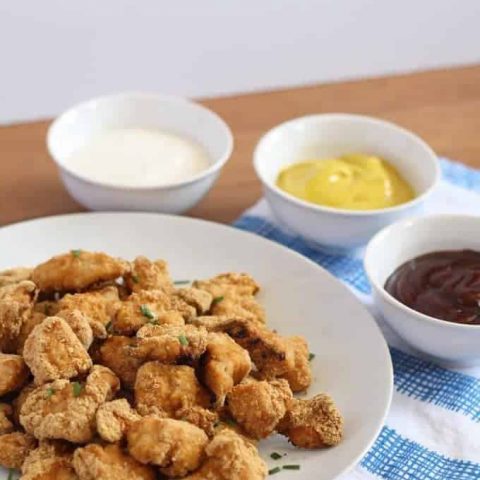 Graham Cracker Chicken Tenders
This recipe for baked graham cracker chicken tenders is perfect for a kids' dinner or an adult snack! Easy and delicious!
Ingredients
2 pounds chicken, fat trimmed and cut into 1/2 inch pieces
1 1/2 cups graham cracker crumbs
1/2 teaspoon kosher salt
1/4 teaspoon ground white pepper
2 large eggs, beaten
Instructions
Preheat the oven to 375 degrees F and line a cookie sheet with foil.
In a plastic bag, combine the graham cracker crumbs, salt and pepper. Take 4-5 pieces of chicken and dredge them in the egg. Put them in the bag and toss the chicken pieces in the graham cracker pieces. Remove them from the bag and put the chicken on the cookie sheet. Repeat with all of the chicken pieces.
Bake for 25 minutes or until the chicken is cooked all the way through.
Serve with dipping sauces
Notes
You can substitute black pepper for the white pepper.
Nutrition Information:
Yield:

16
Serving Size:

1
Amount Per Serving:
Calories:

553
Total Fat:

58g
Saturated Fat:

17g
Trans Fat:

0g
Unsaturated Fat:

38g
Cholesterol:

71mg
Sodium:

111mg
Carbohydrates:

6g
Fiber:

0g
Sugar:

2g
Protein:

1g
Looking for more fun dinner ideas? Try this
loaded burrito bowl recipe
or this
cheesy tomato pasta skillet
.