This recipe is a great way to use the bounty of your herb garden. Lunch, dinner, or meatless Mondays – this summer pesto pasta is packed with flavor and color.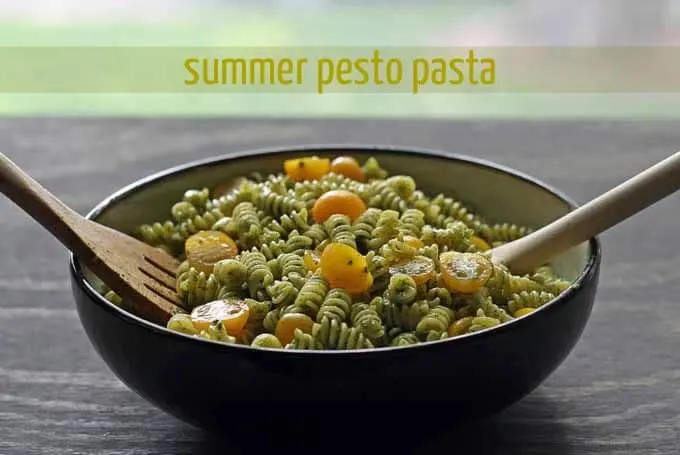 I have been trying all summer to grow an herb garden. I was somewhat successful once a few years ago – I put all my herbs in a big stone planter outside a house we were renting, amongst some flowers. It was pretty and got a boatload of sunlight – somehow I didn't kill it.
That doesn't mean that it survived, just that I didn't kill it. I planted a mint plant and chives in there, and they grew so big that they took over the planter. Oops.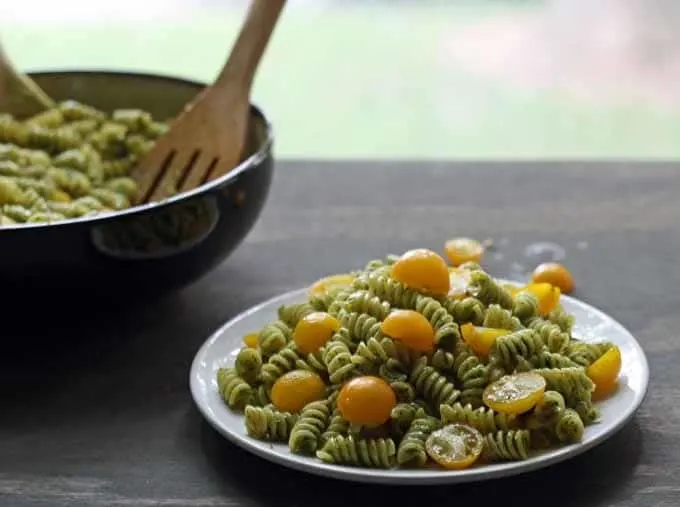 I took that catastrophe into consideration this year when I decided my kitchen needed its very own herb garden. I bought 3 small planters for mint, chives and cilantro and 1 big planter for a basil plant to share with a really cool pineapple sage plant from the local farmer's market. They are all sitting on my patio in the only spots in the yard that get a decent amount of sunlight.
As of today, the cilantro is turning to coriander (which is strangling the cilantro) and the chives are all floppy and listless. Perhaps the chives were overwatered? Not sure… The cilantro at least I don't feel toooo bad about. The guy at the farmer's market only had seedlings, so I didn't have the most hope about its survival. I have taken to buying my cilantro at the store again.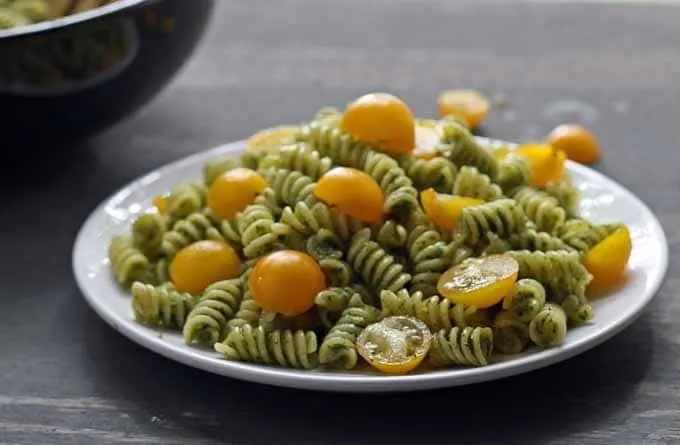 The mint is doing as mint does and I'm thankful I put it in its own planter – its huge!! I did that right at least.
The cohabitating basil and sage plants are where it all gets crazy. They were both doing really, really well. But I started to notice a leaf or two of each plant that had obviously been eaten. I thought it was squirrels at first but realized that my dog Nero loves eating my plants. He was just going for a leaf or two of each and then the other day I realized he ate every single leaf on my sage plant. Not exaggerating even a little bit.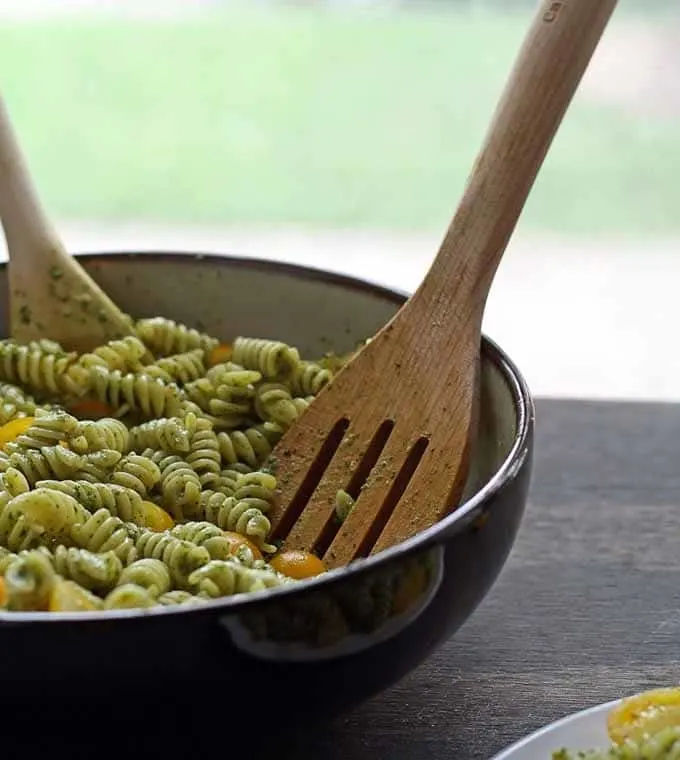 And then my stupid self looked up dogs and sage. Yeah, really bad for dogs. I proceeded to rip out the rest of the plant just in case anymore leaves decided to pop up.
This left my basil plant all alone in its pot. Sorry, basil, buddy. I know it's hard to go through a break up.
I didn't want my basil plant to feel lonely anymore, so I took it out for dinner. A dinner of pesto.
I also took what cilantro I could salvage from the coriander and some extra from the grocery store – that and the basil made a delicious pesto. Tossed with your favorite pasta (regular, whole wheat or gluten-free!) and some cherry tomatoes, this is a great dish. I found these golden tomatoes at our local grocery store – they're really stepping it up when it comes to their produce. Makes me so happy!
If you are planning on using more than one herb in your pesto, I suggest using them in equal amounts. I used 1 packed cup of basil and 1 cup of cilantro for this particular batch.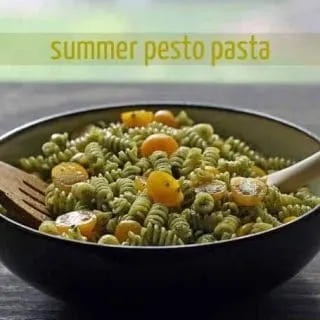 Summer Pesto Pasta
This recipe is a great way to use the bounty of your herb garden. Lunch, dinner, or meatless Mondays - this summer pesto pasta is packed with flavor and color.
Ingredients
1 pound box of pasta (rotini or penne)
2 cups of fresh herbs - basil, cilantro, parsley or sage (or combination of)
1 garlic clove
2 tablespoons pine nuts
1/4 cup extra virgin olive oil
1 teaspoon kosher salt
1/4 teaspoon black pepper
1/2 cup shredded Parmesan cheese
1 cup of cherry tomato halves
Instructions
Boil water in a pasta pot and cook the pasta according to the package directions.
While the pasta is cooking, make the pesto. In a food processor or blender, combine the herbs, garlic, pine nuts, oil, salt and black pepper. Puree until smooth.
Add the Parmesan cheese to the food processor and puree until well combined.
Drain the pasta but do not rinse it.
In a large bowl, combine the pasta, pesto and cherry tomatoes.
Nutrition Information:
Yield:

6
Serving Size:

1
Amount Per Serving:
Calories:

254
Total Fat:

14g
Saturated Fat:

3g
Trans Fat:

0g
Unsaturated Fat:

10g
Cholesterol:

5mg
Sodium:

469mg
Carbohydrates:

25g
Fiber:

2g
Sugar:

1g
Protein:

8g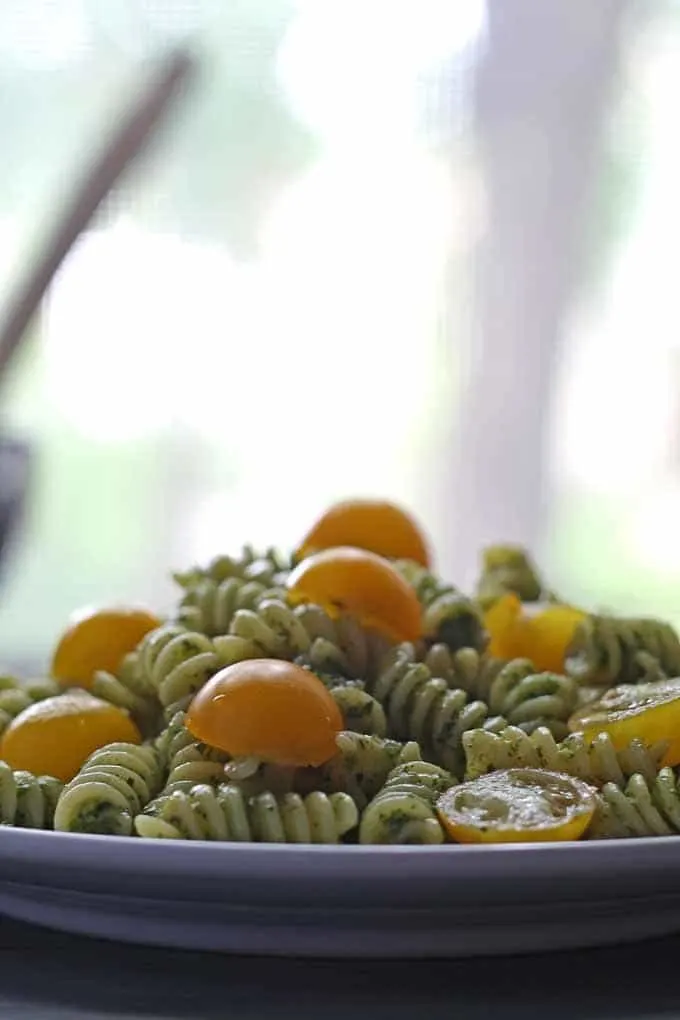 I hope your herb garden is faring better than mine!
SaveSave