Get dinner on the table for your family with this easy recipe for slow cooker bruschetta chicken! I received a slow cooker to review, all opinions are my own.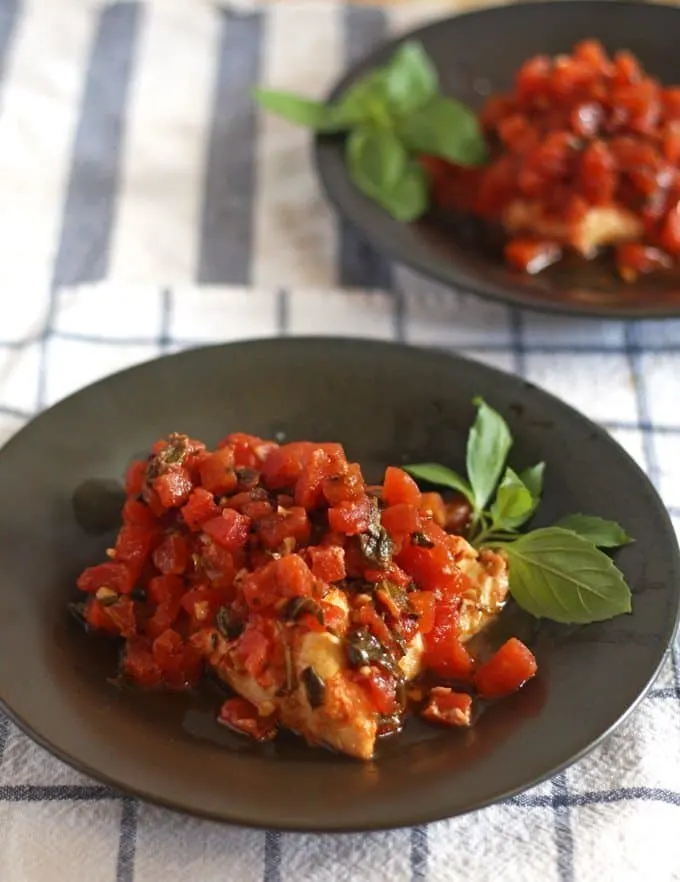 This post contains some affiliate links for your convenience. Click here to read my full disclosure policy.
Having a rough week at work? A busy week in general?
Not sure if you'll get the chance to get a warm meal on the table because you are just so swamped?
Slow Cooker. Problems solved.

I have talked many, many times about how my slow cooker is my best friend. So when Hamilton Beach asked if I wanted to participate in their campaign promoting slow cooker meals, I jumped.
Hamilton Beach sent me this amazing slow cooker to try out – the Set 'n Forget® 6 Qt. Programmable Slow Cooker With Spoon/Lid (and I've got one to give away to one of my readers!)

I love it by the way. It's light weight in comparison to other slow cookers I've had. And it has two really awesome features that you won't see everyday (on other slow cookers) – sturdy wire clips that snaps the lid in place and a thermometer probe that takes the temperature as your food cooks. Take your slow cooker to-go and never over cook your meat again!
I'm trying very hard to contain my excitement. But these two things really make this slow cooker stand apart from the rest of the pack.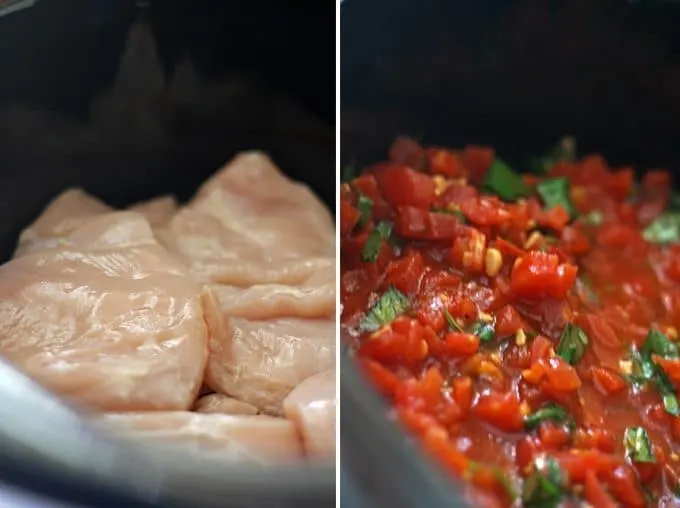 This recipe for slow cooker bruschetta chicken is a great example of why – I would have set my old slow cookers to low for 4-6 hours and overcooked the chicken. Thanks to the thermometer, I was able to get to the cooked (and safe) temperature in only 2 and a half hours on low. Perfectly cooked chicken is something I struggle with because I'm always tempted to over cook it.
I created an easy recipe to go along with this slow cooker because chances are, if you are utilizing a slow cooker to save time, you would also like to save time when grocery shopping. This recipe requires a minimum amount of work, thanks to some canned tomatoes.
Also, when I cooked it with the Set and Forget Programmable Slow Cooker, it only took 2 1/2 hours. If I had come home at 5, I could have had dinner on the table at 7:30. Maybe a little late, but still a hot dinner on the table.
Slow Cooker Bruschetta Chicken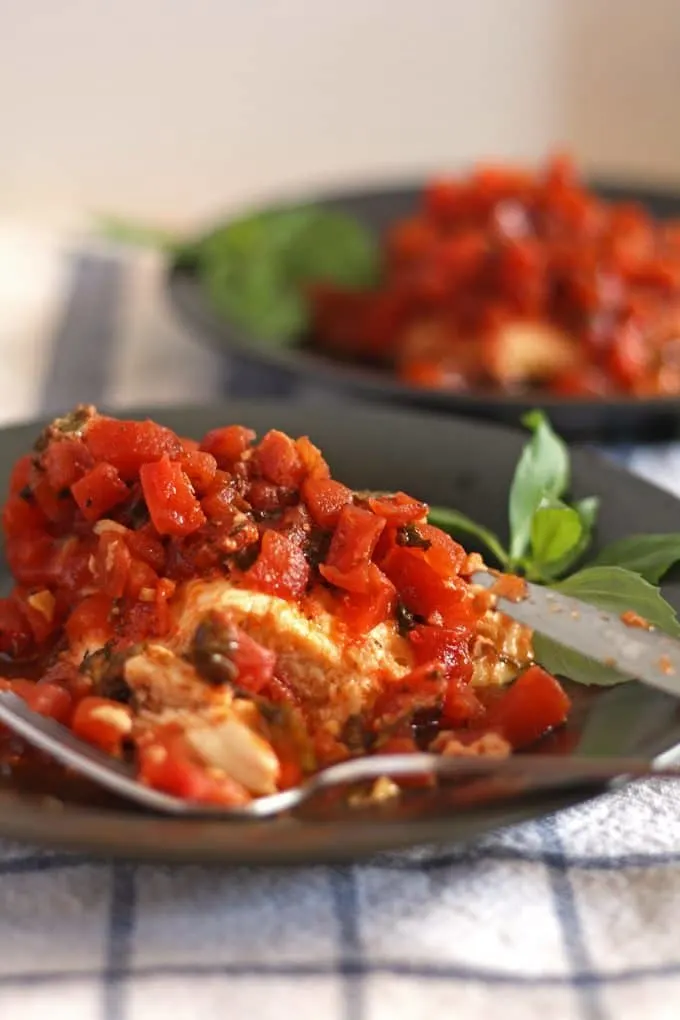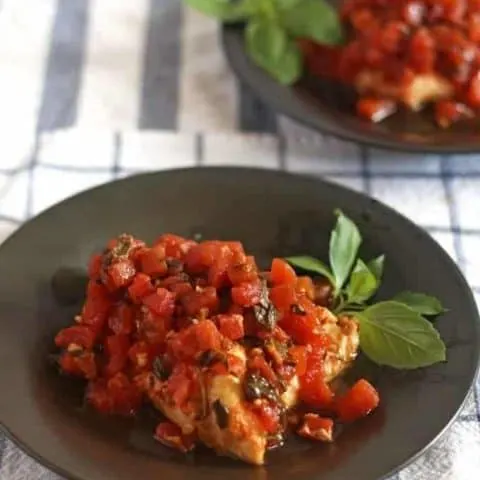 Slow Cooker Bruschetta Chicken
Get a delicious dinner on the table for your family with this easy recipe for slow cooker bruschetta chicken! Full of flavor and moist and juicy!
Ingredients
2 pounds chicken breast, fat removed
2 (14.5 ounce) cans petite diced tomatoes in garlic and olive oil
1/2 cup chopped fresh basil
1 tablespoon olive oil
balsamic vinegar
salt and pepper to taste
Instructions
Cut the chicken breast into equal pieces, about 1/2 pound each. Place the chicken between plastic wrap and pound them down so that they are equal sizes. Place the chicken in the bottom of the slow cooker.
In a small bowl, combine the tomatoes, basil, and olive oil. Pour the tomato mixture over the chicken breasts.
Cover the slow cooker and cook on low for 6 hours or high for 4 hours.
When serving, put a chicken breast on a plate, cover it in the cooked tomatoes and sprinkle balsamic vinegar over the tomatoes. Salt and pepper as desired.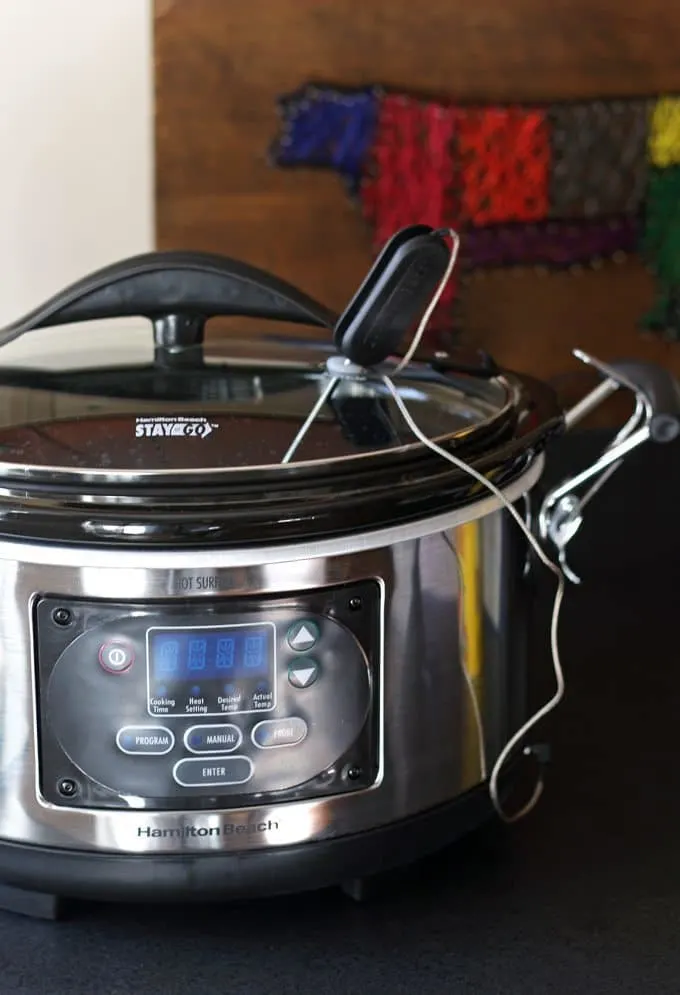 And now time for a giveaway! Hamilton Beach is giving away one Set and Forget Programmable Slow Cooker to one of my readers. Folks outside of the US – unfortunately you'll have to sit out of this one. But you US residents, enter away on the Rafflecopter widget below! Sometimes it takes a second to load, so give it a chance. 🙂
Thank you to everyone that entered the giveaway! Congrats to the winner (named in the widget below)
Looking for more slow cooker recipes? Try this recipe for slow cooker fiesta chicken or a fun way way to make tacos, slow cooker barbacoa beef!
---
Follow Me!
Facebook // Twitter // Pinterest // Instagram // Google+ // Yummly
I am an ambassador for the Hamilton Beach brand. They sent me a slow cooker to review and are providing one slow cooker to one of my readers.