Salted caramel chocolate pretzel bark is the treat that keeps on giving. It's great for the holidays, either as dessert or as a gift!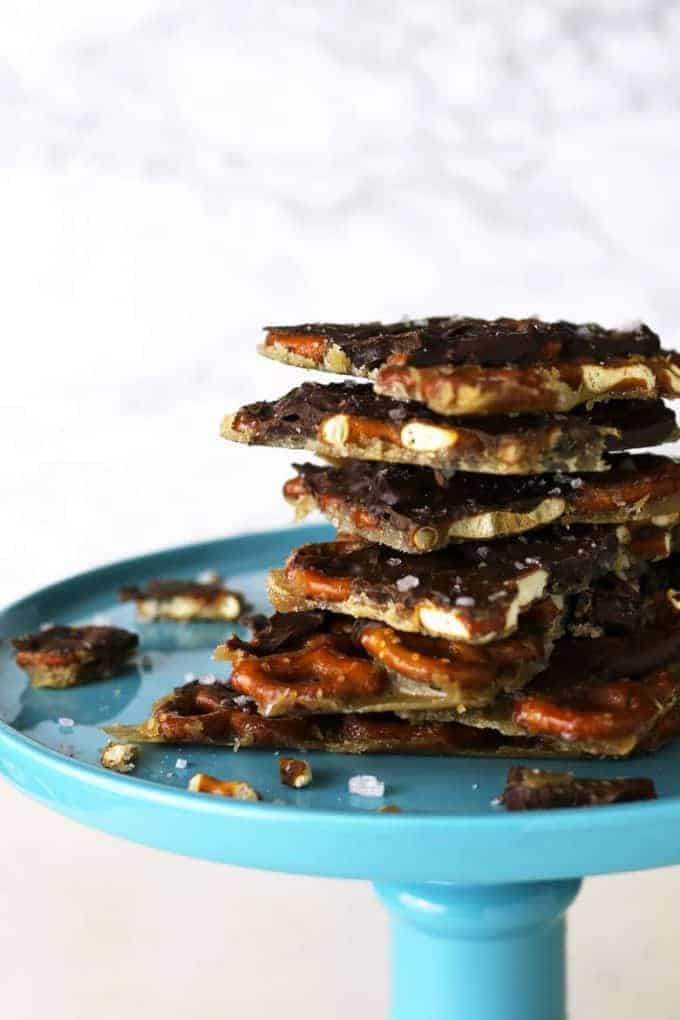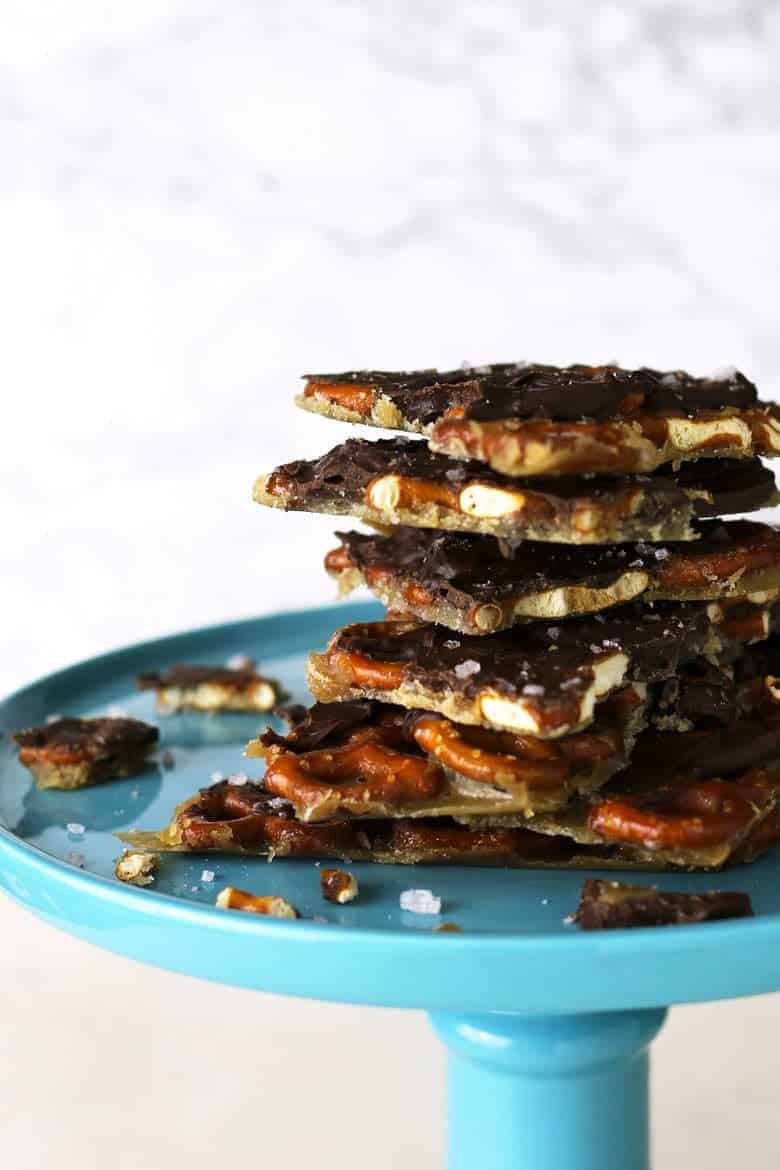 It's time for this year's holiday edition of Freaky Friday Blog Hop!
You may be wondering what the Freaky Friday Blog Hop is. Each of us bloggers involved was secretly given another blog to choose a recipe from to then recreate.
Today, we all published our posts at the same time and found out who got our blog. I find the whole process very exciting – I loved being able to pick any recipe I want from a website full of fantastic recipes.
Plus, there is a fun anticipation in waiting to see who you is making one of your recipes and seeing what they decided to make.
For the holiday edition, we got to pick a cookie, bar, candy or holiday type chex/snack mix. You know, like something you would see on a holiday platter. And go back for seconds, thirds… whole platefulls.
And now for the big reveal. My secret Freaky Friday blogger is…… Debi from Life Currents!
Life Currents
I love the Life Currents blog. It is full of so many delicious recipes!
I'm glad I had a topic (cookies and holiday treats) because otherwise, it would have been next to impossible to pick just one recipe. So many of Debi's recipes are delicious!
Some of my personal favorites: her three cheese pesto and avocado grilled cheese sandwiches. All of that cheese!!
And these chocolate and peanut butter pretzel rods. Wouldn't these be so great as a DIY holiday present!?
And this butternut squash gratin! This would be great as a Thanksgiving side dish.
Do you see my conundrum? I love all of the recipes on Life Currents.
So for this recipe swap, I knew I was going to have trouble picking just one recipe. But pick I did – this salted caramel chocolate pretzel bark is so darn delicious, that I knew it was the one.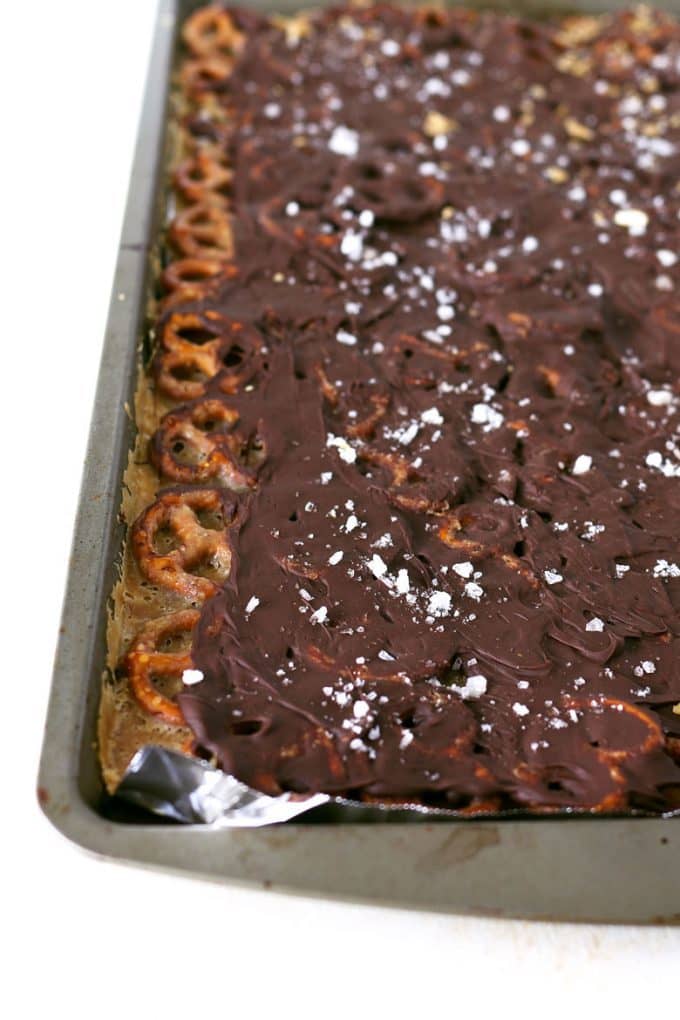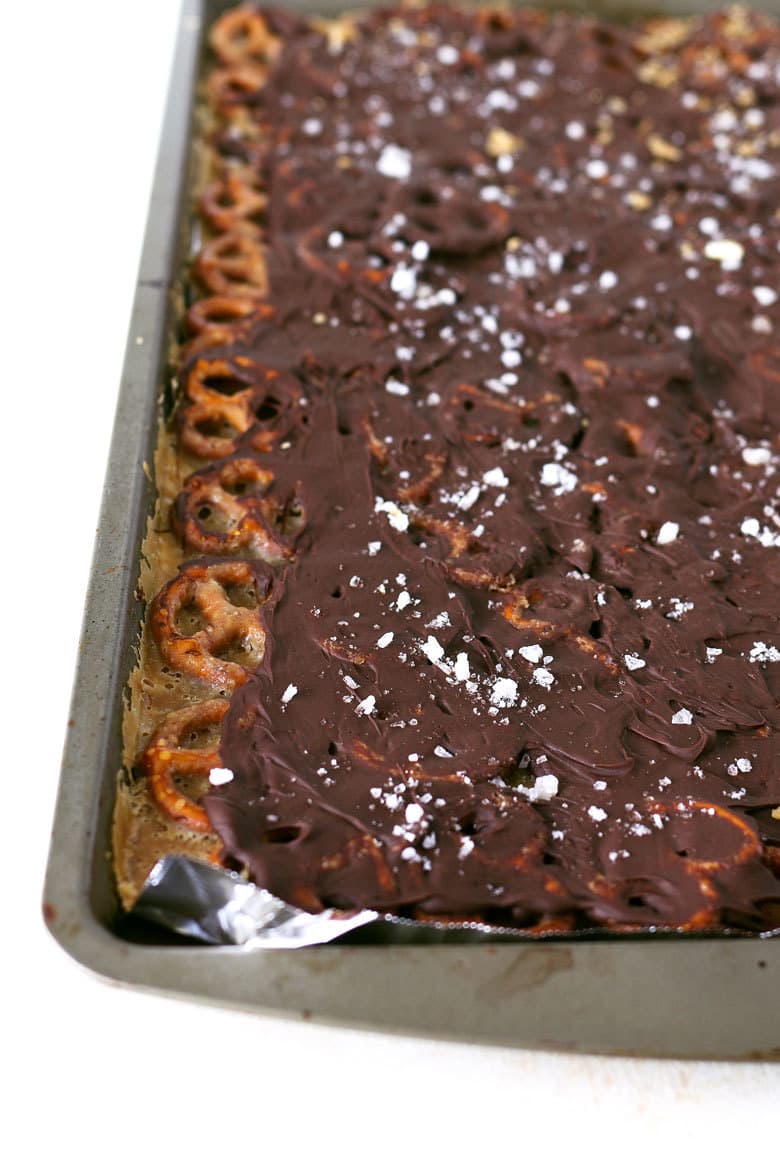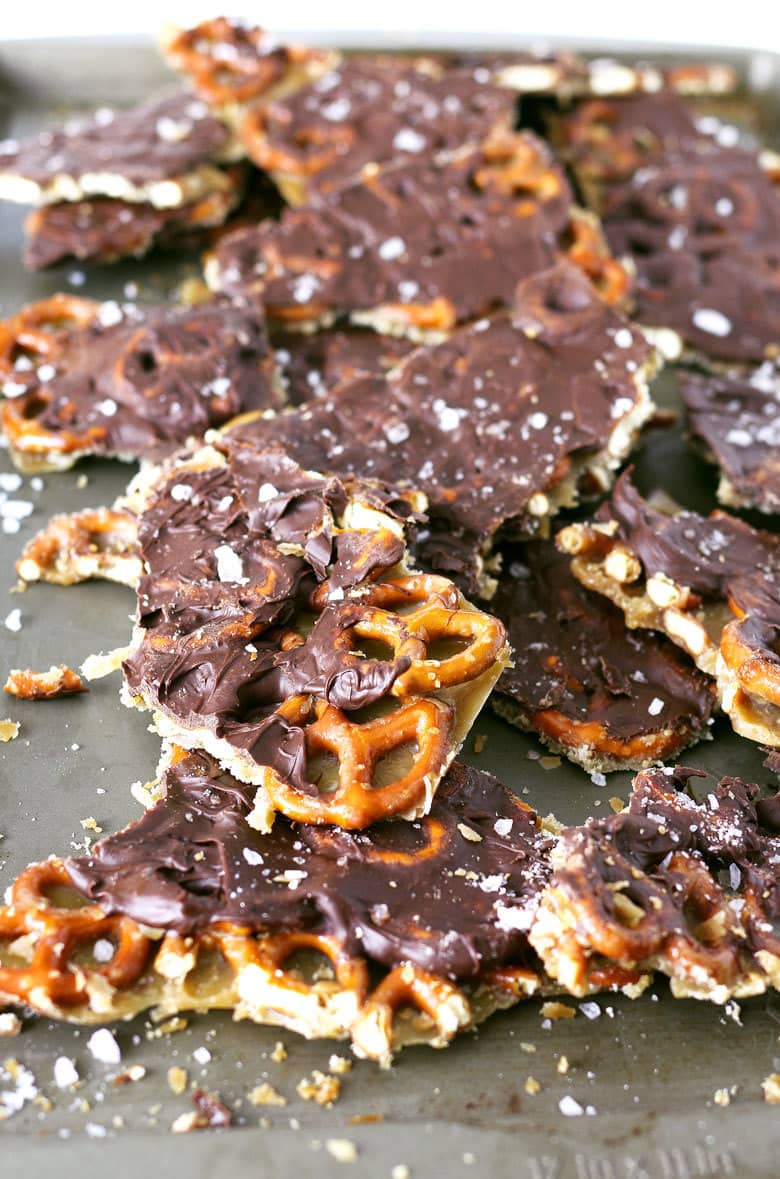 Salted Caramel Chocolate Pretzel Bark
This salted caramel chocolate pretzel bark has been so popular in my home since I first made it that I have had to make two more batches. I just can't keep it around!
My neighbor came over to watch some hockey with my husband and I kept catching up sneaking into the fridge for more pieces. I think he ate an entire batch all on his own.
It is such an easy recipe to make. I am able to whip up a batch in 30 minutes and after I pop it in the fridge, it's ready to eat in 2 hours.
That's time to eat dinner and then enjoy dessert. This pretzel bark would definitely be a hit at holiday parties! You totally need to try it.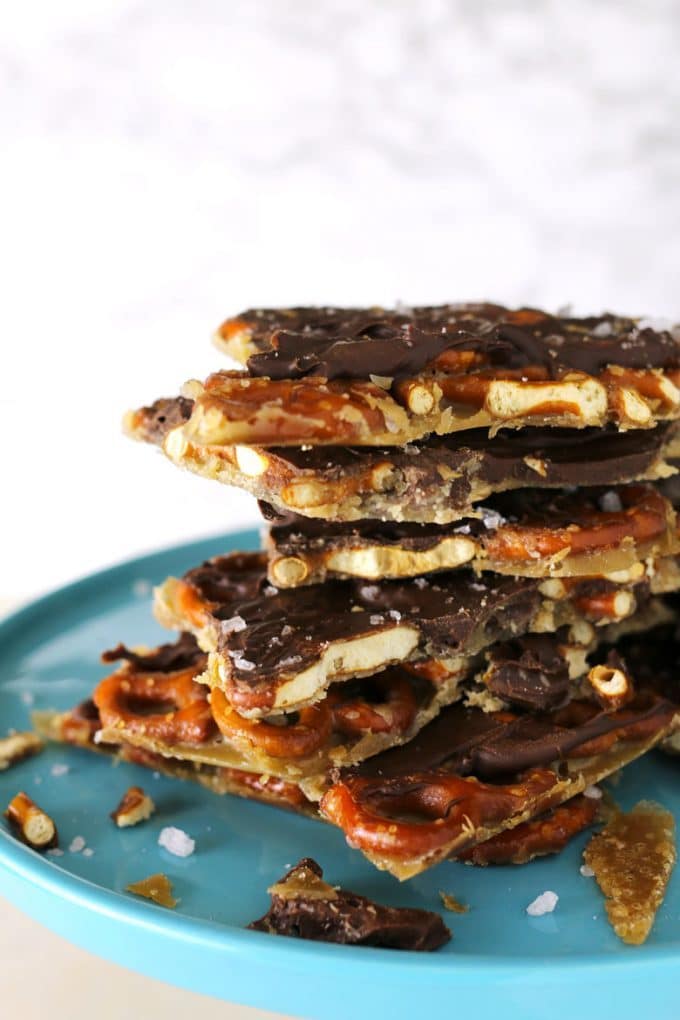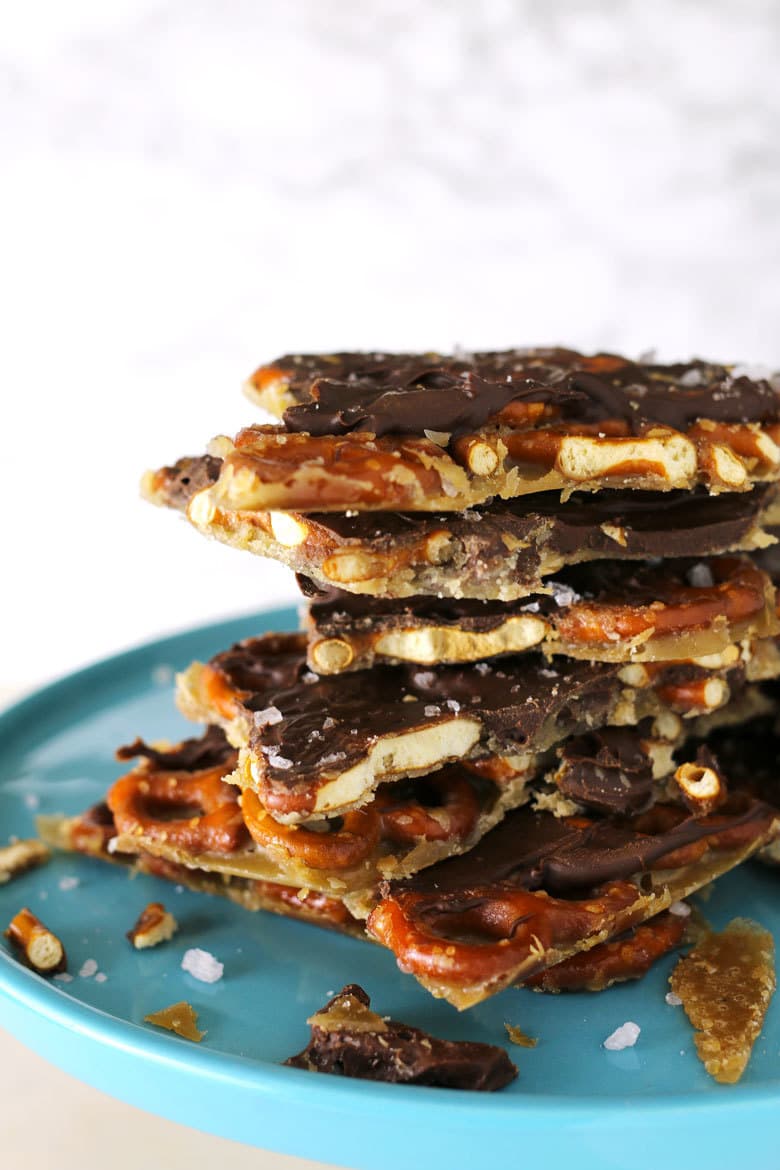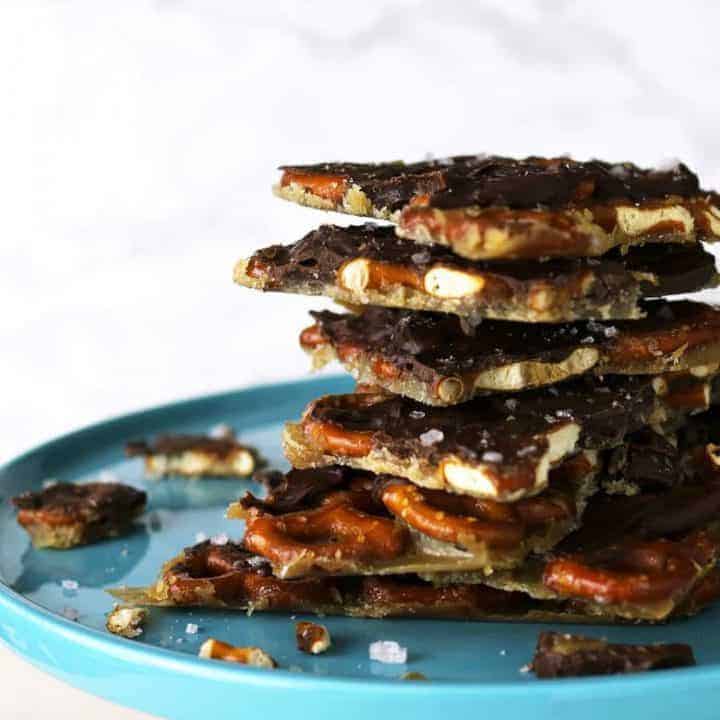 Salted Caramel Chocolate Pretzel Bark
Total Time:
1 hour
15 minutes
Salted caramel chocolate pretzel bark is the treat that keeps on giving. It's great for the holidays, either as dessert or as a gift!
Ingredients
1 cup unsalted butter (2 sticks)
1 cup brown sugar, packed
8 ounce bag of mini pretzels
1 (12-ounce) bag semi-sweet chocolate chips
Instructions
Pre-heat oven to 400° F. Cover an 11×17 baking sheet with aluminum foil or parchment paper. Set aside.
Melt butter in a small saucepan over medium heat. While the butter is melting, place enough pretzels on the prepared baking sheet to form a single, even layer.
Once the butter has melted, add the brown sugar and stir well to incorporate. Lower the heat, and simmer the butter-sugar mixture until it caramelizes, stirring occasionally. Be careful not to let it boil.
When the mixture has caramelized, pour it evenly over the pretzels, strafing it back and forth down the length of the sheet. The caramel hardens quickly so it's important to pour it as evenly and quickly as possible. Bake for 5-7 minutes.
Place the chocolate chips in a microwave safe bowl and microwave on 50% power in intervals of 30 seconds until smooth, stirring the after each interval.
Carefully remove pretzel-caramel pan from the oven, and pour the chocolate over the mixture, strafing it down the length of the baking sheet just as you did for with the caramel layer. Use an offset spatula to smooth out any clumps or thick spots.
Sprinkle sea salt evenly over chocolate before it starts to harden. Allow the baking sheet to harden in the fridge for at least 1 hour.
When the bark has cooled and hardened, remove from the fridge and carefully pull the aluminum foil or parchment paper off the back. Break the bark into pieces and serve.
Recommended Products
As an Amazon Associate and member of other affiliate programs, I earn from qualifying purchases.
Nutrition Information:
Yield:

10
Serving Size:

1
Amount Per Serving:
Calories:

263
Total Fat:

20g
Saturated Fat:

12g
Trans Fat:

0g
Unsaturated Fat:

7g
Cholesterol:

49mg
Sodium:

101mg
Carbohydrates:

23g
Fiber:

0g
Sugar:

20g
Protein:

1g
---
Are you looking for more holiday recipes? Try these cream cheese fudge brownies!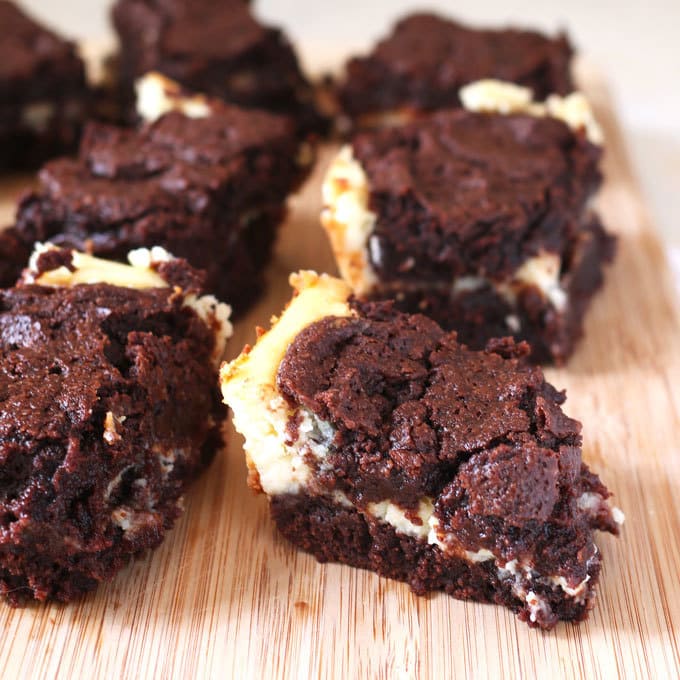 Or these hot chocolate s'mores parfaits!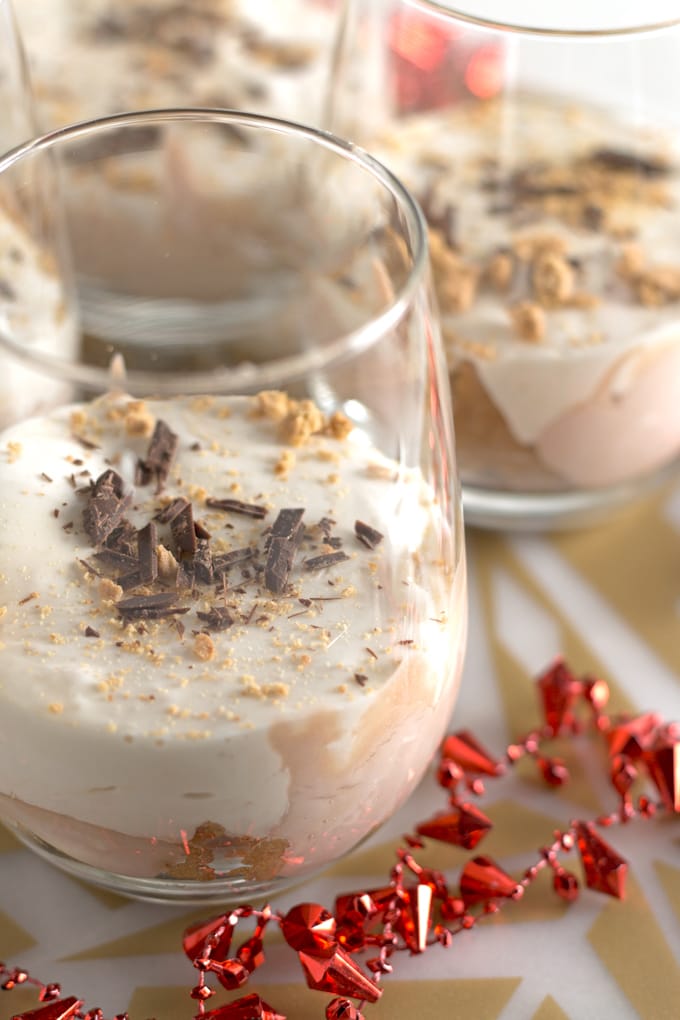 SaveSave