If you're looking for a quick snack or an easy lunch, try these margherita pizza pitas! Full of fresh ingredients!
I bought an Apple TV awhile back and its made watching Netflix so much easier. Periodically, I watch Netflix like its brand new to me, binge watching whole seasons of old and new shows. My DVR is almost full and all I can think about is watching the next episode of Unbreakable Kimmy Schmidt. I am also watching The West Wing for the first time ever.
Loving it!
There are several things I need when I have a binge session. One, a person to watch TV with. My sister has been my Kimmy Schmidt partner and we are coming up with a dance to the theme song. Well, not really. I bounce along with it and lip sync a little while my sister laughs at me. It's so darn catchy!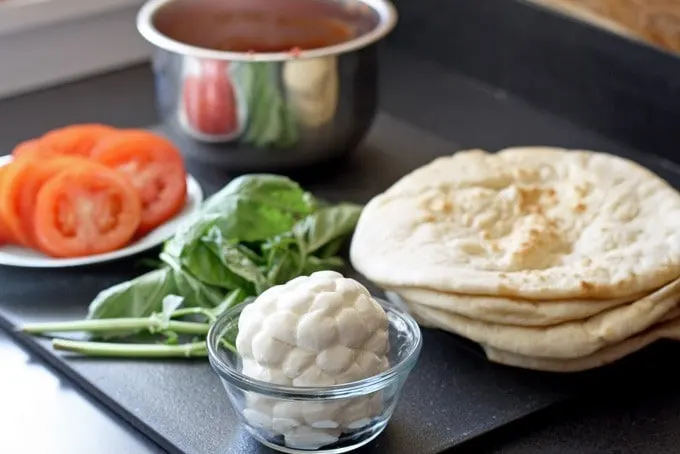 The second thing you need is drinks. For a proper binge session, we go to the store for our #1 vice, diet Coke. I like diet Coke so much that I included that in my very first bio. I've since removed it from the bio and stopped drinking it, for the most part. When I don't want to feel guilty about drinking soda, I will make some iced tea instead.
Drinks, check.
Third, you need proper snacks. We're not take-out kind of folks, so we stick to easy-to-make finger foods. Like these margherita pizza pitas.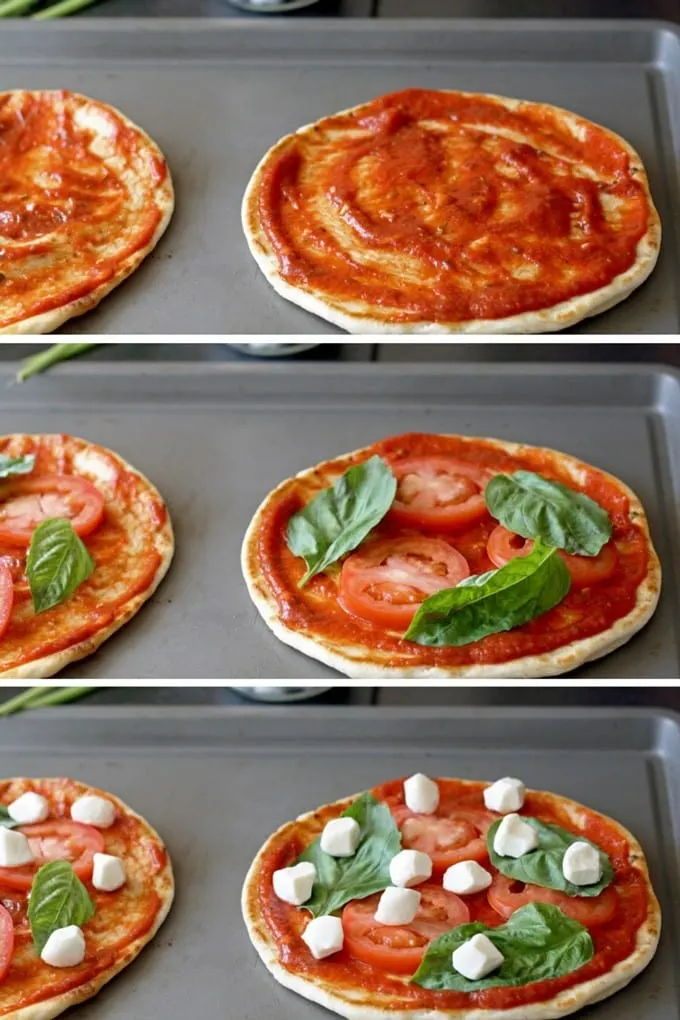 Margherita Pizza Pitas
I started making this with the intention of creating a caprese pita pizza. Then I made that delicious, easy homemade pizza sauce and my plans had to change. In many ways both pizza types are similar. Both include fresh mozzarella cheese, fresh juicy tomatoes and fresh basil. See the theme? Fresh, fresh, fresh.
I went back and forth, trying to figure out what to call this one. Because I am not covering the pizza in cheese and I am adding that delicious sauce, I decided to go the Margherita route.
If you really like one of the ingredients and want to use more, go crazy. I tried to layer my ingredients pretty evenly though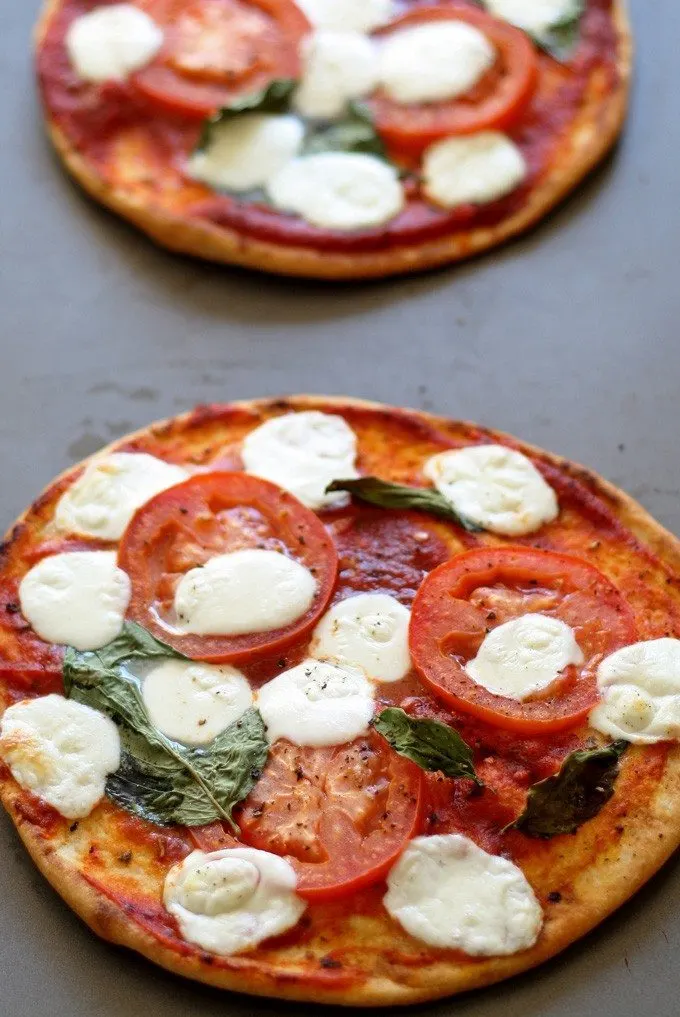 Margherita Pizza Pitas
Ingredients
5 pitas
1/3 cup extra virgin olive oil
2 roma tomatoes, cut into thin slices
1 large bunch of fresh basil
8 ounces of fresh mozzarella
kosher salt
pepper
balsamic vinegar
Instructions
Preheat oven to 400 degrees. Brush olive oil on both sides of the pitas.
Place a pita on a cookie sheet. Spoon tomato sauce on top of the pita in an even layer. Layer tomato slices, basil leaves, and mozzarella on top of the sauce. Repeat this process until all of the pitas are prepared.
Cook for 10-12 minutes, until the mozzarella is melted and begins to brown. Remove from oven. You may need to cook a couple at a time, depending on the size of your oven. I can do two pitas at a time.
Sprinkle with salt, pepper and balsamic vinegar to taste before serving.
Nutrition Information:
Yield:

5
Serving Size:

1
Amount Per Serving:
Calories:

423
Total Fat:

24g
Saturated Fat:

7g
Trans Fat:

0g
Unsaturated Fat:

15g
Cholesterol:

29mg
Sodium:

759mg
Carbohydrates:

38g
Fiber:

2g
Sugar:

3g
Protein:

14g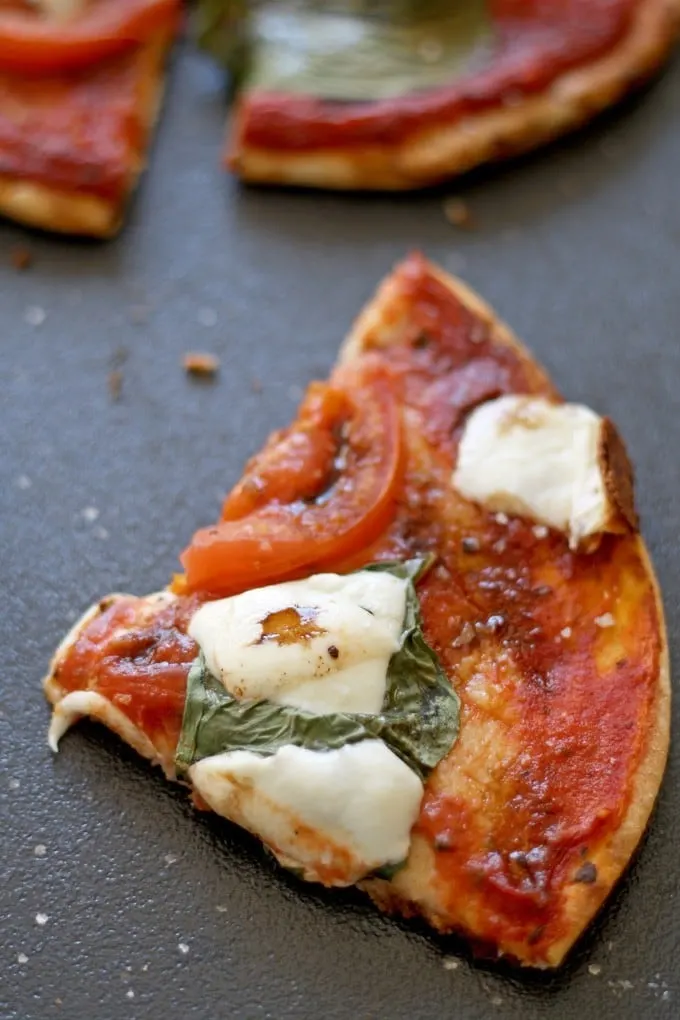 ---
Looking for more food fit for a binge watching session? Try this duck fat paprika popcorn or settle in with my most popular recipe, 8 layer taco dip!