Get ready for derby parties with this hibiscus honey mint julep. Made with homemade hibiscus simple syrup, it is the perfect mint julep!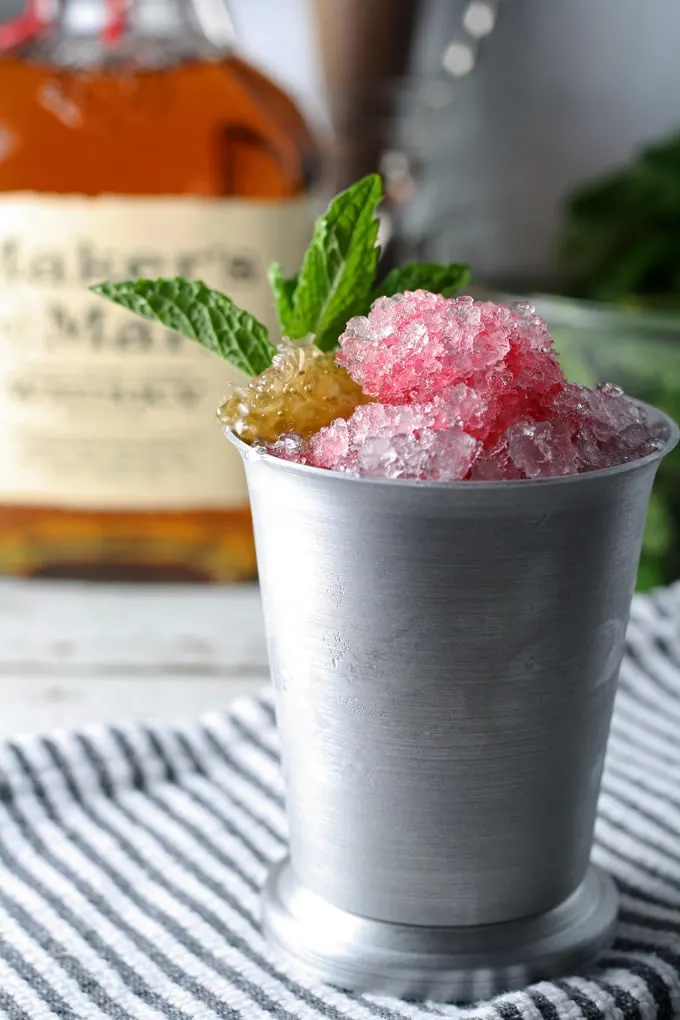 I'm a sucker for a bourbon cocktail.
When Maker's Mark® asked me to partake in the inaugural Maker's Mark® Bourbon blogger challenge I could not resist.
A few years ago, I visited Louisville and my host took me to the Maker's Mark® distillery in Loredo, KY.
It was very, very cool and was my first time learning about how alcohol in general is made.
I learned a little something about mash and got to sample some amazing bourbon. What else could a bourbon-loving girl ask for?
We also visited Churchhill Downs while I was there.
It wasn't a race day, but we did take a tour of the facility and we learned about the Kentucky Derby and it's signature cocktail, the mint julep.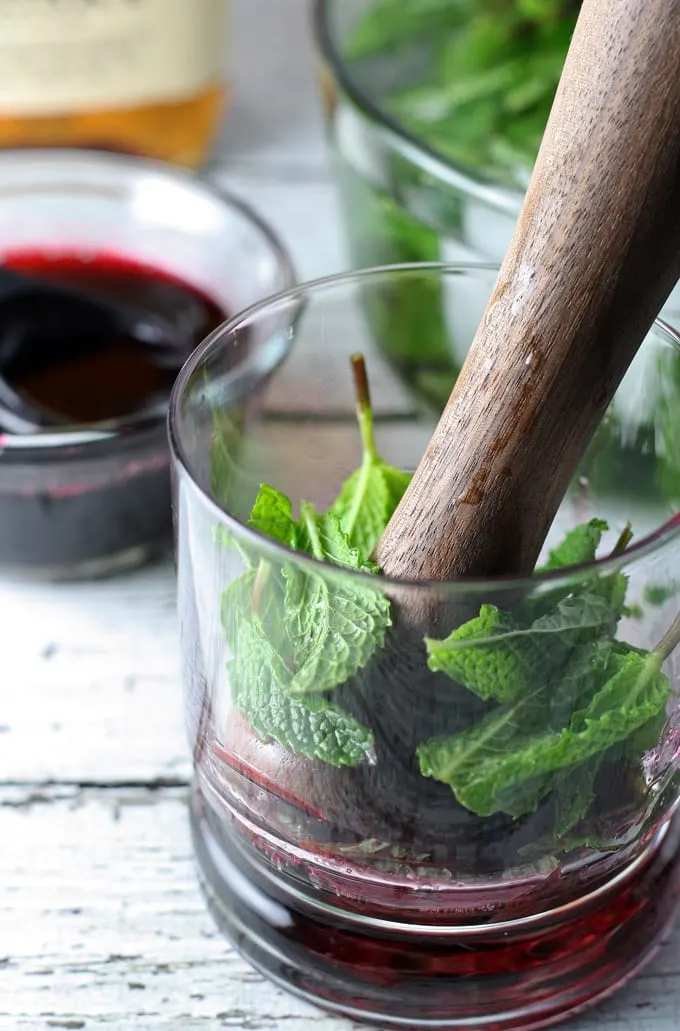 This post contains some affiliate links for your convenience. Click here to read my full disclosure policy.
Making the Perfect Mint Julep
The mint julep's ingredients sound simple – ice, bourbon, sugar and mint.
But as with most cocktails, using fresh ingredients and the right liquor are very important.
Take a good peek at your mint leaves and discard anything that is brown – no one wants a swampy cocktail!
If you're hosting a derby party, store your mint sprigs, stem down in a bowl of ice water for fresh mint for the entirety of your party.
We recommend straining your crushed ice before using it because crushed ice melts faster than ice cubes.
We also recommend storing large quantities of ice in a colander over another bowl.
Crush ice in small quantities so you don't burn out your blender before you have made all of your hibiscus honey mint julep drinks.
Hibiscus Honey Mint Julep Recipe
Making homemade flavored simple syrup is one of the easiest ways to kick a traditional recipe, like the mint julep, up a notch.
For this recipe, I went with a fragrant simple syrup made from dried hibiscus flowers and honey.
I found dried hibiscus flowers at my local grocery store, in the same section as the dried chili peppers.
I am sure Amazon has some too, if your grocery store doesn't carry them. (Hibiscus Flowers – Dried – 1 resealable bag, 4 oz)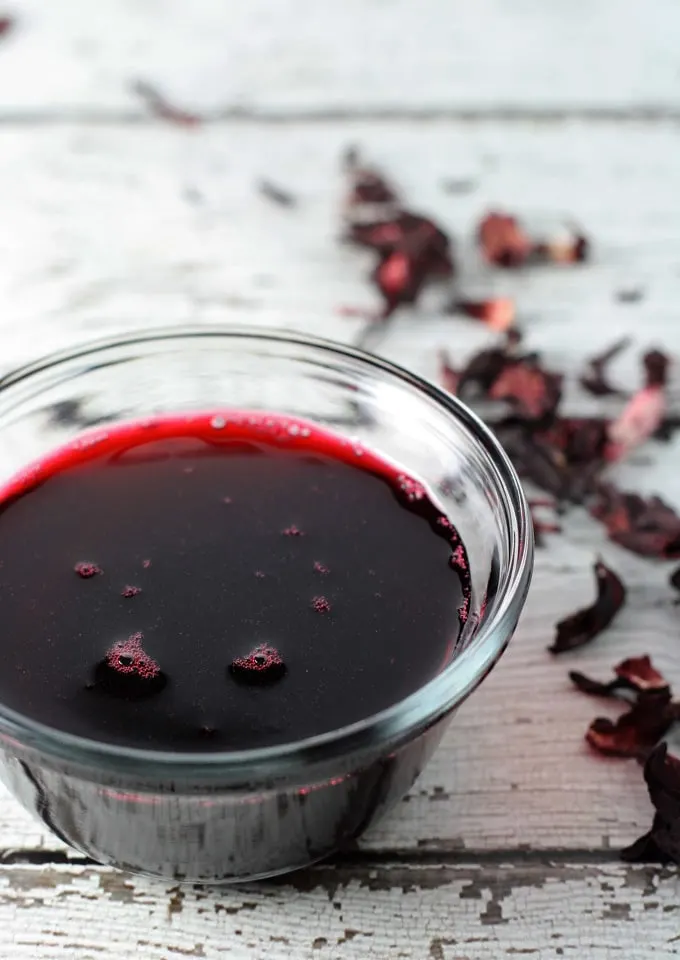 One of the reasons I like mint juleps so much is the muddling.
Muddled mint leaves and hibiscus simple syrup produce a heady aroma that is intoxicating.
I imagine if this drink was made in a cocktail bar that the patrons would slowly fall in love with their mixologist thanks to the sweet and herbal aroma.
Maybe I'll start calling this a love potion.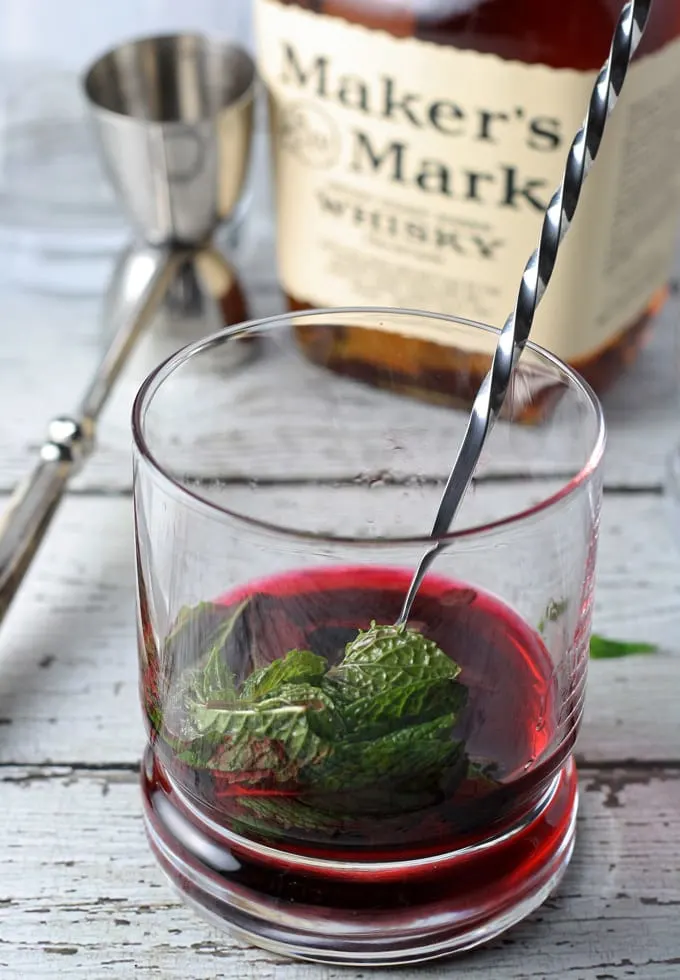 After the muddling, I mix in the bourbon before straining the whole mixture into a mint julep glass that is filled with crushed ice.
I top it off with a little more crushed ice before garnishing with a fresh sprig of mint and a chunk of honeycomb.
With a hibiscus honey mint julep in hand, all I need to be derby ready is a fancy hat and a ticket to the race!
Thank you to everyone that re-pinned my recipe – because of you all, I won the Makers Mark JulepOff! I am beyond thrilled and will be making hibiscus honey mint juleps all weekend to celebrate!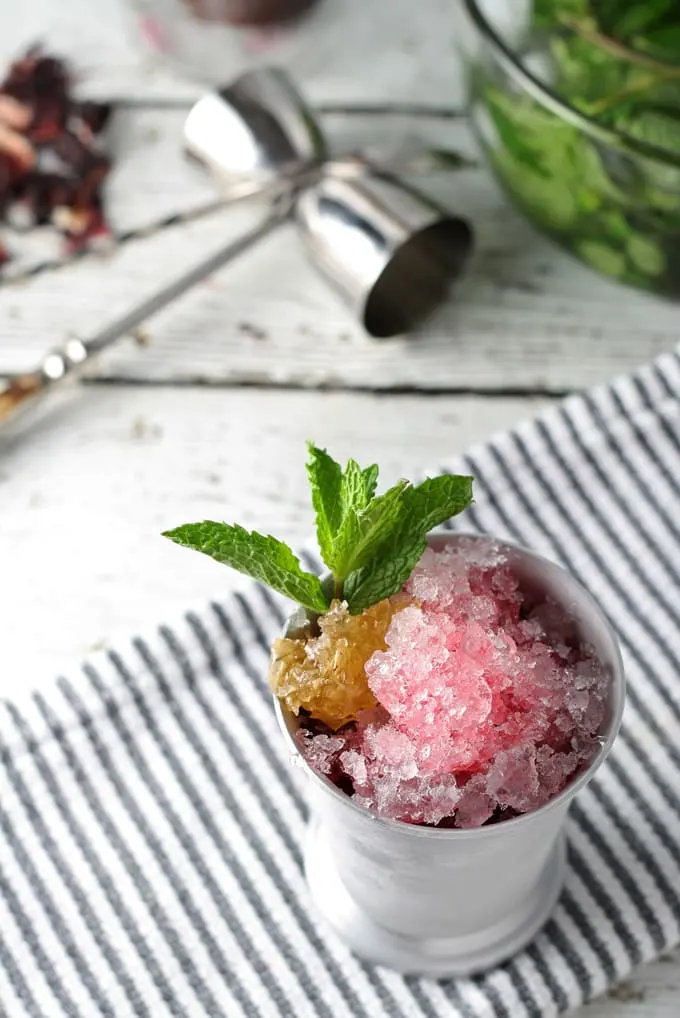 Disclosure: I received a bottle of alcohol and some mint julep accessories. All opinions and recipe are my own.
Drink responsibly.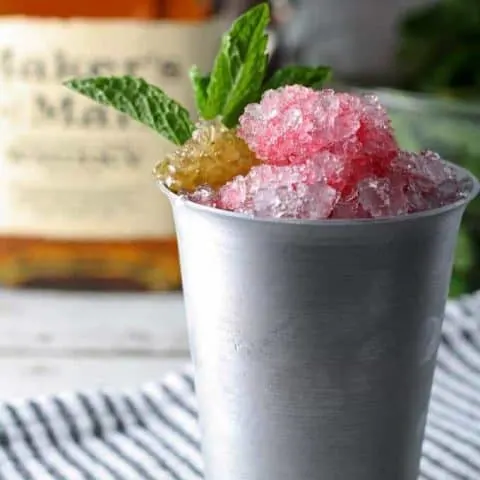 Hibiscus Honey Mint Julep
Get ready for derby parties with this hibiscus honey mint julep. Made with homemade hibiscus simple syrup, it is the perfect mint julep!
Ingredients
2 tablespoons hibiscus honey simple syrup
handful of fresh mint
1 ½ ounces bourbon (I used Maker's Mark)
splash of distilled water
chunk of honeycomb
fresh mint sprigs for garnish
Hibiscus Honey Simple Syrup
¾ cup water
¾ cup honey
1 cup dried hibiscus flowers
Instructions
In a large glass or cocktail shaker, muddle together the simple syrup and fresh mint leaves. Add the bourbon and distilled water and mix together.
Fill a julep or rocks glass with crushed ice. Pour the bourbon mixture over the crushed ice. Stir, fill to the top with more crushed ice. Garnish with chunk of honeycomb and mint sprig.
To Make the Hibiscus Honey Simple Syrup
In a small pot, combine the water, honey and hibiscus flowers. Bring to a boil, then simmer for 10 minutes, stirring occasionally. Place a strainer over a bowl and pour the syrup into it to strain out the flowers. Shake the strainer a little bit to get all of the syrup out. Discard the flowers and allow the syrup to cool before using.