Golden raisin scones are perfect for picnic lunches, especially when smeared with apple butter. Try these delicious scones today!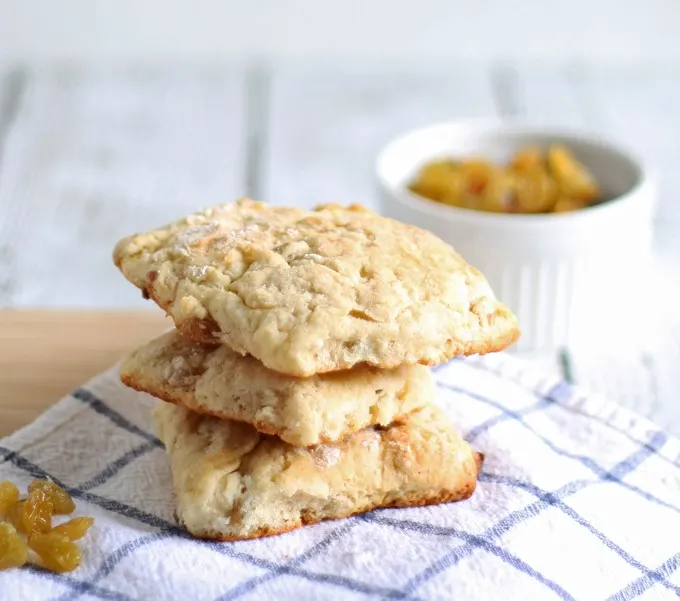 I love fall. I know, I know – it's only August and autumn doesn't start for over a month. Forget summer though -I'm prepared for autumn. I have already pulled out my "I Leaf Autumn" t-shirt and am wearing it at least once a week. I'm thinking about all things apple and pumpkin. There may have been a dream or two that centered around a certain flavor of latte.
This girl is read-y.
I have been trying to convince Mr. B we should go on an picnic lunch once the leaves start changing. I have a plan I think will work. I am going to mention the relaxation factor of a picnic and the food. Oh yes, the food.
I plan to set it up like a fall wine and cheese party with the wine replaced by some hot apple cider. To cover the wine/cheese party part I will pack some hard cheese and crackers, some soft cheese and crusty bread and a few sausage sticks.
I'll even make my delicious golden raisin scones!
Golden Raisin Scones
I could have made something with the apple butter that was perfectly "fall-like" but instead I decided to let it be in all of its delicious apple butter glory and smear it over some golden raisin scones.
I love making scones and for me, it is one of the easier items to bake. These scones get their sweet flavor from golden raisins. If you can't find golden raisins, feel free to substitute regular raisins.
Also, be careful not to overmix your dough – the ingredients should be just wet and cold when they go in the oven.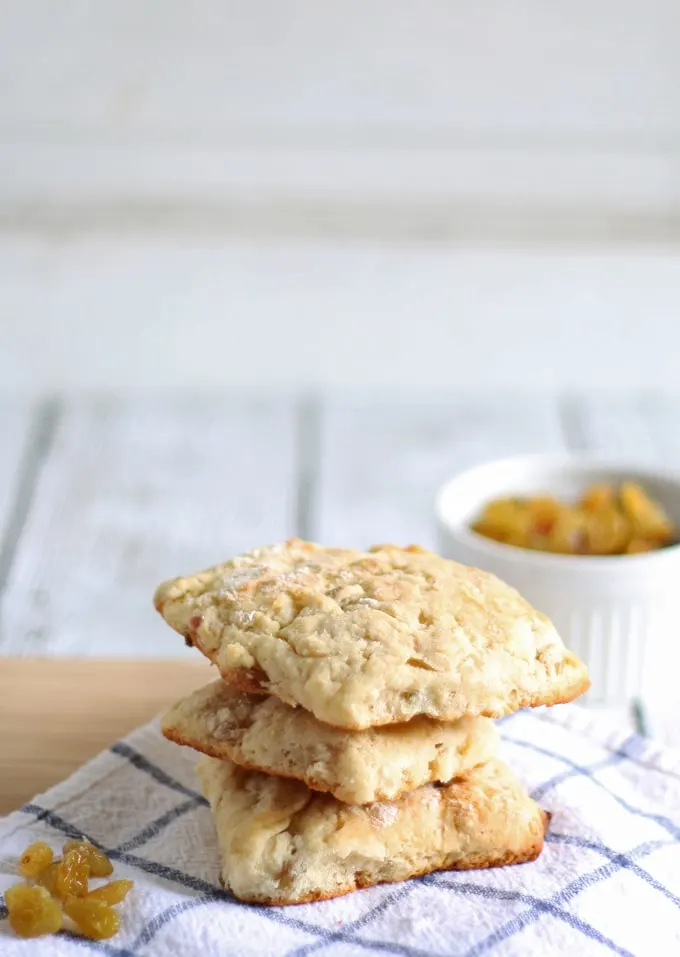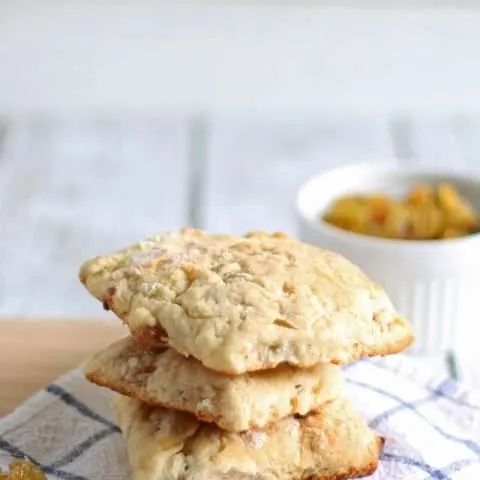 Golden Raisin Scones
Golden raisin scones are perfect for picnic lunches, especially when smeared with apple butter. Try these delicious scones today!
Ingredients
3 cups all-purpose flour
1/2 cup granulated white sugar
1 tablespoon baking powder
1/2 teaspoon kosher salt
3/4 cup cold, unsalted butter
1 cup golden raisins
1 large egg, beaten
1 cup milk
1 teaspoon vanilla extract
Instructions
Pre-heat your oven to 400 degrees Fahrenheit. Line a large baking sheet with parchment paper. Set aside.
In a large bowl, combine the flour, sugar, baking powder and salt with a whisk. Using a pastry blender (or two knives) add the butter to the dry ingredients. Cut it into the flour until it is pea-sized.
Add the golden raisins with a wooden spoon. Then stir in the remaining ingredients with the wooden spoon until the mixture is wet.
Flour your surface, then pour the dough on top of the flour. Flour your hands and pat the dough into a square about 1 inch high. If the dough sticks to your hands or the surface, add more flour.
Cut the dough into 16 squares. Place on the prepared baking sheet and put in the oven.
Bake for 16-18 minutes, or until the scone edges begin to brown. Remove from oven and transfer to a cooling rack. Let cool before eating.