This garlic soup recipe is easy to make and perfect for fighting colds. It is aromatic, simple and healing! An everyday soup made from pantry staples.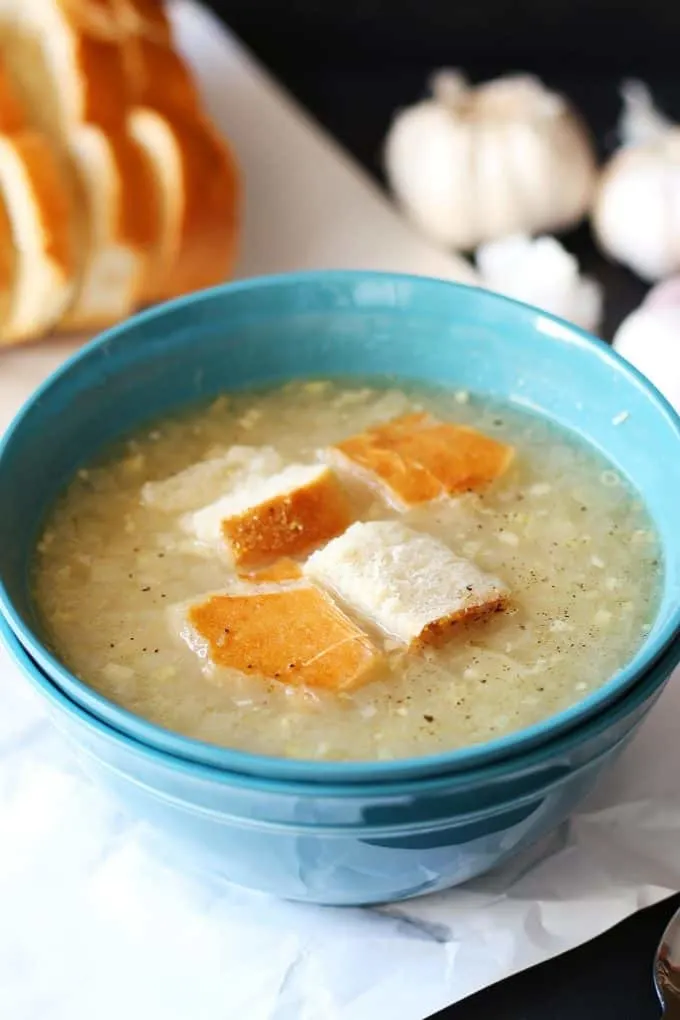 I feel bad for my neighbors, both upstairs and next door. For the last week I've been testing this garlic soup recipe and as the title may suggest, it's a pungent and aromatic one.
On the plus side, I have banished any vampires that may have been residing in the vicinity of our home.
Mr. B. and I were talking on New Year's day about the number of people who were probably hung over.
We were undeniably not hung over but we were thinking about everyone that was. And how to fix them so they could function like normal human beings again.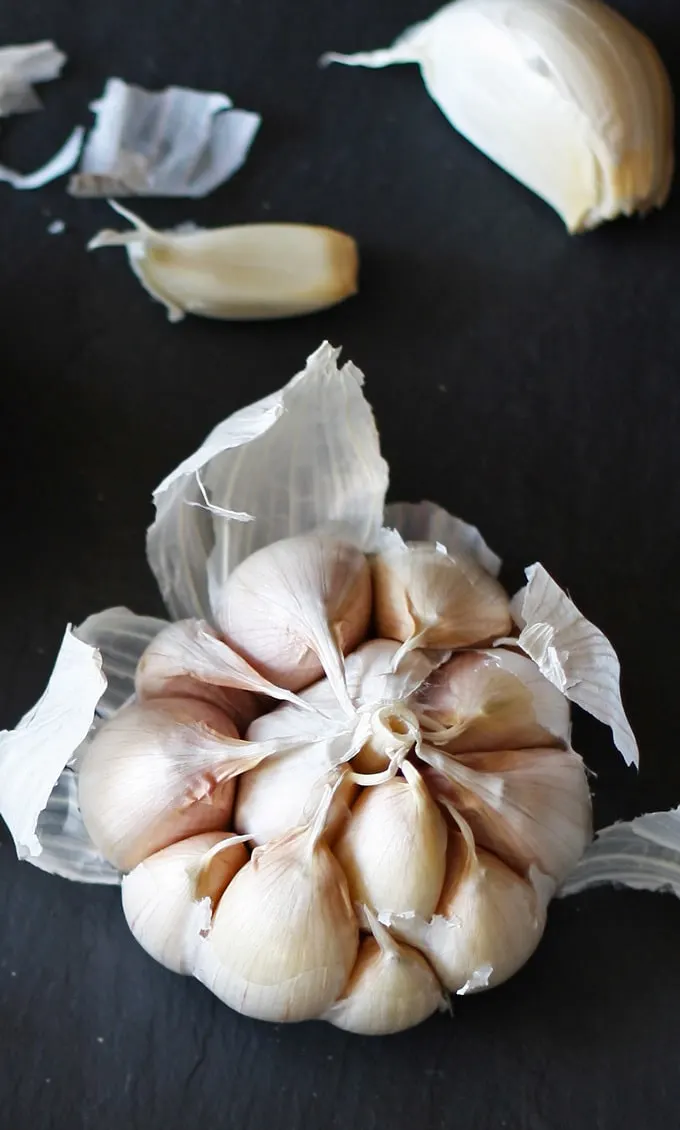 This soup is not only good for Buffy wannabes, it's also great for hangovers. Garlic has a ridiculous number of health properties – for a complete list check out this WebMD article discussing them all.
While it doesn't specifically mention hangovers it does say that garlic may be used to help prevent food poisoning. I've always thought a good bender was akin to poisoning yourself. So help yourself out with a bowl of garlic soup. Your stomach will thank you.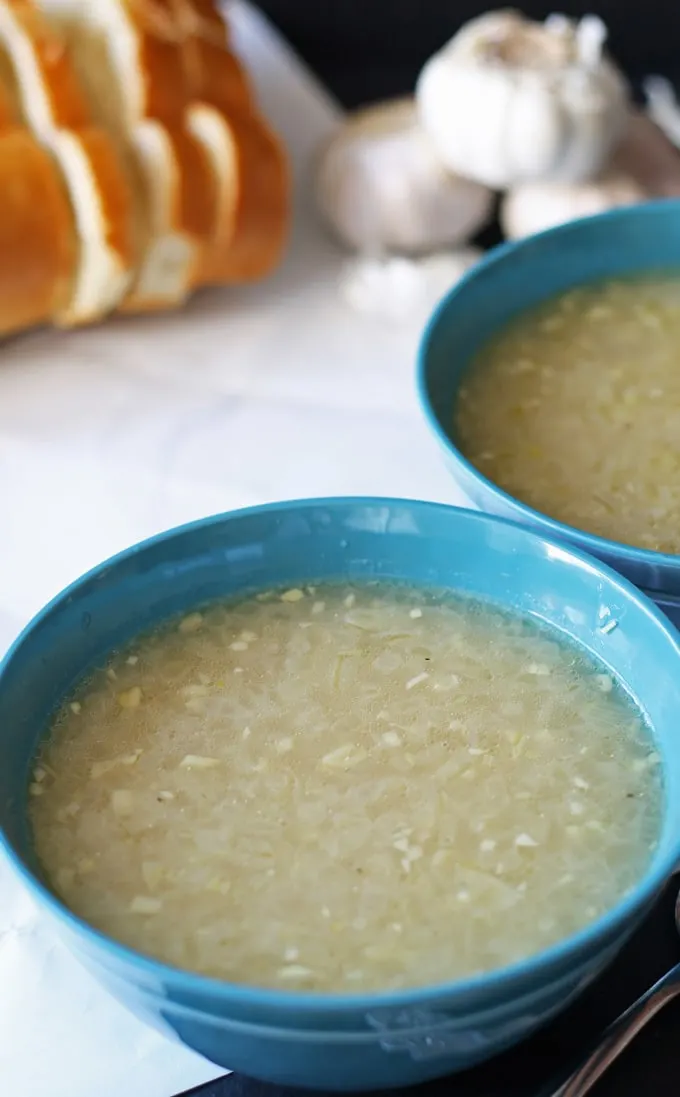 Garlic Soup Recipe
This soup contains a lot of garlic.
At first it may seem like too much, but the slow cooking of the garlic in oil/butter, followed by a simmer in broth really draws out the flavor of both and then mellows it out. If you've ever made french onion soup, it is very similar to that.
Like french onion, the soup ends up being very balanced. At first you will have some seriously teary eyes when cutting the onions and garlic. But, believe me – it's totally worth it.
I suggest serving it with some crusty bread or some croutons. Once I decided to have a bowl of garlic soup for breakfast one day after a workout (yup, no joke.) I brought it to a boil and then dropped in two raw eggs. Once the eggs poached, I was ready to eat.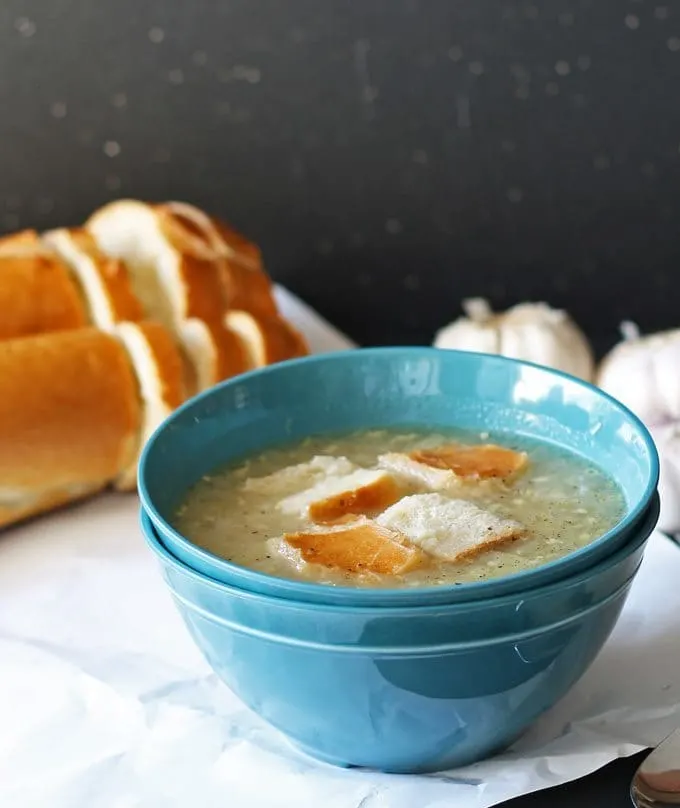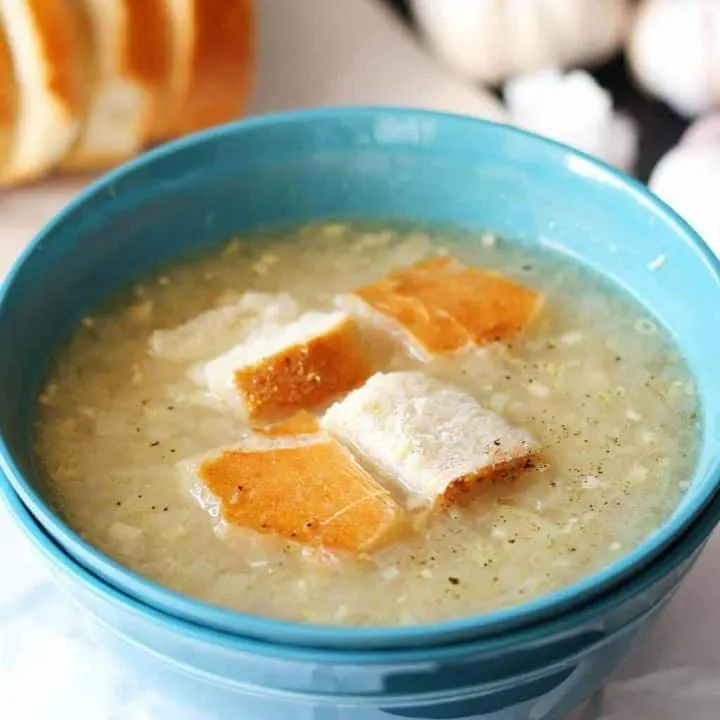 Garlic Soup
This garlic soup recipe is easy to make and perfect for fighting colds. It is aromatic, simple and healing! An everyday soup made from pantry staples.
Ingredients
1 tablespoon butter
1 tablespoon extra virgin olive oil
1 cup of finely diced white onion
5 tablespoons finely minced fresh garlic (1 head of garlic)
2 tablespoons flour
4 cups chicken stock or broth
2 cups water
3 tablespoons white vinegar
1 teaspoon kosher salt
pepper to taste
Instructions
Heat the oil and butter in a medium soup pan on low. When the butter has melted, add the onion and garlic to the pan. Cook the onion and garlic for 20 minutes until soft (but not brown.)
Add the flour and stir. Cook for 2 minutes, then add the chicken stock, water, vinegar and salt. Stir well. Bring to a boil, then simmer for 30 minutes.
Serve hot.
Recommended Products
As an Amazon Associate and member of other affiliate programs, I earn from qualifying purchases.
Nutrition Information:
Yield:

8
Serving Size:

1
Amount Per Serving:
Calories:

104
Total Fat:

5g
Saturated Fat:

2g
Trans Fat:

0g
Unsaturated Fat:

3g
Cholesterol:

8mg
Sodium:

494mg
Carbohydrates:

10g
Fiber:

1g
Sugar:

4g
Protein:

4g
This data was provided and calculated by Nutritionix on 1/23/2019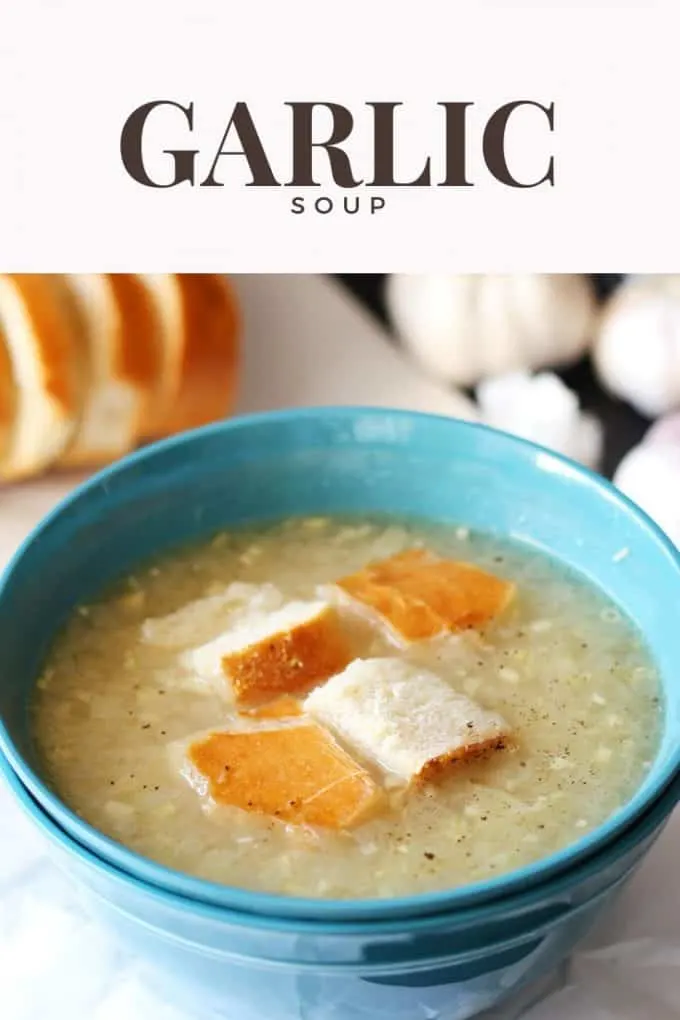 ---
Are you looking for more soup recipes?
Try this recipe for black bean soup, using just 3 ingredients.
Or this delicious beef mushroom barley soup.