These cream cheese brownies are decadently delicious! A smooth cream cheese layer is sandwiched between two layers of chocolate fudge.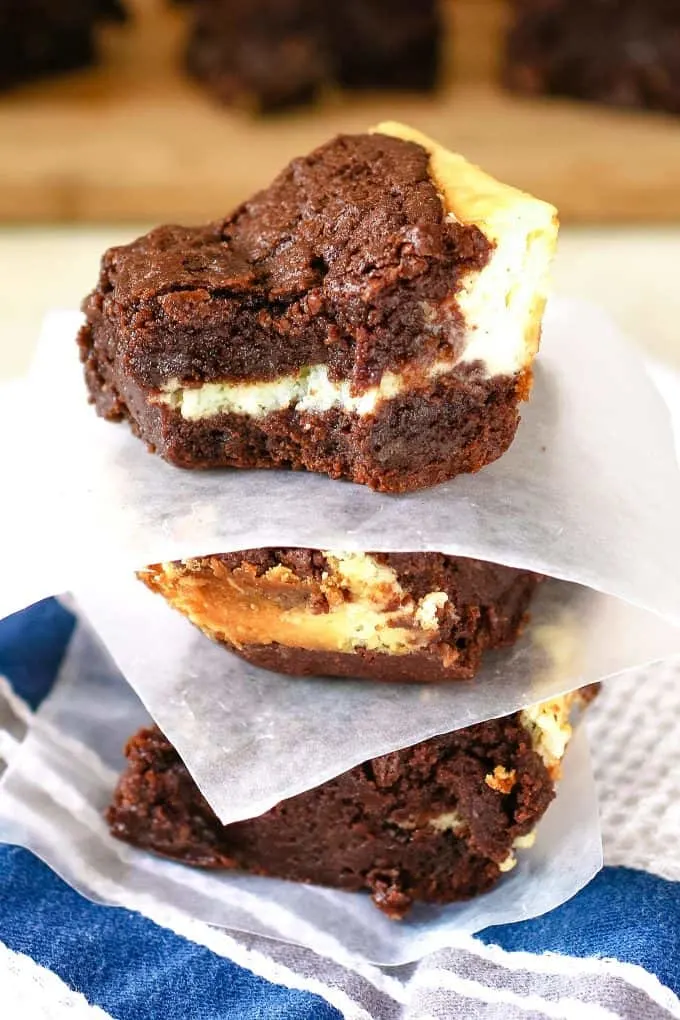 Thank you to Phil's Fresh Eggs for sponsoring today's conversation. My love of their cage-free eggs and all opinions are my own.
One thing I can never turn down is a good brownie. Even better is a brownie filled with cream cheese.
I know you agree.
My husband's birthday was this weekend and he has a sweet tooth to envy my own. I knew I needed to step it up this year in the dessert department. I have made him cakes, cookies, cupcakes and I even tried to make him candy once (that was a recipe fail, by the way.)
This year, I decided cream cheese fudge brownies were the best choice for my cheesecake and brownie loving husband.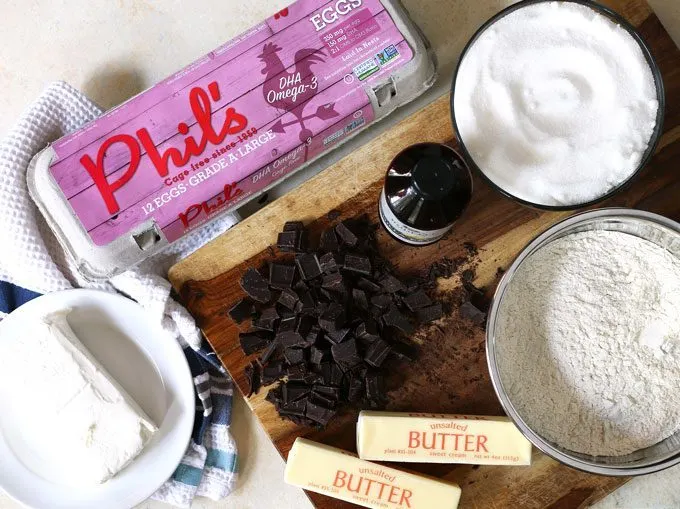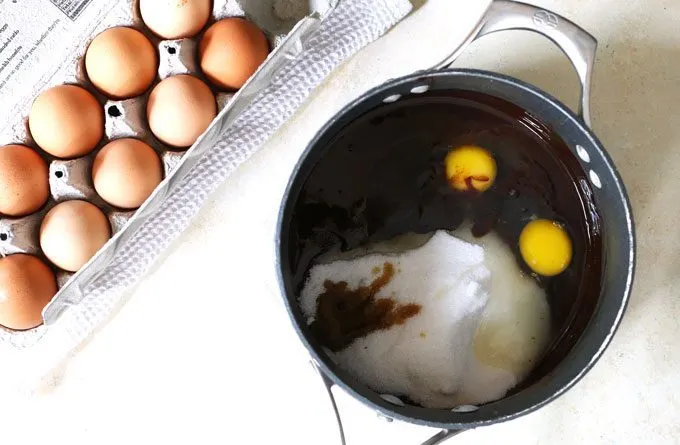 Cream Cheese Fudge Brownies
To make these decadent fudge brownies, I used my favorite eggs from Phil's Fresh Eggs. I am partnering with Phil's this year to share some great recipes with you!
Phil's Fresh Eggs has offered cage-free eggs since 1959 – they were one of the first pioneers in providing cage-free eggs. Phil's eggs are known for their deep yellowy orange yolks, which is a result of the chicken's diet of corn, soybeans and omega-3 rich ingredients (all sourced from Midwestern farms!)
One of the reasons I love the fudge and brownie part of this recipe is that you mix it in a pot instead of a bowl. It really helps with the kitchen cleanup!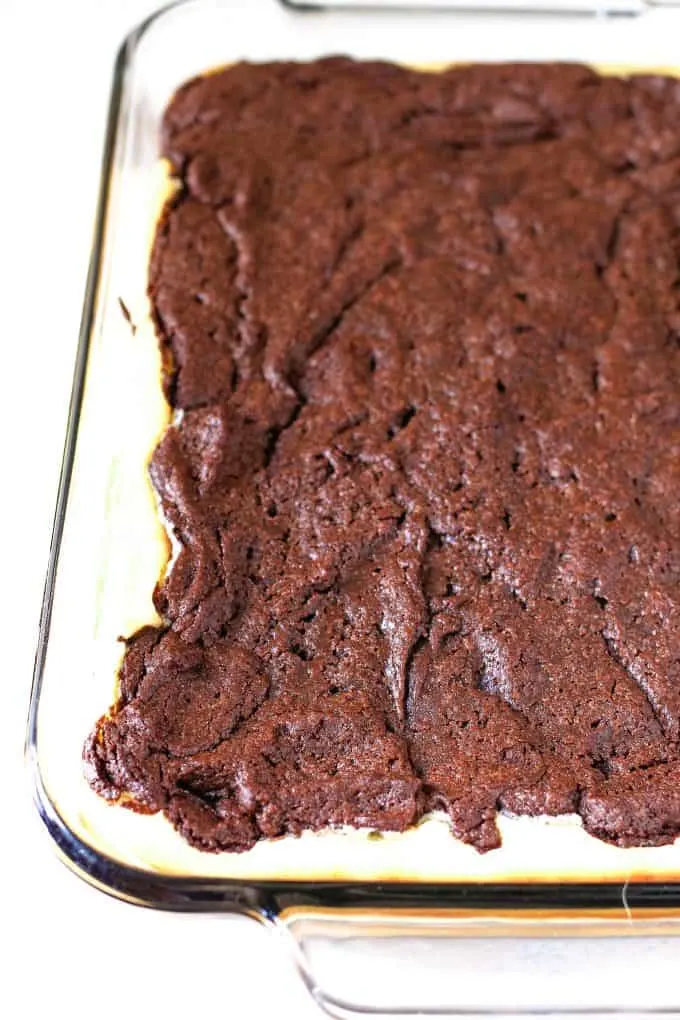 How to Make Cream Cheese Brownies
In the recipe below, I combined the fudge portion but when I make them, I usually make it in two halves instead of splitting the finished fudge in the pan. I think it makes it so much easier.
When you take the brownies out of the oven, remove them when a toothpick comes out clean. These brownies are super fudgey.
There is nothing worse than overcooked brownie so keep checking with that toothpick.
Make sure the brownies are completely cool before you cut them; I chill them in the fridge for about 10 minutes so that the center is completely cooled.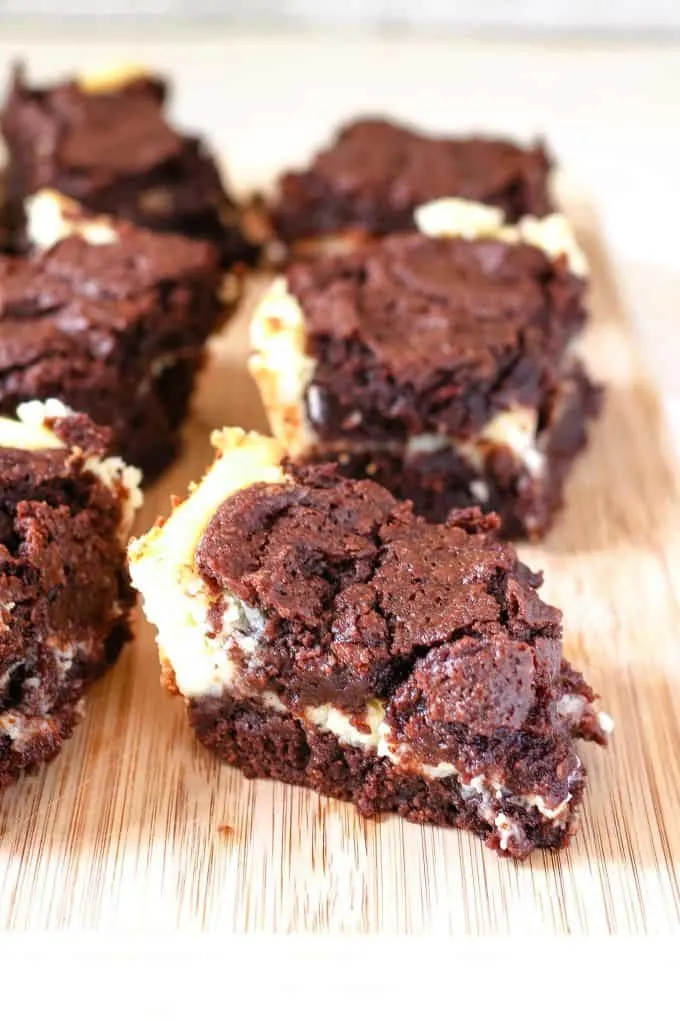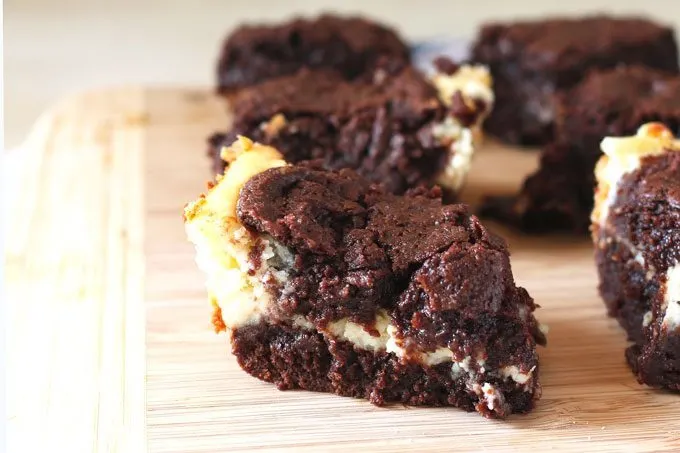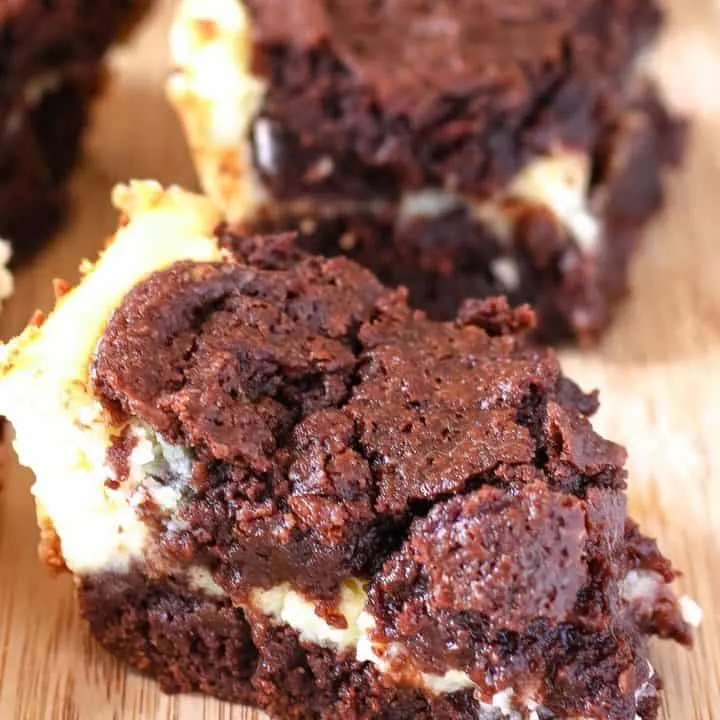 Cream Cheese Brownies
These cream cheese fudge brownies are decadently delicious! A smooth cream cheese layer is sandwiched between two layers of chocolate fudge.
Ingredients
1 cup unsalted butter
8 ounces unsweetened chocolate, roughly chopped
3 ⅓ cup sugar (separated)
5 large eggs
2 ½ teaspoons vanilla extract (separated)
1 cup all-purpose flour
1 (8-ounce) package cream cheese
Instructions
Pre-heat oven to 350 degrees F. Grease a 8 x 11 inch pan and set aside.
In a medium pot, melt the butter. When the butter has melted, remove the pot from the heat. Add the chocolate and stir until it has melted. Whisk in 3 cups of sugar, 4 eggs and 2 teaspoons of vanilla extract. Stir in the flour until just combined.
In a large bowl, beat the cream cheese until smooth. Add the remaining sugar, beating until combined. Add the final egg and the remaining vanilla extract; mix until well blended.
Pour half of the chocolate mixture into your prepared pan; smooth with a spatula. Top with the cream cheese mixture. Pour the remaining half of the chocolate mixture on top of the cream cheese mixture.
Place in the oven. Bake for 30 minutes, or until a toothpick poked in the center comes out clean. Remove from oven and allow to cool completely before cutting.
Notes
Place in the refrigerator before cutting to ensure that the brownies have completely cooled.
Recommended Products
As an Amazon Associate and member of other affiliate programs, I earn from qualifying purchases.
Nutrition Information:
Yield:

16
Serving Size:

1
Amount Per Serving:
Calories:

425
Total Fat:

22g
Saturated Fat:

13g
Trans Fat:

0g
Unsaturated Fat:

8g
Cholesterol:

94mg
Sodium:

44mg
Carbohydrates:

52g
Fiber:

3g
Sugar:

42g
Protein:

5g