This boozy honey lavender lemonade is a great drink for brunches. It is also the PERFECT punch for spring and summer bridal or baby showers.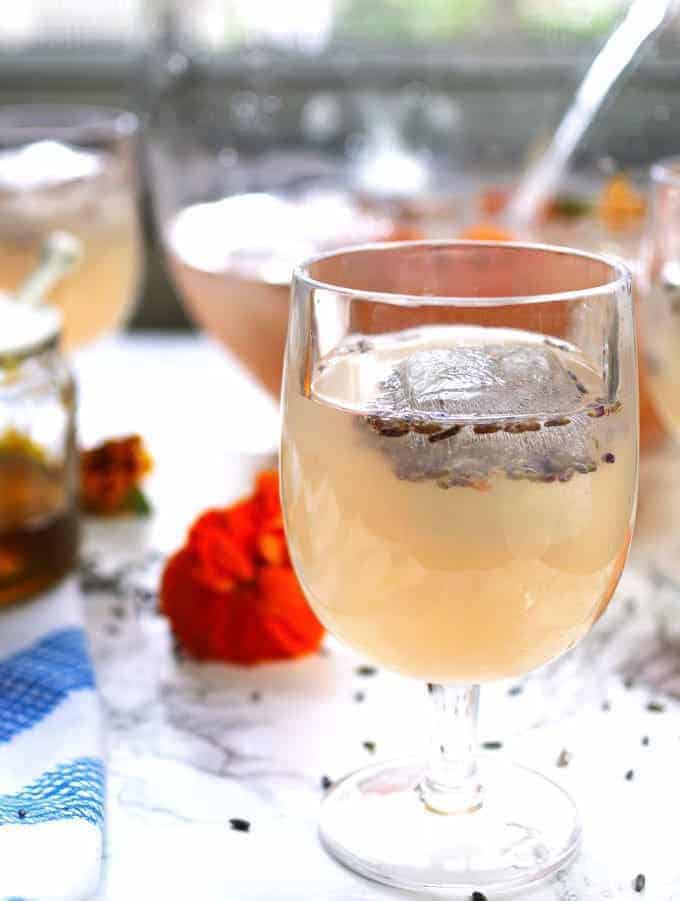 Have you ever had the pleasure of hosting a large gathering and struggled with figuring out what drinks to serve? Yeah, that happens to me a lot.
I didn't always find it a pleasure either but since I started going big-batch with party drinks, things have gotten better for me.
I almost always go for a punch. Drink-punch, not fight-punch, but boy do my big batch drinks hit the spot.
You can make a big batch of just about any drink and then do all of the other hosting things that need to be done (cook, greet, clean, etc). Two, they are DELICIOUS.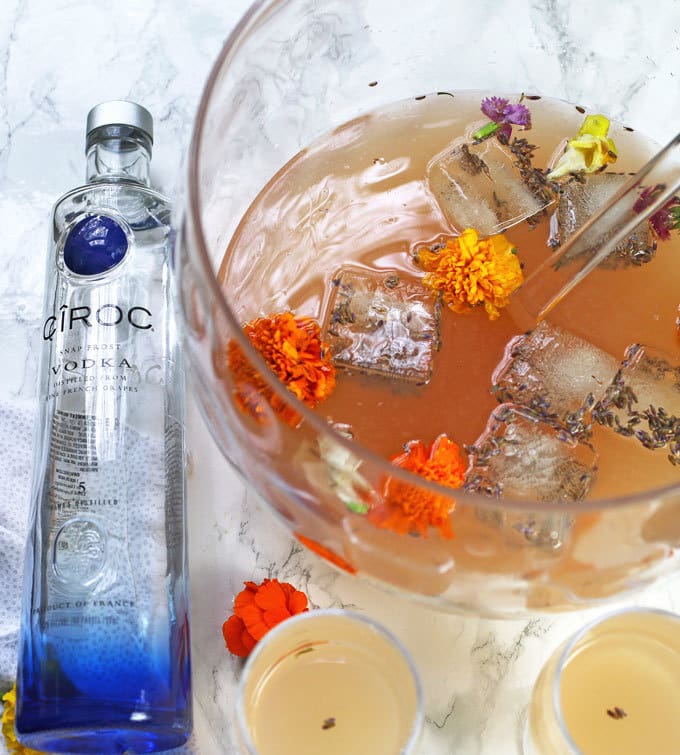 Boozy Honey Lavender Lemonade
I had a blast making this boozy honey lavender lemonade.
Ciroc Vodka was my spirit of choice for this punch. (Thanks for the sample!) It is distilled 5 times and made from French grapes leaving it with a clean and fresh taste. Perfect for a punch made from lavender flowers.
The punch itself is very easy to make – simply make the lavender honey simple syrup and combine that with lemon juice, water and vodka.
Lavender Ice Cubes
To make the lavender ice cubes, buy a large silicone ice cube tray like this one (affiliate link). Sprinkle a small amount of fresh lavender in each of the cavities and fill each cavity halfway with distilled water. Freeze this.
Remove it from the freezer, add a little more lavender and top off each cube with more distilled water. Oulà!
I added the finished ice cubes and some beautiful edible flowers to my punch bowl.
Can't you see this at a baby shower or bridal shower? I can.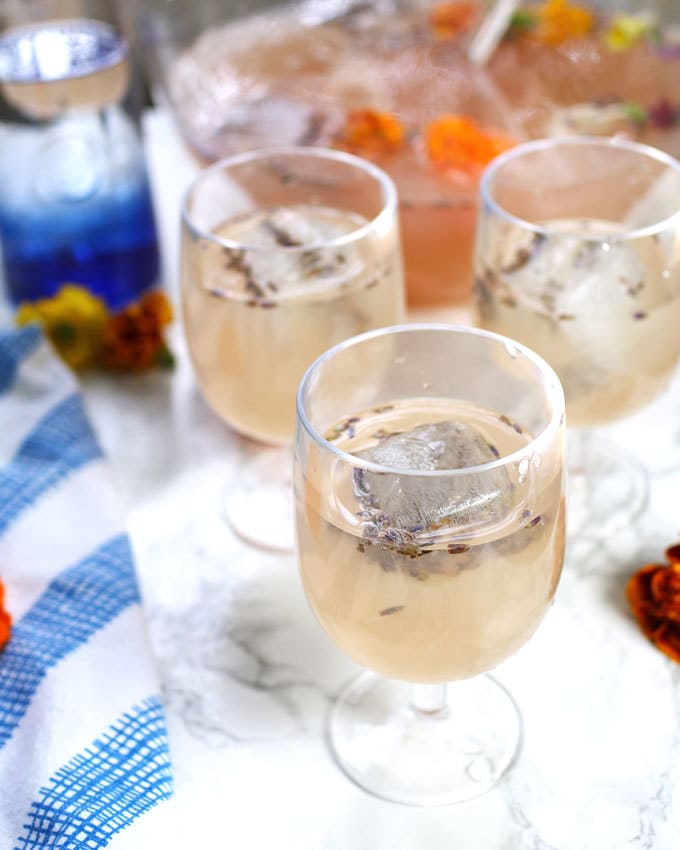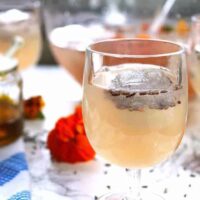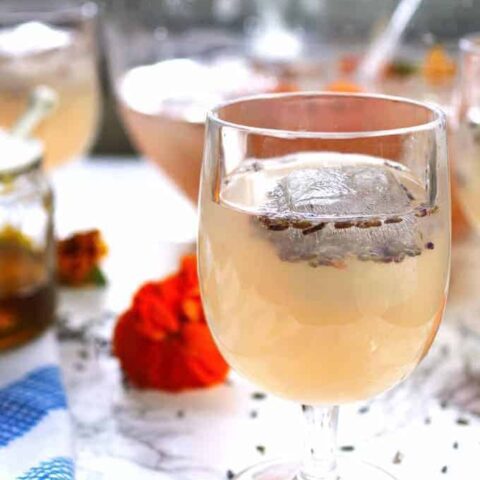 Boozy Honey Lavender Lemonade
Cook Time: 30 minutes

Chill Time: 1 hour

Prep Time: 5 minutes

Total Time: 1 hour 35 minutes

This boozy honey lavender lemonade is a great drink for brunches. It is also the PERFECT punch for spring and summer bridal or baby showers.
Ingredients
Lavender Honey Simple Syrup
2 cups water
1/2 cup lavender flowers
1 cup honey
Boozy Honey Lavender Lemonade
1 1/2 cup fresh lemon juice
8 cups water
2 cups vodka
1 1/2 cups lavender honey simple syrup
Instructions
To make lavender honey simple syrup
Bring water to a boil in a small pot. Once water is boiling, add lavender flowers and reduce heat. Allow to simmer for 5 minutes, then strain lavender flowers out and discard.

Return lavender infused water to pot and add honey. Turn heat to medium and simmer until honey is dissolved and liquid has reduced by 1/4 cup (10-20 minutes depending on your pot.) Remove from heat and allow to cool before using.
To make boozy lavender honey lemonade
Add lemon juice, water, vodka and 1 1/2 cups of lavender honey simple syrup to a large punch bowl. Stir well. Add ice and fresh edible flowers to garnish.
Recommended Products
As an Amazon Associate and member of other affiliate programs, I earn from qualifying purchases.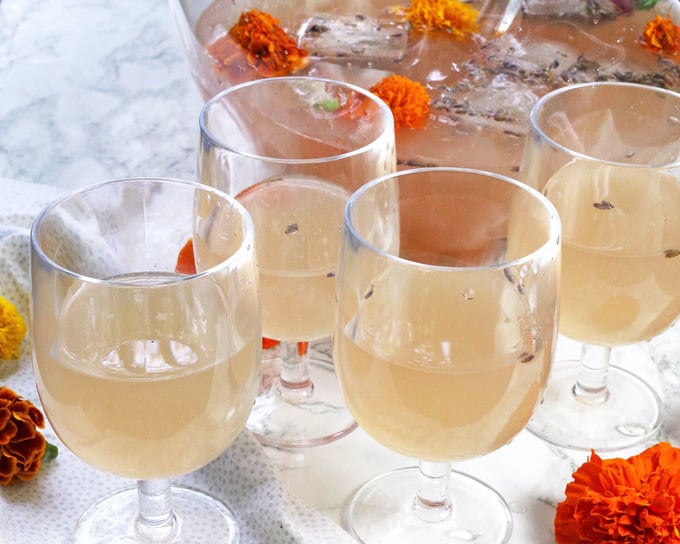 Disclosure: I was provided with a sample of Ciroc Vodka and a stipend for ingredients.

Join the newsletter!
Subscribe to get our latest content by email.