Vegetarian black bean enchiladas with jalapeno crema – spicy and full of protein thanks to the double dose of black beans!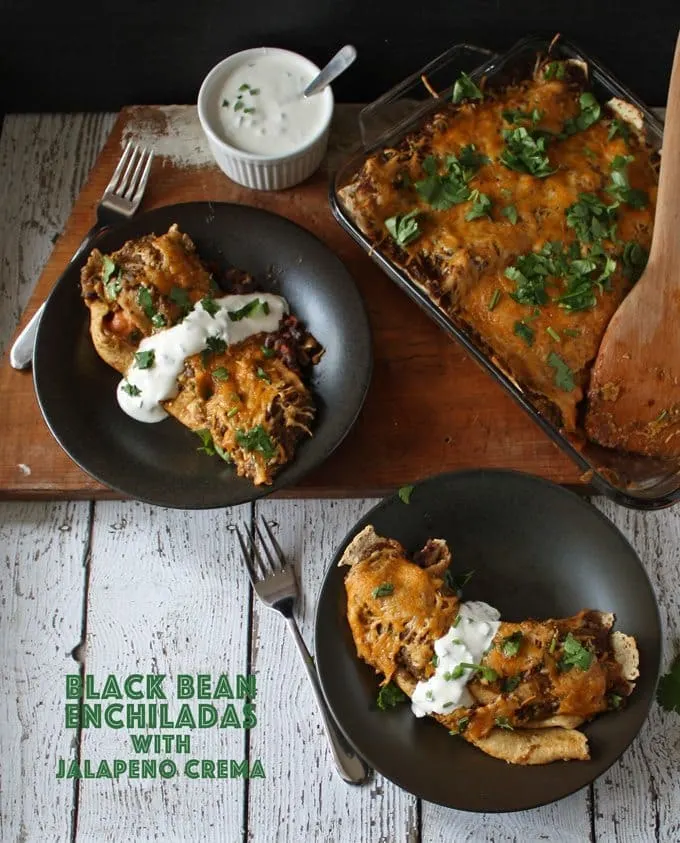 I love going grocery shopping. All those options give me so many ideas! I see a rutabaga, and I want to cook it. I don't even know what to do with a rutabaga!! But that doesn't matter. Rutabaga! Rutabaga!
Don't worry, I'm not walking through Whole Foods, chanting "Rutabaga!" That would be crazy.
Besides refraining from cheering through the produce aisle, I also resist touching everything. All those fresh herbs! Ripe fruit! Ahhhh!
I usually drag Mr. B. with me, to help me with all the temptations. I also have a tendency to buy all of the fruit I see. Maybe it is because of the bright colors? Not sure. He often puts the excess back for me. When he doesn't you will know from now on – fruit recipes here usually follow.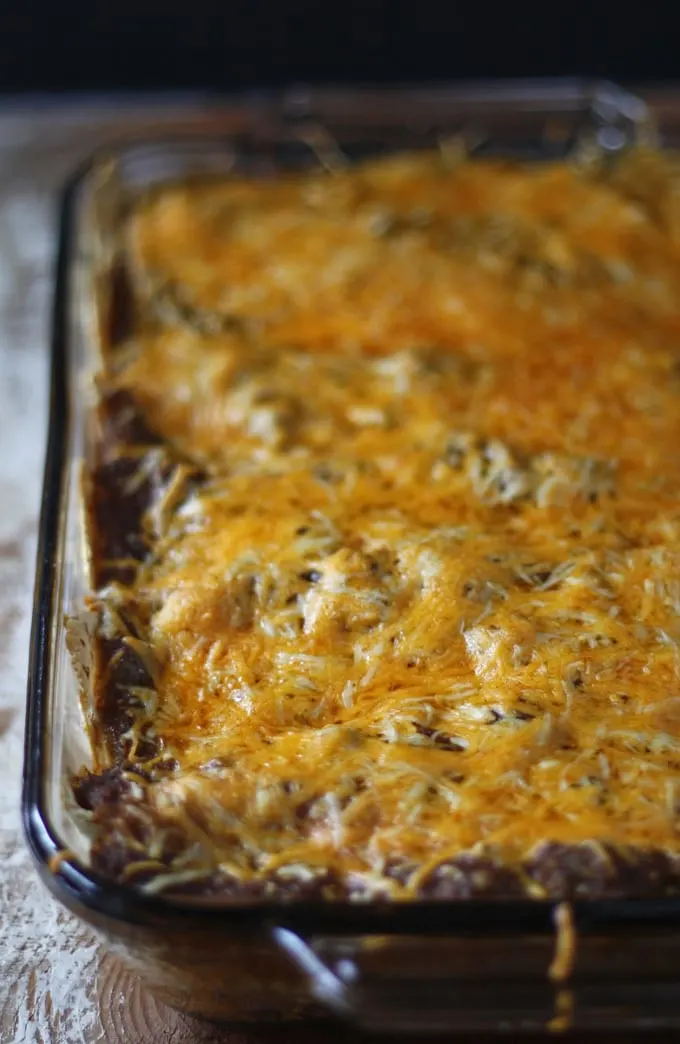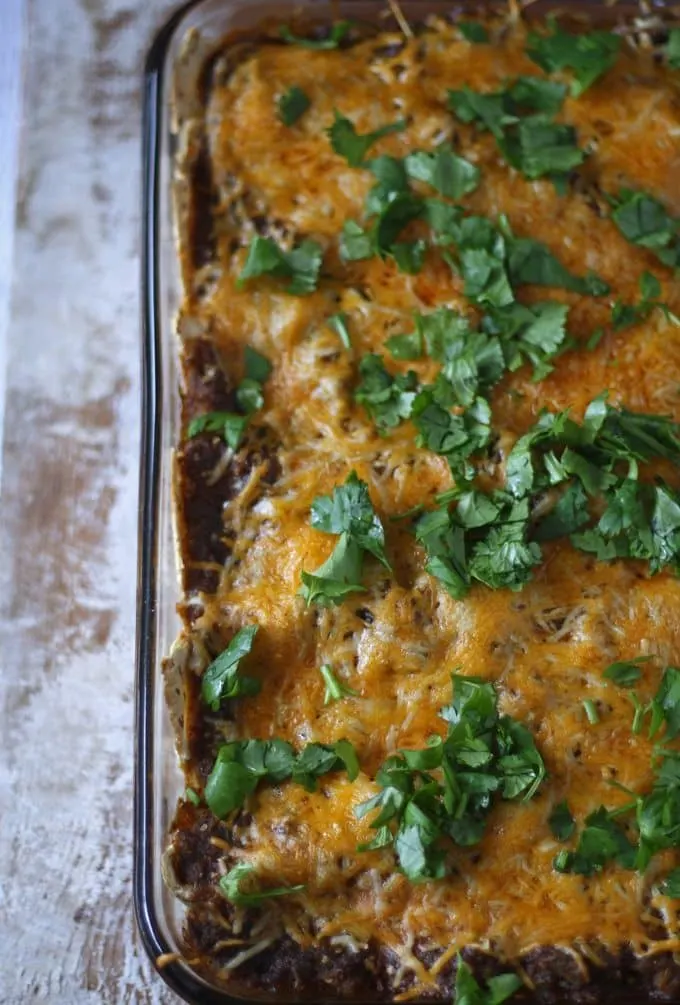 What does all of this have to do with a recipe for black bean enchiladas? On our last grocery shopping trip, there was a very nice man demoing and giving samples of a vegetarian enchilada recipe that inspired this recipe.
Mr. B, meat lover. Mr. B, hater of meatless Mondays, asked me to make something based on that sample. And he knew that it didn't have any meat! That reason alone made me have to try immediately.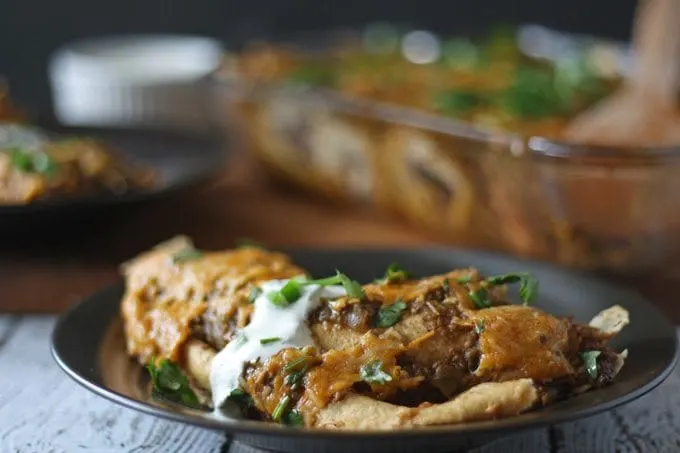 Black Bean Enchiladas with Jalapeno Crema
Based on my little sample, and a sneaky peak at the employee's entire demonstration, I went off to buy some ingredients. Then I rushed back home to experiment.
Instead of making a traditional red enchilada sauce, which is essentially liquid and chili powder (of various kinds), I decided to concoct a yummy green sauce. Which is essentially green chili sauce and chili powder. It is the perfect substitute.
When you make these, set up an assembly line. Lay out your tortillas, and then your fillings in the order that you want to assemble them. Roll up each one entirely, then put it in your casserole dish and start over. It will make this easy to prepare, cutting down on mess and time.
That way, you can put the enchiladas in the oven faster, so you can eat them faster.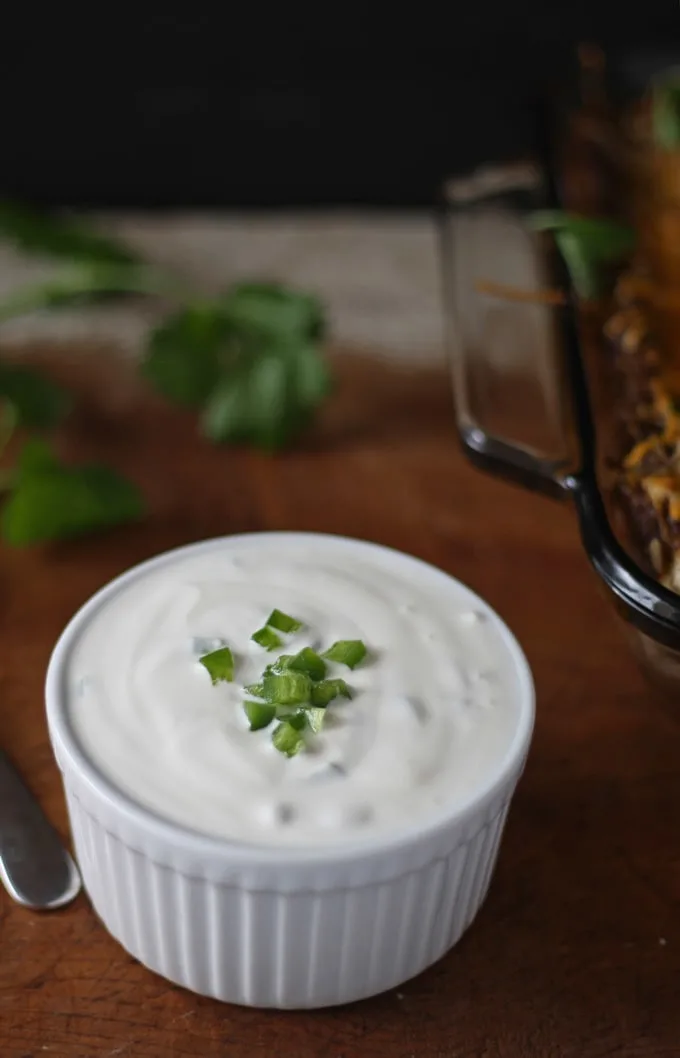 For the jalapeno crema, I used Mexican style sour cream (crema) – usually sold by the chihuahua cheese. If you can't find it, you can substitute sour cream instead.
My apologies for the pictures. Unfortunately, the single enchilada is just about the ugliest thing in the world. But boy is it tasty. I tried to make it pretty, but there was nothing I could do.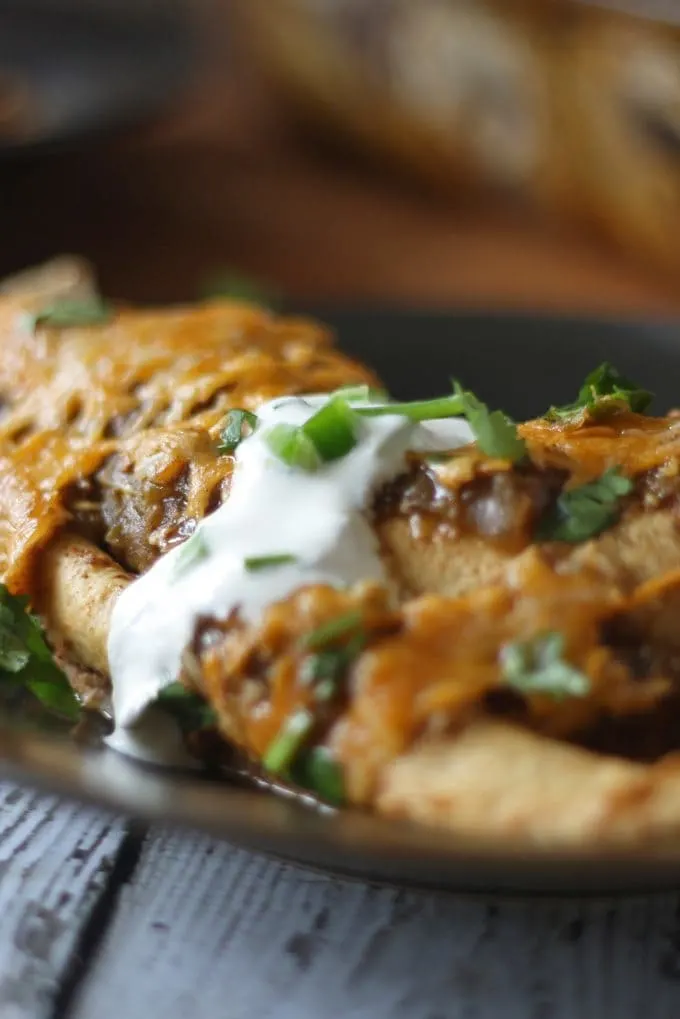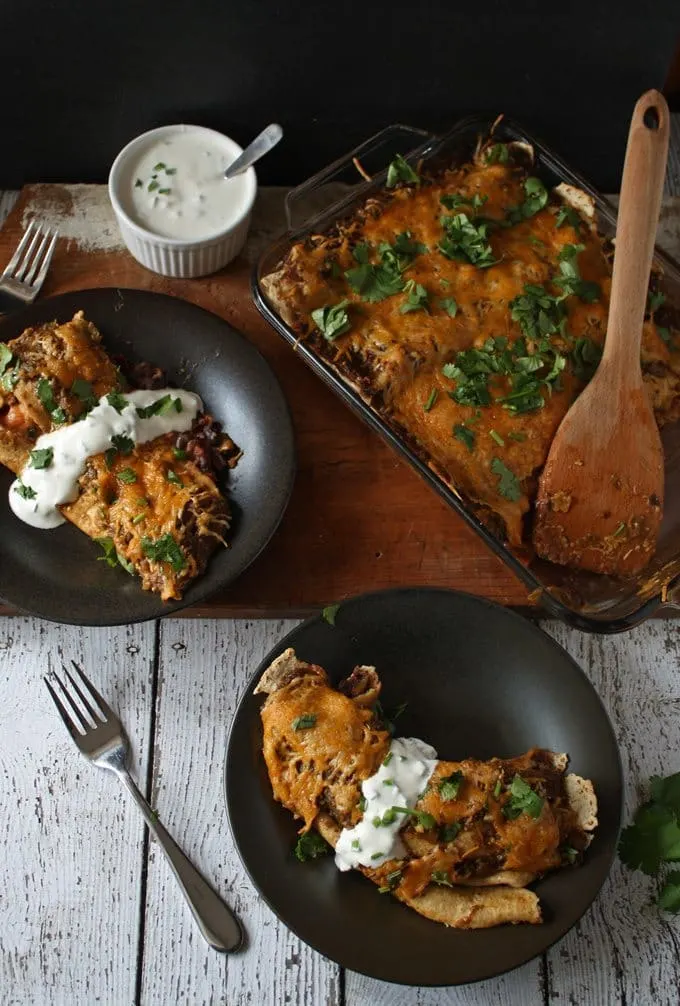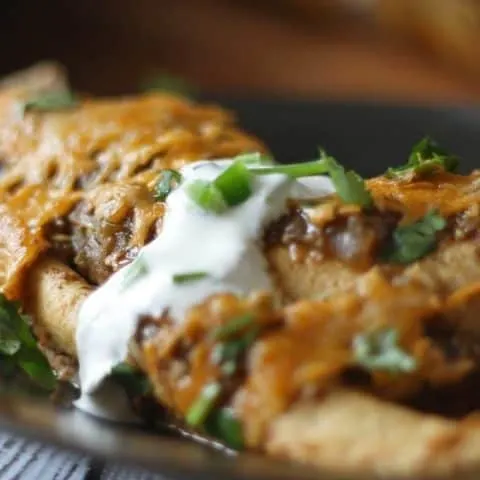 Black Bean Enchiladas with Jalapeno Crema
Vegetarian black bean enchiladas with jalapeno crema – spicy and full of protein thanks to the double dose of black beans!
Ingredients
8 ounces refried black beans (about ½ a can)
1 cup medium salsa
¼ cup diced cilantro
1 15 ounce can black beans, rinsed and drained
2 cups shredded cheddar cheese, separated into 2 individual cups
6 medium tortillas
2 14 ounce cans medium green sauce
2 tablespoons chili powder
1 teaspoon cumin
½ teaspoon oregano
⅛ teaspoon kosher salt
Jalapeno Crema
1 cup Mexican crema (or sour cream)
3 tablespoons finely diced jalapeno
Garnish
Diced cilantro
Jalapeno Crema
Diced jalapeno
Instructions
Preheat oven to 350 degrees. Grease a 8x11 inch casserole dish.
In a small bowl, combine the salsa, cilantro, and drained black beans. In a second bowl, combine the green sauce, chili powder, cumin, oregano and kosher salt. Set the second bowl aside.
Assemble your enchiladas. You will need the tortillas, refried black beans, bean/salsa mixture, and one cup of the cheese. On a single tortilla, layer in the following order, in the center of the tortilla: refried black beans, then bean/salsa mixture, then cheese. Roll the enchilada up tightly, then place in the prepared dish. Repeat with the other 5 tortillas. You should spread out all of the ingredients evenly amongst the six tortillas - if you have extra, open one up and put it in there.
Pour the green sauce mixture evenly over the top. Then spread the remaining one cup of cheese over the green sauce.
Bake for 20-25 minutes uncovered, or until the cheese is melted. Remove from oven and let cool for 5 minutes before serving.
Jalapeno Crema
While the enchiladas are cooking, combine the Mexican crema and the jalapeno in a small bowl.
When Serving
Garnish with cilantro, jalapeno crema and diced jalapeno.
Nutrition Information:
Yield:

6
Serving Size:

1
Amount Per Serving:
Calories:

524
Total Fat:

28g
Saturated Fat:

15g
Trans Fat:

1g
Unsaturated Fat:

10g
Cholesterol:

76mg
Sodium:

1412mg
Carbohydrates:

48g
Fiber:

12g
Sugar:

5g
Protein:

22g
Nutrition information is automatically calculated and may not be correct.