This black bean cake breakfast sandwich is great served open faced! Add it to your next brunch plan for a great vegetarian breakfast option.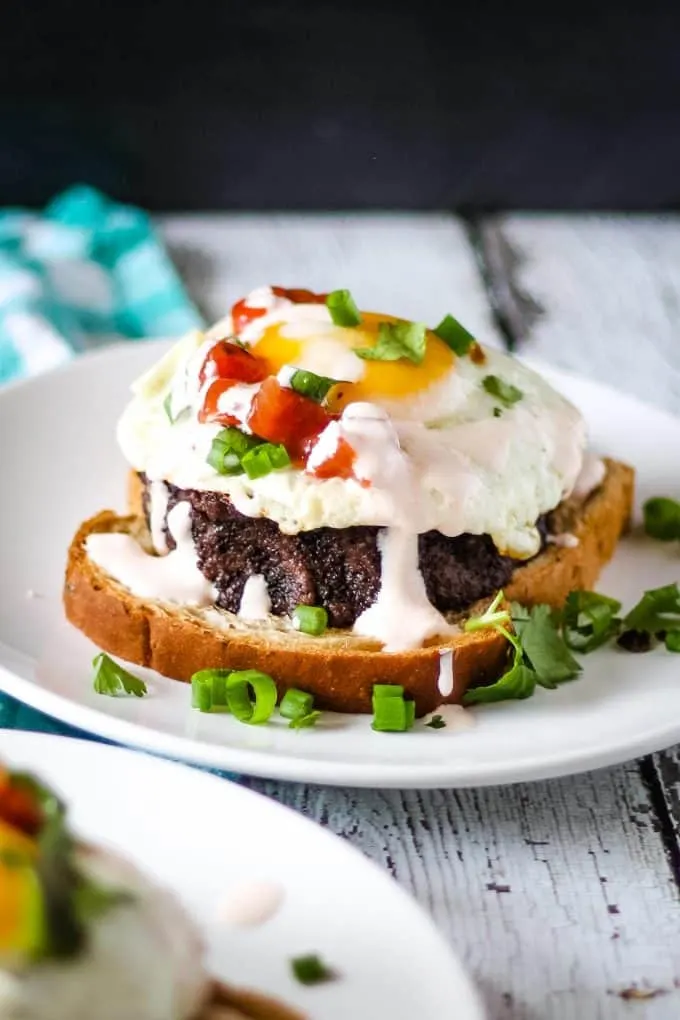 This is a doozy of a post. It's jammed packed with goodness and goodies. And then a recipe for an open face black bean cake breakfast sandwich.
Let's get started.
Black Bean Cakes Breakfast Sandwich Recipe
This breakfast baby is a doozy.
You start off with black bean cakes mixed in the food processor, which I based off of crab cakes. I left out the mayo, because black beans and mayo just sounds gross to me. Instead, I use olive oil – just enough to hold the ingredients together, but not so much that it is nasty.
I started with the cakes, and planned to stop there. But I'm not the only one in my household with food weirdness. Mr. B didn't have to say it – I knew that he was going to want more than a black bean cake for breakfast. (Oh, wait, that's not weird?)
What better way to maximize the awesomeness of black bean cakes than to sandwich one between a piece of toast (carbs! carbs! carbs!) and some of my favorite condiments.
A little more cilantro, a pinch of green onion, a dash of salsa and some sour cream – I mixed a little sriracha in it for some added kick. Brunch is served.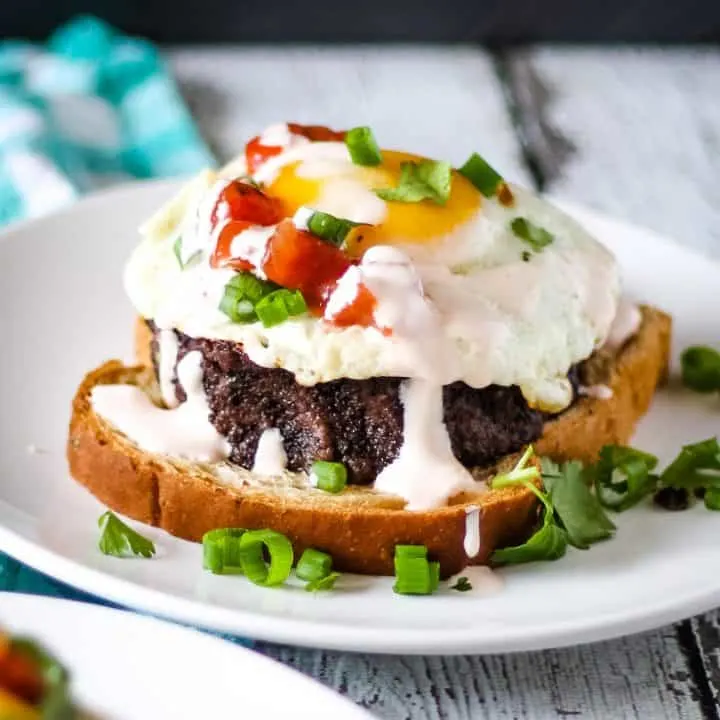 Black Bean Cakes Open-Faced Breakfast Sandwich
These black bean cakes breakfast sandwich is great served open faced! Add it to your next brunch plan for a great vegetarian breakfast option.
Ingredients
Black Bean Cakes
4 tablespoons extra virgin olive oil, separated
1 (14.5-16) ounce can black beans, rinsed and drained
4 tablespoons diced green onions
2 tablespoons diced cilantro
2 teaspoons minced garlic
1/4 cup grated Parmesan cheese
1/4 cup panko bread crumbs
Sandwiches
6 fried eggs
6 pieces of toast
diced cilantro
diced green onion
salsa
sour cream
salt and pepper
Instructions
In the bowl of a food processor, puree the black beans until most of the beans are chopped. You don't want it to be hummus texture - you want it to have lumps. Then add 2 tablespoons of olive oil, green onions, cilantro, garlic, Parmesan cheese, and bread crumbs. Pulse until ingredients are well combined.
Pour out the mixture onto a piece of parchment paper. Separate the mixture into 6 even portions. To do this, cut in half, then cut the halves in thirds. Form each portion of black bean mixture into a burger shape.
Heat the remaining olive oil over medium high heat in a skillet. Fry the black bean cakes on each side for 5-6 minutes, or until the black bean cakes are crispy on the outside. Cook no more than 2 at a time. Place on a plate, lined with a paper towel, after cooking.
To Assemble Sandwich
Place a cooked black bean cake on top of a piece of toast. Lay a fried egg, yolk up, on top of the black bean cake. Put a dash of salsa and sour cream on egg, then sprinkle green onion and cilantro on top. Add salt and pepper to taste.
Recommended Products
As an Amazon Associate and member of other affiliate programs, I earn from qualifying purchases.
Nutrition Information:
Yield:

6
Serving Size:

1
Amount Per Serving:
Calories:

283
Total Fat:

19g
Saturated Fat:

4g
Trans Fat:

0g
Unsaturated Fat:

13g
Cholesterol:

189mg
Sodium:

434mg
Carbohydrates:

18g
Fiber:

2g
Sugar:

2g
Protein:

11g
SaveSave