Raspberries, strawberries and basil are prefect additions to lemonade! Make this recipe for berry basil lemonade on a hot summer day or as a mixer for cocktails!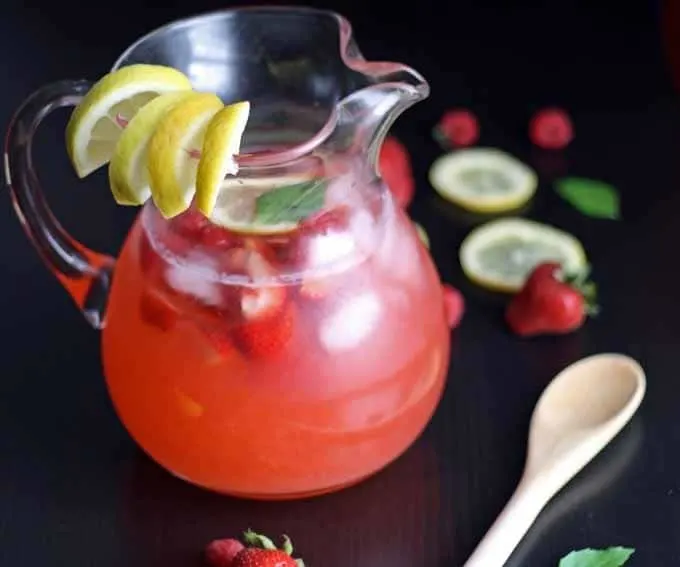 I have been on a serious berry kick these past few months. First it was strawberry habenero jam, then it was a delicious raspberry lemon granita.
Now it's berry basil lemonade. I guess its a good thing that it's summer and berries are in season.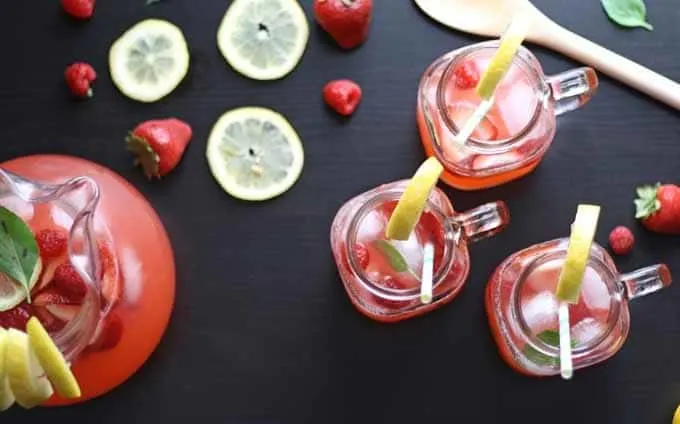 I have been looking for the perfect substitute for store bought cocktail mixers for summer drinks. Two summers ago, Mr. B and I went a few months with a pitcher of lemonade in our fridge for impromptu cocktails and the occasional friend stopping by. We also kept containers of powdered lemonade mix in our pantry in case a bigger group came over (or we were in a partying mood) and had to whip up another pitcher in a flash.
Since I started blogging, I have started to stop using as many store bought mixes as before. I realized that lemonade was the next thing I should start making from scratch.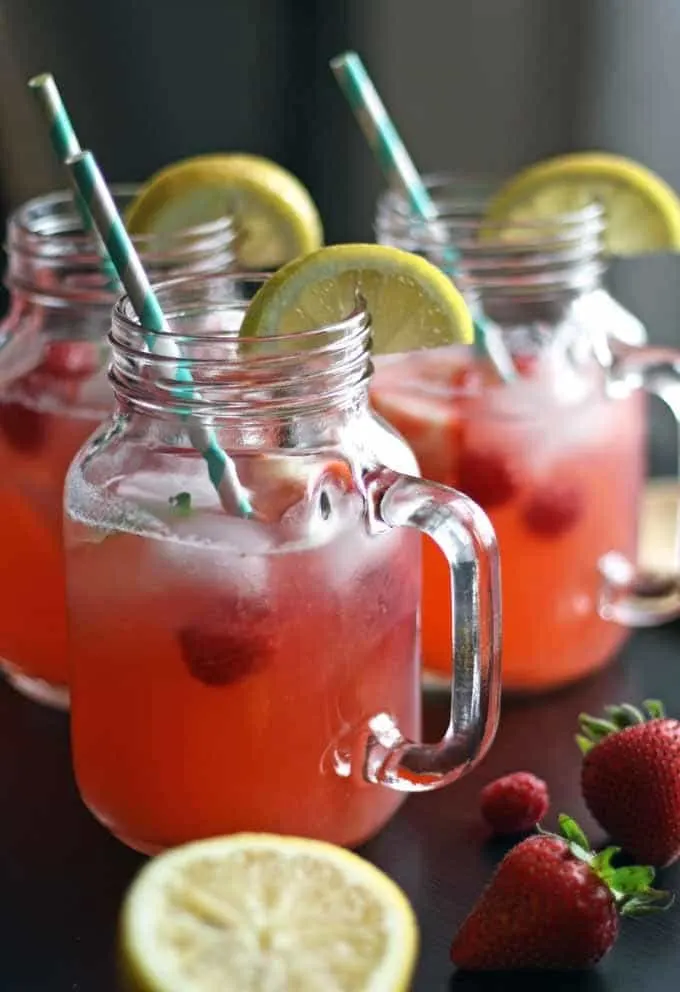 Making lemonade is so easy that I truly don't know why I waited so long to make it.
First things first (I'm the realest…), you need to make the simple syrup. This is as simple as boiling water and sugar, literally. I add the fruit puree and basil to really marry the flavors.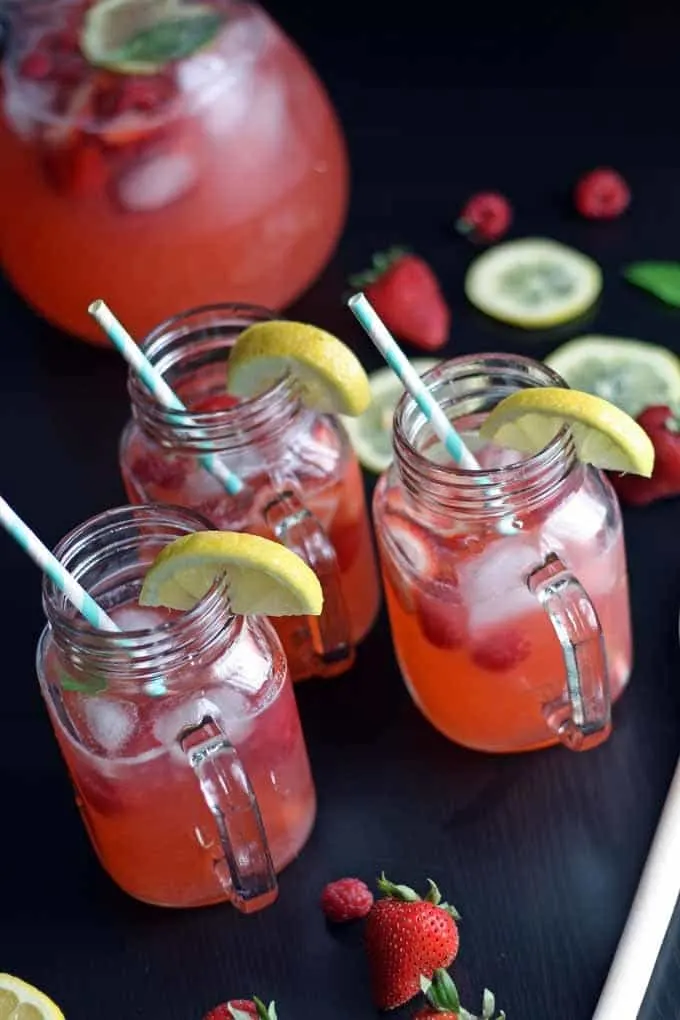 Next comes the hard part. Juicing the lemons. Yep, that is as hard as this recipe gets. You can use your hands and squeeze, but then you will probably need more lemons because its harder to get the juice out that way. I use a handheld lemon squeezer because its fast and produces lots of juice.
You'll need to make sure there are no seeds in the berry syrup or the lemon juice so pour both through a fine strainer before pouring them into your mixing pitcher. To emit a step, I usually position my strainer over the pitcher so that I'm straining the liquid right into it. Pulp, lemon or berry, is okay.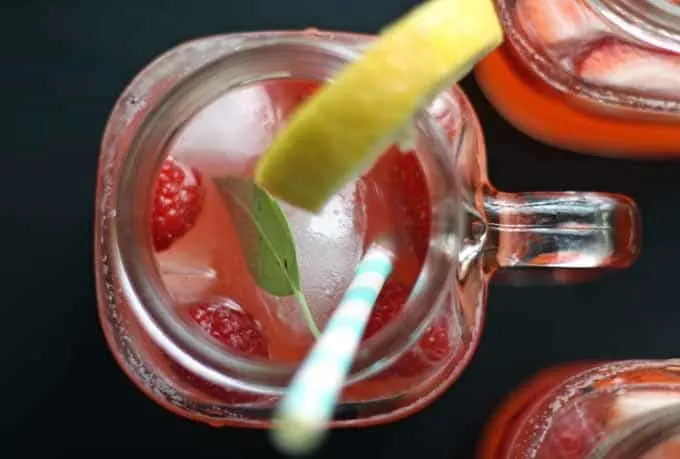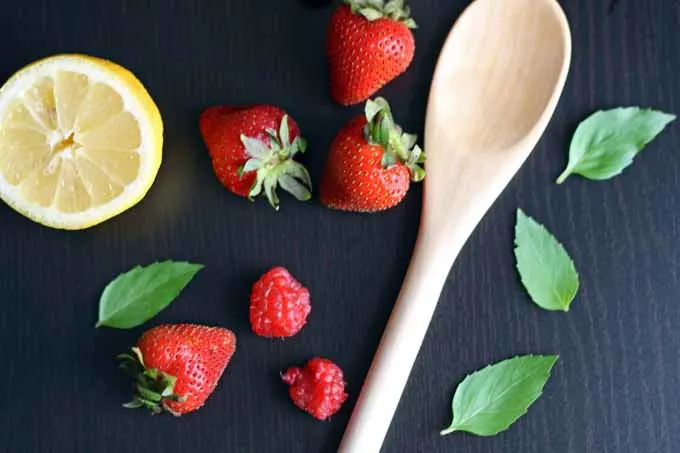 If you're going to make a cocktail with this, I would suggest muddling some more basil into the bottom of your glass before add the lemonade or liquor. The basil flavor is subtle and would probably be masked by the addition of alcohol.
Grab a bottle of vodka or light rum and add an ounce and half to a mason jar filled with ice – then pour in the berry basil lemonade. Garnish with some lemon wedges and some fresh berries and enjoy!
Don't be freaked out by the blackish purple spots on my basil leaves – I picked up a purple basil plant at my local farmer's market and its sooo pretty. Unfortunately, without seeing the whole plant or a completely purple leaf it looks a little diseased.
But its not so no worries. 🙂 Stay fancy.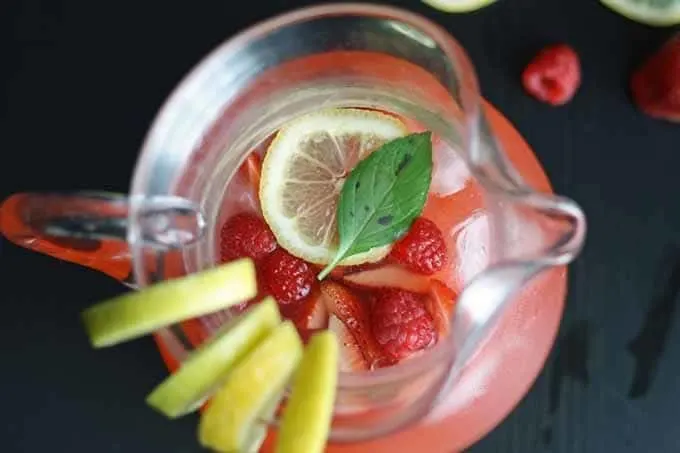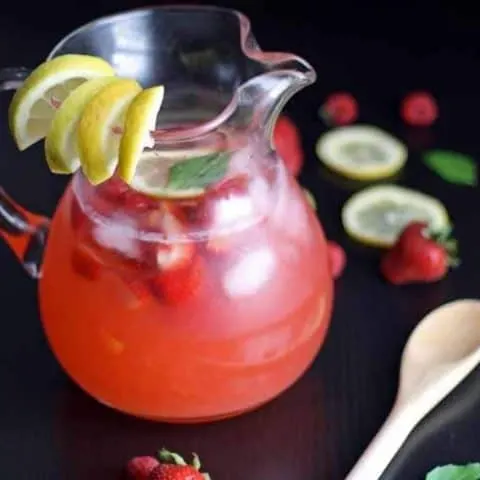 Berry Basil Lemonade
Ingredients
1 1/4 cups white sugar
9 cups water
1 1/2 cups lemon juice (about 6 lemons)
1/2 cup raspberries
1/2 cup strawberries
handful of fresh basil leaves, torn into pieces
Instructions
Combine sugar and 1 cup of water in a saucepan. Bring to a boil, stirring occasionally to create a syrup.
Place the raspberries and strawberries in a blender. Put pureed fruit and basil in the boiling syrup.
Cook fruit/syrup for 5 minutes at a low boil, stirring occasionally. Remove from heat to cool.
Take a large pitcher and a fine mesh strainer and pour the berry basil syrup through the strainer (to remove the seeds) into the pitcher.
Pour the lemon juice through the strainer into the pitcher.
Add the remaining 8 cups of water and stir well. Chill and serve.