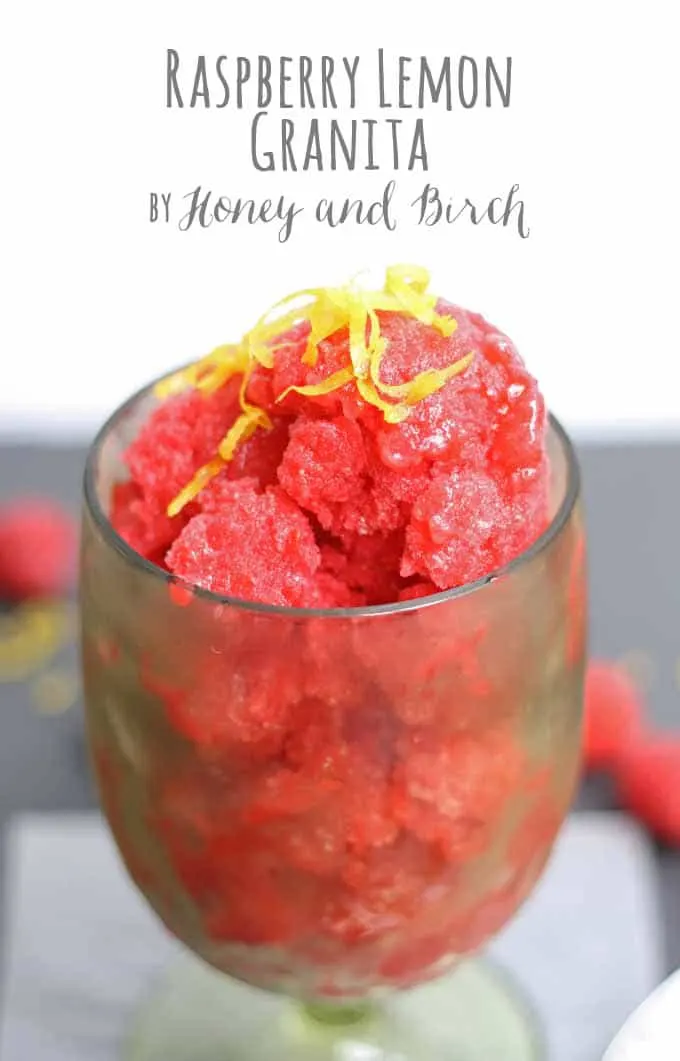 It's a heat wave! I know I talk about the weather all of the time, but the weather is all around us and it often dictates what kind of cooking I am going to do. And it's not just small talk for me – I am constantly checking the radar, watching weather reports on TV, and checking the storm reports. Don't even get me started on tornado and hurricane seasons…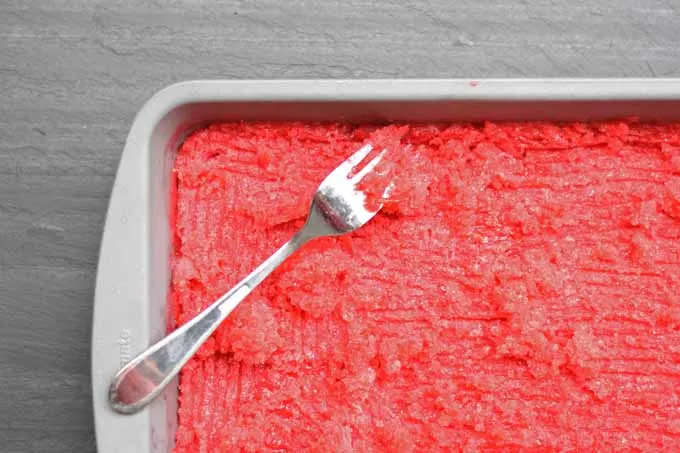 When the weather gets all toasty and the air is thick with the humidity, like it is right now, I don't want a cupcake or a piece of cake. I usually wait for one of those weird chilly summer days to turn the oven on again. Naahh, no baked goods – I want something cold to help cool me off.
Since I don't have an ice cream maker, I have taken to making granitas.
What's a Granita?
A granita is an Italian semi-frozen dessert made from sugar, water and various flavored ingredients. I love making granitas from berries, such as raspberries, blueberries and strawberries! And you can make one from as little as three ingredients, which makes them really easy. Also, as an added bonus, they are dairy free!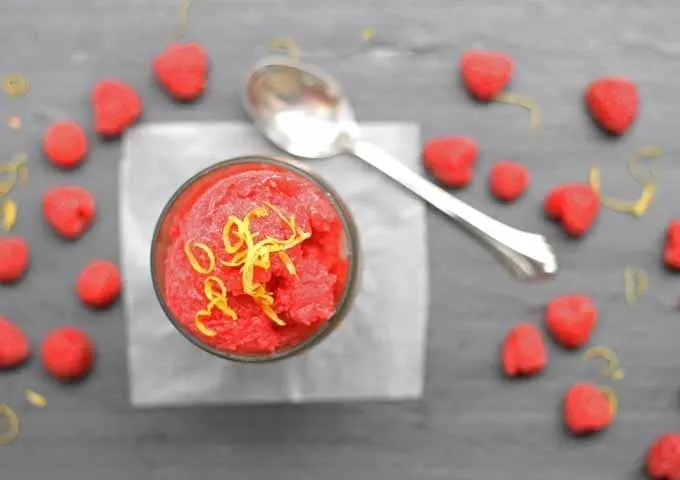 All you need is a blender (or food processor), a shallow dish and a fork and you're set. Every hour or so, scrape the granita with a fork and 5-6 hours later you're ready to go. You can even wait overnight, and do your scraping a little before serving. Granitas bring new meaning to stick a fork in it…
Raspberry Lemon Granita
For this recipe, I added lemon to my typical raspberry granita recipe – if you like sweeter desserts, decrease the amount of lemon juice (and increase it for a more tart one!)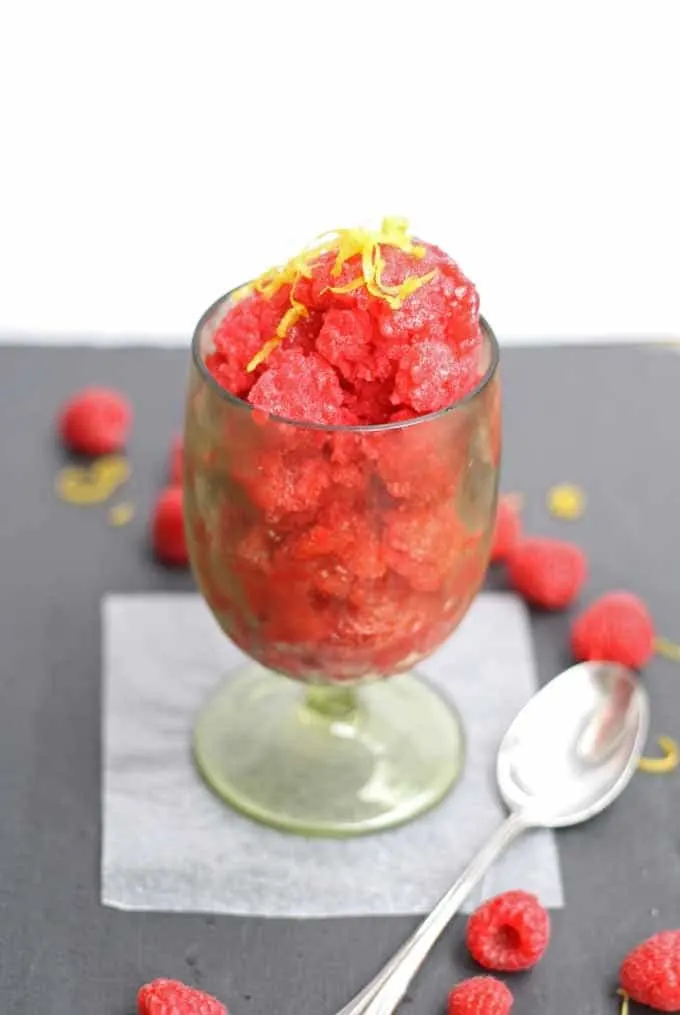 This chilly dessert is perfect for parties at home or BBQs – Fourth of July, anyone? After its served it gets all slushy and tastes even more awesome! If you aren't a big fan of raspberries, that's okay – use blueberries or strawberries instead. Or, even better, use a combination of berries!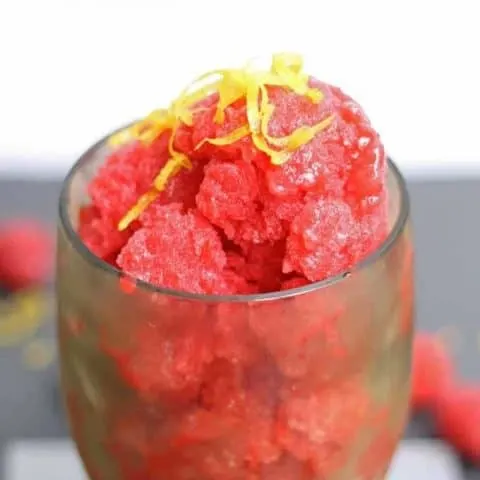 Raspberry Lemon Granita
Ingredients
5 cups raspberries
1 cup water
1/2 cup sugar
2 tablespoons fresh lemon juice
1 tablespoon lemon zest (plus more for garnish)
Instructions
Combine 1/2 cup of water and the sugar in a pot. Heat over medium heat until sugar is dissolved. Remove the simple syrup from the heat to cool.
Put the raspberries in a blender and puree. Pour the raspberry puree through a sieve (with a bowl underneath) to remove the seeds. Use the back of a spoon to help push the raspberry juice through the sieve.
Pour 1/4 cup of water in the blender to get all of the raspberries out - pour that through the sieve to separate juice from the seeds.
Pour the remaining 1/4 cup of water into the seeds to make sure they are cleaned. Discard the seeds.
Add the lemon juice, lemon zest and simple syrup to the raspberry juice. Stir and pour into a shallow pan. Cover with foil and put in the freezer.
Every hour, take a fork and scrape the top of the granita to form crystals. Repeat this process until the entire granita is frozen.
Use an ice cream scoop to serve. Garnish with lemon zest.
Nutrition Information:
Yield:

10
Serving Size:

1
Amount Per Serving:
Calories:

72
Total Fat:

0g
Saturated Fat:

0g
Trans Fat:

0g
Unsaturated Fat:

0g
Cholesterol:

0mg
Sodium:

2mg
Carbohydrates:

18g
Fiber:

4g
Sugar:

13g
Protein:

1g
You're sure to love it!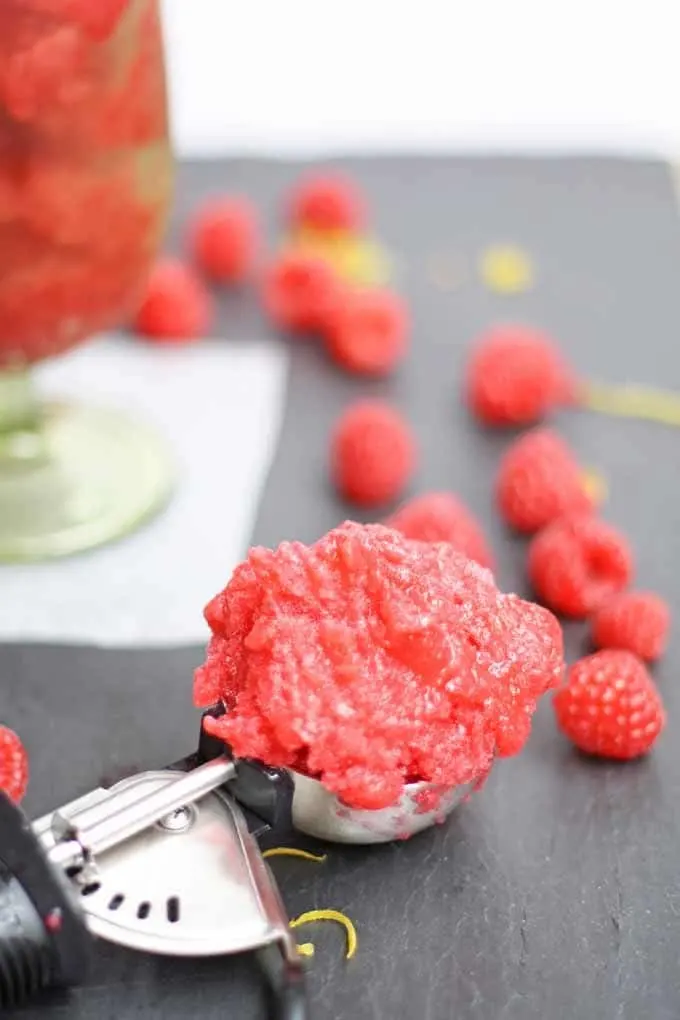 SaveSave