These baked buffalo chicken egg rolls are great as an appetizer or lunch! Serve them with blue cheese dressing and extra buffalo sauce!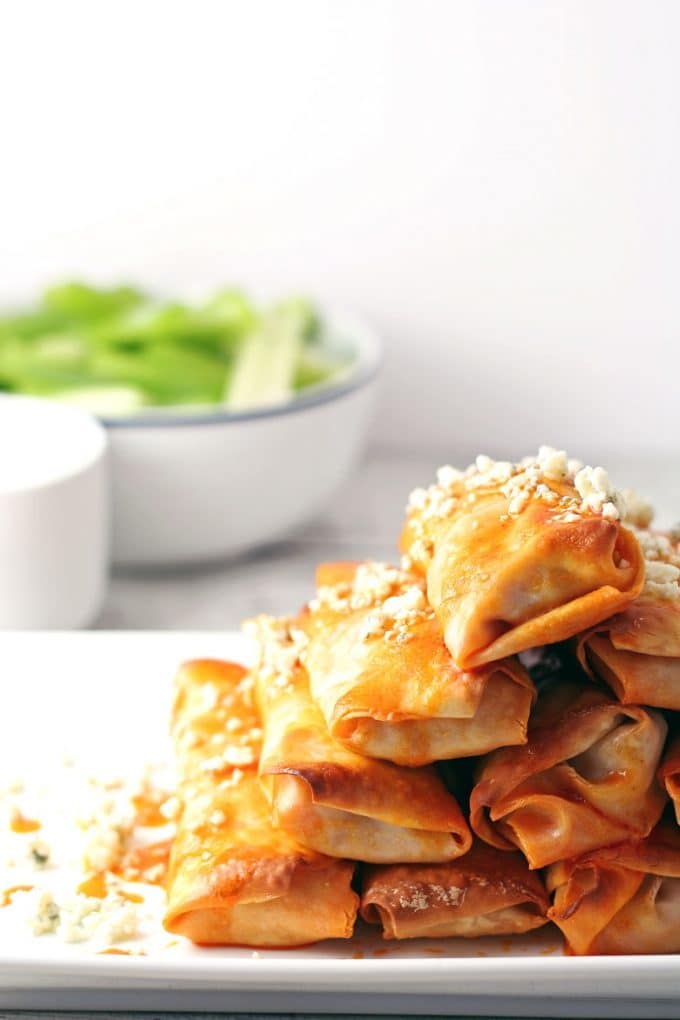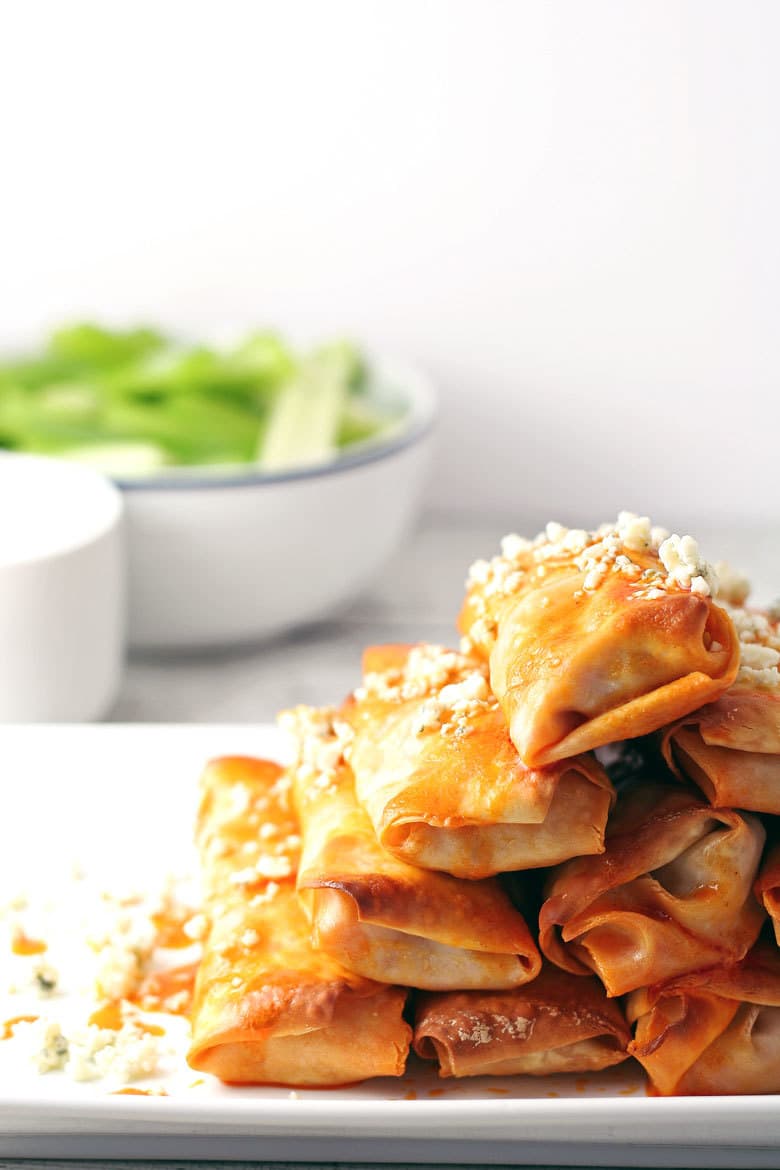 I'm pretty sure I have mentioned before that I used to work in a restaurant. It was a pretty decent living but I was so, so bored.
That's actually one of the reasons I started this blog – it was my escape from the daily doldrums of slinging plates and taking food and drink orders.
The restaurant that I worked at closed in February – don't worry, I'm not going to get all nostalgic on you. Well, maybe just a little.
If you work in a restaurant for any length of time, you probably did what I did – eat everything on the menu over and over again. By the end of my "restaurant residency", there were only 6 dishes on that menu that I could eat on a regular basis.
I've decided to make my way through those 6 dishes here, creating my version of the recipes since I can never order them again.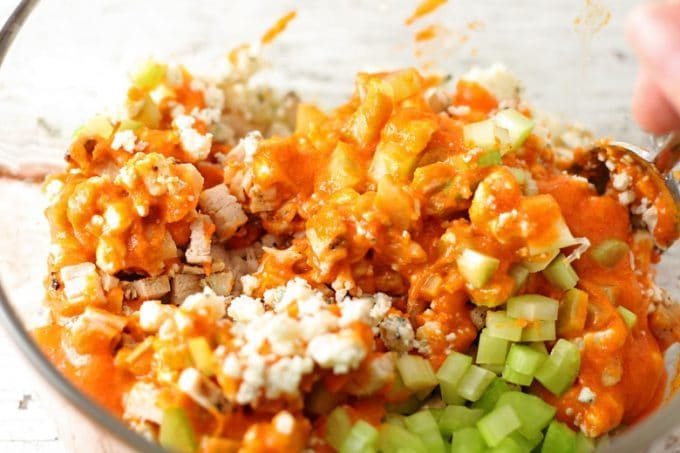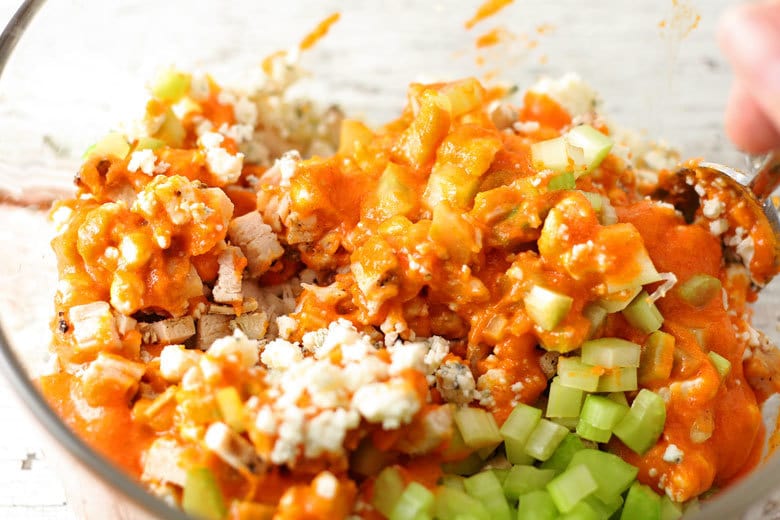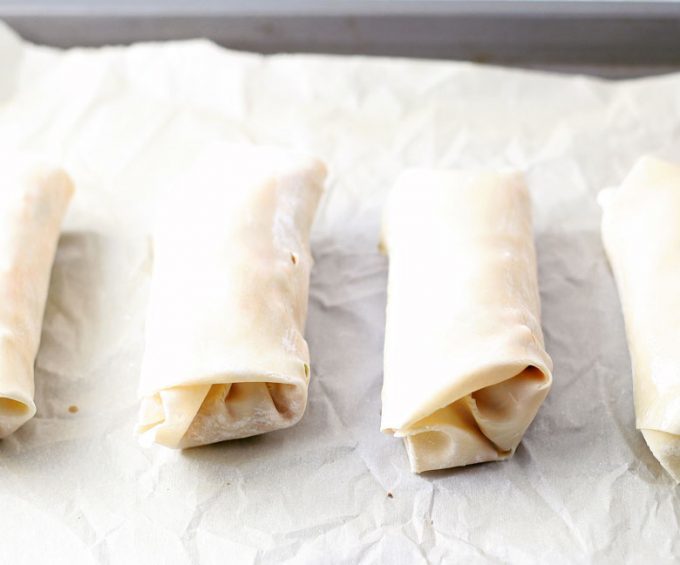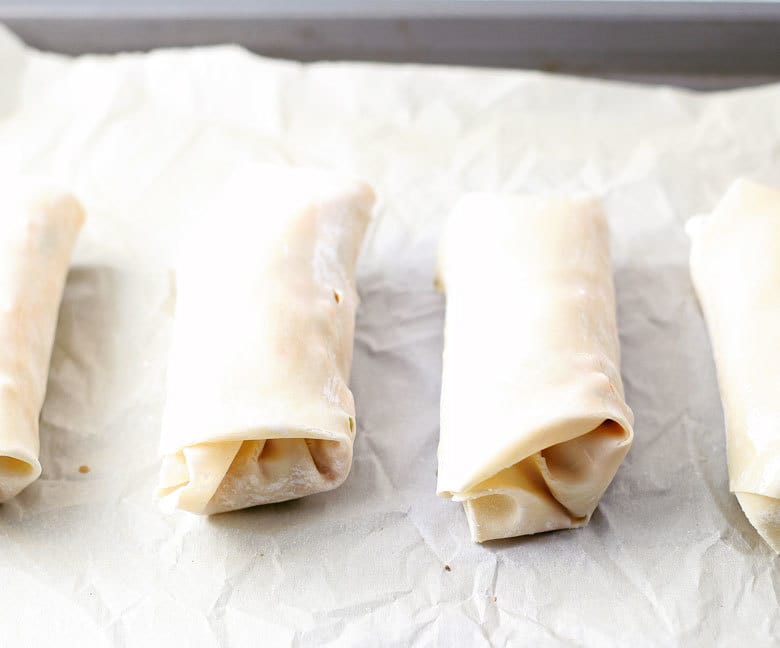 Baked Buffalo Chicken Egg Rolls
One of my favorites were their fried egg rolls stuffed with chicken and buffalo sauce. I try not to fry food in my house and I can't really eat fried food at restaurants so I decided to make baked buffalo chicken egg rolls at home.
Why not cut calories wherever you can, right?
That statement is especially true when you are filling the egg rolls with lots of buffalo sauce and blue cheese crumbles. Both of those things top my list of "Favorite Foods to Put on Everything" and I couldn't resist filling these babies up.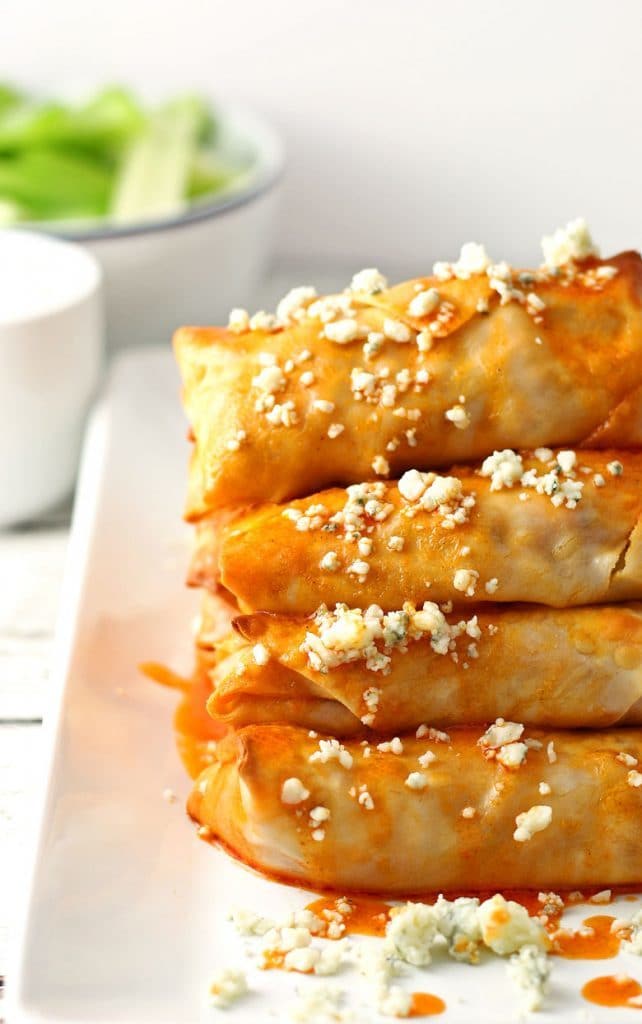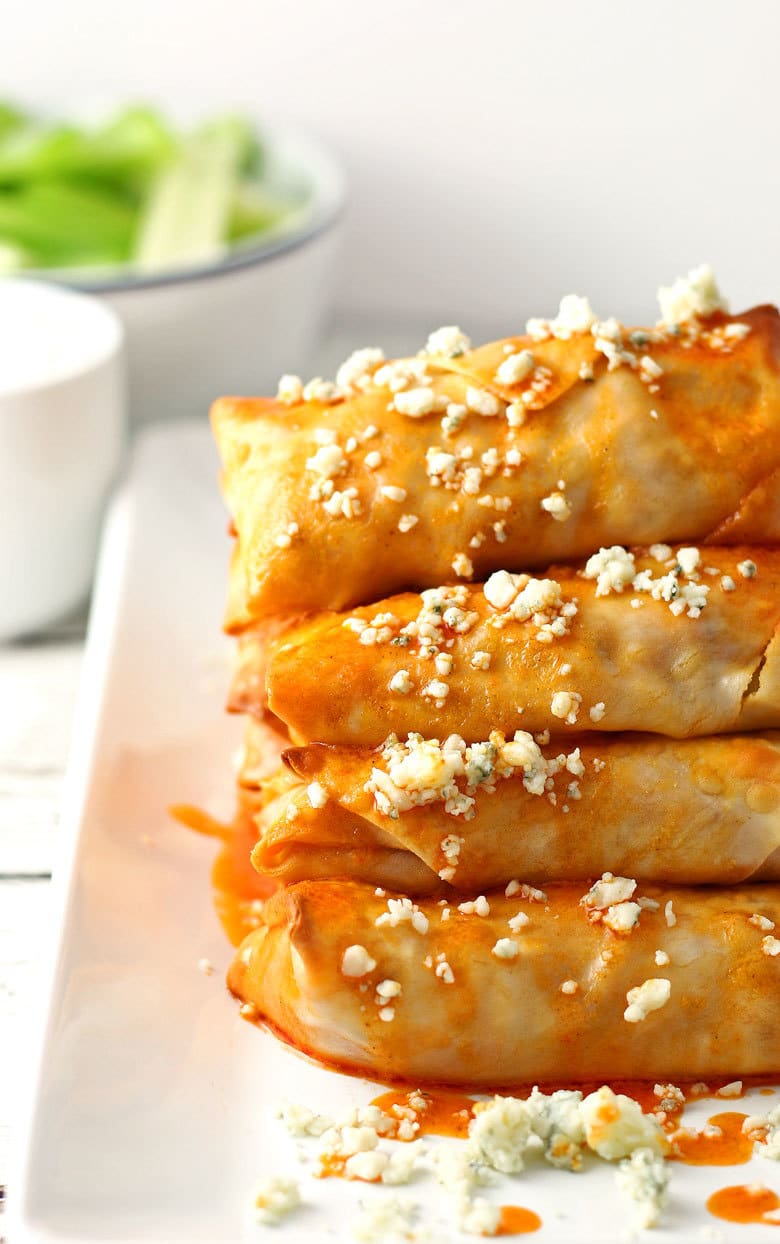 After the egg rolls are done baking, serve them with sides of additional buffalo sauce and some blue cheese crumbles drizzled on top. Ramekins of ranch and blue cheese dressing and a few celery sticks don't hurt either.
I like to drizzle the buffalo sauce all over the top of the eggs rolls, then dip it into more buffalo sauce followed by blue cheese dressing. I can't help but make it gluttonous I guess, whether I fry it or bake it.
If you love buffalo chicken egg rolls but want to attempt to eat healthier, this fun appetizer recipe is the next one you should try!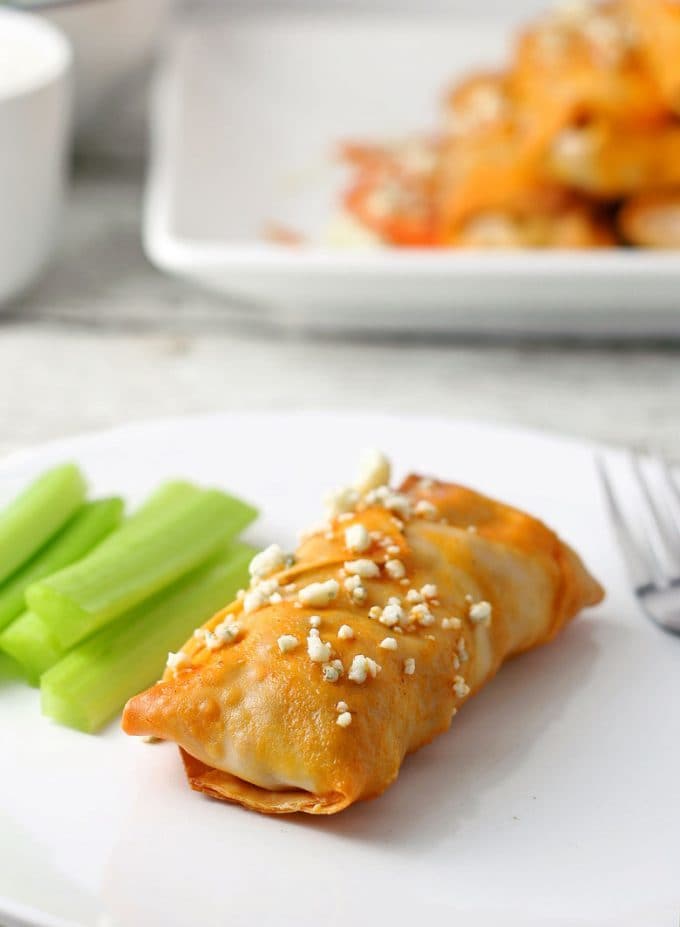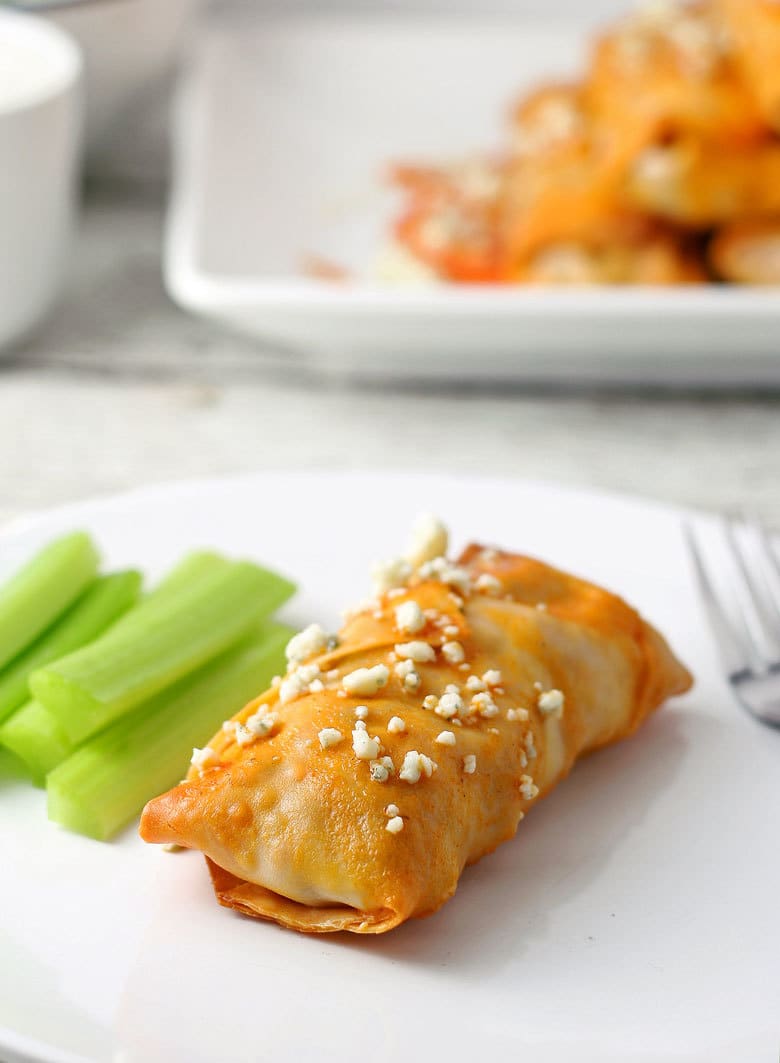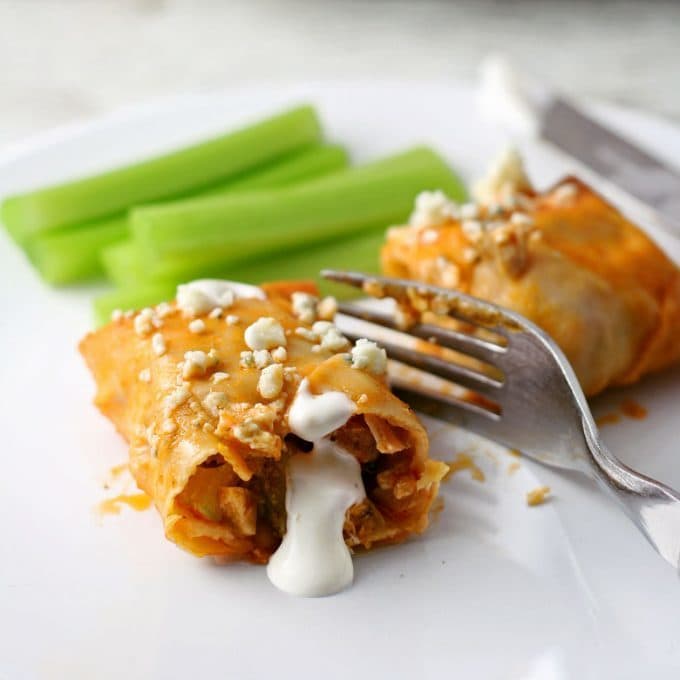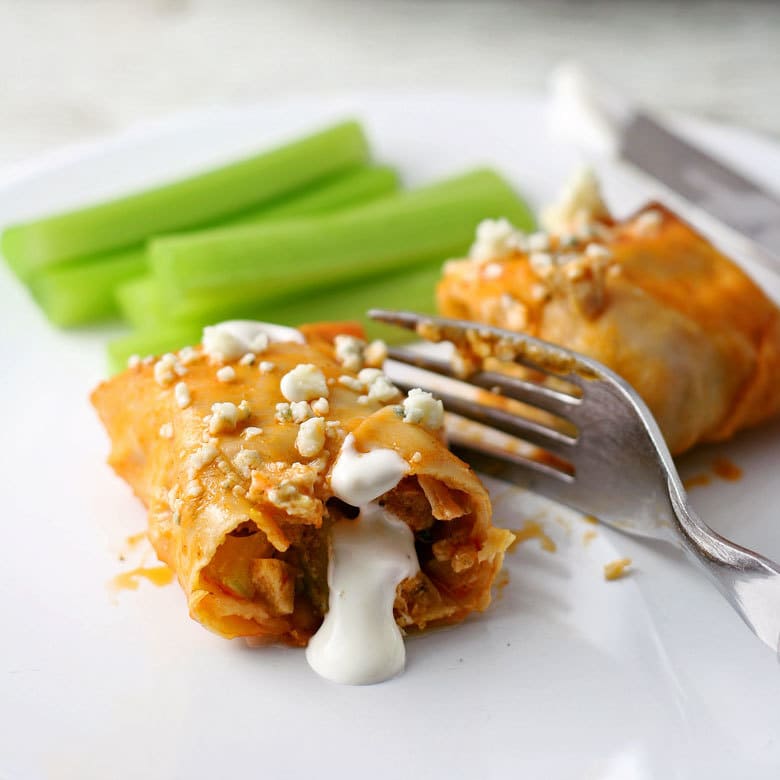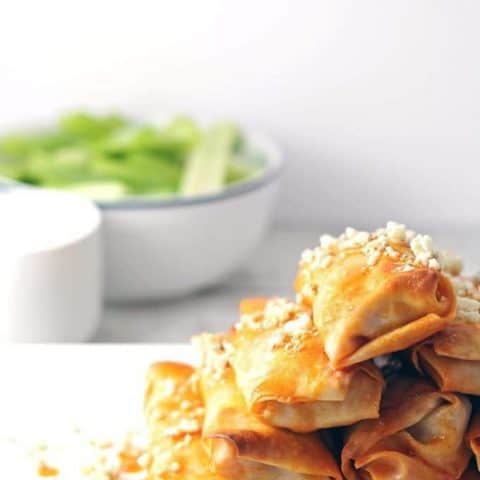 Baked Buffalo Chicken Egg Rolls
These baked buffalo chicken egg rolls are great as an appetizer or lunch! Pair them with blue cheese dressing and extra buffalo sauce! If you're looking for game day recipes, this is the perfect appetizer!
Ingredients
1 1/2 cups finely diced cooked chicken
1/2 cup diced celery
1/2 cup blue cheese crumbles
1/2 cup buffalo sauce
10 egg roll wrappers
olive oil
Instructions
Preheat oven to 400 degrees F. Line a baking sheet with parchment paper. In a small bowl, combine the chicken, celery, blue cheese crumbles and buffalo sauce.
Assemble the buffalo rolls. Position an egg roll wrapper like a diamond. In the middle of the wrapper, place 2 tablespoons of the chicken mixture. Fold the bottom corner up, then fold the two sides towards the center. Brush water on the top corner and the folded sides, then roll to close the egg roll. Repeat until all egg rolls are rolled.
Place egg rolls on baking sheet, spaced evenly apart. Brush the tops with oil. Bake for 10-12 minutes.
Recommended Products
As an Amazon Associate and member of other affiliate programs, I earn from qualifying purchases.
Nutrition Information:
Yield:

10
Serving Size:

1 egg roll
Amount Per Serving:
Calories:

176
Total Fat:

6g
Saturated Fat:

2g
Trans Fat:

0g
Unsaturated Fat:

4g
Cholesterol:

27mg
Sodium:

583mg
Carbohydrates:

19g
Fiber:

1g
Sugar:

0g
Protein:

10g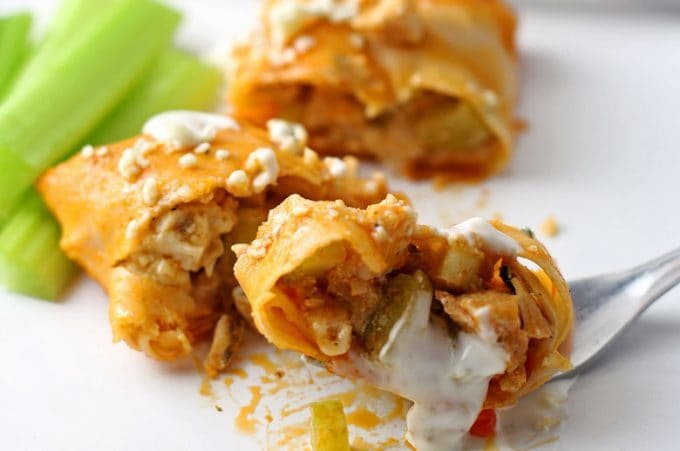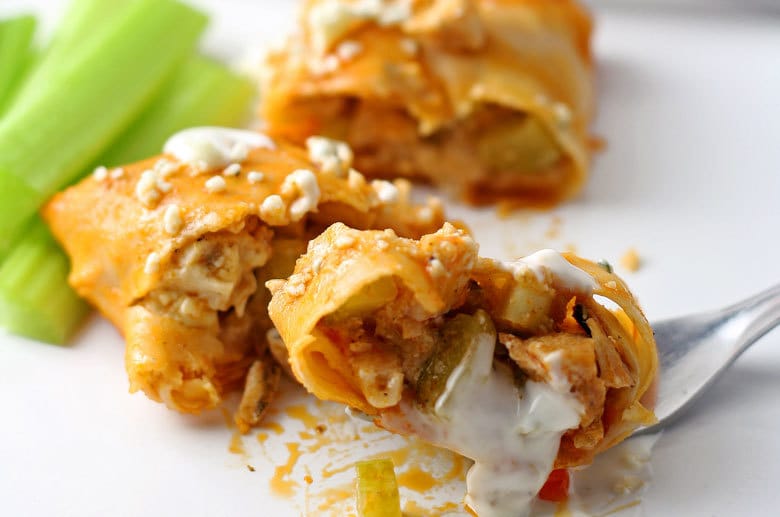 ---
Looking for more ways to use buffalo sauce? Check out these buffalo sauce recipes.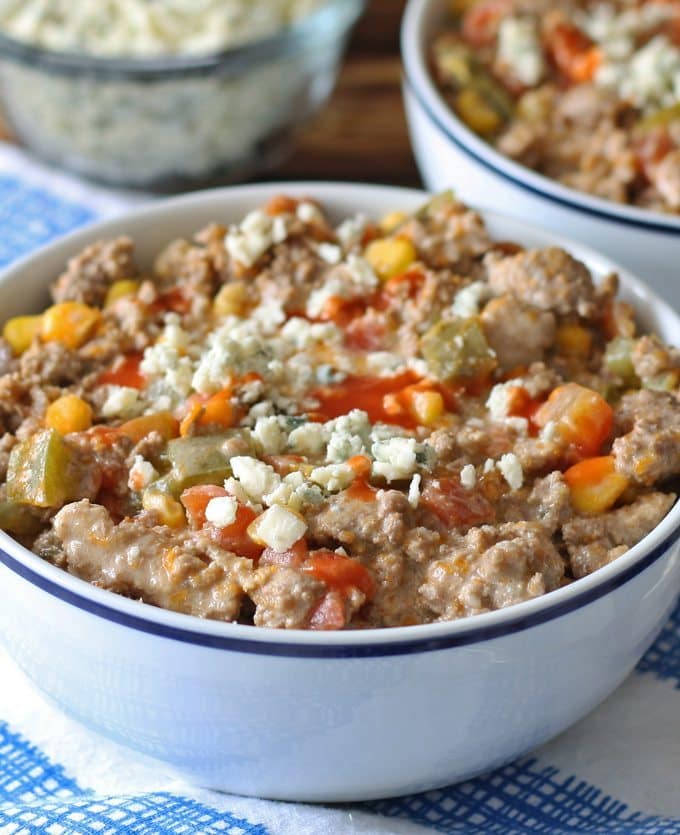 or this buffalo meatloaf!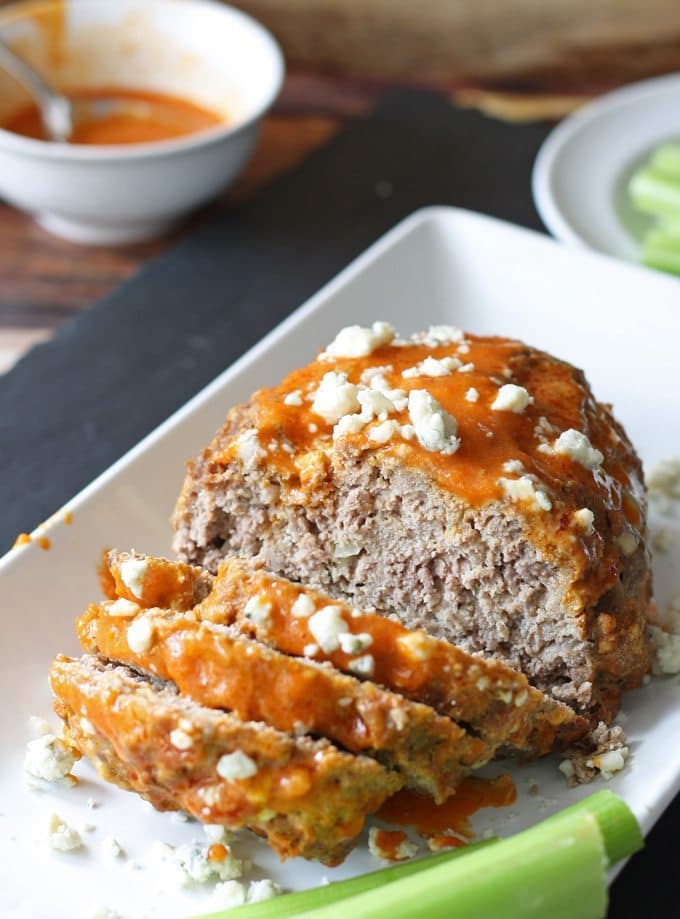 Looking for more baked appetizers? Try these baked chicken wings!