These baked buffalo chicken egg rolls are great as an appetizer or lunch! Serve them with blue cheese dressing and extra buffalo sauce!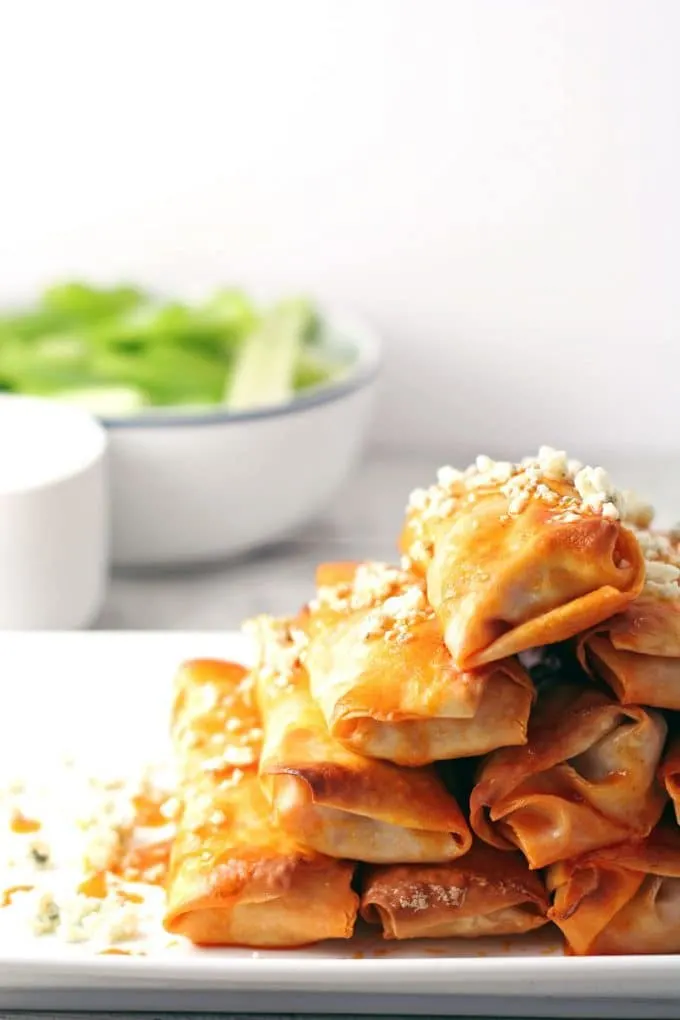 These baked buffalo chicken egg rolls are an absolute treat, perfect for any occasion, whether you're looking for a delightful appetizer or a satisfying lunch. The combination of tender chicken and zesty buffalo sauce is truly irresistible. To enhance the flavors, don't forget to serve them with a side of creamy blue cheese dressing and an extra drizzle of buffalo sauce!
I must confess, my previous job in the restaurant industry was not the most thrilling experience. That's why I found solace in creating this blog, an escape from the monotony of serving plates and taking orders. Recently, the restaurant where I used to work closed its doors in February. While I won't dwell on nostalgia, there are a few dishes from their menu that I can never forget. In fact, I've decided to embark on a culinary journey to recreate those cherished recipes and share my versions with you.
Among my favorite dishes were their fried egg rolls filled with chicken and buffalo sauce. However, as I prefer avoiding fried foods at home, I came up with a brilliant idea: baked buffalo chicken egg rolls. Not only do they offer the same delectable flavors, but they also help save on calories. And let's be honest, when you're indulging in buffalo sauce and blue cheese crumbles, cutting a few calories here and there is a smart move.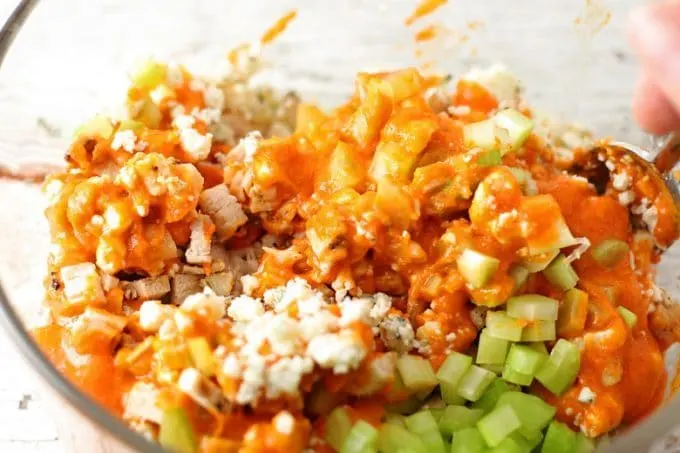 Serving Suggestions
Once these egg rolls are baked to perfection, serve them alongside extra buffalo sauce and a generous sprinkle of blue cheese crumbles. For an elevated experience, include ramekins of ranch and blue cheese dressing, along with some celery sticks. I personally enjoy drizzling buffalo sauce over the top of the egg rolls, followed by dipping them into more buffalo sauce and blue cheese dressing. It's a touch of gluttony that makes every bite irresistible, whether it's fried or baked.
If you're a fan of buffalo chicken egg rolls but wish to explore a healthier alternative, this delightful appetizer recipe is a must-try. It's a fantastic way to satisfy your cravings while still maintaining a balanced approach to your meals.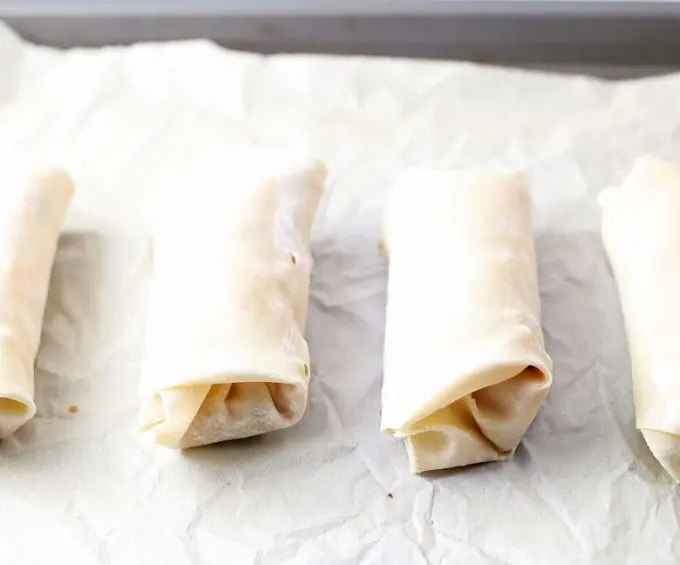 Baked Egg Roll Ingredients
Here are the ingredients you'll need to make these delicious baked buffalo chicken egg rolls:
Tender, finely diced cooked chicken measuring 1 1/2 cups.
Crunchy diced celery, adding a refreshing bite, with 1/2 cup.
Irresistible blue cheese crumbles, providing a tangy and creamy element, measuring 1/2 cup.
The star of the show, buffalo sauce, bringing its spicy and flavorful kick, with 1/2 cup.
10 egg roll wrappers, perfect for wrapping and holding all the scrumptious filling.
A drizzle of olive oil to brush on top, adding a touch of crispiness and golden color.
With these ingredients on hand, you're ready to create a mouthwatering batch of baked buffalo chicken egg rolls!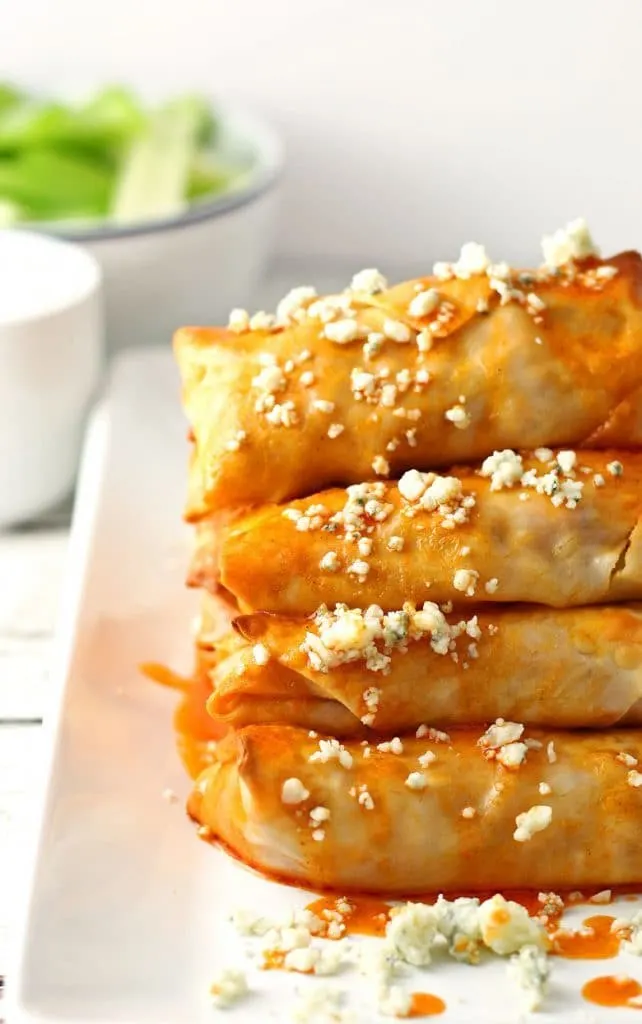 Ingredient Substitutions
Cooked Chicken: If you prefer a different protein, you can substitute the chicken with cooked and shredded turkey, pork, or even tofu for a vegetarian version.
Celery: For a crunch similar to celery, you can replace it with finely chopped bell peppers, such as green or red peppers. This will add a vibrant color and a slightly sweeter taste to the filling.
Blue Cheese Crumbles: If blue cheese isn't your favorite, you can swap it with crumbled feta cheese for a tangy and salty flavor. Alternatively, try shredded cheddar or Monterey Jack cheese for a milder and melty cheese option.
Buffalo Sauce: If you prefer a milder spice level, you can use a mild hot sauce or a barbecue sauce instead of buffalo sauce. Adjust the amount according to your taste preference. For a homemade alternative, you can mix hot sauce with melted butter and a dash of vinegar.
Egg Roll Wrappers: If you can't find egg roll wrappers, you can use spring roll wrappers as a substitute. These wrappers are typically thinner, but they will still work well for baking the egg rolls. Alternatively, you can make your own wrappers using phyllo dough or even tortilla wraps for a different twist.
Olive Oil: Olive oil can be replaced with melted butter or cooking spray for brushing the egg rolls. Both options will help achieve a golden and crispy exterior during baking.
Feel free to experiment with these ingredient alternatives to customize the baked buffalo chicken egg rolls to your taste preferences and dietary needs. Enjoy the delicious flavors!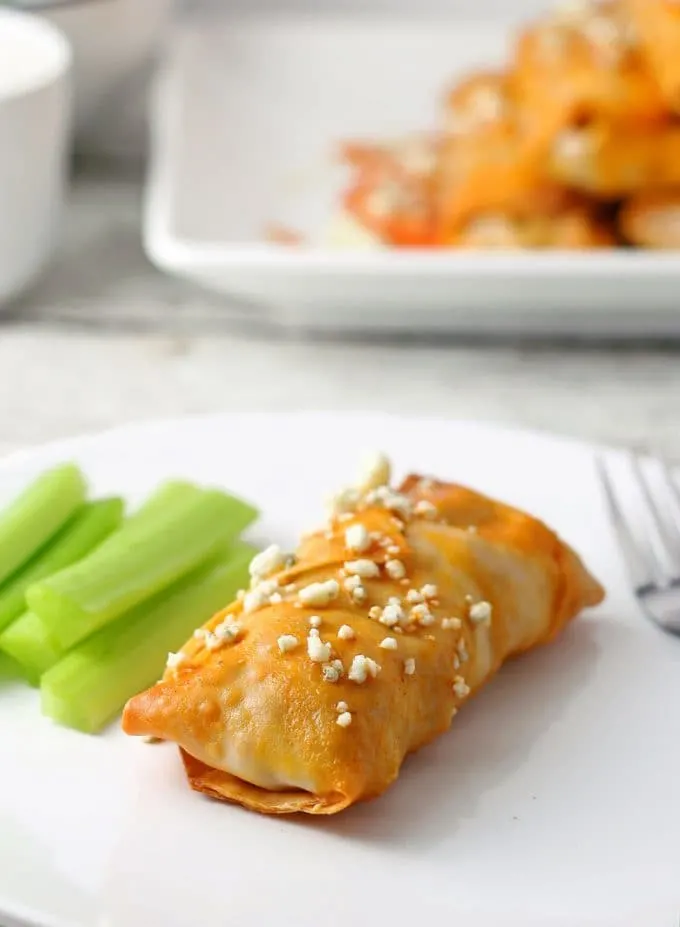 How to make crispy baked buffalo egg rolls
To create these mouthwatering baked buffalo chicken egg rolls, let's begin by preheating the oven to 400 degrees F and lining a baking sheet with parchment paper. This ensures that our egg rolls won't stick to the sheet while baking. In a small bowl, we'll combine the juicy chicken, crisp celery, tangy blue cheese crumbles, and, of course, the star ingredient, buffalo sauce. Give it a good mix until everything is well coated.
Now, it's time to assemble the buffalo rolls. Take an egg roll wrapper and position it in a diamond shape in front of you. Spoon approximately 2 tablespoons of the chicken mixture onto the middle of the wrapper. To fold the egg roll, start by bringing up the bottom corner and folding it towards the center. Then, fold the two sides inward to enclose the filling. To seal the roll, lightly brush water on the top corner and the folded sides, and then roll it up. Repeat this process until all the egg rolls are beautifully rolled and ready for baking.
Carefully place the assembled egg rolls on the prepared baking sheet, making sure to space them evenly apart. For a lovely golden finish, brush the tops of the egg rolls with a little oil. Now, let's pop them into the preheated oven and bake for around 10 to 12 minutes, or until they turn delightfully crispy and golden brown.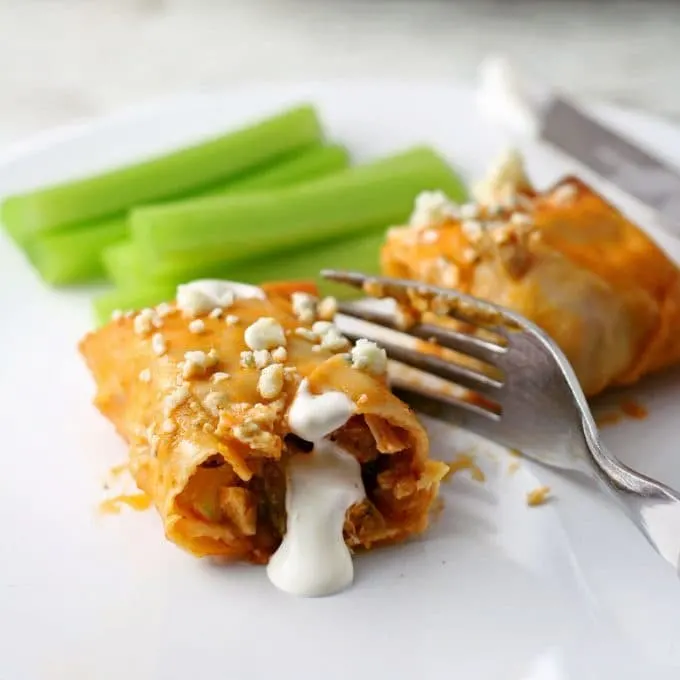 Once the egg rolls are baked to perfection, remove them from the oven and let them cool slightly. The aroma filling the kitchen will surely whet your appetite! To serve, arrange these delectable buffalo chicken egg rolls on a platter and get ready to indulge. For an extra burst of flavor, drizzle some additional buffalo sauce over the top. And let's not forget the creamy goodness—serve them alongside a bowl of blue cheese dressing. The combination of spicy buffalo sauce, tender chicken, and tangy blue cheese will surely have everyone coming back for more.
So, preheat that oven, gather your ingredients, and prepare for a culinary adventure that will leave you craving these baked buffalo chicken egg rolls time and time again. Enjoy the deliciousness and the satisfaction of a homemade appetizer that will surely impress your family and friends.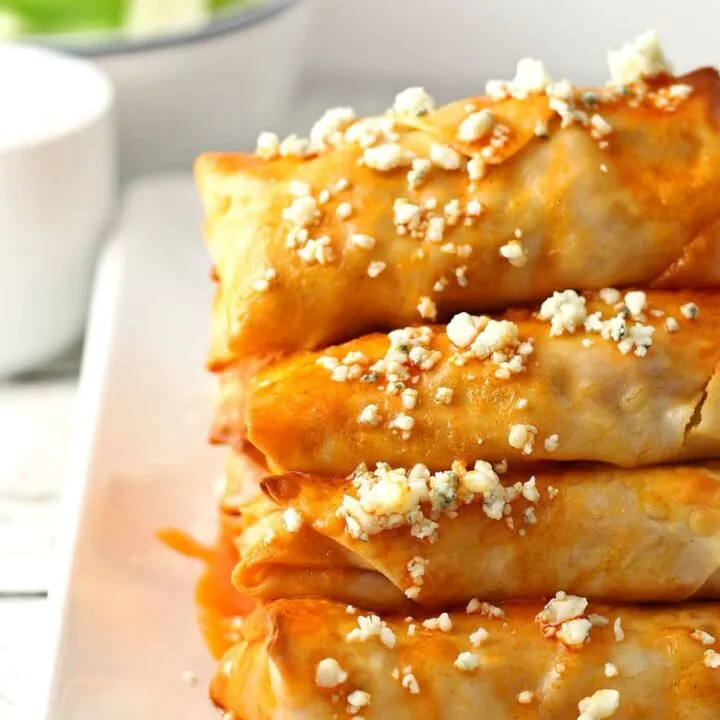 Baked Buffalo Chicken Egg Rolls
These baked buffalo chicken egg rolls are great as an appetizer or lunch! Pair them with blue cheese dressing and extra buffalo sauce! If you're looking for game day recipes, this is the perfect appetizer!
Ingredients
1 1/2 cups finely diced cooked chicken
1/2 cup diced celery
1/2 cup blue cheese crumbles
1/2 cup buffalo sauce
10 egg roll wrappers
olive oil
Instructions
Preheat oven to 400 degrees F. Line a baking sheet with parchment paper. In a small bowl, combine the chicken, celery, blue cheese crumbles and buffalo sauce.
Assemble the buffalo rolls. Position an egg roll wrapper like a diamond. In the middle of the wrapper, place 2 tablespoons of the chicken mixture. Fold the bottom corner up, then fold the two sides towards the center. Brush water on the top corner and the folded sides, then roll to close the egg roll. Repeat until all egg rolls are rolled.
Place egg rolls on baking sheet, spaced evenly apart. Brush the tops with oil. Bake for 10-12 minutes.
Recommended Products
As an Amazon Associate and member of other affiliate programs, I earn from qualifying purchases.
Nutrition Information:
Yield:

10
Serving Size:

1 egg roll
Amount Per Serving:
Calories:

176
Total Fat:

6g
Saturated Fat:

2g
Trans Fat:

0g
Unsaturated Fat:

4g
Cholesterol:

27mg
Sodium:

583mg
Carbohydrates:

19g
Fiber:

1g
Sugar:

0g
Protein:

10g