This no churn honey nut ice cream is easy to make and delicious on a hot summer day. Vanilla, almonds, walnuts and honey are perfect additions to 2-ingredient no churn ice cream!
Also, join me for Ice Cream Week – check out all of the delicious ice cream recipes my blogger friends have created!
Summer is here and it is HOT outside. The best way to beat the heat is by making ice cream!
I own two traditional ice cream makers (long story – who needs two, right?) but I just didn't feel like breaking them out. Luckily, I found this great tutorial on how to make no churn ice cream and used it to make this delicious recipe for no churn honey nut ice cream.
Also, it is Ice Cream Week, which means ICE CREAM FOR EVERYONE.
No Churn Honey Nut Ice Cream Recipe
Making no churn ice cream is incredibly simple. Start with sweetened condensed milk and heavy whipping cream. You can make ice cream with just those two ingredients but I needed to do more than that.
First, I added some Rodelle vanilla extract to the condensed milk to give it that extra special vanilla flavor.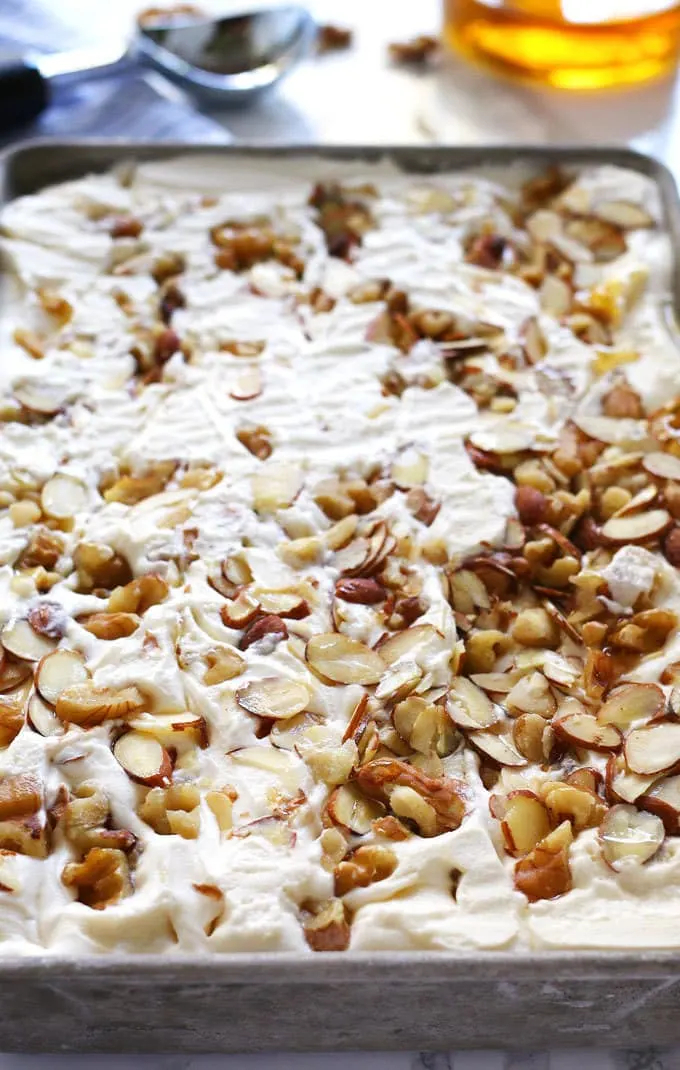 Then, when I was pouring the finished mixture into a pan, I added almond slivers and chopped walnuts. I also drizzled honey all over it. ALL over it – I just can't get enough honey.
In fact, I've even been known to sprinkle honey on all the ice cream I eat. I have a honey-problem.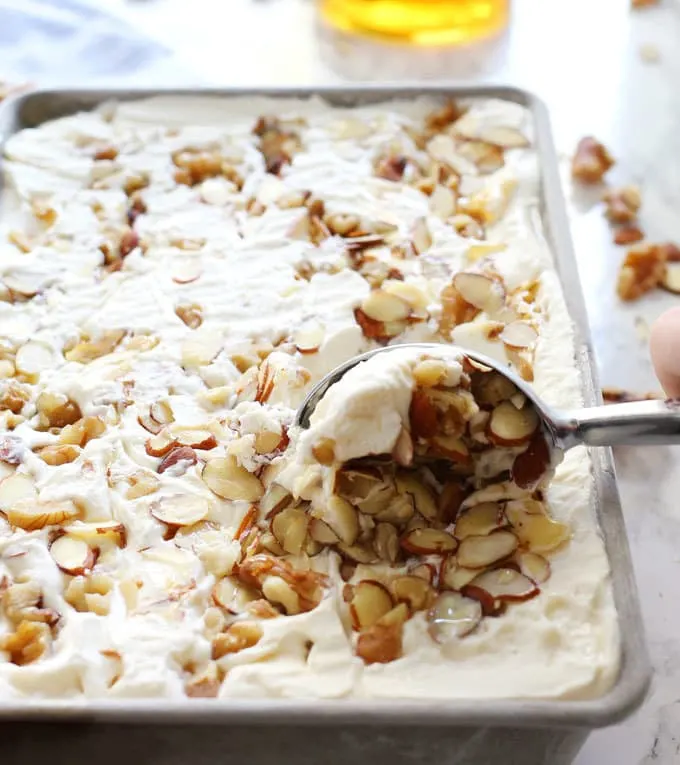 It only takes 6 hours for the ice cream to set in the freezer so you can make this in the morning and enjoy it and the end of the day.
In my opinion, that is way better than going to an ice cream shop or grocery store.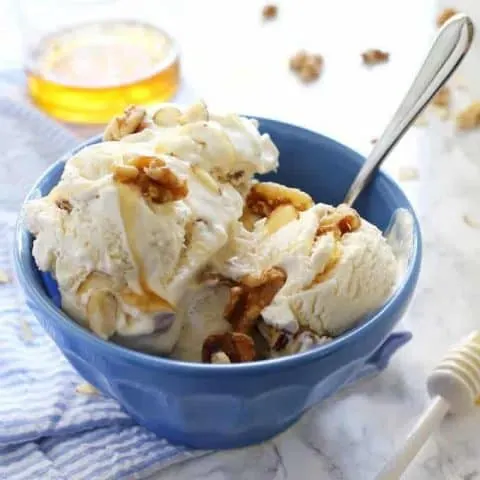 No Churn Honey Nut Ice Cream
Total Time:
6 hours
15 minutes
This no churn honey nut ice cream is easy to make and delicious on a hot summer day. Vanilla, almonds, walnuts and honey are perfect additions to 2-ingredient no churn ice cream!
Ingredients
1 (14 ounce) can sweetened condensed milk
1 teaspoon vanilla extract
2 cups heavy cream, cold
1/2 cup almond slivers
1/2 cup chopped walnuts
1/4 cup honey
Instructions
Pour the sweetened condensed milk into a large bowl. Stir in the vanilla extract.
In another bowl, whip the heavy cream until it holds stiff peaks (about 3 minutes). Mix a scoop of the whipped cream into the condensed milk and stir until combined.
Pour the remaining whipped cream into the condensed milk mixture and fold the mixture until combined.
Transfer half of the mixture into a freezer container. Sprinkle half of the almond slivers and half of the chopped walnuts on top. Drizzle half of the honey on top of the nuts.
Repeat with the remaining ice cream mixture, nuts and honey, pouring it on top of the first half. Drag a knife through the entire mixture to spread out the honey and nuts.
Press a piece of wax paper against the surface and freeze for at least six hours before eating. Mixture will keep for up to 2 weeks in the freezer.
Ice Cream Week Recipes
I love it when bloggers get together and get creative. There are some amazing recipes below and I urge you to look at them all, pin, comment, and make them all.
Yes, I know that's a lot of ice cream recipes to make but I think it's totally worth it.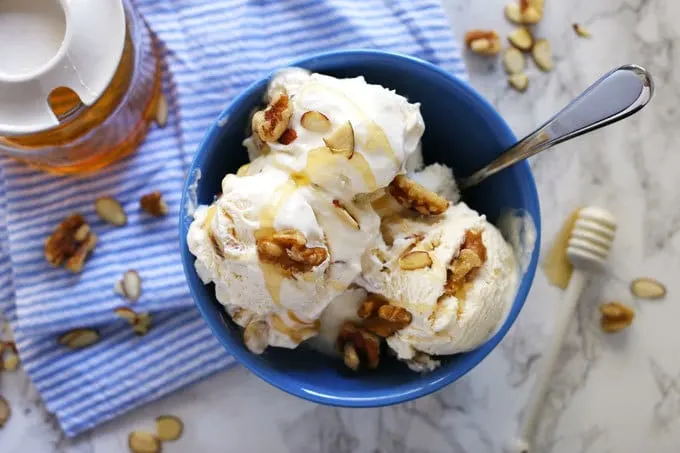 S'mores Ice Cream via A Cookie Named Desire
Coffee Chocolate Ripple Ice Cream via An Italian in my Kitchen
Unicorn Ice Cream via The Tip Toe Fairy
Tahini Ice Cream with Chocolate Chip Cookies via The Floating Kitchen
No Churn Honey Nut Ice Cream via Honey and Birch
Vegan Peanut Butter Chocolate Praline Crunch Ice Cream via Heart of a Baker
Peanut Butter Lovers Ice Cream via Cookie Dough and Oven Mitt
Cotton Candy Ice Cream via Homemade Hooplah
Butter Pecan Ice Cream via Zagleft
Bourbon Vanilla Bean Ice Cream via Vanilla and Bean
Mint Mojito Coffee Ice Cream via The Little Epicurean
Strawberry Banana Ice Cream via The Bitter Side of Sweet
Peanut Butter Ice Cream via Pretty Simple Sweet
Vanilla Rainbow Ice Cream via Go Go Go Gourmet
Lychee and Cherry Swirl Ice Cream via My Food Story
Brigadeiro Ice Cream via Olivia's Cuisine
Salted Pretzel Ice Cream with Chocolate and Peanut Butter via Cake Over Steak
Strawberry Black Sesame Ice Cream via Madeline Marie Blog
No Churn Caramel Chip Ice Cream via Fearless Dining
---
Looking for more dessert recipes?
Berry Compote for Two – perfect for topping ice cream!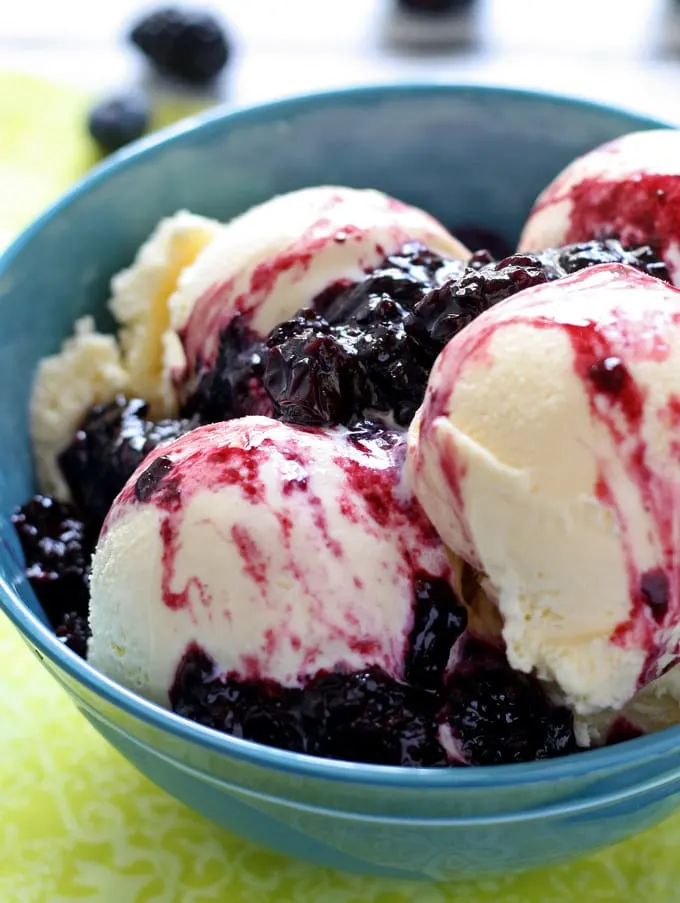 8 Great Coffee Ice Cream Recipes