Looking for an easy lunch sandwich? This hummus and veggie sammie is the answer to your lunch problems!
I have a confession to make. Cue the Foo Fighters…
I do not like avocado. I may have actually talked about this already – I'm not sure. Unfortunately (fortunately?) I talk a lot, even here, and some of my "shtufff" gets lost in the babble. But since this is a food blog and we are food lovers together, I thought I should talk about it one more time.
I can eat it in sushi as long as I don't know it's there. Kind of like sardines – I can eat them in salad dressings, as long as I can't see them. I once ate an entire Jimmy John's sub before I realized that it was someone else's vegetarian sub, full of avocado, and not my turkey sub. Once I realized it was full of avocado, I was like ewwwww. But while I was eating it, I thought it was pretty yummy. Who does that?
This crazy person.
So as I watched this crazy avocado toast craze that I keep seeing on the blogosphere, I got all sad because I can't get involved. No way am I going to eat avocado toast if I can see the avocado all squishy and mushy-like on the bread.
My solution is hummus toast. Equally mushy and squishy but for some reason I am not squeamish about it.
Go figure.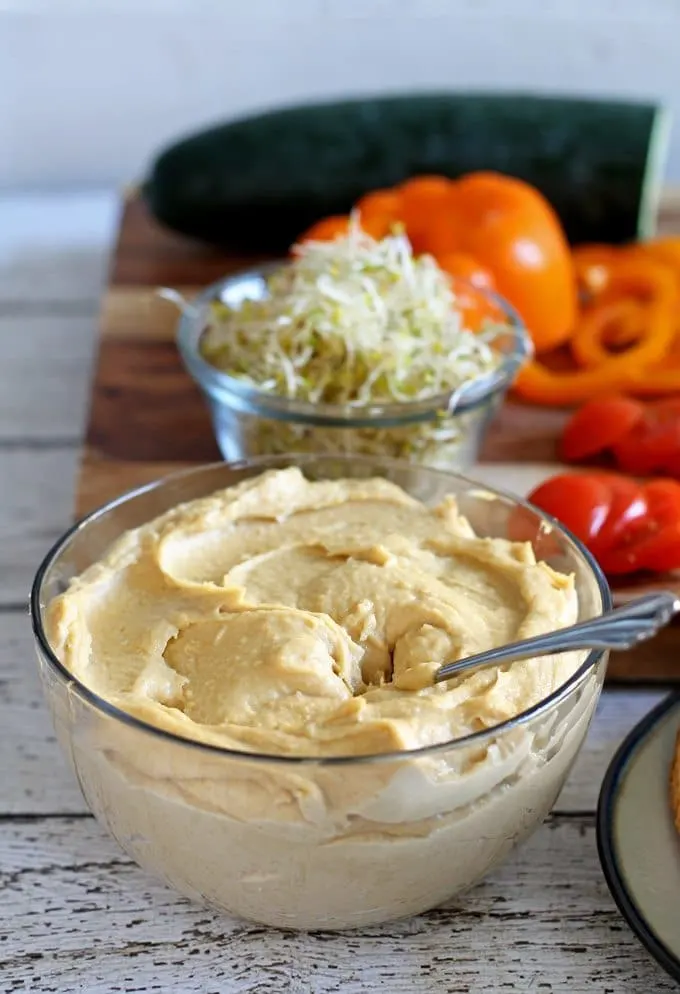 Hummus and Veggie Sammie
This sandwich is easy to make and perfect for lunch, or even dinner on a meatless Monday if you cram enough veggies on it. Start with your favorite hummus. You can go the store-bought route of course, but I much prefer to make my own at home. Store bought hummus is often packed with unnecessary preservatives and 10 letter words I don't know how to pronounce. It's so very easy to make at home that I find there is no excuse to buy it at the store.
Of course I have a favorite hummus recipe, and no, it is not one of my own. Sometimes, I am under the opinion that if it's not broke don't fix it and that is how I feel about this delicious hummus recipe. I usually use canned beans anyway and just make sure to rinse them well and make sure that the skins are not still attached.
Once you have picked your hummus, gather a crusty and sturdy piece of bread and slather on a hearty helping of it. Then top that with sprouts or microgreens – I like this order so that they stick to the hummus instead of falling off. Add the veggies on top of that. I like cucumber, bell pepper, onion and tomato but you could also add mushrooms, lettuce, you name it. Even avocado (ew.)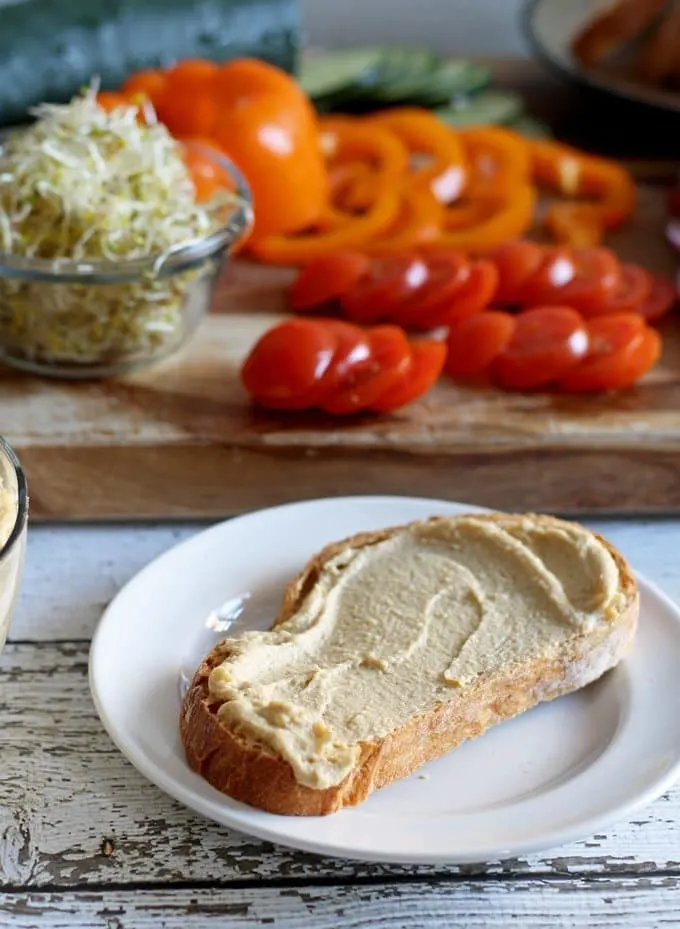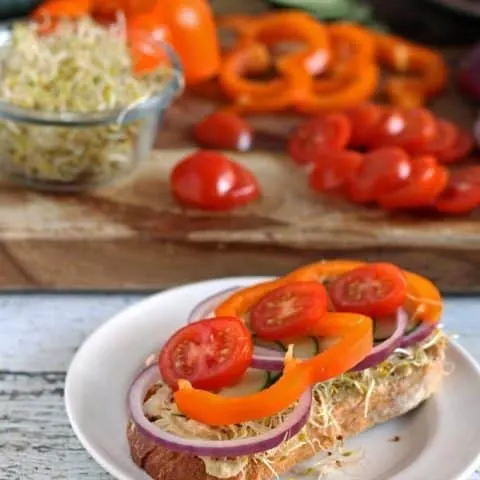 Hummus and Veggie Sammie
Looking for an easy lunch sandwich? This hummus and veggie sammie is the answer to your lunch problems!
Ingredients
1 slice of bread
hummus
sprouts or micro greens
various vegetables such as tomatoes, cucumbers, bell peppers, onion slices, mushrooms, avocado slices
Instructions
Spread hummus on your slice of bread. Top with sprouts/micro greens. Then top with your vegetables.
Nutrition Information:
Yield:

1
Serving Size:

1
Amount Per Serving:
Calories:

746
Total Fat:

39g
Saturated Fat:

6g
Trans Fat:

0g
Unsaturated Fat:

30g
Cholesterol:

0mg
Sodium:

442mg
Carbohydrates:

91g
Fiber:

35g
Sugar:

21g
Protein:

25g
Nutrition information is automatically calculated and may not be correct.