Try my easy basil roasted garlic tomato sauce today. This pasta sauce is thick and full of garlic and fresh basil. Serve it with your favorite pasta!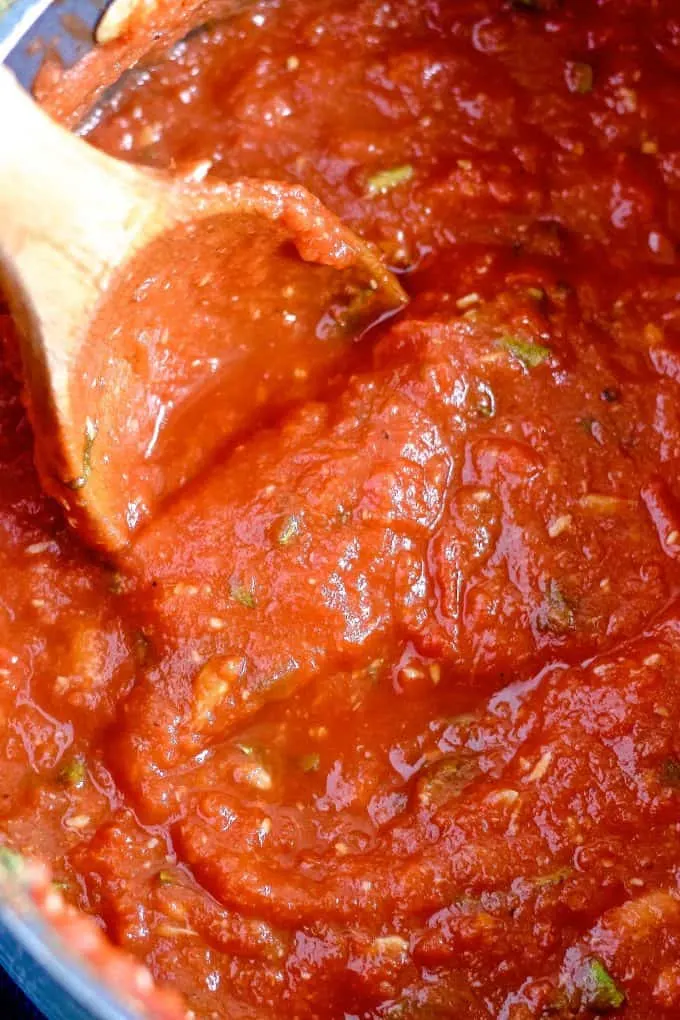 Last summer I was taking some photos at a local restaurant and one of the items was a roasted garlic dish.
It smelled heavenly.
Usually, when I am offered the food after I am finished photographing, I pass.
That day however, I said "Yes Please!" to the garlic dip and ate the whole thing.
I think a server or two were peering over my shoulder, hoping I would share… and I just couldn't.
I love garlic. I needed to eat it all.
As I headed home, hanging my head in shame because of my bad-sharing manners, I vowed to roast more garlic at home.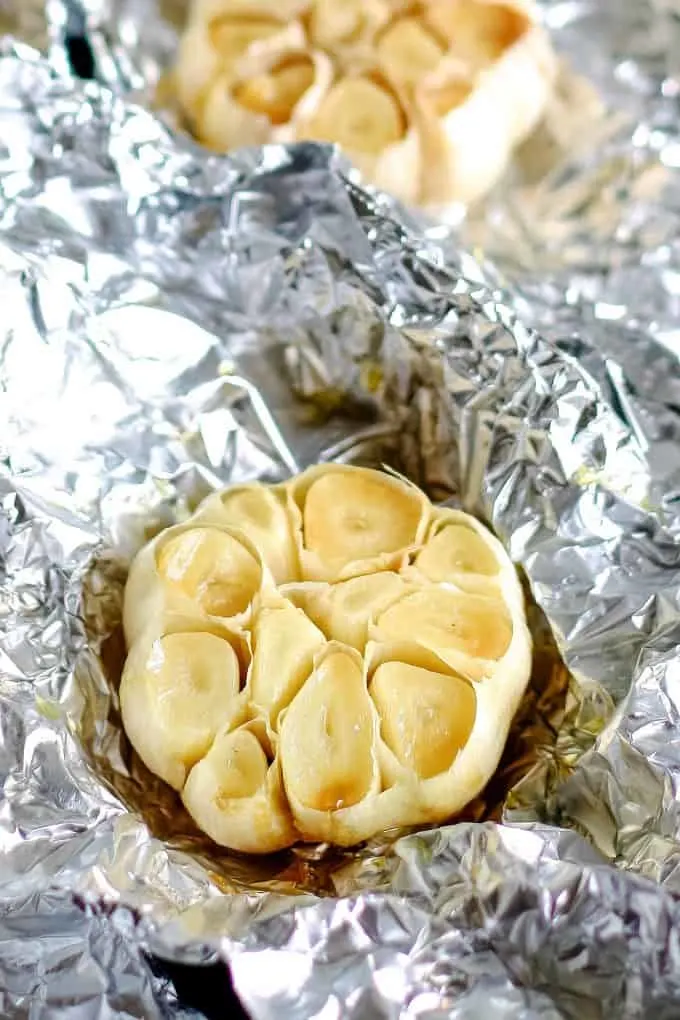 Easy Basil Roasted Garlic Tomato Sauce
When you add a love of roasted garlic to a green thumb for basil, you sometimes end up with a fantastic and easy pasta sauce.
As I was roasting the heads of garlic, I had flashbacks to taking those photos because Oh Man the smell!
Maybe that's what I like so much – not the garlic itself, but the smell?
Nah, it's the garlic which includes the smell.
This easy roasted garlic basil pasta sauce can be made quickly, which is awesome.
I pulled this recipe out of my bag of tricks this week because I had limited groceries and I wanted something with maximum flavor.
The hardest part about this recipe is roasting the garlic.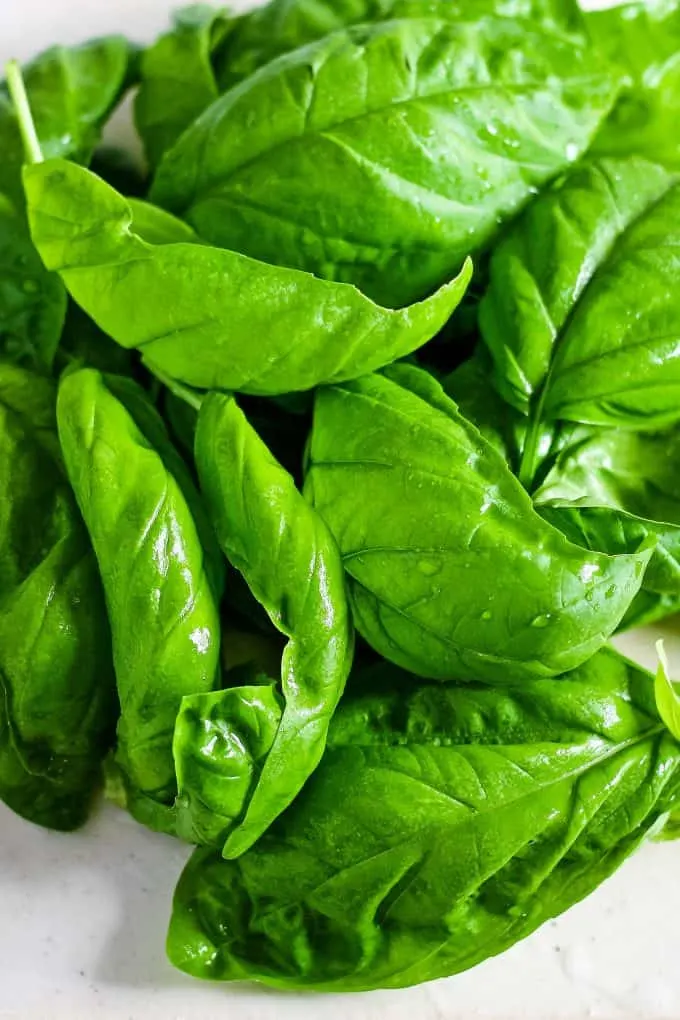 It takes a little bit of time in the oven but I like to use that time to do some of those "other things" on my to-do list.
Once that oven timer goes off, I start gathering up all of the other ingredients to this recipe and I get cooking.
Many store-bought pasta sauces include sugar which I think is to cut some of the acid.
Many moons ago, on some cooking show or another I saw the chef cut their sauce's acidity with honey and that has been my trick ever since.
Love me some honey.
If three heads of garlic seem like too many for you, don't be afraid to cut it to two.
It will still taste great but the basil may overpower the sauce. So much goodness in every bite either way.
Basil Roasted Garlic Pasta Sauce Ingredients
Heads of Garlic: Roasting the garlic heads is a key step in this sauce.
The garlic cloves are roasted until they become soft, sweet, and mellow in flavor.
Roasting transforms the pungent garlic into a rich, caramelized element that adds depth to the sauce.
Extra Virgin Olive Oil: Extra virgin olive oil is used to drizzle over the garlic heads before roasting.
It helps to soften the garlic and infuse it with a delicate, fruity flavor.
Crushed Tomatoes: Crushed tomatoes form the base of the sauce, providing a rich tomato flavor and a slightly chunky texture.
They are often canned for convenience and consistency in flavor.
Tomato Paste: Tomato paste adds thickness, richness, and concentrated tomato flavor to the sauce.
It contributes to the sauce's body and consistency.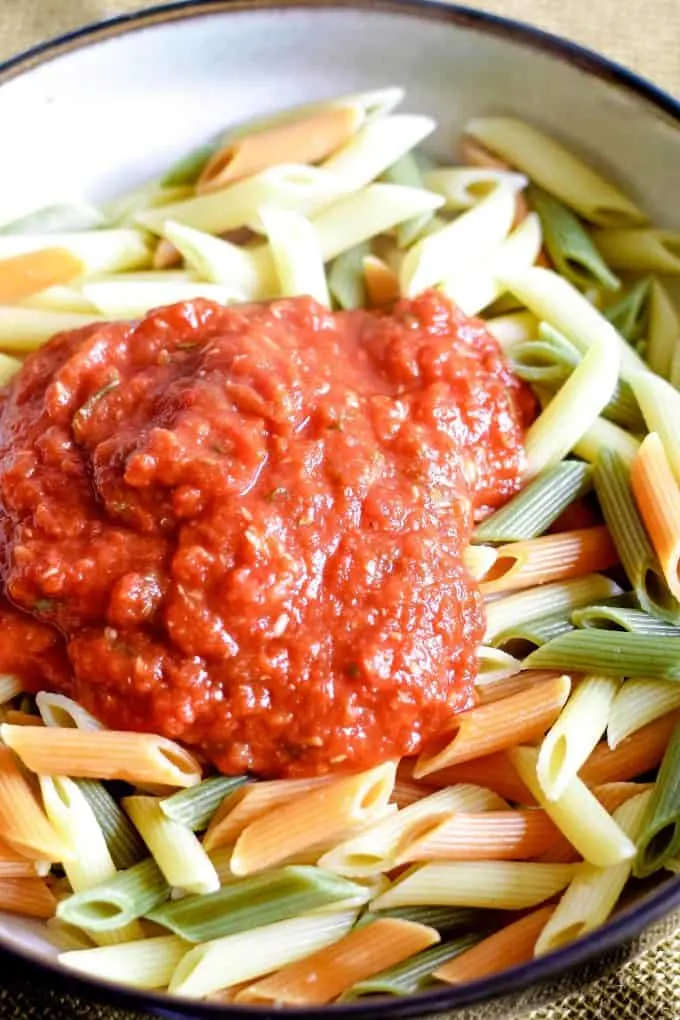 Fresh Basil: Fresh basil is a fragrant herb that adds a burst of herbal and slightly sweet notes to the sauce.
Diced basil enhances the sauce's freshness and balances the rich flavors.
Honey: Honey provides a touch of natural sweetness to the sauce, balancing the acidity of the tomatoes and the roasted garlic's depth of flavor.
Many pasta sauce recipes use sugar to cut the acid, but I prefer the subtle complexity that honey brings to the taste of this sauce.
Kosher Salt: Kosher salt is used to season the sauce and enhance the overall flavor profile.
It helps to balance the sweetness of the honey and the acidity of the tomatoes.
Black Pepper: Black pepper is added to taste, providing a gentle spicy kick that complements the other flavors.
It adds a layer of warmth and depth to the sauce.
This Basil Roasted Garlic Pasta Sauce combines roasted garlic's sweetness with the savory richness of tomatoes and the fresh brightness of basil.
The addition of honey and seasoning creates a harmonious balance of flavors, making it a delightful and versatile pasta sauce.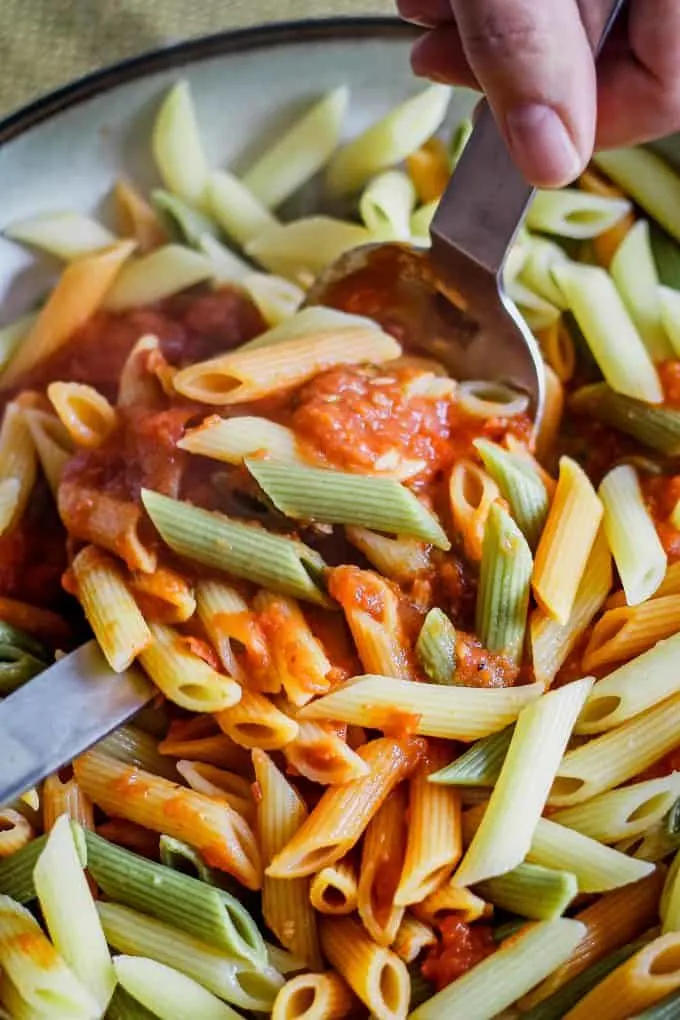 How to make this easy pasta sauce recipe
Preheat Oven and Prepare Garlic: Preheat your oven to 400 degrees Fahrenheit.
Use a sharp knife to cut off the top of each garlic head, exposing the cloves within.
Roast Garlic Heads: Drizzle 2 teaspoons of olive oil over each garlic head, then securely wrap them in foil.
Roast in the oven for about 35-40 minutes or until the garlic cloves become tender and caramelized.
Cool and Crush Garlic: Remove the roasted garlic heads from the oven and allow them to cool.
Once cool, use a spoon to remove the roasted garlic cloves from their skins. Crush the cloves in a small bowl to form a smooth paste.
Scroll down to see the full recipe below!
Combine Ingredients in Saucepan: In a medium saucepan, combine the crushed roasted garlic paste with the remaining ingredients—crushed tomatoes, tomato paste, diced basil, honey, kosher salt, and black pepper.
Stir the mixture well to ensure an even distribution of flavors.
Bring to a Boil and Simmer: Place the saucepan over medium heat and bring the mixture to a boil.
Once boiling, reduce the heat to a simmer.
Allow the sauce to simmer for approximately 20 minutes, stirring regularly to prevent sticking or burning.
Adjust Seasoning: Taste the sauce and adjust the salt and pepper levels to your preference.
This step ensures that the sauce is perfectly seasoned to your liking.
Your Easy Basil Roasted Garlic Pasta Sauce is now ready to be served, adding a deliciously roasted garlic and basil flavor to your favorite pasta dishes.
Can you freeze pasta sauce?
You can freeze pasta sauce for up to 6 months. Let it cool completely and then transfer it to freezer safe bags or containers.
To defrost frozen pasta sauce, place the sealed bag or container in a bowl of warm water until the sauce has been brought to room temperature.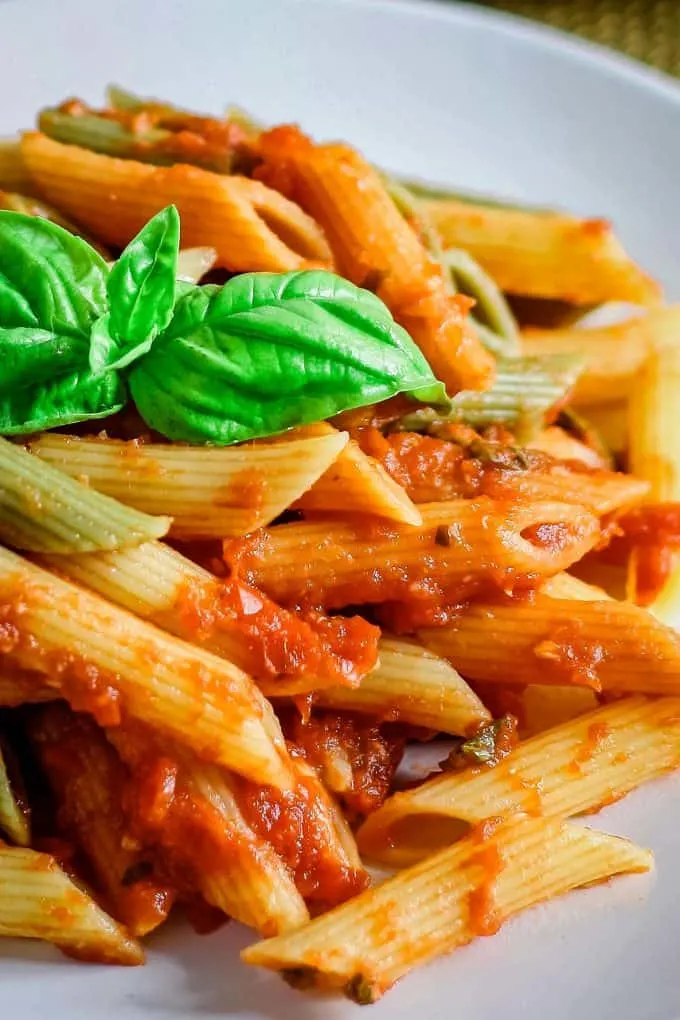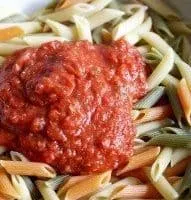 Roasted Garlic Basil Pasta Sauce
Total Time:
1 hour
5 minutes
Try my easy roasted garlic basil pasta sauce today. It's thick and full of garlic and fresh basil. Serve it with your favorite pasta!
Ingredients
3 heads of garlic
6 teaspoons extra virgin olive oil
28 ounces crushed tomatoes
6 ounces tomato paste
3 tablespoons diced basil
1 tablespoon honey
1 ½ teaspoon kosher salt
black pepper to taste
Instructions
Pre-heat oven to 400 degrees F.
Using a sharp knife, cut off the top of each head of garlic so the cloves are exposed.
Drizzle 2 teaspoons of olive oil over each garlic head, then wrap the garlic in foil.
Roast for 35-40 minutes, or until the garlic cloves are tender.
Remove from oven and let cool. When cool, use a spoon to remove the roasted garlic and crush in a small bowl.
In a medium saucepan, combine all of the ingredients. Stir well.
Bring to a boil, then reduce to a simmer.
Simmer for 20 minutes, stirring often.
Adjust salt and pepper to taste.
Recommended Products
As an Amazon Associate and member of other affiliate programs, I earn from qualifying purchases.
Nutrition Information:
Yield:

8
Serving Size:

1
Amount Per Serving:
Calories:

105
Total Fat:

4g
Saturated Fat:

1g
Trans Fat:

0g
Unsaturated Fat:

3g
Cholesterol:

0mg
Sodium:

596mg
Carbohydrates:

17g
Fiber:

3g
Sugar:

9g
Protein:

3g