The flavors in this quick bread recipe are perfect for fall! Make this apple almond cranberry quick bread for chilly autumn mornings or to bring to Thanksgiving dinner!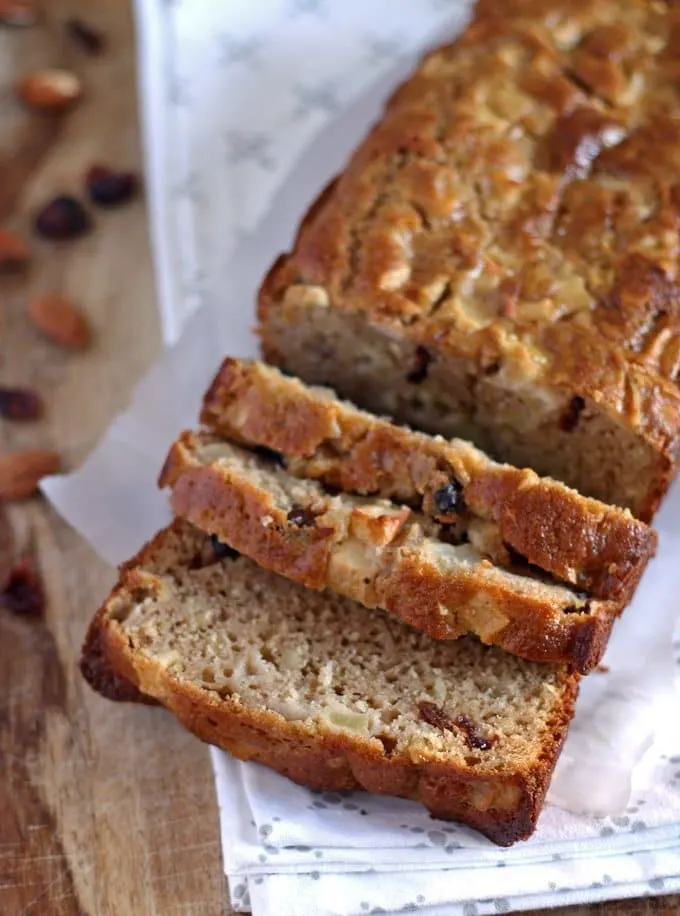 I just realized that we are only 3 weeks away from Thanksgiving. Yes, it is time for you and I to both freak out.
For the holidays, Mr. B and I have worked out a plan to switch off each year for both Thanksgiving and Christmas. It's my family's year for Thanksgiving which means lots of awesomeness. My family is full of food lovers and amazing cooks.
Each Thanksgiving my aunt and uncle host (they host Christmas day night too) which makes me very happy – my Uncle Charly makes the most amazing mashed potatoes. I'm sure everyone says that but I will go so far as to put the title "best" on his recipe.
Yes, I know that is a serious claim. I am a serious person so I totally get it. If I ever get his recipe there is a good chance I won't share it here and just hog it all to myself. If this happens, I will try not to fill my Instagram feed with pictures of me and bowls of mashed potatoes. No promises though.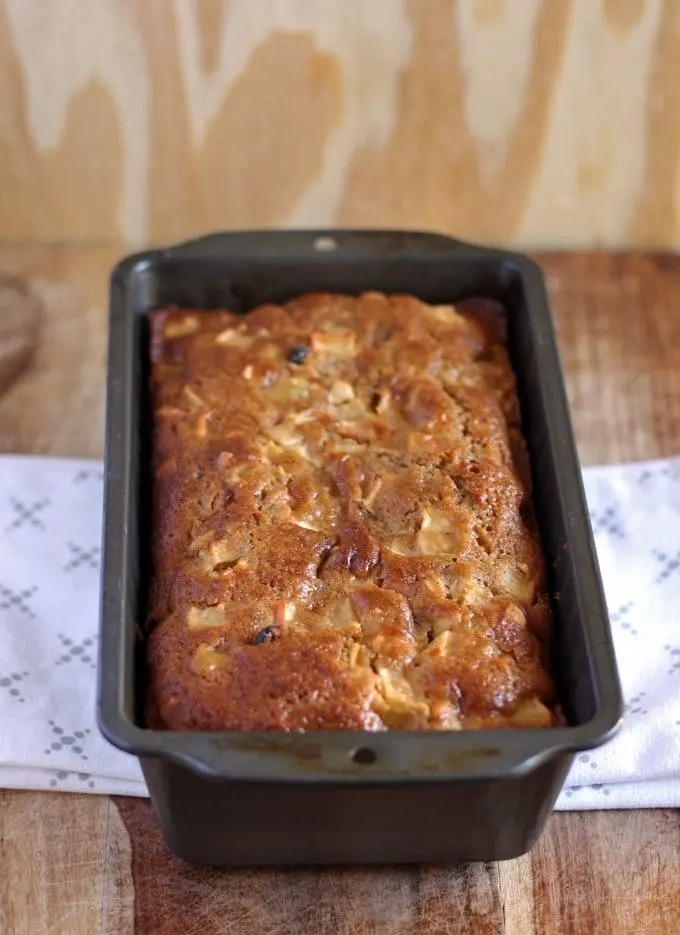 Anyway, back to Thanksgiving. Before I forget, I wanted to give y'all a quick reminder (or if you're new here since last Thanksgiving, some knowledge) of the massive Thanksgiving roundup I put together last year. 8 Great – The Thanksgiving Edition is a happy little collection of my favorite Thanksgiving. Give it a go if you're looking for a recipe to change your dinner up a bit.
While my aunt and uncle traditionally have prepared the entire Thanksgiving meal, as the kids have gotten older (and our parents too) we have all been participating in providing the Thanksgiving feast. I signed on to bring an appetizer or two. And because last year I spent Thanksgiving with Mr. B's family, and even though we will undoubtedly have too much food, I am also going to bring a loaf of this delicious quick bread.
I already had my cousin taste test it – she gave it two thumbs up. It's easy to make and ridiculously delicious. Don't just take my word for it – make a loaf of it yourself. 🙂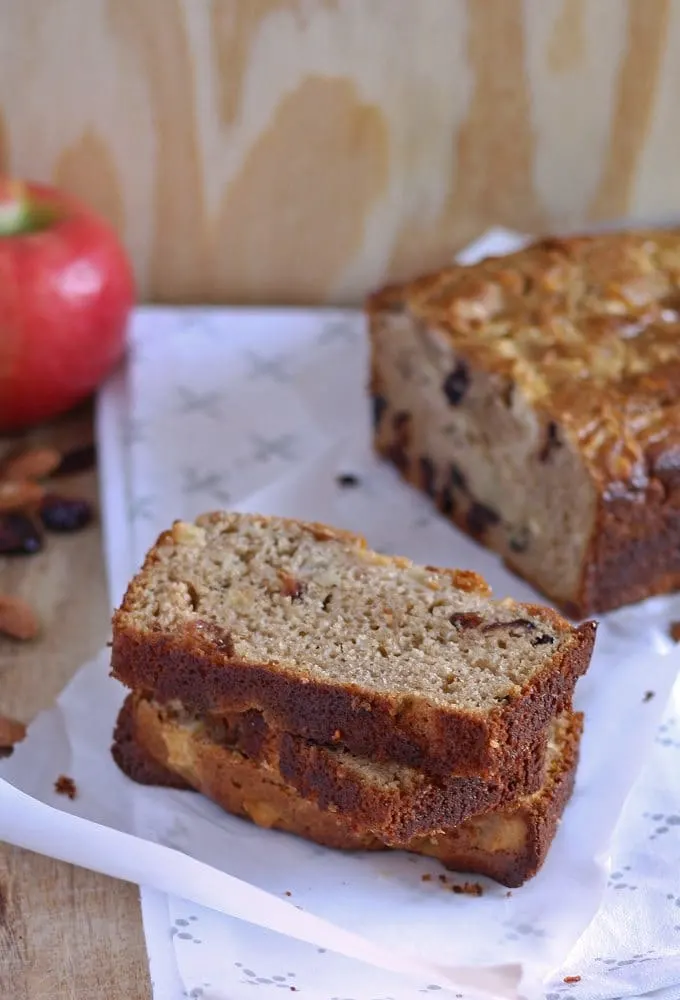 Apple Almond Cranberry Bread
To make this bread you will need 1 apple, some blanched almonds and dried cranberries (I got mine from Trader Joes). Dice up the apple so the pieces are about the same size as the cranberries. Honeycrisp apples are always my go-to for baking but I am going to try out some different apple varieties for Thanksgiving – I will update accordingly.
I modified a basic quick bread recipe from Baker Bettie – you should really check it out if you get a chance. It is the best explanation I have ever seen for baking quick bread.
The finished product is tasty and is very good on its own (meaning without butter or jam or jelly.) But if you feel the need to put something on it, I whipped up some honey, literally, and slathered that on a piece. Yum.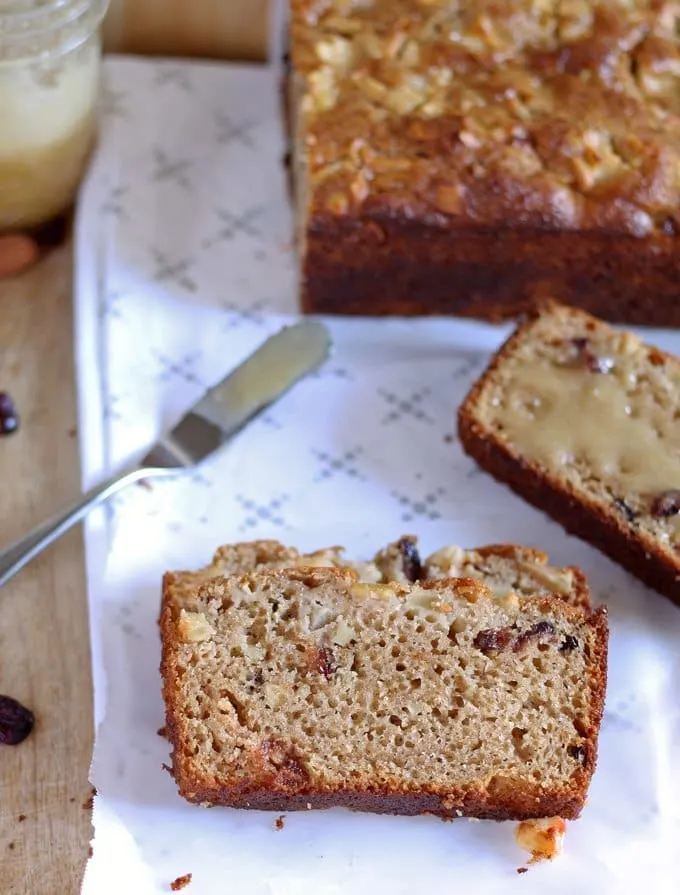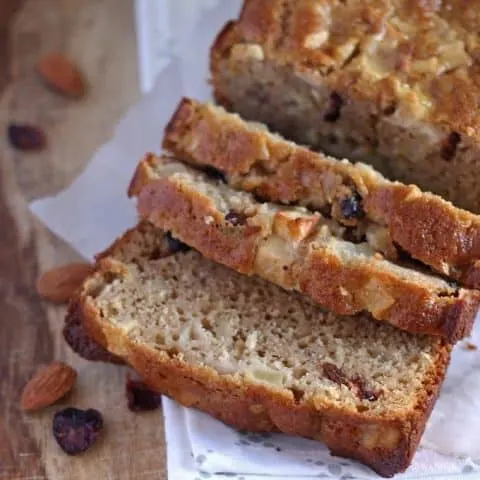 Apple Almond Cranberry Quick Bread
The perfect quick bread for fall - apples, almonds, and cranberries baked together into an easy bread loaf.
Ingredients
11/2 cups all purpose flour
1 tsp baking powder
½ tsp kosher salt
2 eggs
1 cup milk
¼ cup vegetable oil
1 cup brown sugar
1 teaspoon grated cinnamon
½ teaspoon grated nutmeg
1 apple, diced
½ cup dried cranberries
¼ cup chopped, blanched almonds
Instructions
Preheat oven to 350ºF. Lightly grease a bread pan and set aside.
In a large bowl, whisk together the flour, salt, baking powder, cinnamon and nutmeg. In the bowl of a stand mixer, whisk together the eggs, oil, milk and brown sugar. Pour the egg mixture into the flour mixture and stir together until just combined. Folk in the apple pieces, cranberries and almonds.
Pour into the prepared bread pan. Bake for 40-45 minutes or until a toothpick comes out clean from the middle. Let cool in pan before removing.
Notes
Modified from Baker Bettie.
Nutrition Information:
Yield:

8
Serving Size:

1
Amount Per Serving:
Calories:

563
Total Fat:

12g
Saturated Fat:

2g
Trans Fat:

0g
Unsaturated Fat:

9g
Cholesterol:

49mg
Sodium:

202mg
Carbohydrates:

102g
Fiber:

4g
Sugar:

34g
Protein:

12g
Nutrition information is automatically calculated and may not be correct.
SaveSave