A weekly family meal from your favorite bloggers featuring 5 main dishes, a breakfast, side dish, drink and 2 desserts. Leave the thinking to us and the eating to you!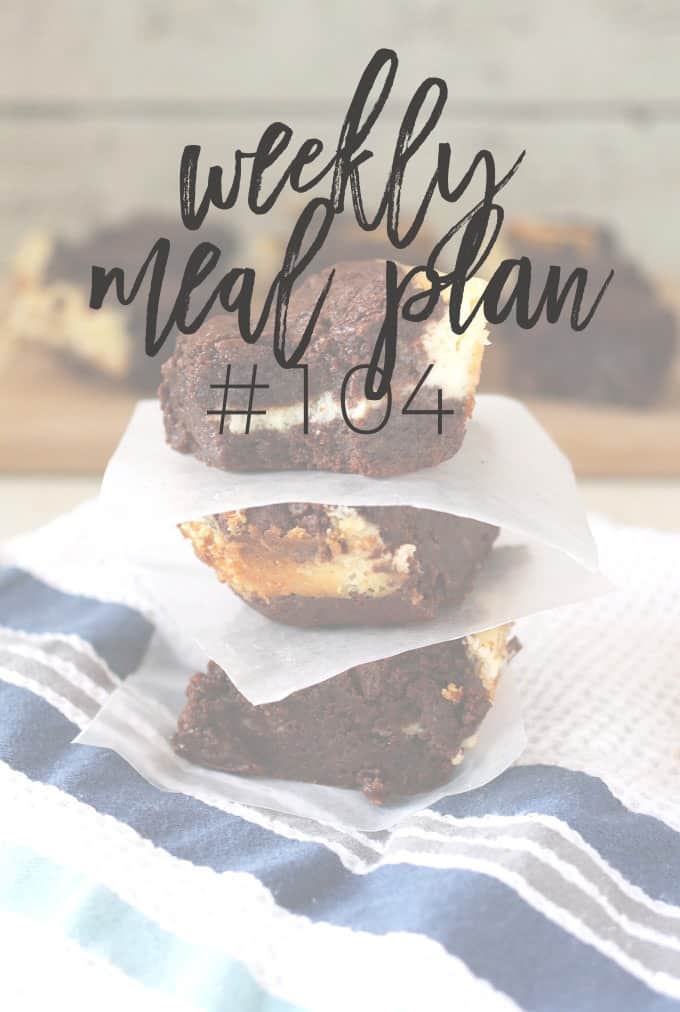 ---
Weekly Meal Plan #104
Main Dishes
Creamy Shrimp & Corn Soup – Diary of a Recipe Collector
This creamy cajun-flavored soup is filled with shrimp, corn, and potatoes.
Ready in about 30 minutes, it's a flavorful soup for any time of the year! This soup recipe opts for real potatoes in place of cream-of-potato-soup, and adds cream-style corn for a thicker consistency. If you're looking to cut back the calorie count for this recipe, use milk instead of half & half.
Either way, you won't lose flavor! And you certainly won't want to stop slurping up this creamy, spicy goodness!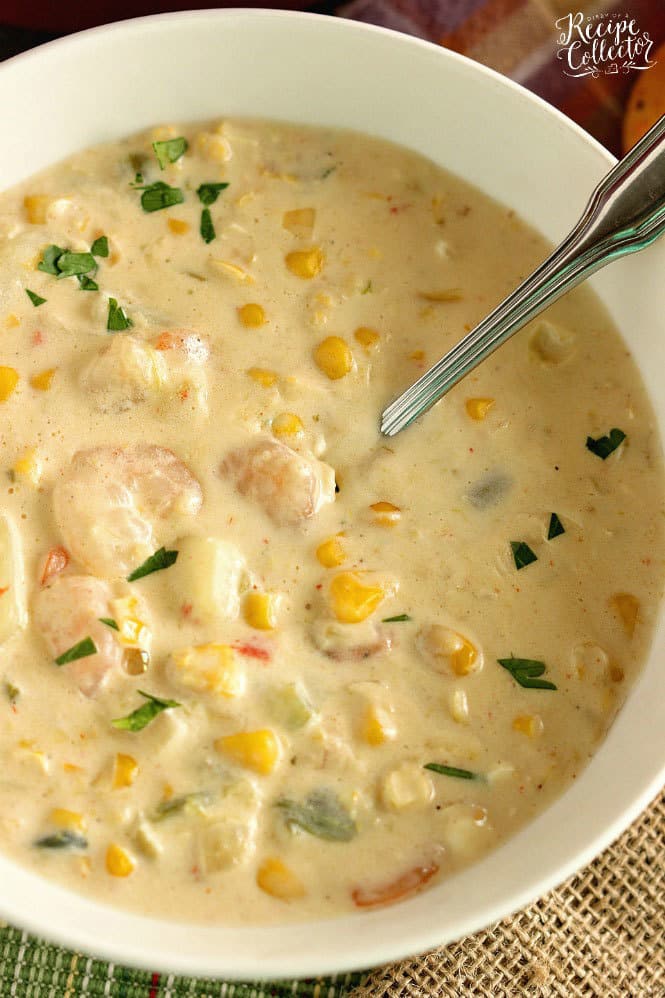 Spaghetti Squash Bolognese – Fake Ginger
Your favorite pasta dish made healthier! Rich paleo bolognese atop spaghetti squash noodles, you won't even miss the carby pasta!
This recipe is packed with bacon, ground beef, and ground pork. Veggies, tomato paste, and coconut milk bind the bolognese together for a crunchy, flavorful texture. If you have or want more carbs to play with, use spiralized sweet potato noodles in place of spaghetti squash.
Either way you choose, you'll love this saucy, meaty paleo meal!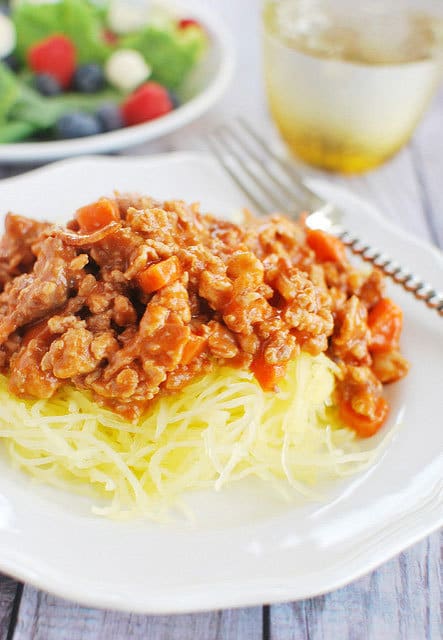 Tea Braised Chicken Thighs – Honey and Birch
Grab a plate and a fork, 'cause you're going to want to dig into this tea braised chicken thighs dinner as soon as possible!
Oolong tea provides a smooth subtly earthy flavor in this chicken recipe roux. And carrots and cipollini onions compliment the oolong teas' earthy flavor perfectly! Finally, rosemary & thyme tie this dish together, creating a hearty meal in just over an hour.
Boom. Delicious dinner!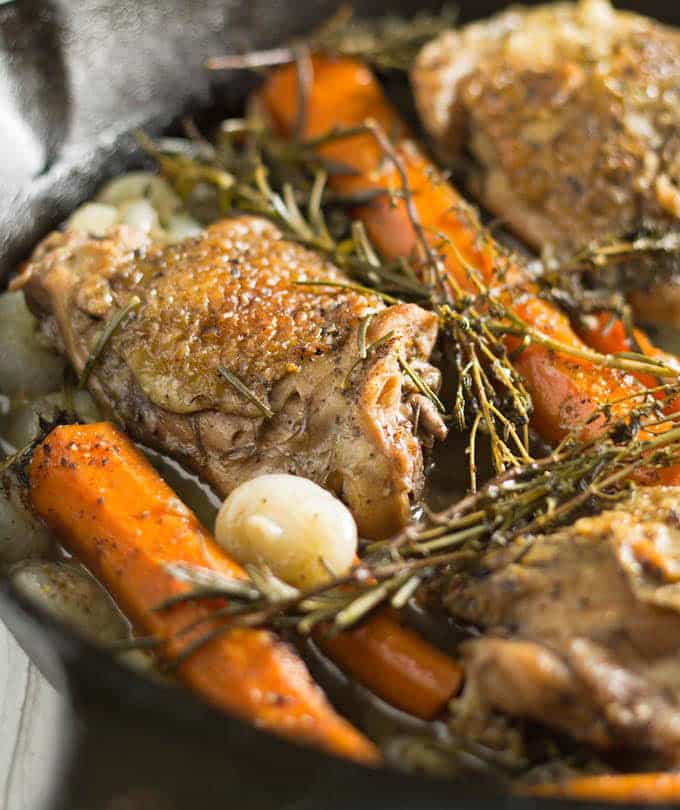 Chicken Caesar Pasta Salad – Melanie Makes
This deliciously easy Chicken Caesar Pasta Salad takes just 25 minutes to prepare and is the perfect weeknight dinner.
Chicken, shaved Parmesan cheese, rotini, and cherry tomatoes adorn crisp romaine leaves before being drizzled with a homemade Caesar dressing. This Chicken Caesar Pasta Salad is 100% main-dish-worthy and makes getting dinner on the table so easy!
If you need more to feed your family, pair this salad with Melanie Makes' lasagna rolls or shrimp parmesan sandwiches!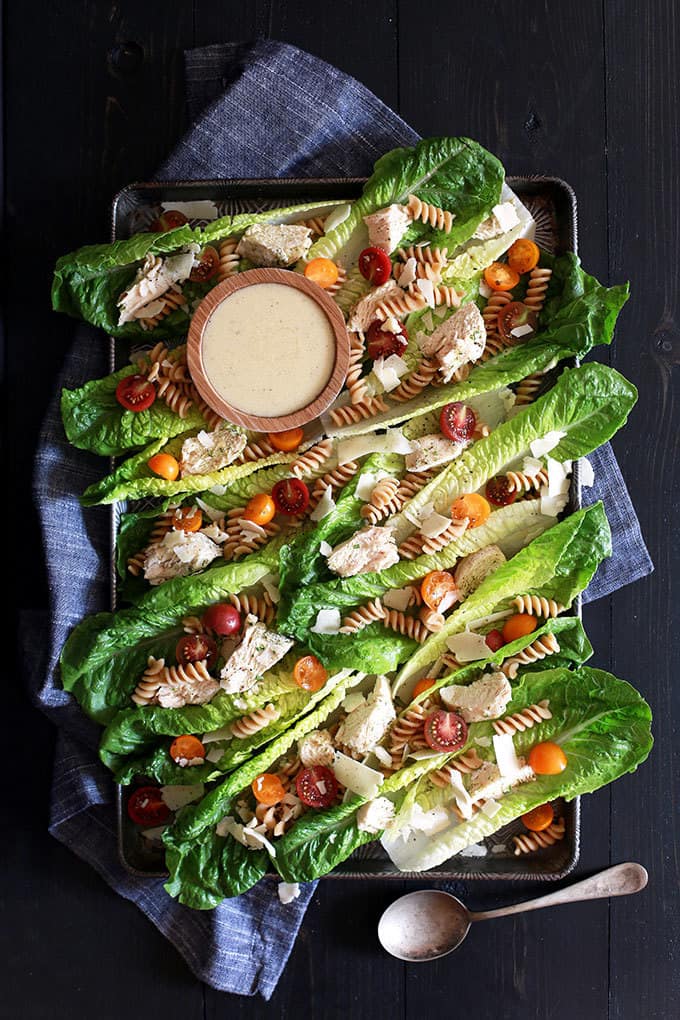 Sweet Potato Black Bean Burrito – NeighborFood
These Sweet Potato Black Bean Burritos loaded with chicken, cheese, and rice are perfect for using up your leftovers.
This recipe also makes a great freezer burrito for quick lunches or dinners throughout the week! These burritos combine rotisserie chicken, cilantro rice, chipotle black beans, maple roasted sweet potatoes (with a little chili powder and smoked paprika added!), and a layer of monterey jack cheese. The combo is delicious!
Great texture and a ton of protein to keep you full all day. Serve with a little salsa verde and sour cream to complete the meal!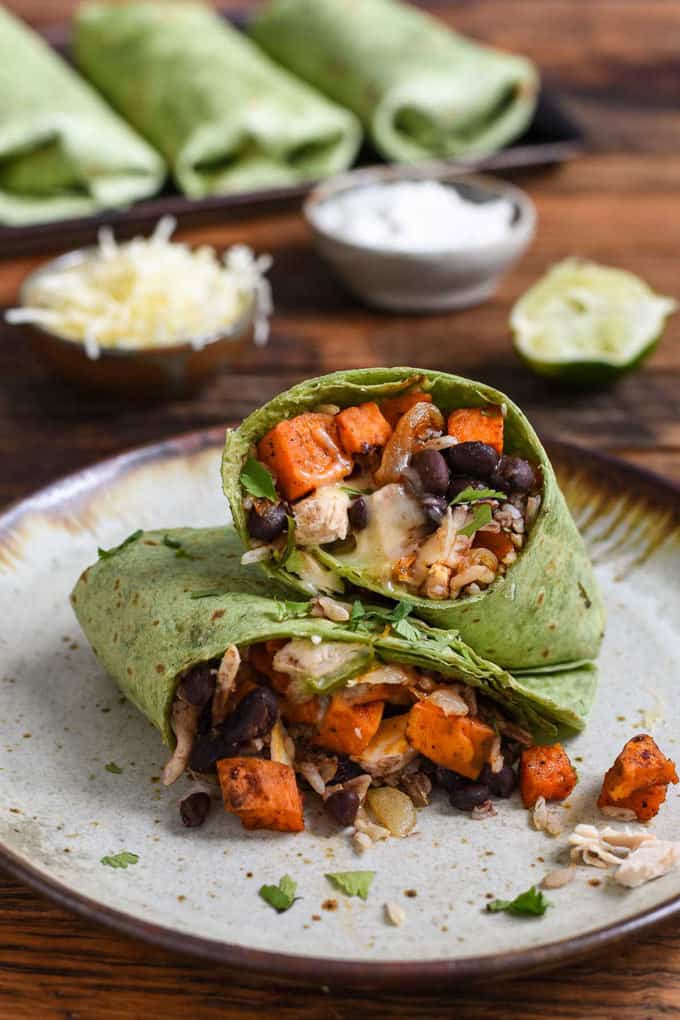 Breakfast
Peanut Butter Breakfast Banana Splits – NeighborFood
These Honey Peanut Butter Breakfast Banana Splits bring a classic combo to the breakfast table for an easy and fun meal! The peanut butter, bananas, and honey feel like a special treat but are still a wholesome & filling option.
It'll take you a whopping 5 minutes to toss this breakfast recipe together, making it supreme for busy back-to-school mornings, or a quick snack for when the kids come home from school with a bad case of the hangries.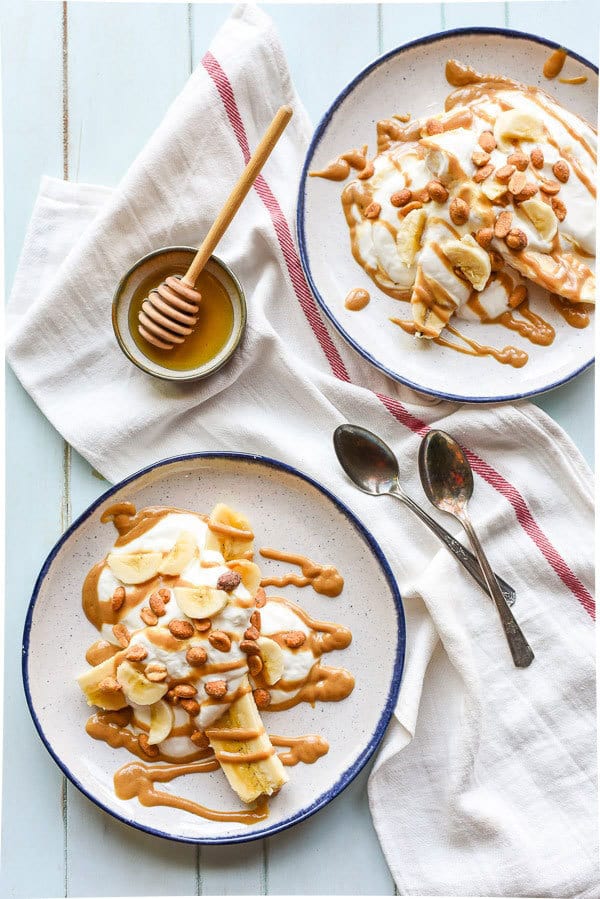 Side Dish
Parmesan Crock Pot Sweet Potatoes – Diary of a Recipe Collector
Packed full of garlic and parmesan flavor, this recipe is the easiest & quickest weeknight side dish (or holiday side dish)!
Conveniently made in a crockpot, this recipe is a working mom's best friend. Fill your home with this garlicky aroma, and fill your bellies with this savory sweet potato side dish. Paired perfectly with baked chicken or pulled pork sandwiches!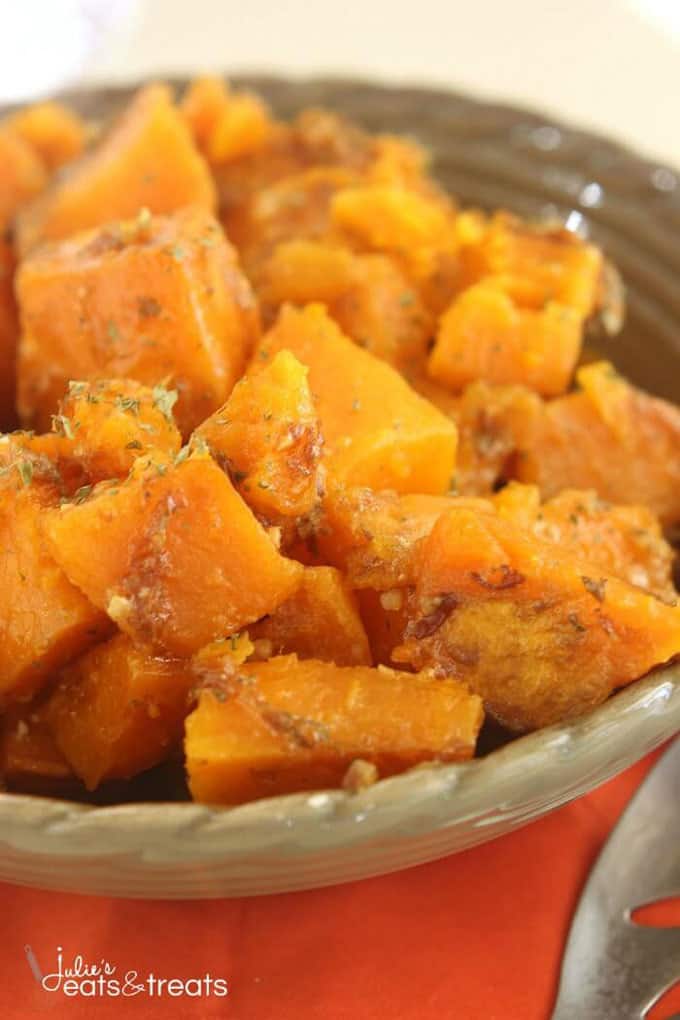 Snack
Animal Cookie Snack Mix – Melanie Makes
This Animal Cookie Snack Mix is popular with kids & parents alike. Freshly popped popcorn is tossed with animal crackers, frosted animal cookies, miniature fruit marshmallows, mini pretzels, and peanuts for the perfect sweet & savory snack mix.
Not only great for those after-school tummy rumbles, this snack is a great option for birthday parties & baby showers as well. Simply fill a large glass jar, add a scooper, and let everyone serve themselves!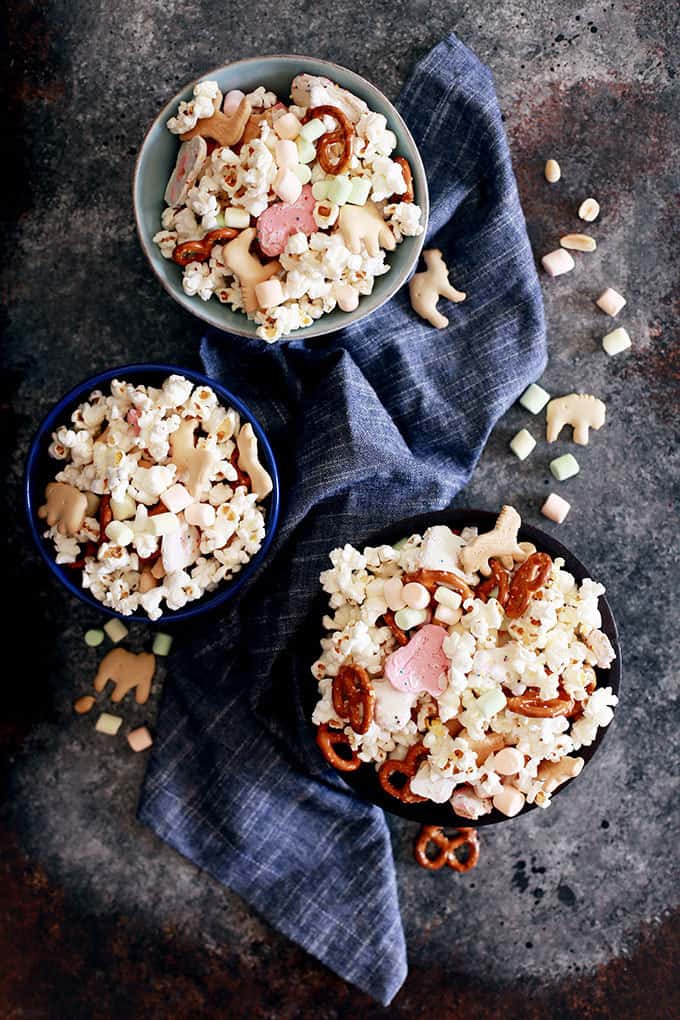 Dessert
Cream Cheese Fudge Brownies – Honey and Birch
It's nearly impossible to turn down a good brownie. And you won't be able to say no to these fudgy brownies stuffed with a cream cheese filling!
These cream cheese fudge brownies are decadent and delicious! A smooth cream cheese layer is sandwiched between two layers of chocolate fudge. Indulge yourself in just 30 minutes with this guilty-pleasure brownie recipe!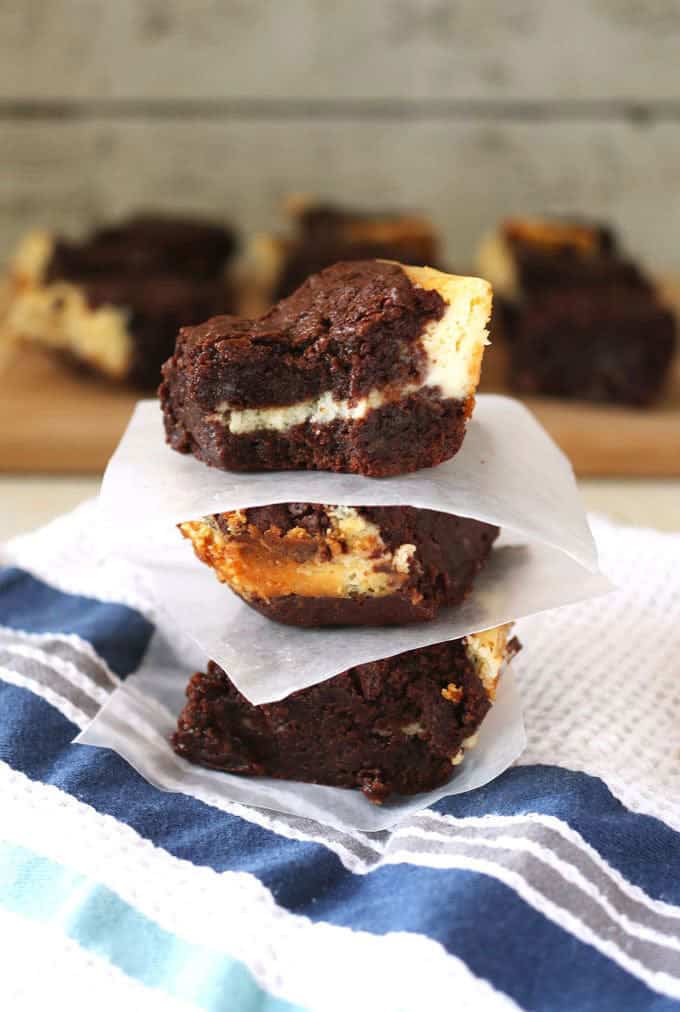 .
Apple Spice Cupcakes – Fake Ginger
Apple Spice Cupcakes are so yummy topped with spiced vanilla frosting and cinnamon apple chips! The perfect fall treat!
Grated apples are gently folded into this cupcake batter with loads of cinnamon spice for a decadent autumn flavor that we all crave year-round. This recipe is a great after-school-treat for the kiddos, or a tasty pairing with your favorite hot apple cider relaxing at a bonfire!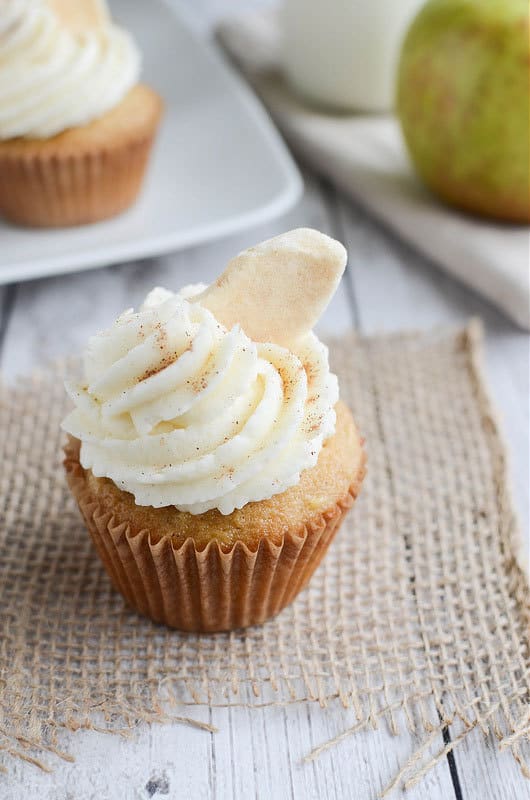 ---
This weekly meal plan has been brought to you by:
Fake Ginger | Diary of a Recipe Collector | Honey and Birch | Melanie Makes | NeighborFood
SaveSave
SaveSave