A weekly family meal from your favorite bloggers featuring 5 main dishes, a breakfast, side dish, drink and 2 desserts. Leave the thinking to us and the eating to you!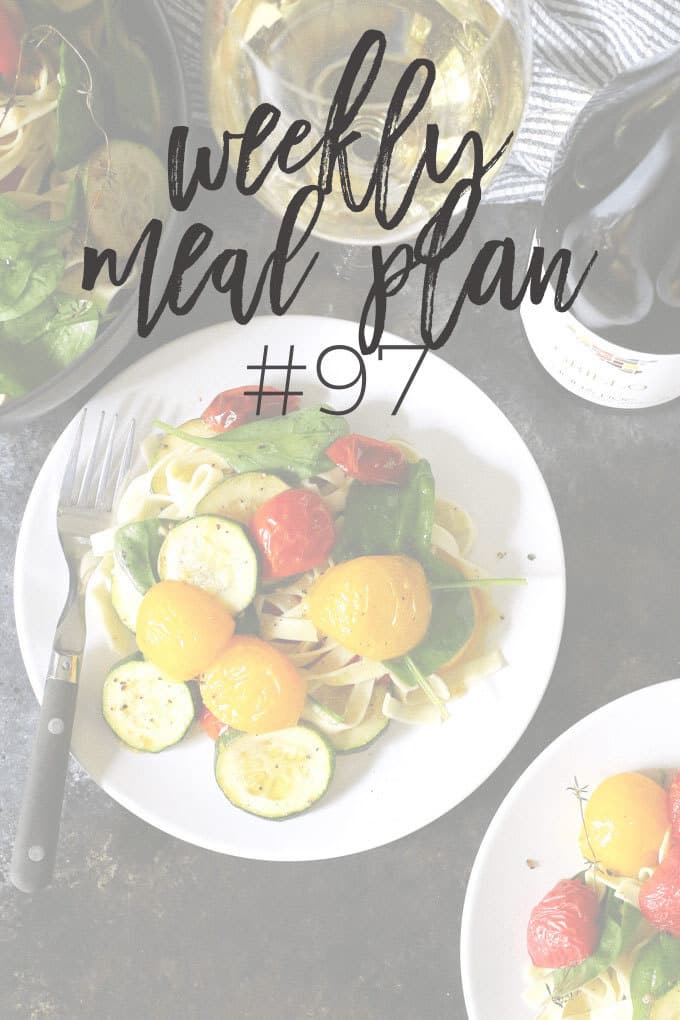 I am heading off to Austin, TX tomorrow morning so won't be doing much cooking this week. BUT, I know you will so hopefully this week's meal plan will be a big help to y'all. (Channeling my southern accent there.) Follow me on Instagram (@honeyandbirch) on Instagram stories to catch all of the food I'm eating.
Each recipe below has beautiful pictures and full instructions. Each recipe is delicious. So get ready and save your favorites for this week's meals!
Happy Saturday!
---
Weekly Family Meal Plan #97
Main Dishes
This salmon recipe is simple, grillable, and ideal for entertaining during BBQ season; especially great for late nights lingering on patios. The easy foil-grilled salmon has an intense smoky heat that pairs beautifully with sweet mango, red onions, and cilantro.
This recipe calls for a two pound salmon fillet that is perfect for feeding a crowd (or having leftovers all week). Using a larger piece of salmon helps the fish cook fully without drying out on the grill. The foil packet and the high, steady heat of the grill produces the most perfect, tender, juicy salmon.
The smoky, sweet rub makes it even more irresistible. Gently eat with a fork, and it watch it fall apart like a dream. This salmon is melt-in-your-mouth perfection! Now all it needs is a scoop of this fresh mango salsa, paired with your favorite wine for a complete meal. Let the entertaining begin!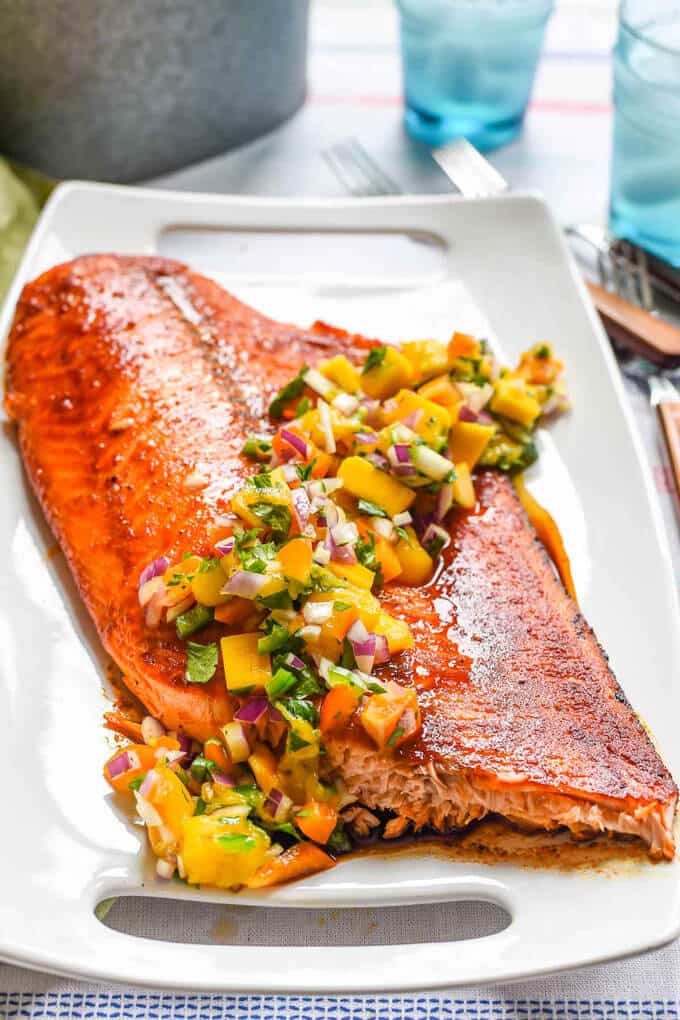 This roasted tomato zucchini spinach fettuccine recipe is the perfect way to use your farmer's market purchases and end-of-summer garden's bounty! Simply pair this dish with a glass of Grillo for the perfect weeknight dinner!
A filling & nutrient rich meal by itself, or if you prefer more protein just toss some grilled chicken in the mix or simply pair with a tender skirt steak. This easy pasta recipe can be made in 30 minutes! Making it a number one choice for weeknight suppers.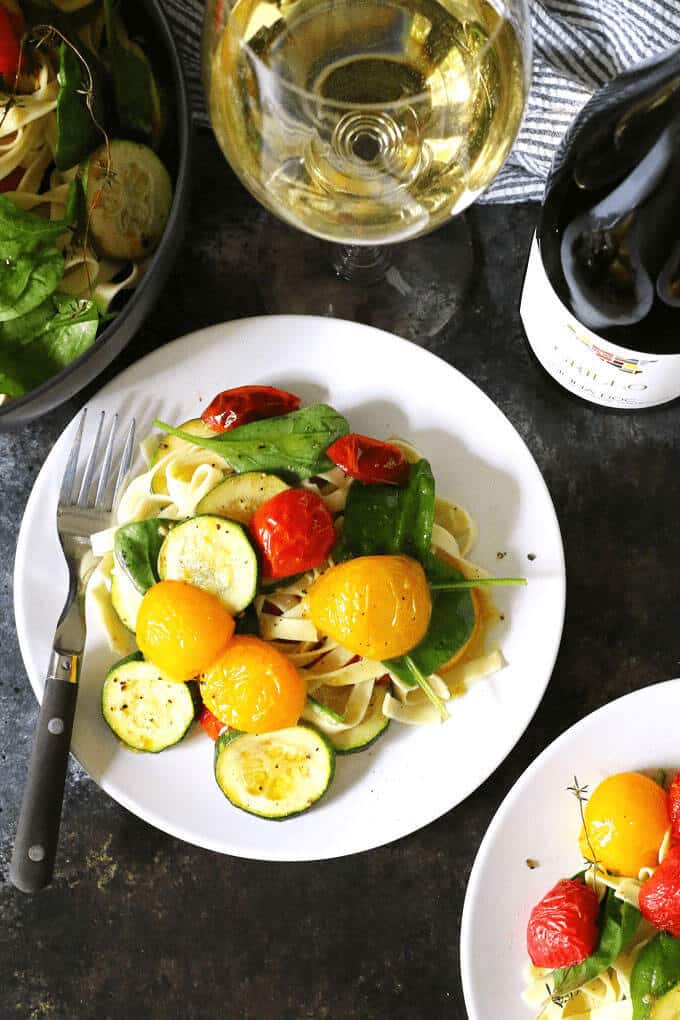 These six ingredient Chili Lime Chicken Drumsticks are your answer to a no fuss, high flavor dinner.
These drumsticks begin in the slow cooker and finish under the broiler to create the perfect crispy exterior with succulent chicken waiting underneath. The smokey bite from the chili and the bright citrus tang of lime just pair so well together!
You simply add chicken drumsticks to your slow cooker, season, and then forget about them for four hours. This recipe celebrates flavor with such minimal effort, it's an irresistible meal to cook and to eat! These Chili Lime Chicken Drumsticks are the ultimate easy appetizer or quick weeknight dinner!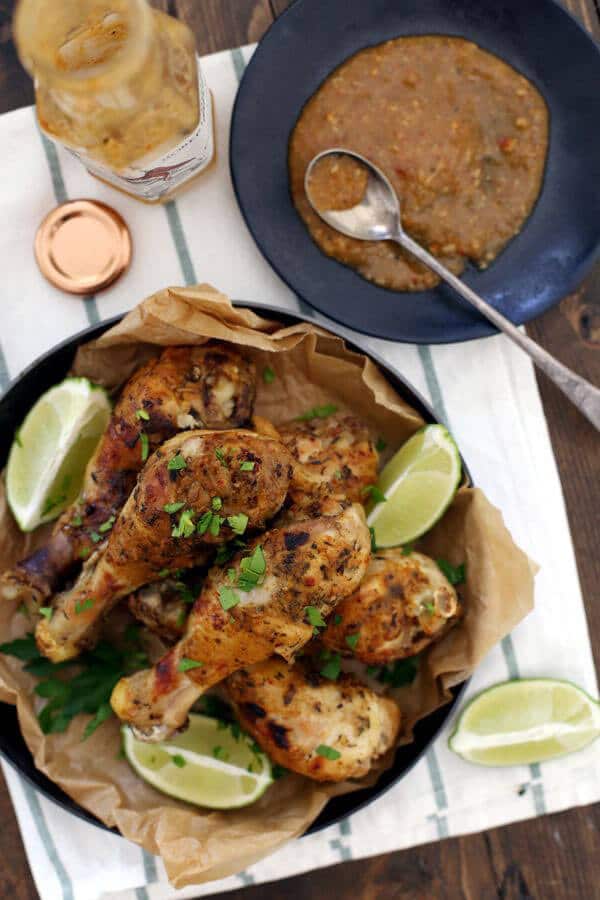 These little muffins made with pizza dough and filled with ground beef and taco fixings make for a tasty twist on Taco Tuesday! To make dinner even easier, these muffin cups are made with the help of store-bought refrigerated pizza dough, pre-packaged taco seasoning, and creamy Velveeta cheese.
Top these taco cuties with cheese, lettuce, tomatoes, and olives. Serve with sour cream. And boom, dinner is ready in under 30 minutes! A great recipe to get the kids' help with! So easy and so fun, your kids will love building these muffin shaped tacos from start to finish.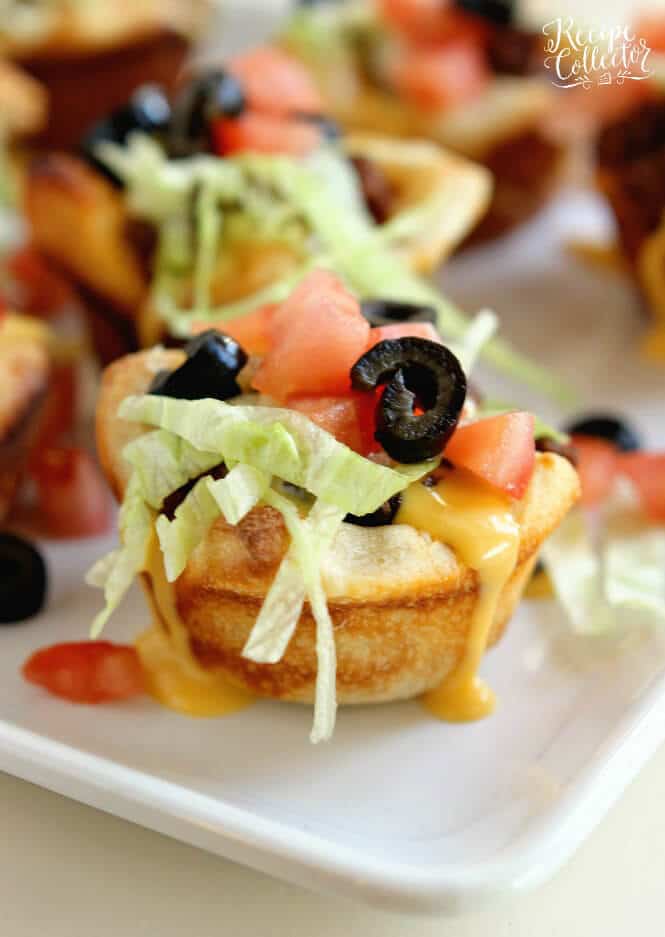 A homemade pizza with burger sauce, ground beef, crispy bacon, two kinds of cheese, and pickles! A great way to change up pizza night!
Cheeseburger sauce you ask? Yeah! Just ketchup and thousand island dressing, it's surprisingly delicious that ties the whole cheeseburger pizza together. This dinner is made even more delicious in that it takes less than 30 minutes for it to turn up on the table.
Kids love it, moms love it, and if there's anything left… dads will love it, too!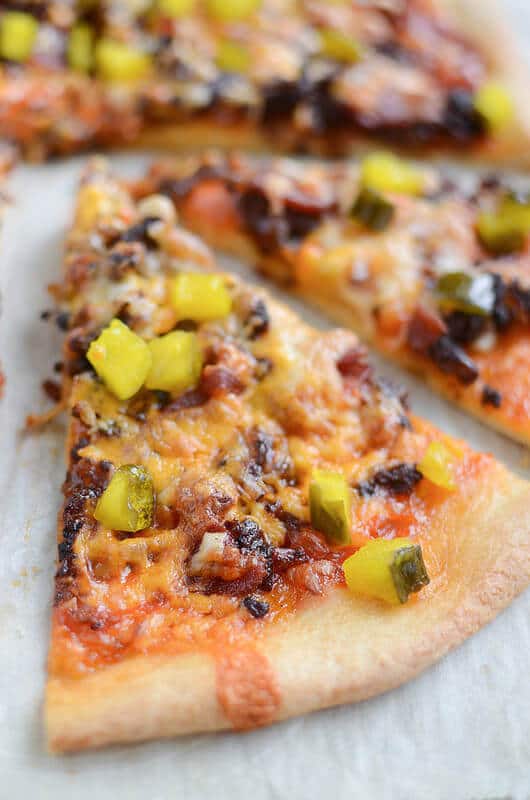 Breakfast
Not one, not two, not three, but FOUR bananas are packed into a single loaf of this Chocolate Chip Walnut Banana Bread. That's what gives it it's beyond high moisture content.
This bread is rich and decadent, as any treat should be! The fact that it has so many bananas thrown in for good measure is just an added benefit. Bedazzled with chocolate chips and walnuts, be prepared to fall in love with this upon first bite! Go ahead and make two loaves, as the first one will disappear the moment it hits the table!
A great after-school snack or make ahead for a rich breakfast for on-the-go mornings.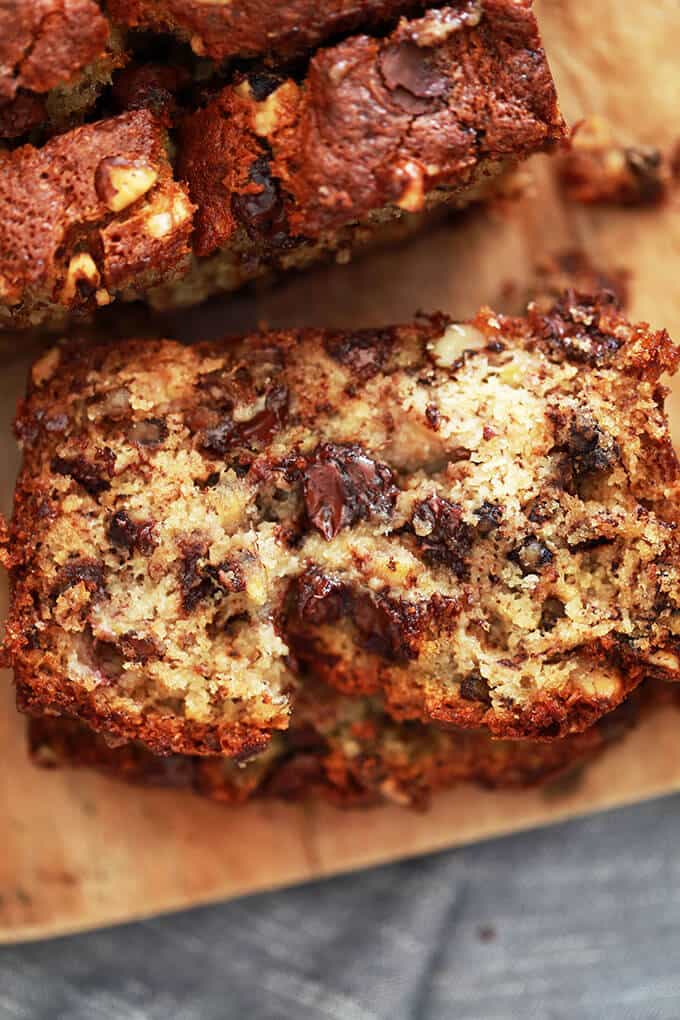 Side Dish
This deli-style macaroni salad is an excellent side dish for weeknight dinners! Perfectly paired with pulled pork sandwiches or BLTs.
You'll never need to buy pre-packaged macaroni salad ever again with this easy, creamy deli-style side dish full of pimento peppers, celery, mayonnaise & homemade flavor! Not only is this a kid-friendly side dish for family meals, it's also perfect addition to your next summer holiday party.
Great for Labor day bbqs, Memorial day celebrations, and Fourth of July pool parties!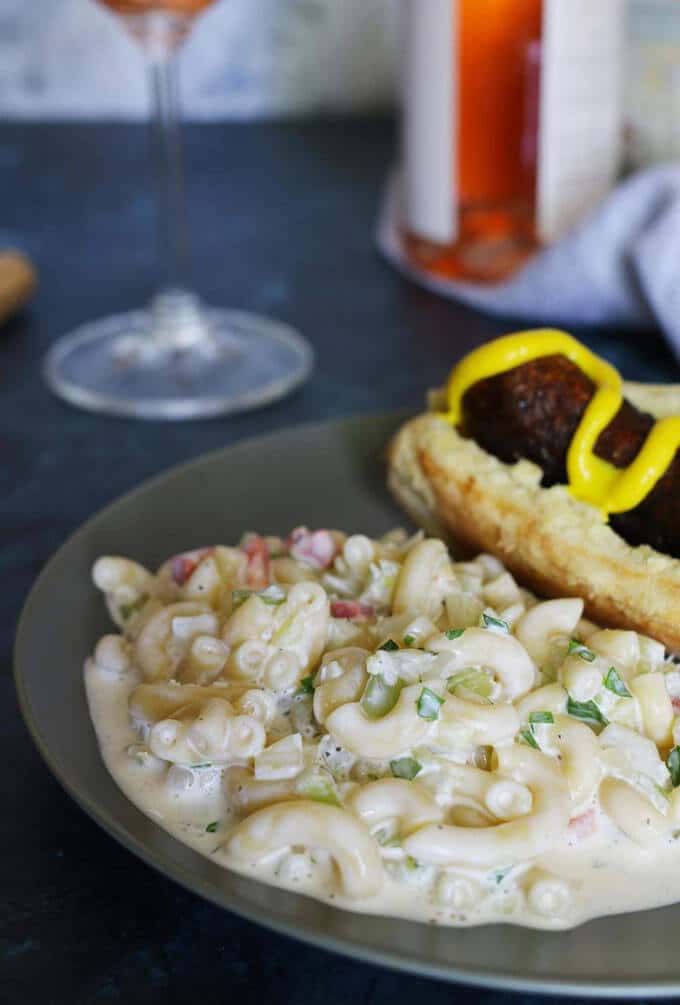 Drink
Say hello to your new favorite frozen cocktail! Fresh cantaloupe, coconut milk, lime juice, tequila, and orange liqueur blend together for this refreshing, creamy margarita.
This is a great margarita to indulge yourself once the kids are back to school. There's no judgement from us for having an afternoon pitcher prepared to help you cook dinner for the family. There's never a wrong way to drink a margarita!
And this frozen concoction is perfectly sweetened by cantaloupe cubes & coconut milk from a can (not a carton) that makes every sip just as cool and refreshing as the last.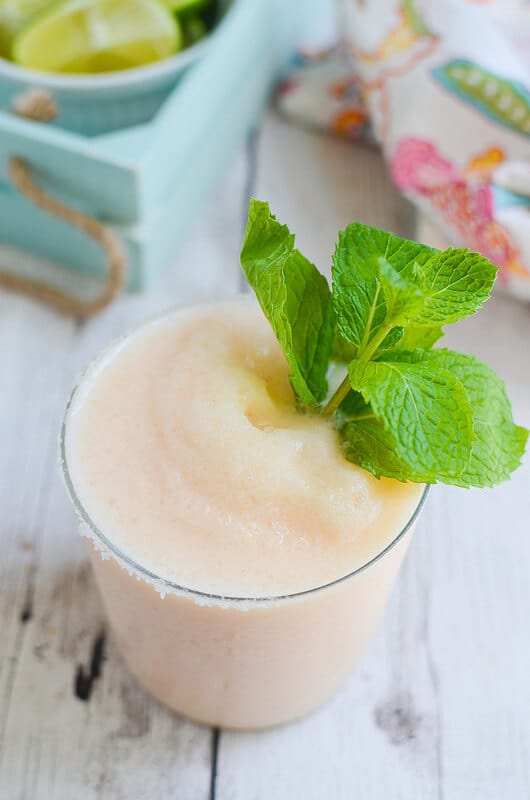 Dessert
This No Bake Peach Delight brings the flavors of cheesecake and fresh summer peaches together into one easy no-bake dessert!
Peach Delight is made of three no-bake layers. The first is a simple graham cracker crust. The next, a cool, creamy cheesecake mousse. And the last ia a layer of fresh, juicy peaches covered in peach Jello.
The resulting layers are so colorful, with a brilliant fiery pink and orange topping that'll remind you of a summer sunset. As for the taste? Well, there's a reason it's called Peach Delight.
The combination of peaches and cheesecake could bring a smile to the grumpiest face. A great after-school or weekend treat!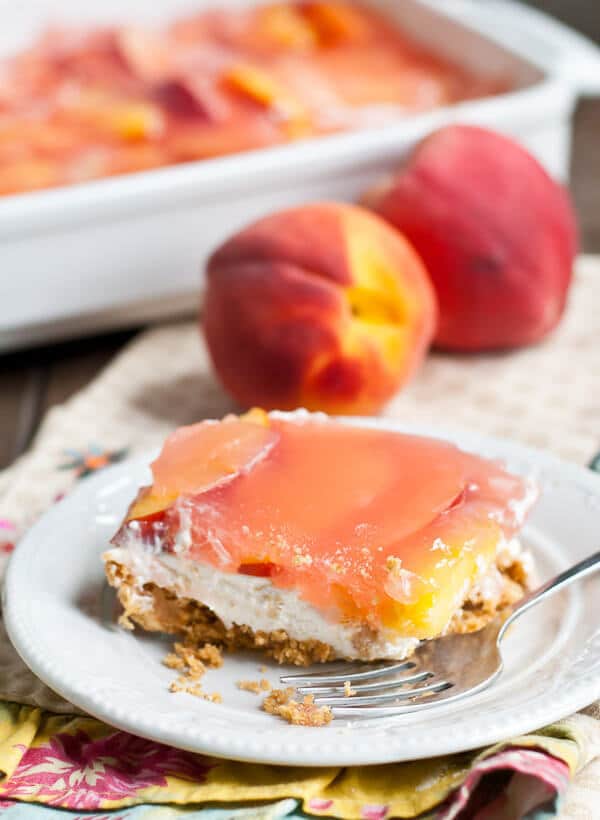 This easy poke cake recipe uses a box cake mix doctored up with pudding mix, sweetened condensed milk, and espresso powder. And then topped with a heavenly mocha pudding whipped icing!
This dessert was created with chocoholics in mind. This recipe is made with chocolate pudding mix and devil's food cake for a rich, chocolatey cake. Holes are then poked all over this baked cake and drizzled with condensed milk for added moisture.
Best served cold, this espresso spiked cake is perfectly paired with a big glass of milk or better yet, iced coffee!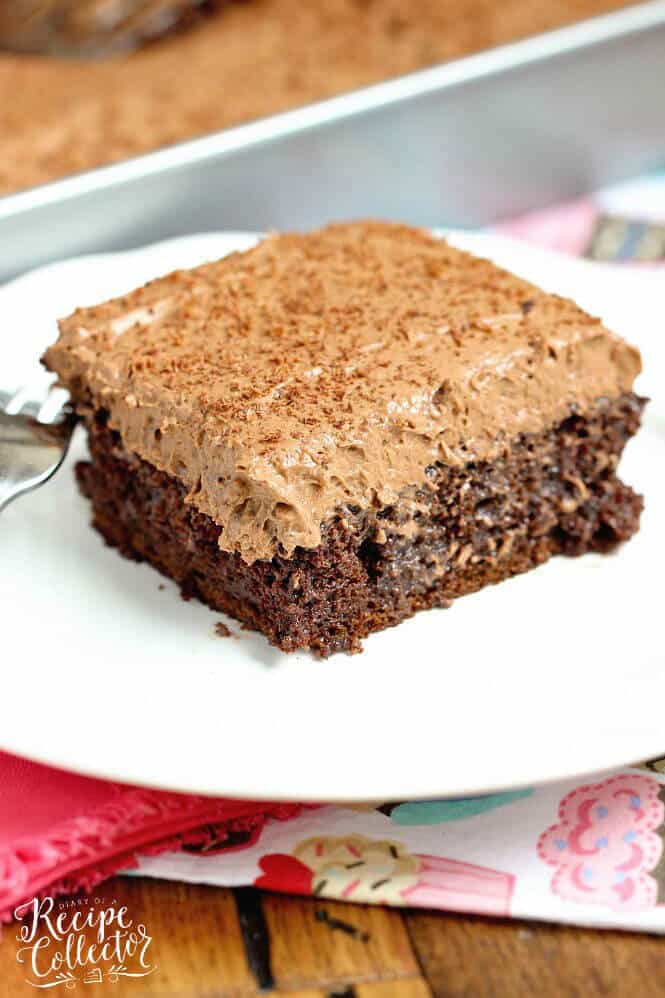 ---
This meal plan is brought to you by:
Fake Ginger | Diary of a Recipe Collector | Honey and Birch | Melanie Makes | NeighborFood
SaveSave
SaveSave
SaveSave
SaveSave
SaveSave
SaveSave
SaveSave