A weekly family meal from your favorite bloggers featuring 5 main dishes, a breakfast, side dish, drink and 2 desserts. Leave the thinking to us and the eating to you!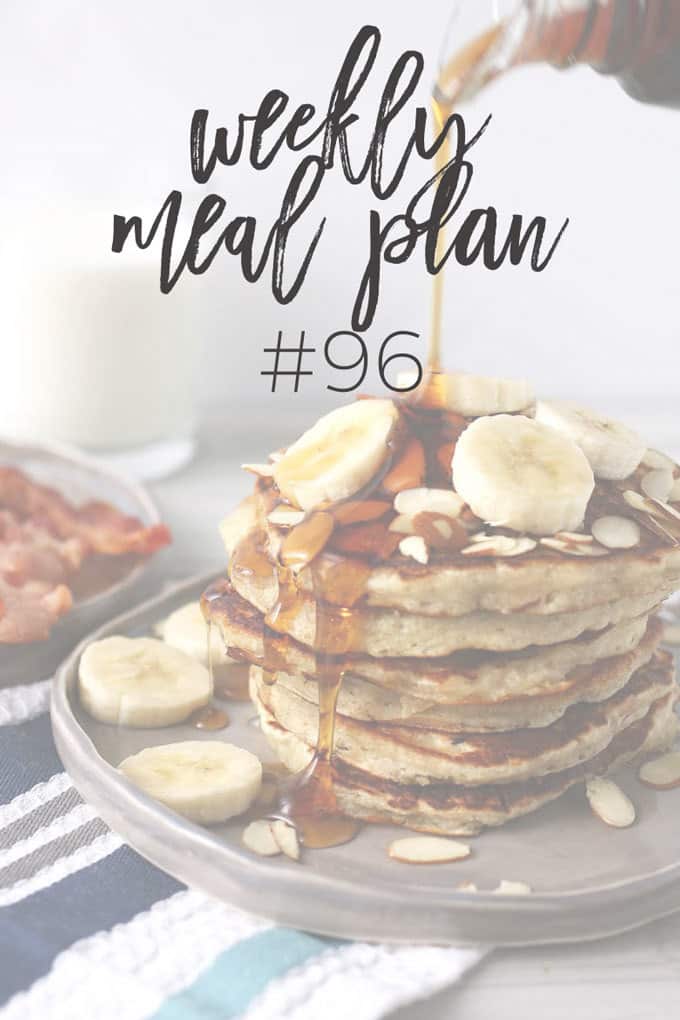 Got a busy week and no time to cook? We have you covered with our weekly meal plan!
I know I will be making a few of these dinners this week and I hope you do too – let me know your favorites in the comments.
Happy Saturday!
---
Weekly Family Meal Plan #96
Main Dishes
Marinated in buttermilk, then coated in panko bread crumbs and mixed nuts before being bathed in a delicious honey Sriracha sauce– this recipe is the definition of sweet heat.
This seven ingredient Honey Sriracha Nut Oven Fried Chicken says so long to spattering oil and instead gets its crisp from the oven. This chicken's amazing crunchy nut coating makes it impossible to tell the difference that this recipe is baked and not fried! Serve on sandwich rolls with salad greens and tomato.
THIS is a sandwich!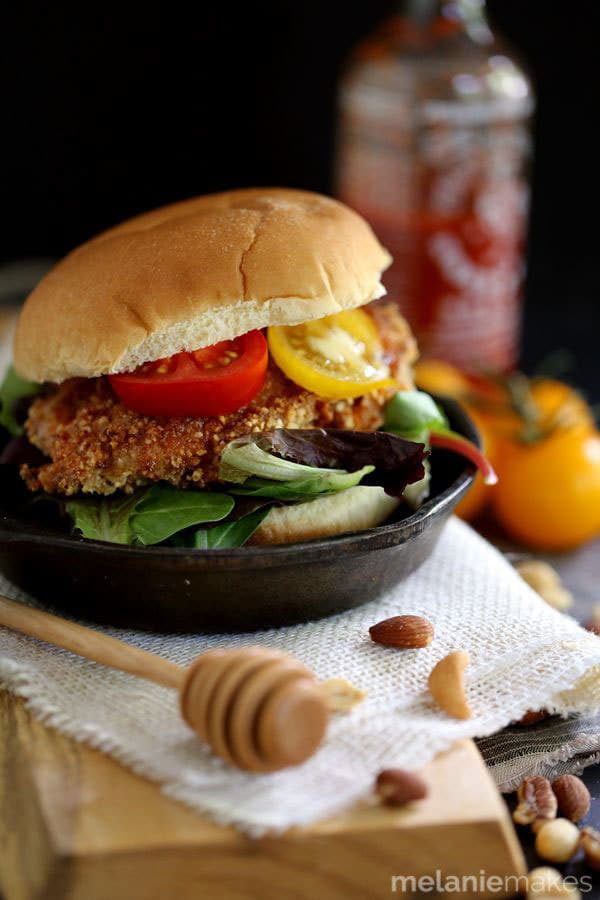 This pizza dinner is topped with delicious Italian Style Smoked Chicken Sausage, peppers, onions, basil pesto, and Fontina cheese. A great option for pizza night, this pizza recipe is a favorite amongst kids and adults alike!
In this unique recipe, pizza dough is placed directly on the grill for an extra smoky touch. If you already have provolone or mozzarella cheese in the fridge, just use it instead. You'll still get a creamy, crunchy, smoky style pizza perfect for weeknight dinners or weekend gatherings.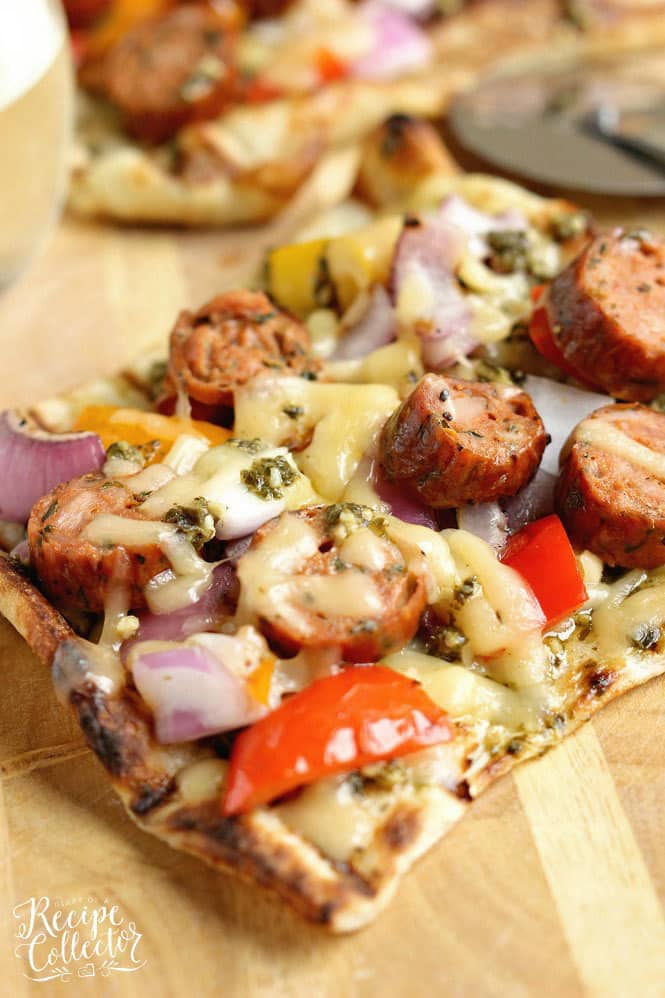 Try this one pot spicy sausage skillet with jalapeños, andouille sausage and penne pasta for a quick and delicious meal. This recipe is the perfect weeknight dinner!
All of the ingredients get thrown together into one pot and cooks before you know it. From start to finish (even including the chopping), you can have dinner on the table in just 30 minutes with this creamy, slightly spicy pasta dinner!
Have picky eaters at home? Simply deseed your jalapenos to eliminate the heat, then finely chop 'em up to hide the "green" factor!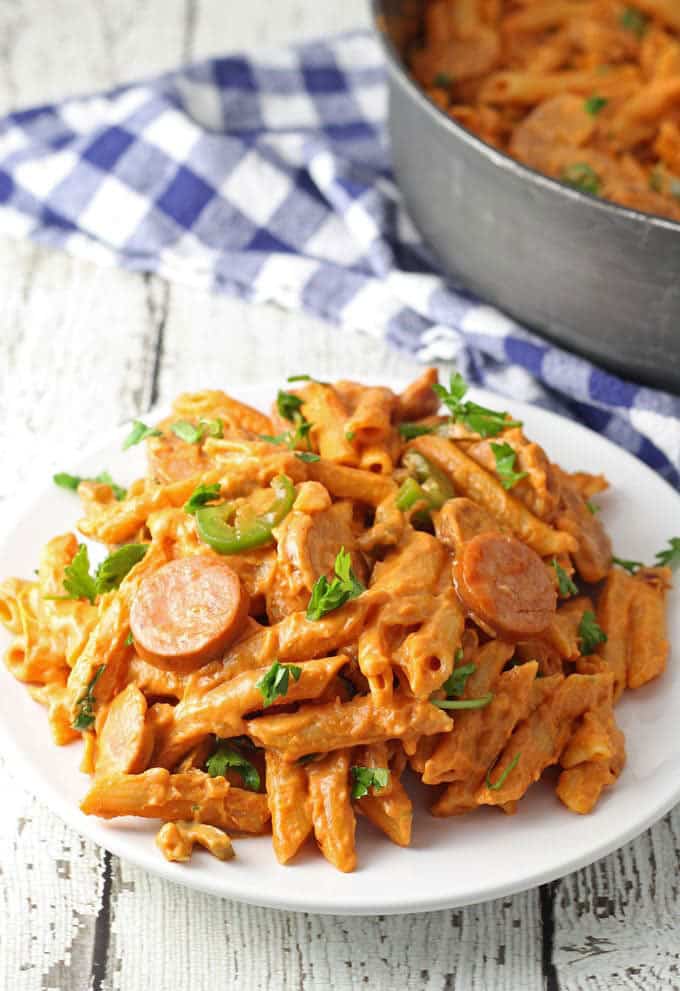 These delicious turkey burgers are topped with pepperjack cheese, crispy bacon, and creamy guacamole. So spicy and delicious!
This recipe uses pre-packaged ingredients for ultra-ease to whip up a weeknight meal in minutes! If pepperjack cheese is too spicy for your kids, substitute white cheddar or cotija cheese.
These burgers are a nutrient packed dinner for the whole family, with flavor that you'll crave week after week!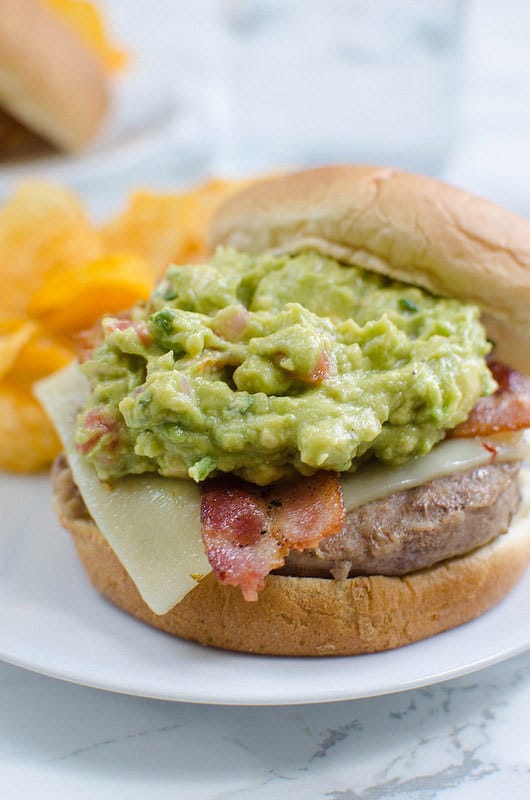 How about an easy supper after a long day, Mom? This is the easiest indoor burger.
You make these in the oven, baste with an easy sauce, and then bake a little more. These baked meatloaf slider burgers are topped with a tasty homemade barbecue sauce, cheddar cheese, and red onion.
Perfect for a fun weeknight dinner with the family! Just as well, these sliders are game day ready! Meatloaf disguised as a burger, these sliders are adorable and delicious!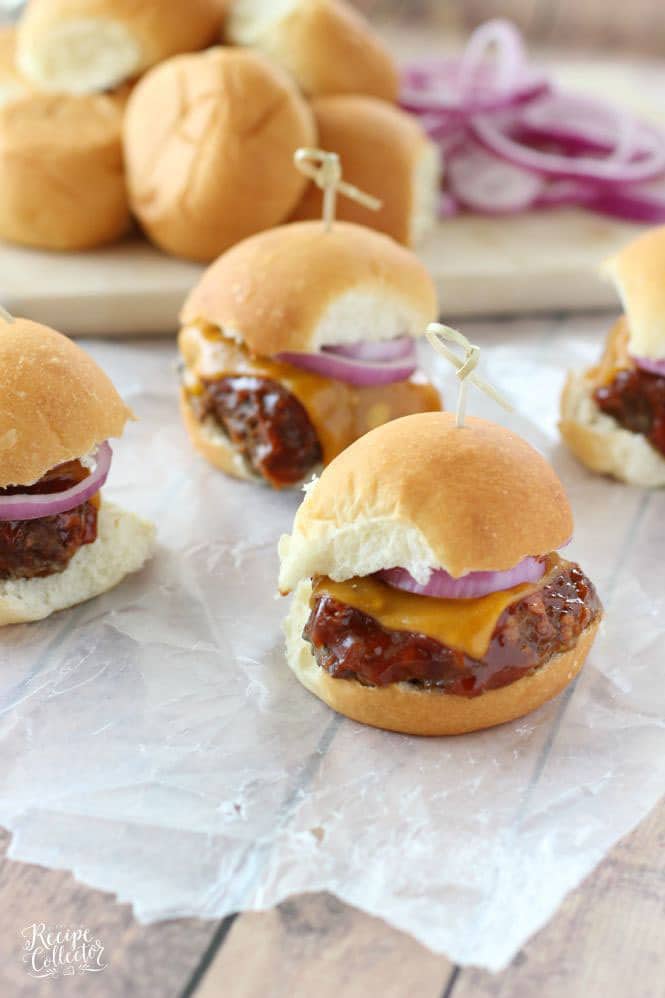 Breakfast
Forget banana bread! Use your overripe bananas to make this easy pancake recipe.
These banana almond pancakes are perfect for breakfast anyday! Especially for those cozy, autumn mornings where you just wanna sit on the couch sipping hot coffee and watching the leaves fall. This recipe yields 12 pancakes and is easy to double if you are cooking for a big group.
With the perfect amount of banana flavor, chopped almonds give these fluffy pancakes even more life with a great texture. Top with even more banana slices, slivered almonds, and loads of syrup (and whipped cream if you're feeling frisky) and dig in!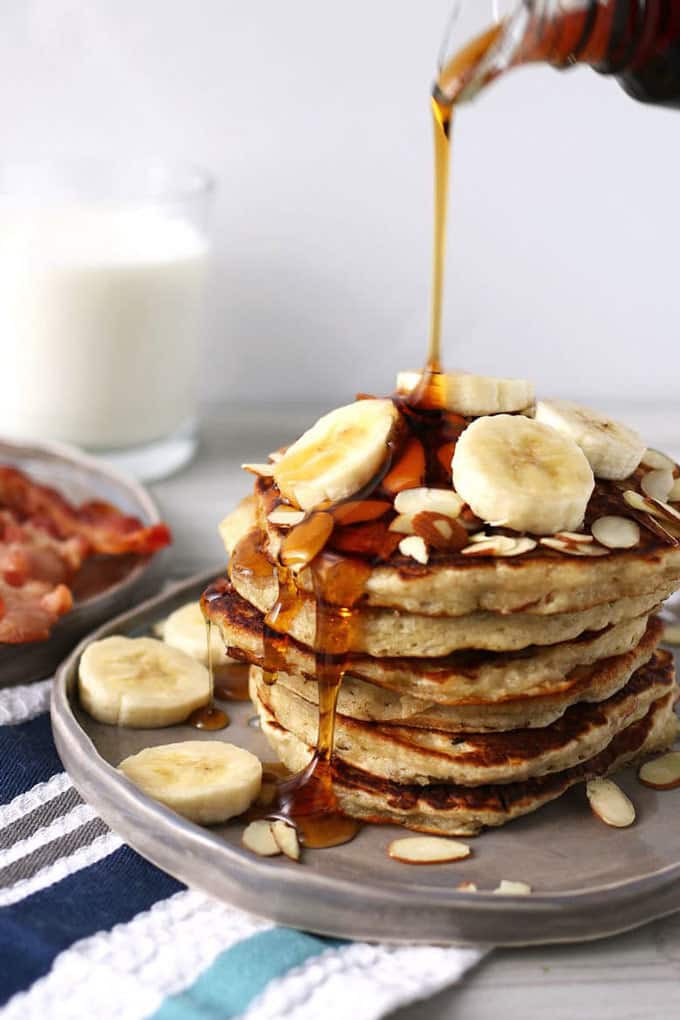 Side Dish
Layers of lettuce, black beans, corn, tomatoes, red onion, cheese, and cornbread combine in a zesty dressing for this Southwestern Cornbread Salsa! If you're in desperate need for something to wow your family and friends at your next barbecue, this is just the thing!
This recipe is a southwestern twist on the classic cornbread salad. It's got corn and black beans, along with your typical salad ingredients. With a dressing that is loaded with chili powder and cilantro. It's just so good. And probably will win you an award at the next potluck you attend!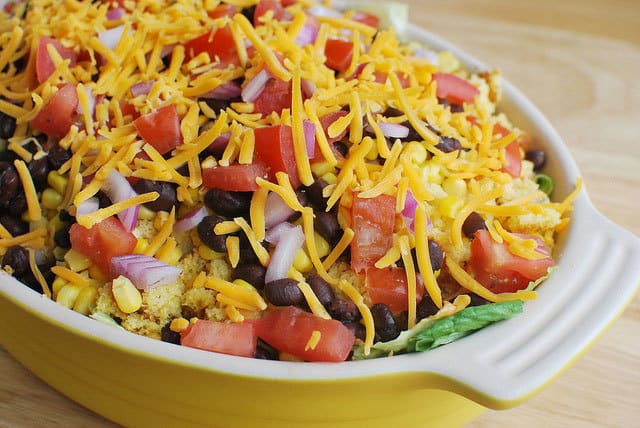 Drink
Watermelon Mint Margaritas are the most refreshing summer drink! Perfect for poolside parties, Cinco de Mayo, or just a Friday night!
This drink recipe is really easy and starts with fresh watermelon. No fake stuff here! You just need a watermelon and then you make the quick mint simple syrup, stir in some tequila and lime juice, and you're done!
Absolutely delicious and quenches your thirst on those sticky, warm days.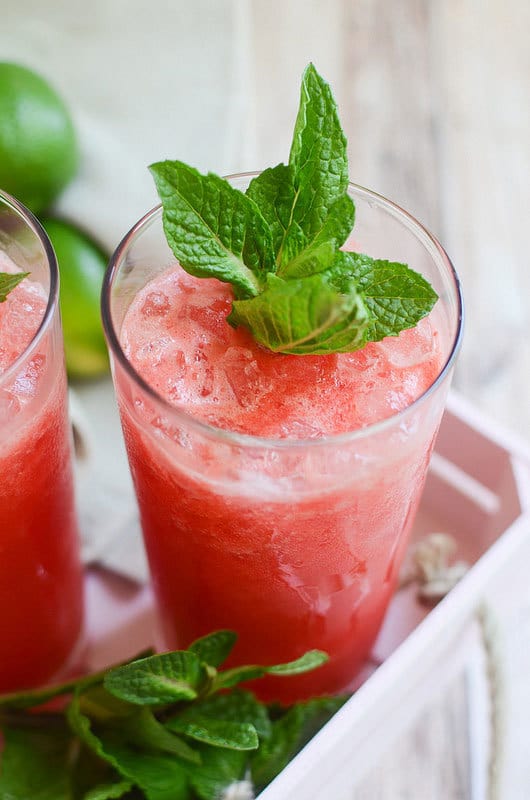 Dessert
This no-bake Grasshopper Ice Cream Tart couldn't be easier or more delicious!
A thick Oreo crust is topped with chocolate ganache, mint chocolate chip ice cream, and a whipped topping before being garnished with dark chocolate curls. So many favorites in every single bite! Perfect for celebrating St. Patrick's Day, a birthday, or any other day of the year!
his Grasshopper Ice Cream Pie would also make an amazing Christmas dessert! Guaranteed it'll be well received! In fact, don't be surprised if guests start to argue about who is going to get the last slice.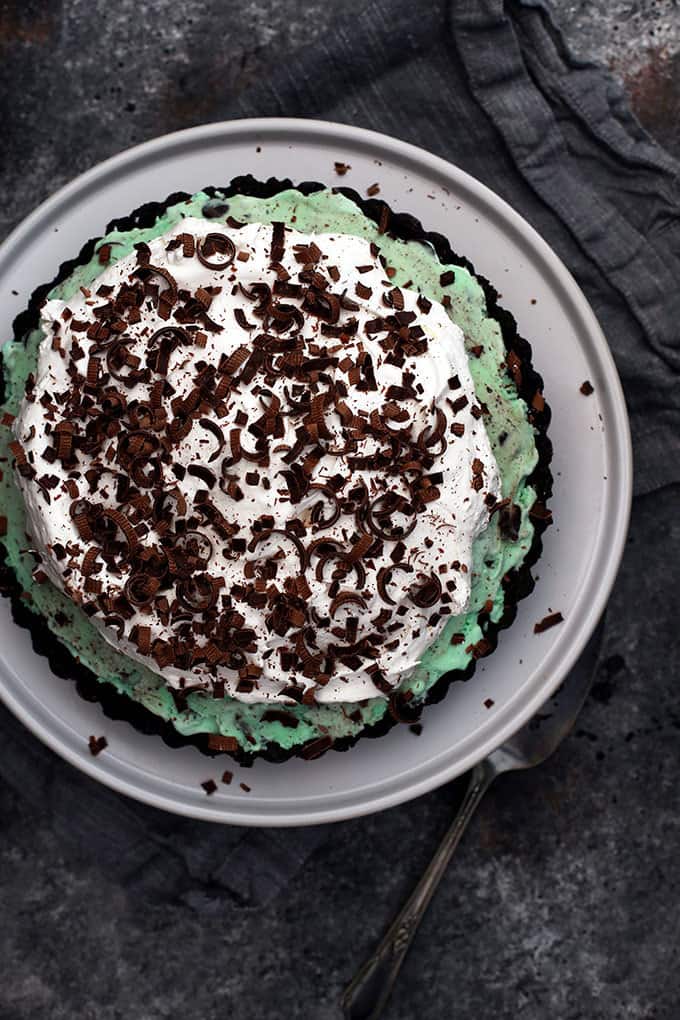 Layers of delicious brownie, coffee cream cheese, coffee ice cream, and whipped topping. This recipe is so easy, and so delicious!
First a brownie mixture takes all of 10 minutes to put together to start baking. Then a coffee ice cream mixture, that requires literally only 3 ingredients, is simply put in an ice cream maker to do all the work for you. Then lastly beating cream cheese, sugar, coffee, and whipped topping for the cream cheese filling.
It's that easy!
The hardest part is waiting on the brownie to cool so you can layer it. If you love an iced mocha frappe, then you will love this dessert! Perfect for summer or winter holidays, or basically anytime you crave an amazing treat!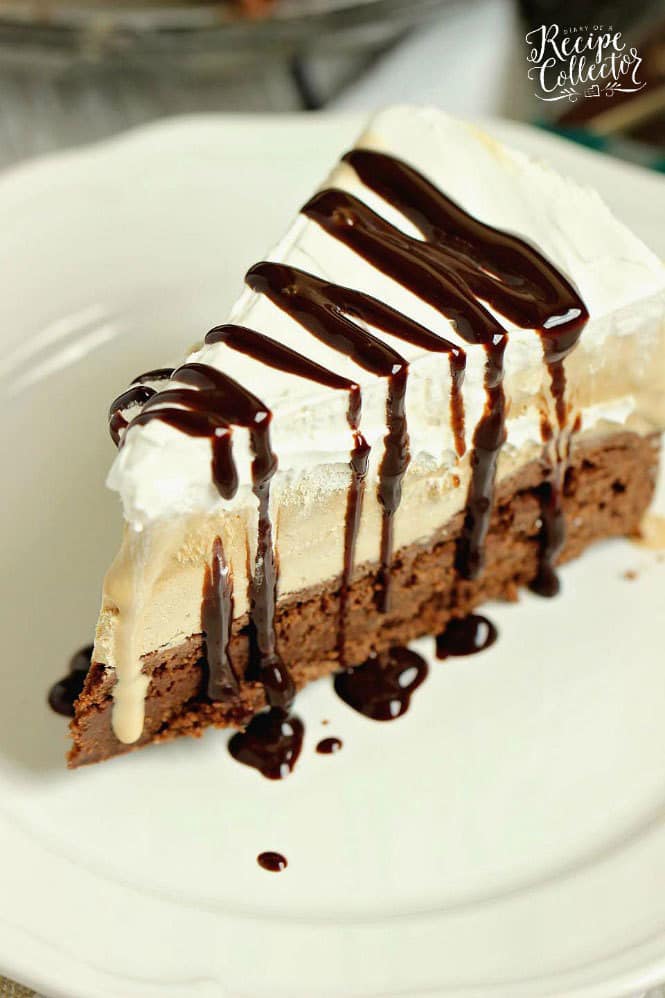 ---
This meal plan is brought to you by:
Fake Ginger | Diary of a Recipe Collector | Honey and Birch | Melanie Makes
SaveSave
SaveSave
SaveSave
SaveSave