You may have seen me mention my husband being a meat and potatoes kind of guy – with his love of potatoes he is very much the stereotypical Irishman. I sometimes imagine him having been fed a steady diet of only potatoes from the time he was a wee little boy, perhaps even with a pureed potato IV or something similar.
His mom makes a delicious batch of mashed potatoes with onions, and I introduced him to garlic mashed when we started dating (no onions for me). And as much as I love mashed potatoes, they can get boring. Enter our good friend cheese.
This recipe is pretty simple – you'll need a large pot to boil the potatoes, a bowl to mash them, and a 3 quart dish to bake the starchy suckers. We used a mix of cheddar cheeses, but you can use just about any cheese you want – I highly recommend melted blue cheese crumbles.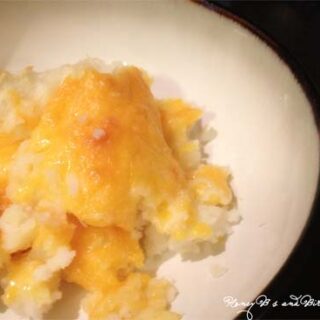 Twice Baked Cheesy Garlic Mashed Potatoes
Ingredients
5 pounds of potatoes
4 tablespoons of butter
1/2 cup sour cream
2 cloves of garlic, minced
1/8 teaspoon pepper
1/8 teaspoon salt
1 cup shredded sharp cheddar
1 cup shredded mild cheddar
1 cup shredded sharp white cheddar
paprika (optional)
Instructions
Preheat oven to 350 degrees. Grease 3 quart dish and set aside.
Peel and dice potatoes. Put potatoes in a large pot and fill with water until just covered. Place over medium-high heat and boil until cooked through.
Empty potatoes into a colander to drain out the water, and then put into a large bowl.
Add butter, sour cream, garlic, pepper and salt to potatoes. Using a potato masher (or a hand mixer), mash until all ingredients are incorporated and potatoes are well pressed.
Pour mashed potatoes into baking dish and evenly distribute them through the dish.
Spread cheeses over then and put in oven uncovered for 10-15 minutes (until cheese is melted and bubbly).
Remove from oven. If you'd like, sprinkle with paprika before serving.
Mr. B thought they were perfect without the paprika, I thought the paprika was a necessary addition. To each their own. Either way, this recipe is a nice alternate version of a classic favorite.
Happy Mashing!
Jenny B
This recipe was included in the following link parties:
Uncommon Designs Online, C.R.A.F.T., Lines Across, That's What Che Said, Creatively Living, Finding Home
SaveSave