Try Caviar food delivery today! Available in Chicago, the Bay Area, Boston, Los Angeles, New York City, Philadelphia, Seattle, and Washington D.C. Perfect for offices, couples looking for a special dessert or people who are just plain hungry.


***This post contains affiliate links and I will be compensated if you make a purchase after clicking on my links.
Let me set the scene for you.  It is winter in Chicago. 10 degrees outside with snow. The roads haven't been plowed yet and you don't believe in dibs.  And you are hungry and don't feel like cooking.
When the neighborhood Chinese restaurant just isn't cutting it anymore, I think you should try Caviar.
No, not the fish eggs.  The food delivery service.
Caviar delivers food from the city's best restaurants in the comfort of your home or office. Browse a picture menu, customize your meal, and get delivery straight to your door. No minimums and no compromises.  There is a delivery fee but just one per order.  This makes Caviar perfect for office lunches and large groups.
Not just any restaurant can work with Caviar; restaurants on Caviar must earn an aggregate of at least four stars on Yelp and pass a "taste-test" by Caviar employees. I'd like to be in on those lunches!! I can only imagine the amount of amazing food they get to try.
I think one of the coolest features is the cart: you can send a cart to everyone in your office (or your roommates) so you can all get in on one order together. One order equals one delivery fee. Bam. You're welcome. 🙂
Caviar Food Delivery in Chicago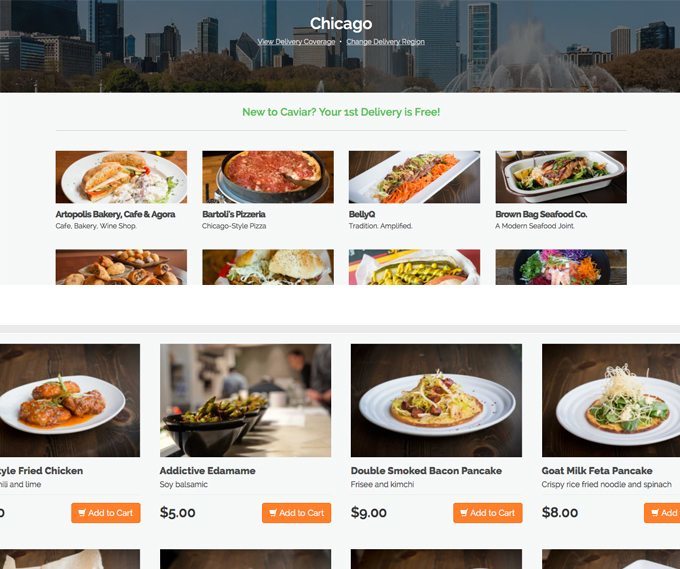 Some of the Chicago restaurants that you can order delivery from include:
Besides Chicago, Caviar is also serving the Bay Area, Boston, Los Angeles, New York City, Philadelphia, Seattle, and Washington D.C. Bam. I would give you a list of some of those restaurants too but I unfortunately don't know much about the food scenes in those cities.  But, if the quality compares to the Chicago restaurants, you're in for a treat!
Try Caviar food delivery today! What Chicago restaurant are you going to try first?
SaveSaveSaveSave
Join the newsletter!
Subscribe to get our latest content by email.