My picks for top 4 free social media apps for bloggers and how I use them to increase my blogging productivity.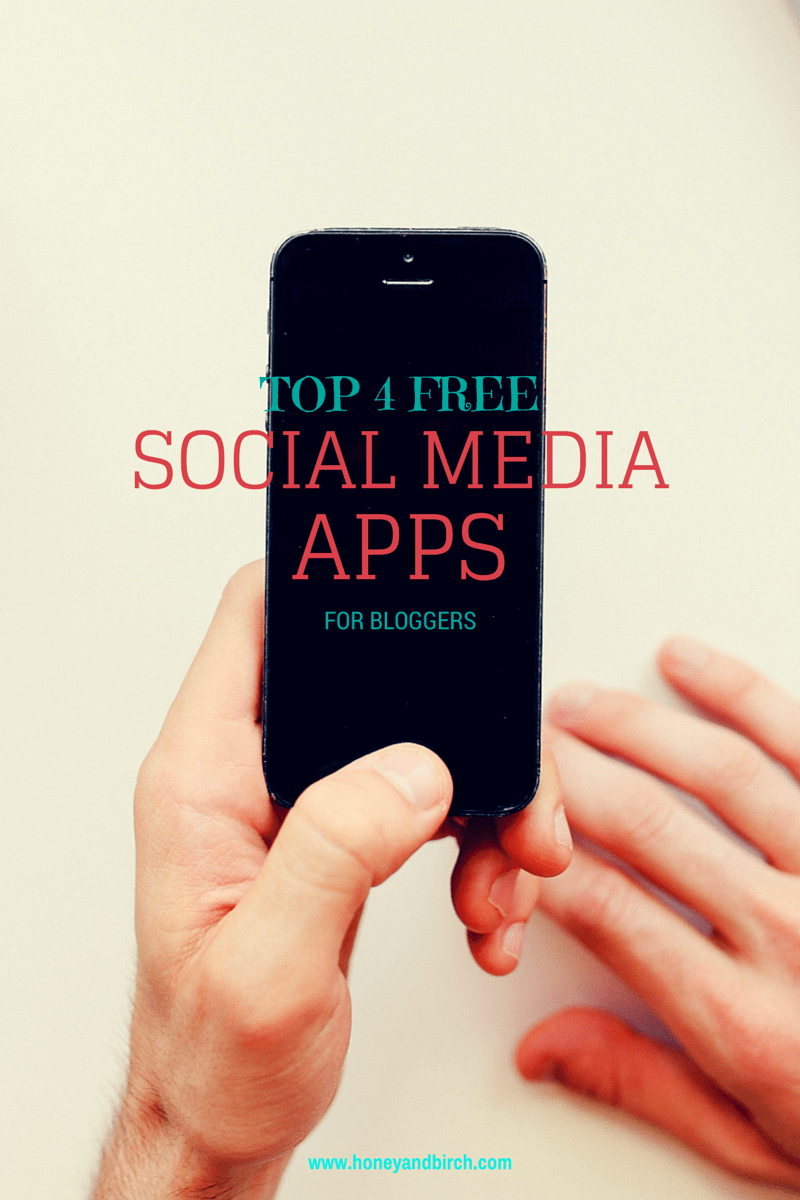 To everyone here looking for my usual recipes and food photos, my apologies. Bloggers are my people, so I wanted to share a special post for them today. I'll be back this weekend with normal recipe posts and pretty pictures. I hope everyone had a wonderful Thanksgiving!
---
 As bloggers, we fill many, many roles.
CEO. Editor. Head writer. SEO expert. Photographer. Marketer. Really, the list goes on and on. Even if you don't blog for money, to have a successful blog, you have to fill all of the roles a small business would hire for and then some.
One of the new positions all blogs and small business now have to fill is for social media manager and strategist. As algorithms change, platforms expand and new networks get introduced, it gets harder and harder to leverage your social media presence with the amount of time you have to blog.
Top 4 Free Social Media Apps for Bloggers
I have found that these 4 free social media apps for bloggers not only improve my productivity, they also help me avoid blogger burnout. It is hard to keep everything straight, but these apps not only give me a mental break, they sometimes even allow me to take a day off.
The main social media channels I use are Pinterest, Facebook, Twitter, Google+ and Instagram. I am sure there are apps for the other social media channels, but because I don't use them, I don't know what they are.
Here are the top 4 free social media apps for bloggers that I personally use.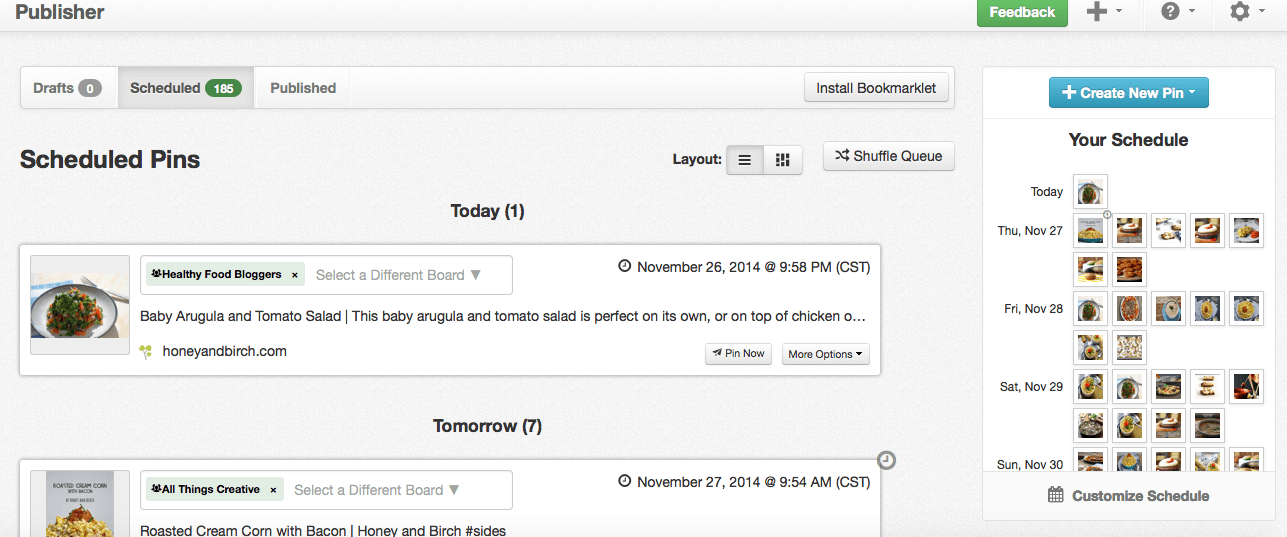 Tailwind is the newest app in my arsenal and the only one I am an affiliate for (that's my affiliate link disclosure.) Anyway, I used the free version for 2 days and was so impressed that I went out and paid for a year's worth of the Plus plan. It is quickly becoming my favorite app because it is saving me so much time. Pinterest can be such a time suck – I know you know what I mean.
I recently decided I needed to amp up my Pinterest posting. I always spend too much time on Pinterest so I set out on a search for a free Pinterest scheduling tool. That's how I found Tailwind.
There are a lot of Pinterest management tools out there, but Tailwind is definitely my favorite. Not only is it aesthetically pleasing, but it offers great Pinterest analytics. I love that I was able to see, in an easy to visualize database, exactly which pin was driving traffic to my website. I was then able to reschedule that one pin to other group boards right there in the analytic panel.
Not only did I find the process super easy, I saw an increase in my repins and visits to my website on the first day. One Day! I plan on writing up a complete review on Tailwind in a few months, but in the meantime, we don't you try out the free version? What do you have to lose?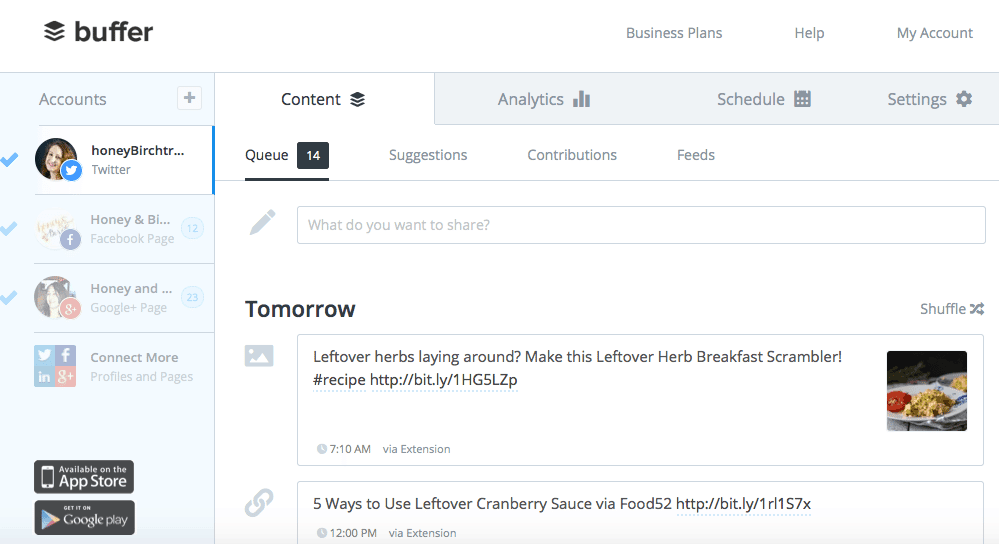 A blogging friend introduced me to Buffer and it has been a lifesaver.
I now use Buffer to schedule the majority of my Facebook, Twitter and Google+ posts.
I can go to a webpage, and set up social media blasts as far out into the future as I want. I especially love using Buffer to schedule social media for my own posts – I can schedule Buffer across multiple platforms in case people didn't see the post the first time. I also like that I can add images to Twitter posts from here.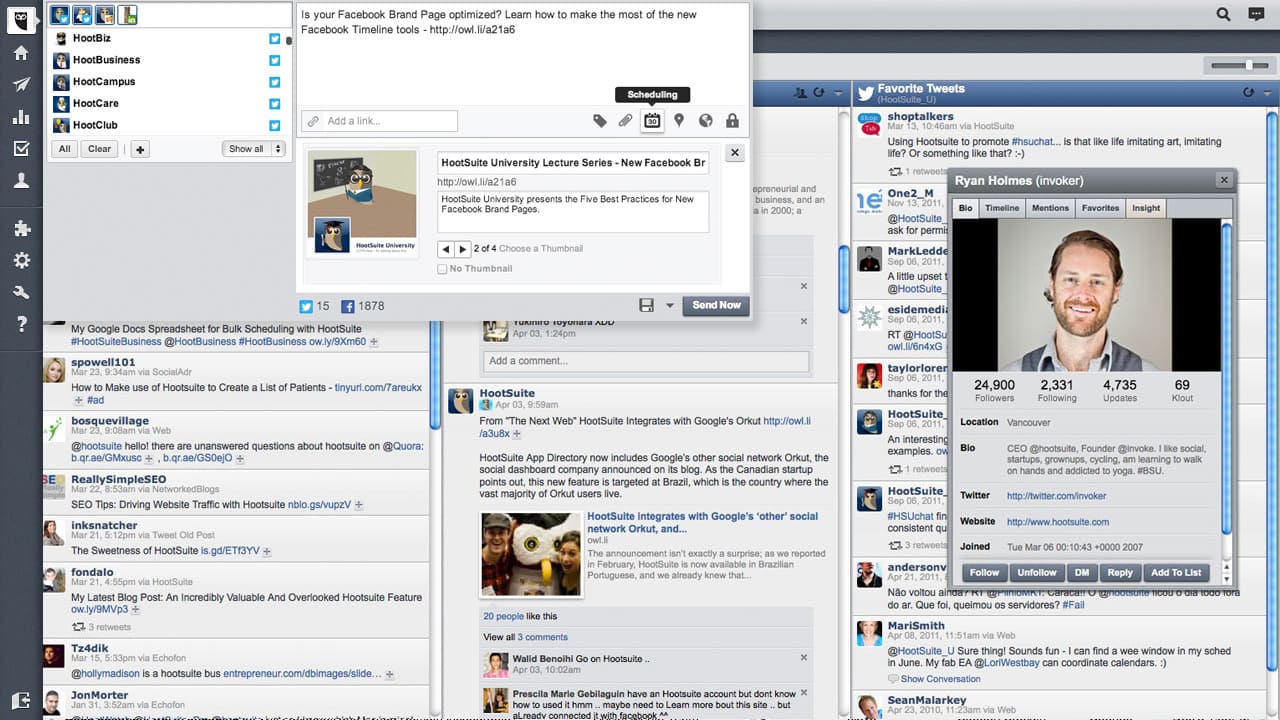 (image via Hootsuite)
I currently use Hootsuite for all of my social media clients and used it for my blog as well before I discovered Buffer. Hootsuite allows you to schedule on all of the major social networks – Facebook, Twitter, Google Plus, LinkedIn – as well as some smaller ones: Foursquare, Mixi and WordPress.
The free version lets you manage up to five social media accounts which is perfect for us bloggers – just the right amount. You also get basic analytic data and two RSS feeds. A monthly plan is available for more access.
You can use Klout to schedule posts, but I like it more as a way to measure my engagement across all of my platforms. As my Klout score rises, I know that people are engaging more with my posts. Score decreasing? I need to make some changes to my social media plan.
You can see how engaged your viewers were for each individual post – so you can decide how to change your posts to better your fans' experience. I also occasionally use Klout to track topics and tweet their Klout's suggestions – I often get pretty great engagement from the posts they suggest!
Extra App: LastPass
This extra one is not just for social media, it is for blogging and life in general.
As bloggers, you spend tons of time building your social media accounts and profiles. You grow your followers, engage with them, and create your own tribe. If your passwords are compromised, then some really nasty things can happen – the hacker posts weird things from your profile, locks you out, or even deletes your followers and profile (this does happen by the way.)
I use LastPass to manage all of my passwords and generate secure passwords for all of my accounts. Once I began using it, I realized I had been using an amalgamation of a few words and number sets for my passwords. Someone figured it out and got into my accounts.  What a mess that was. I said, "Never again."
What Apps Do You Use?
Those were my picks for top 4 free social media apps for bloggers. Did I miss your favorite app? What do you use to schedule your posts? Leave your suggestions in the comments for everyone to see!
---
Follow me on Social Media!
Twitter | Facebook | Pinterest | Instagram
SaveSave
Join the newsletter!
Subscribe to get our latest content by email.