An easy slow cooker ginger ale pot roast recipe – it doesn't call for many ingredients but is packed full of big flavor!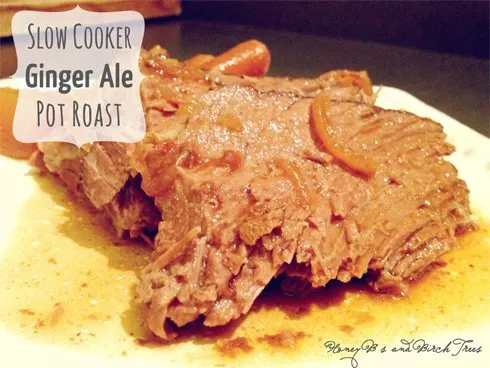 The busy patio season at work has kicked in and it is kicking me in the butt already. I started this job a few years ago and my feet are definitely hating me today after the last couple days. When I get home at night, all I can think of is taking a shower to wash the stank of restaurant off my body, and climbing into bed. Mr. B's lunch/dinner is sorely lacking because of it.
Perfect time to break out my slow cookers.
Slow Cooker Ginger Ale Pot Roast
I think the best slow cooker recipes are the ones with the least amount of ingredients. In my opinion, most of us use slow cookers so we can prepare a meal without standing in front of a stove all day. Less ingredients means more time to get ready in the morning, or in our case the afternoon before we head into work for the night.
I have made roasts in the slow cooker before using cream of mushroom soup, but Mr. B. heard ginger ale was great for pot roast, so we tried this easy recipe from 200 Slow Cooker Creations.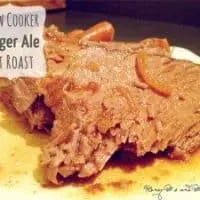 Slow Cooker Ginger Ale Pot Roast
Ingredients
4 pound rump roast
16 ounce bag baby carrots
6 russet potatoes, peeled and cubed
1/2 medium onion, thinly sliced
1 envelope brown gravy mix
1 envelope onion soup mix
2 cups ginger ale
Instructions
Place the carrots and potatoes in your slow cooker (4 1/2 to 6 quart).
Put the roast over the vegetables.
Lay the onions over the roast.
In a small bowl, dissolve the gravy mix and onion soup mix in the ginger ale. Pour over the meat and onions.
Cover and cook on low heat for 8 hours.
Nutrition Information:
Yield:

12
Serving Size:

1
Amount Per Serving:
Calories:

452
Total Fat:

18g
Saturated Fat:

7g
Trans Fat:

0g
Unsaturated Fat:

8g
Cholesterol:

129mg
Sodium:

247mg
Carbohydrates:

27g
Fiber:

3g
Sugar:

7g
Protein:

43g
Easy, right? Just a few ingredients, and very easy prep.
The veggies come out with a nice crispness, and this reminds of the pot roasts my mom made when I was a kid. Mr. B. realized he could make this one too, its that easy (his domain at home is the grill, not the stove/slow cooker.)
Next time, I'm gonna try coca-cola (I actually originally typed that I was "gonna try coke" but realized that I could then be quoted as saying that and it could be taken out of context…so coca-cola it is) with my pot roast. We've heard that's good too. 🙂
Happy crockin'
JennyB
SaveSave