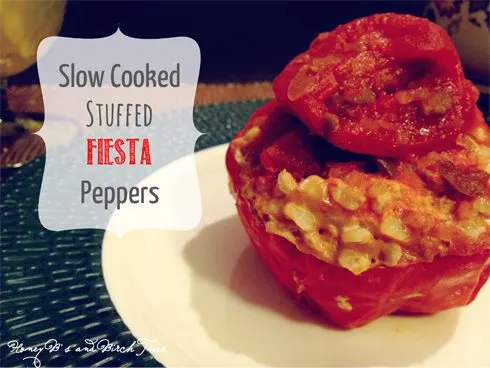 Happy Cinco de Mayo!! I hope you're all enjoying yourself on this Sunday afternoon (I'm currently making margaritas and pouring tequila shots at work.)
This recipe was created when we planned to make pepper steak, and forgot about it and the steak went grey. Never a good sign. Dinner had to be made, and errands had to be run, so we pulled out slow cooker #2 (we made this and the Jalapeño Chicken on the same day.)
What do you make when you have a bunch of bell peppers but no steak?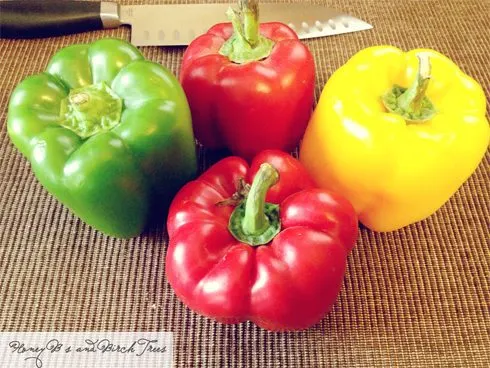 I went through all my cupboards and put this baby together – it kind of reminds me of meat loaf inside the peppers. I was very surprised with what random ingredients I had, and they all come together nicely in this recipe. This recipe is my second jalapeño recipe for the weekend, but the spice is much more subtle in this one.
Slow Cooked Stuffed Fiesta Peppers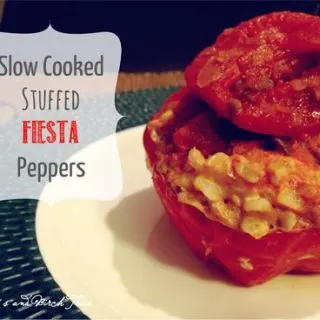 Slow Cooked Stuffed Fiesta Peppers
Ingredients
5 medium bell peppers (6 would be better, but I only had 5)
1 pound ground chicken
1 cup cooked brown rice
1/3 cup chopped onion
1 cup chihuahua cheese
1/2 cup frozen corn
1 jalapeño, diced with most of the seeds removed
1 egg
1/2 teaspoon salt
1/2 teaspoon crushed red pepper flakes
1/8 teaspoon cumin
14.5 ounce can stewed tomatoes
2 cups chicken broth
Instructions
Cook your rice. While its cooking, prepare your peppers by cutting off the tops and removing the seeds. Place the peppers in your slow cooker.
In a large bowl, combine all ingredients except peppers, stewed tomatoes and chicken broth.
Stuff meat mixture into each pepper until full.
Pour stewed tomatoes over the peppers, making sure some tomatoes are on each pepper.
Pour the chicken broth into the slow cooker around the peppers.
Cover and cook on low for 6 hours. When done cooking, remove peppers with the tomatoes from liquid and discard liquid.
These are delicious!!! I had to stop myself from eating two otherwise I wouldn't have enough for both us to have lunch the next day.
And stay tuned for a Honey (B's and Birch Trees) Margarita later this afternoon. 🙂
JennyB
SaveSave