Fox inspired gifts for her under $30. Perfect for birthdays and holidays!

Everyone's always all about owls, but I'm feeling foxy this year.  Yes, you read that right. Foxy.
So to keep my mood going, I've compiled a gift-guide of awesome fox-related items for your foxy female friends.
UPDATE October 2014: I have updated this gift guide with some new items.  The original gift guide (made in November 2013) includes a number of items that unfortunately aren't available anymore.  I've kept their names in the list along with their pictures and updated the descriptions accordingly.
Fox Inspired Gifts for Her
Items I love for the sake of being foxy.
This post contains some affiliate links for your convenience. Click here to read my full disclosure policy.
1. Fox Locket from EmmaGemShop on Etsy 2. Tail Me More Mug in Fox from Modcloth (no longer available – this one on Amazon is similar) 3. Rust Fox 5 x 7 print from DeepColouredWater on Etsy (also available in blue here – Ice Blue Fox) 4. Girl Fox Tee from ModCloth (no longer available on Modcloth)
5. Foxy Moxie Glass Set from ModCloth (no longer available on ModCloth) 6. Linen Fox Pillow Cover from SweetFairy on Etsy 7. Fox Ornament from Jonathan Adler (as of 4/3/14 this is no longer available) 8. Tiny Fox Necklace in Gold, Silver or Rose Gold from Appelatte on Etsy
Fox Inspired Gifts for Her 2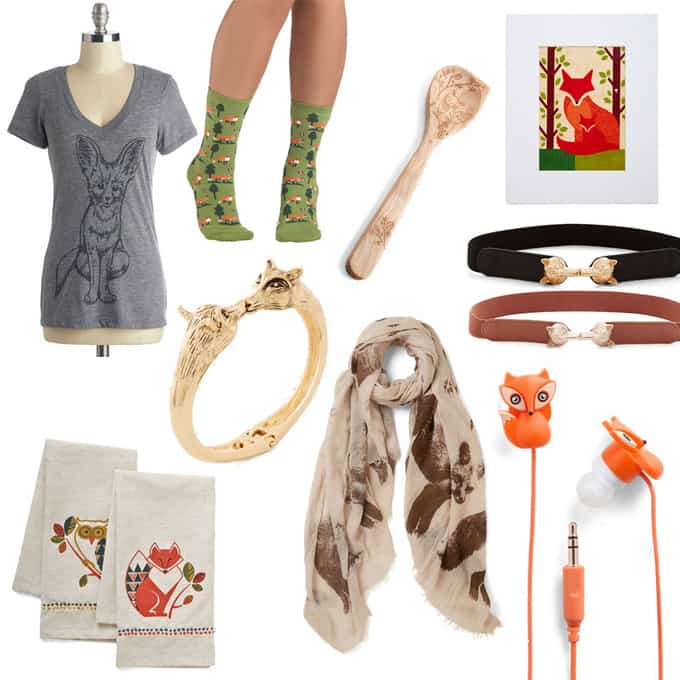 (from left to right, top to bottom) Fox and Roll Tee, Fox Socks, Creature Comfort Food Spoon, Wild at Hearth Print in Foxes, Foxy Moxie Belt in Black and in Cognac, Be the Forest to Know Bracelet, Please Wipe Your Paws Tea Towel Set, Footprint Mixing Scarf, The Fox and the Sound Earbuds (all from ModCloth or Amazon)
Check out other awesome gifts here – ModCloth Gift Guide.
I hope that you have enjoyed these fox-inspired items and if you come across anything else that should be added to the next foxy gift guide, please let me know in the comments.
xoxo,
JennyB
Join the newsletter!
Subscribe to get our latest content by email.