My review of Home Chef meal delivery service!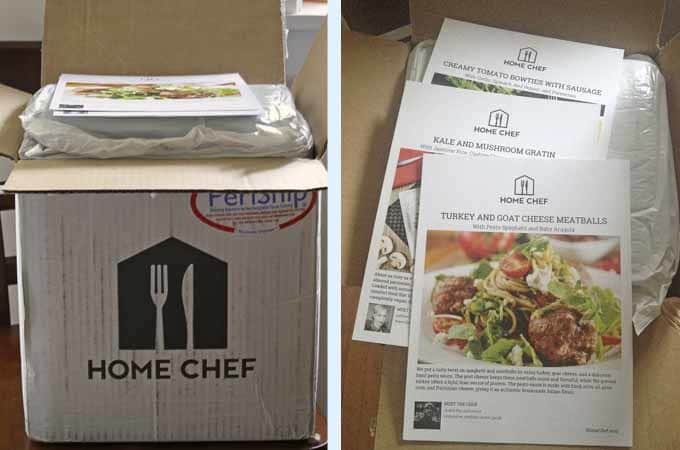 This post contains affiliate links for your convenience.
Back in March, a company called Relished Foods contacted me regarding doing a review. You can find it here. Since then, they have gone through a re-branding and are now called Home Chef. When they asked me if I was interested in trying it out a second time I said "Sure!" I loved it the first time.
Since my first review, they have added more food options – each week there are 9 new recipes to choose from. Lots of options too, to satisfy a range of dietary preferences like gluten-free, vegan, and vegetarian.
I took this into consideration and ordered a vegan/gluten-free recipe too, so I could get the full experience. Check out this week's menu here.
A box showed up at my door on Tuesday afternoon. Inside were three recipe cards, 3 plastic bags (one for each recipe) and the recipes' proteins on the bottom under ice packs. Each of the individual plastic bags contained more bags and containers – the recipes' ingredients all individually labeled.
I ordered the Creamy Tomato Bowties with Sausage, the Kale and Mushroom Gratin (vegan, gluten-free, dairy-free and soy-free), and the Turkey and Goat Cheese Meatballs.
First things first, lets talk about time. Getting all of the ingredients for dinner deliver to the door definitely will save you a lot of time if you are a busy person. BIG Plus.
But you are still going to be spending a chunk of time making dinner. I am not a chef, nor are many of the people who will order from Home Chef (I'm talking about you!)
I am a home cook that blogs about recipes – I found that even after reading through the recipes and prepping and laying out the ingredients, I still spent at least 10 minutes more than the stated preparation time.
The vegan Gratin dish especially – this one had a lot of instructions and a lot of prep. Mr. B. can attest to the fact I swore a few times while making it. If you go to the website and look at the menu, you can find the estimated time for the individual recipes. I would add 10 minutes to each one just to be on the safe side.
Taste-wise, we were pretty happy. Loved the Bowties – would definitely make this one again. The Gratin was good – we are not vegan and we enjoyed it. My meat and potatoes hubby wasn't even upset that there wasn't meat which is a great sign. The Meatballs were… eh, okay. Pretty easy to make but they were lacking in flavor. I would have added crushed red pepper flakes to the meatballs if I could get a do-over.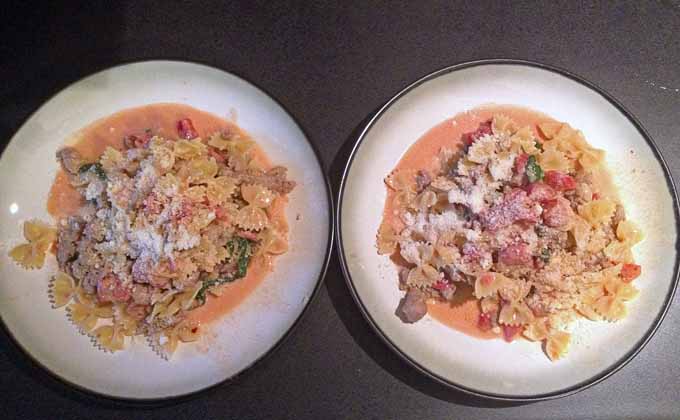 Okay, so I have to tell you all that there were a few errors with the recipe cards. The Meatballs recipe was fine but the other two weren't. The Bowties included onions but never told you where to use them.
Luckily I know what to do with onions, but I can see this being very annoying to someone who is taking their first foray into cooking with these Home Chef. And the Gratin…. Oh, the Gratin.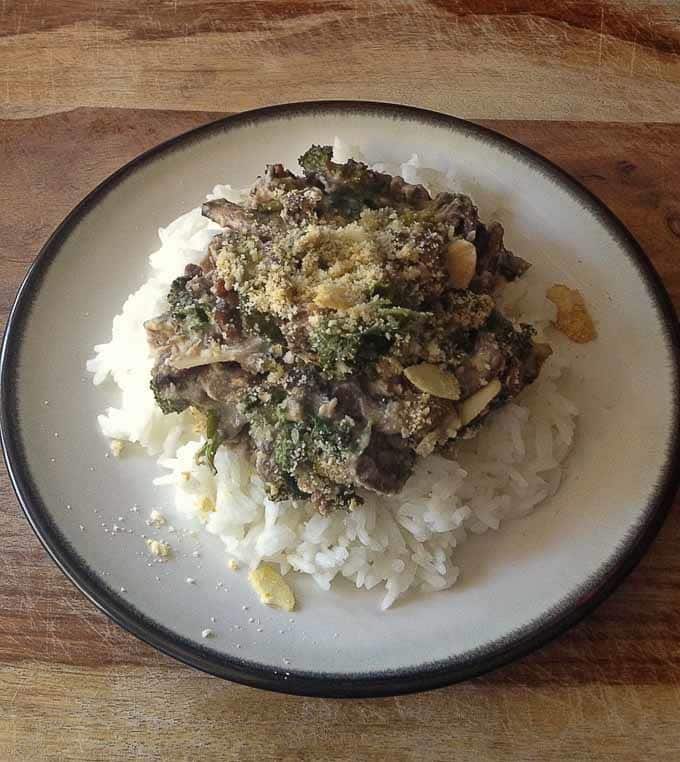 First off, one of the ingredients was missing. Lemons are needed according to the recipe and included in a picture where they show the vegetable prep, but aren't listed in the "What You Need" section. Speaking of the "What You Need" section – it says you need Chilled White Wine and Vodka Cocktails with lime.
I got a kick out of this at first, but soon decided I should have probably made myself a drink to get me through making the food. What you really needed was a lemon, 3 mixing bowls, a casserole dish, 2 food processors, a blender, an extra hour … I could have ordered take out, had it delivered and eaten it in the time it took to make the Gratin. And I would have had a hell of a lot less dishes to do when I was done.
Thankfully it was tasty and I had a lemon handy. Maybe people who normally eat a restricted diet are used to so much preparation.
The portions are very big so you definitely are getting your money's worth. All Home Chef meals are priced at $9.95 per serving. That's it – delivery is free and no hidden sales tax. We can all appreciate that. And they deliver to 60 percent of the US.
Would I order from them on my own? Maybe. The ingredients are high quality and the quantities are large.
I think I would let them get the kinks out of their recipe cards first though – which I hope they are doing already (I contacted them about the errors on the 14th, but I never received a response.) Update 8/21/14: Home Chef contacted me today about the errors and will be fixing them.
If you're interested in learning more about Home Chef or in ordering, go to their website.
This is a review of Home Chef – a fresh ingredient and recipe delivery service. I was provided with food but was not compensated for my review.
If you have an issue with your Home Chef order, please contact them directly. I do not work for Home Chef nor can I provide customer service for them. To reach their Customer Service department, call 872-225-2433.