A HelloFresh review and a giveaway!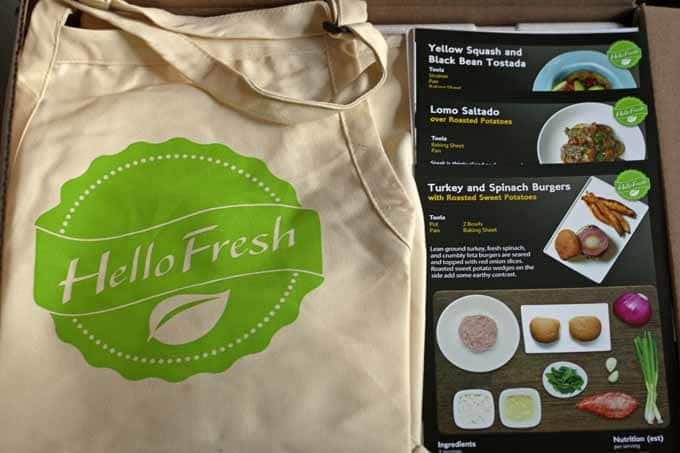 This post contains affiliate links for your convenience.
Save $25 on Meal Boxes at HelloFresh! Use code: FRESH25. Get delicious recipes & farm fresh ingredients delivered to your door!
I really like it when food is delivered to my doorstep.  And its even better when the food is tasty!
Being a lover of cooking, I have become a big fan of the food delivery services that drop off ingredients and recipes at your door.  And HelloFresh didn't disappoint.
HelloFresh is cooking made easy and fun! HelloFresh offers weekly delivery of delicious, nutritious recipes and high quality ingredients to prepare them. The flexible subscription service is easy to use and can be cancelled at any time.
HelloFresh features convenient meal options that are easily prepared by even the busiest households. Specially designed, recyclable packaging keeps food fresh, so packages can wait patiently. HelloFresh provides everything but the chef!
First off, I found the HelloFresh recipe cards very easy to follow.  And the box included an additional card with an explanation of "mise en place." Home chefs out there, this is my secret (and, like, every chef's secret) to cooking lots of things at one time.
I cut up all of my ingredients, measure out all of my spices and figure out what pans and spoons I'm going to use.  Then I start cooking.  I probably take it to a new level with the pans and spoons, but it allows me to put together some great dishes, faster.
So, I opened up my box, put the labeled bags in the fridge and started my first recipe.  Mr. B. was super impressed with it (the Lomo Saltado pictured above).  I still don't really know what Lomo Saltado is but it was very tasty.
The other two meals were Turkey and Spinach Burgers with roasted sweet potatoes and Yellow Squash and Black Bean Tostadas.  The portions were more than decent – we had leftovers after each of the meals. And we loved all of the recipes.
My two cents – the HelloFresh boxes are full of freeze packs and the food got a little frozen in delivery (maybe its frozen? I don't know.)  I suggest checking all of the food before putting it in the fridge, and maybe even consider sticking the food in the freezer if you can't cook it right away. The tomatoes for one dish got a little smashed in transit but they were still usable.
Also, I had to cook the meat a little bit longer than the recipe card suggested.  The steak was rare after the quick sear and I am more of a medium-rare, medium kind of girl.  And the turkey burgers were definitely raw in the center after 10 minutes in the oven.
Home cooks – please remember that all recipes are not the law.  It is okay to cook the meat longer if it is too rare for your liking.  But that doesn't mean I'm suggesting you eat a well done turkey burger. 🙂
Would I order more HelloFresh boxes?  Yes! The recipes are easy, the food is delicious and I love the convenience of home delivery. If you want to put in a HelloFresh order, you can here.
Special Offer! $50 Discount on your First two Boxes! Code AUG50HF. Valid for new customers only. Classic, Veggie or Family Box. Ends 8/31/16. Eat fresh & healthy – Shop Now
Join the newsletter!
Subscribe to get our latest content by email.