Mr. B. and I were both under the weather this week – he had a cold, and I think I was suffering from a general malaise thanks to 24 hours straight rain the other day. Or maybe I'm getting his cold. Meh.
I spent most of Wednesday playing Candy Crush Saga on my iPhone and watching season 4 of Californication. That show is so messed up and I will never be able to eat anything with clams in it now. You can thank the character Marcy. If you don't know what I'm referring to here, I recommend tuning in, because I'm not writing it down. I find the show equal parts hilarious and disgusting and can't stop watching. Anyways.
When you're sick you rest, and you eat chicken noodle soup.
I wasn't about to subject us to a day of canned soup, so I ran over to the grocery store and picked up this pretty little chicken.
Buying a rotisserie chicken from the deli section takes out a huge chunk of cooking time (so I could get back to my Californication…) The only thing that would make it better for me would be if I could buy a boneless chicken cause I really, really hate the bones. Makes me not want to eat meat. Oh well, I will get over it one day.
I found this recipe and it was a good start for the kind of soup I wanted to make. Poor hubs was all down and out, so I had to cook quietly and quickly and I didn't have any of his magical sous chef skills at my disposal. All you really need is two large pots and a colander. We like our vegetables crunchy, but if you want them softer, just saute them for a few minutes with 2 tablespoons of olive oil.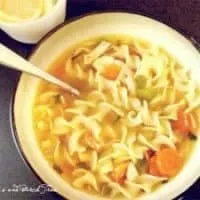 Spicy Rotisserie Chicken Noodle Soup
Ingredients
1 12 oz bag egg noodles
1 rotisserie chicken
12 cups low sodium broth (I used 8 cups chicken broth, 4 cups of vegetable broth)
3 carrots, peeled and diced
1 green pepper, diced
2 cloves garlic, minced
2 tablespoons onion powder
1 teaspoon paprika
1 teaspoon cayenne powder
1 tablespoon chopped fresh basil
salt and pepper to taste
a few lemon wedges
Instructions
Bring a large pot of water to boil. Add entire bag of egg noodles and cook until just tender. Drain and rinse under cool water, and set aside.
While noodles are cook, pour broth into another large pot. Bring to a boil and then reduce to a simmer.
Stir in the carrots, green pepper and garlic.
Gently add the entire rotisserie chicken and all pan drippings. Cover and cook for 15 minutes.
Pull out the chicken and set aside. Stir in seasonings and basil.
Pull as much meat as you can off the bones, and discard the chicken carcass. Dice the chicken meat.
Stir the noodles and chicken meat into the soup and heat through.
Serve hot. After ladling into individual bowls, squeeze fresh lemon juice into each bowl to taste.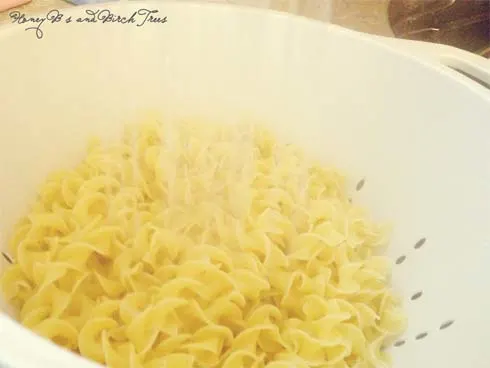 This soup is spicy, just to give you a heads up. It heated the disease right out of us. Adjust the seasonings if you are not too big on spice, or add more lemon juice.
Happy souping,
JennyB
SaveSave