When you find yourself with two very overripe bananas and an abundance of blueberries, it only makes sense to make Blueberry Banana bread.
I found this recipe awhile ago and tweaked it just a bit to better suit my taste buds.
We really, really liked it. I made it two days before we left for Galena with the intention of bringing it with us for the drive. Yeah, it didn't last that long. Now I'm just waiting for more bananas to be forgotten on the counter so I can make it again.
I had a weird issue with the cooking time because I used a dark bread pan. According to every out-of-the-box recipe I've ever used, when you use a dark or nonstick pan, you're supposed to decrease the temp and increase the cooking time. I set the oven to 325 and it ended up taking about 1 hour 10 minutes to cook (I used a toothpick to check the center.)
When in doubt, set the timer short and check in 5 minute increments. That's what I do.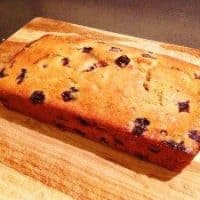 Blueberry Banana Bread
Ingredients
1 3/4 cups flour
1 tsp baking powder
1/8 tsp baking soda
1/4 tsp salt
1/2 cup unsalted butter, softened
1/2 cup regular sugar
1/2 cup packed light brown sugar
2 large eggs
1/4 cup 2% milk
1 tsp vanilla extract
1/4 tsp cinnamon
1/4 tsp pumpkin pie spice
2 ripe bananas, mashed
1 1/2 cup fresh blueberries
Instructions
Preheat the oven to 350 degrees (325 if using a dark or nonstick pan- see above.) Grease a bread pan - I think I have a 9x5 pan.
Combine the flour, baking powder, baking soda and salt. Sift and set aside.
Combine butter and sugars with an electric mixer until light and fluffy, about 2 minutes.
Add eggs, milk, vanilla extract, cinnamon, and pumpkin pie spice to butter/sugar mixture. Mix well until combined.
Beat in mashed bananas until evenly mixed in.
With your mixer at low speed, gradually add in the set aside flour mixture until just combined.
Fold in the blueberries.
Pour batter into loaf pan. Bake for 50 minutes, and then check with a toothpick to see if the center comes out clean. Remove from oven and allow to cool for 15 minutes before removing from pan. Allow to cool completely on a rack before eating.
Notes
Adapted from dinnersdishesanddesserts
Yuuuummmm
Xox,
Jenny B
SaveSave